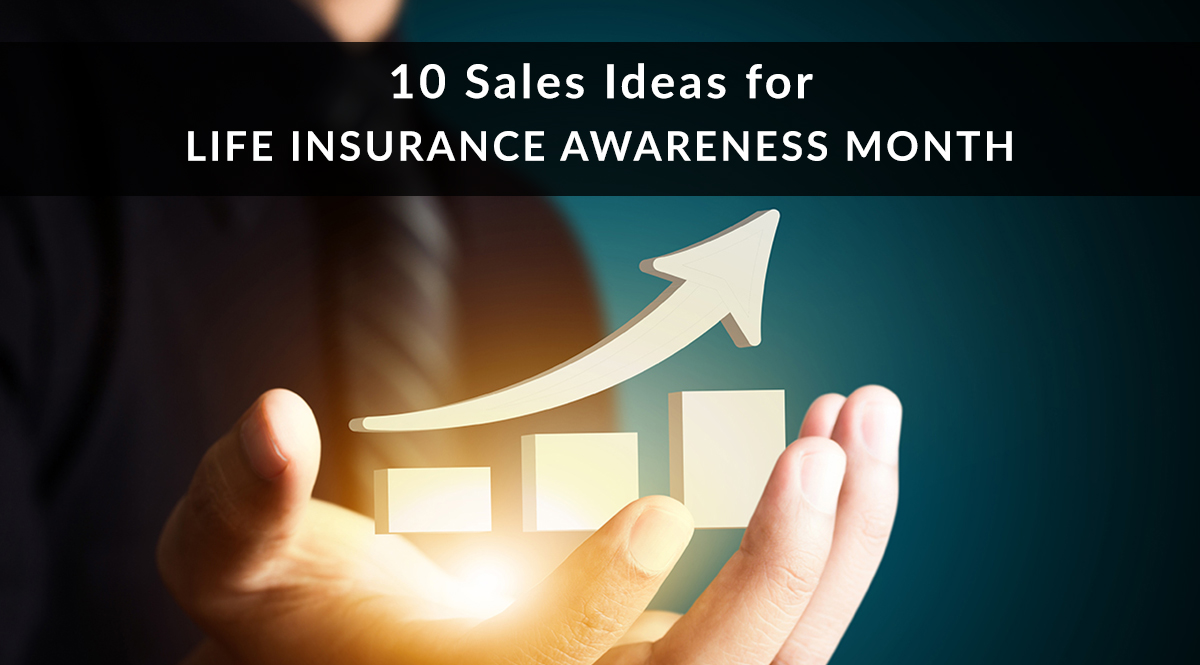 This September is Life Insurance Awareness Month (LIAM) — and there's no better time to experiment with creative sales ideas! This is our chance to try and reach the 30% of U.S. households that have no life insurance at all. Take advantage of the publicity to ramp up your own marketing. You can also share other agents and agencies' social media posts to help expand your audience.
We've collected our 10 best sales ideas for Life Insurance Awareness Month to help you get started. Let's get busy this September!
Visit LifeHappensPro.org and take advantage of their marketing materials. If you're a producer, their free trial gets you access to online resources including pre-written social media posts, flyers, videos, and more that you can send to clients all month long.
Incorporate a racing or financial fitness theme in your LIAM-based communications with clients. This year's celebrity spokesperson is Danica Patrick. Her emphasis for 2018 is on financial fitness. She's provided exclusive interview content, social media graphics, and more that agents are free to use through LifeHappensPro. Don't forget to tag your social media posts with #LIAM18.
Reach out to local TV networks. Many daytime TV shows need guests with a compelling story to tell. If you're comfortable in front of a camera, you can pitch a LIAM segment to local shows. It helps if you have prior video clips of yourself speaking (at a conference, perhaps) that you can provide beforehand. Try to craft a unique opening story. Is there a meaningful experience you had while delivering a death benefit? Can you share a client story that will bring the audience to tears? Add 3 or 4 key statistics about life insurance to accompany your pitch, and email it to your local newsrooms. You can get those stats here, from the key findings in the LIMRA 2018 Insurance Barometer Study.
Grab LIMRA's latest fact sheets for up-to-date statistics you can use in client meetings, marketing materials, or social media posts. Click here to download LIMRA's Facts About Life (2018), as well as past years' fact sheets. You can also download sharable social media graphics and infographics like this:
Don't underestimate the power of the policy review. Offer a free review for new and existing clients as a way to get them thinking about life insurance.
Host a life insurance Q&A (or a myth-debunking session) for current and prospective clients. You can host it online using Google's free Hangouts on Air, Facebook Live, or YouTube live, or you can invite clients to an open house at your office to participate. Ask clients to bring their questions, or better yet, submit them ahead of time. Use this time to introduce needs your clients haven't covered yet, such as long-term care or planning for a child's college tuition.
Have a video feed in your office's reception area? Set up a playlist that includes LifeHappens's realLIFE stories—real people talking about a loved one who protected them with life insurance before passing away. They have a pre-made playlist on YouTube available here.
Use social media scheduling software now to set up your LIAM posts. For those who maintain a presence on social media, pre-scheduling posts can save time and keep your marketing efforts on track. Use apps like HootSuite or Buffer to pre-schedule tweets, Facebook posts, Google+ posts, and LinkedIn posts. You can incorporate quotes from Danica Patrick, facts about life insurance, statistics, and more. Life Happens has already done a lot of the legwork to gather these materials for you. Pick your favorites and pre-schedule them into posts now so you won't forget. Our post here explains how.
Be a guest on a podcast. Search the podcast libraries of the most popular podcast apps, like Apple Podcasts, Stitcher, Spotify, TuneIn, or Google Play Music to find podcasts on relevant topics. Or use the new podcast search engine, ListenNotes, to find shows that discuss finance and insurance at the consumer level. Remember that pitch you created to reach out to local TV networks? You can re-use that here to try and find podcast shows looking for people to interview.
Download our free sales kit. Every month, we put together a free sales kit with carrier pieces, sales ideas, prospecting tips, and more. In this month's kit, we have 40 pages of resources to help you with prospecting and starting conversations on social media. These worksheets will help with needs analysis, prospecting in your own book of business, and more. We also have pre-made social media images and posts for you - including new square posts that are perfect for Instagram. Download it here!
.
Those are our top 10 sales ideas for Life Insurance Awareness Month!
What are your best tips or sales ideas? Tell us in the comments!
---