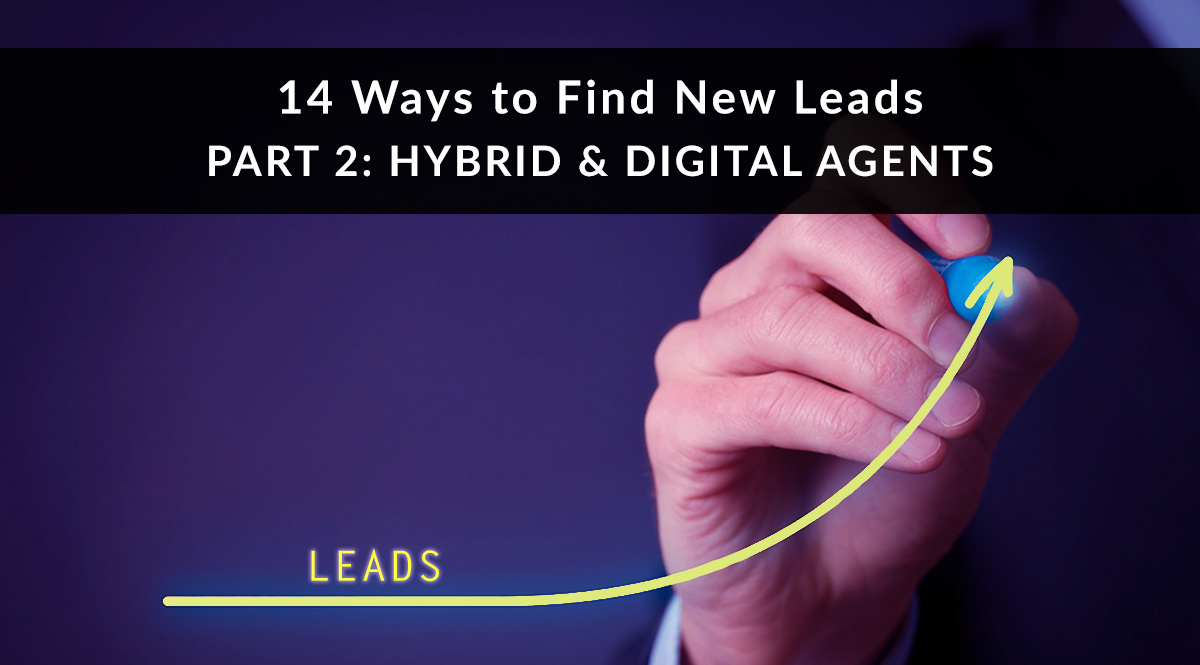 In a prior post, we shared 7 ways to find new leads for traditional and hybrid agents. In this post, we'll round out our survey with 7 more strategies that work for hybrid and digital agents. These are online strategies that use social media, digital advertising platforms, SEO, and more. Fire up your laptops and let's get started!
As with the first post on this topic, the best approach is to read it, bookmark it, and think about it before you take action. No one expects you to try all these strategies. It's up to you to decide which ones best play up your strengths. To help narrow it down, think about your ideal prospect. Where do they spend time? Which of these strategies would reach them? Also think about your industry role model(s). Where are they active? Can you replicate their success?
Ready? Let's dive into a long list of lead-gen ideas for the digital marketplace.
Strategies for Hybrid and Digital Agents
We've talked before about the different types of agents we work with. Hybrid agents do business both face-to-face and online. Digital agents are 100% online. Both types of agents should take advantage of online marketing to drive traffic to their websites and quoters. If you're a traditional agent with a minimal presence on social media (a Facebook page, for example), you can still use some of these strategies to drum up face-to-face business.
1. Optimize Your Website for a Niche
You already have a website – but do you have a niche? If so, you have two options: optimize your current website for that niche, or create a second website dedicated to that niche. Why bother with a second website? It's easier to use SEO to gain visibility in the search engine if your website URL contains the relevant keywords. For example, if your agency site is JohnDoeInsuranceAgency.com and your niche is helping business owners with key man policies, your URL isn't helping you in the search algorithms. It's not hurting you; however, you'd be more likely to show up in a search query if your URL was something like KeyManInsurancePolicies.com. The more visible your site is, the more likely niche consumers will find you – and the more leads you'll have as a result.
Here are a few tips to optimize a website for a niche.
Get primary keywords in your URLs
You can accomplish this without buying a new domain name. One strategy is to create a subdomain on your current site that contains a primary keyword. A subdomain is essentially a site within a site, reached with a URL that contains an extra word or phrase before your domain name. For example, if your site is JohnDoeInsuranceAgency.com, your keyword-based subdomain might be LongTermCare.JohnDoeInsuranceAgency.com. Your web host or developer can help you set up a subdomain; good hosts will do this for free.
If creating a subdomain is too techy, you can still get primary keywords in your URLs. First, be more careful with your page and post titles. For example, if you're blogging about LTC, what title would you give your first post? Would you call it "What You Should Know about LTC?" Unfortunately, that URL won't do you any good unless you're 100% certain prospects also call long-term care insurance "LTC" or "LTCi." Always use the search terms your clients use, and be sure those terms are in your page or post URL. Google's search suggestions will help you identify what people actually search for.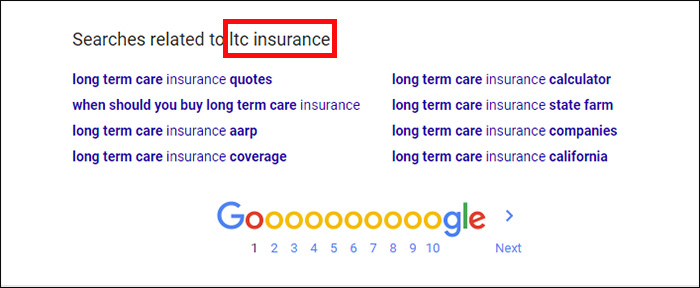 The Yoast SEO plugin for Wordpress can help you get those keywords in the right place within your page or post with its automated checklist.
Get primary and secondary keywords on the page
If your primary keyword is "long term care insurance," your secondary keywords will be related words and phrases. Examples include "long term care policy," "long term care facilities," "cost of long term care," and "long term care insurance companies." First, find secondary keywords using free tools like keywoodtool.io and Ubersuggest.

Next, be sure you use a natural, unforced combination of keywords in key page elements. These include your page title, first sentence, first paragraph, one subheading, and at least one image alt tag. They should also be sprinkled throughout the text as appropriate. In most cases, this happens naturally. Never force ungrammatical usage, and don't "stuff" your page with keywords. You just want your content to be thorough enough so that it hits on related topics and ideas naturally. The Yoast SEO plugin mentioned above will prompt you to do most of this automatically.
Add visibility and more content to your least-visited pages
Google Analytics shows you your site's most- and least-visited pages. This is super helpful when you're trying to generate leads. First, be sure to sign up for Google Analytics. Then, go to Behavior / Site Content / All Pages. Scroll down and you'll see a list of your site's most-visited pages in descending order. At the end of that list are your least-visited pages (use the controls at the bottom of the display to change how many rows you can see at once).
Chances are these pages (a) aren't as visible as your other pages, and (b) don't offer the consumer a good reason to stay. The good news is we can fix both of these things. First, beef up these pages with more content, Q&As, FAQs, a video, a downloadable PDF, and/or testimonials. Next, show off your improvements! Make sure the revamped pages appear in your site navigation menus, as well as in internal links on your most-visited pages.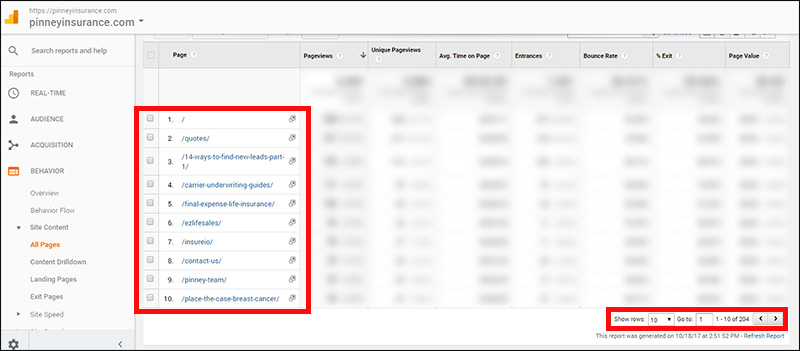 Add offers and testimonials to your most-visited pages
Even your site's top-performing pages can be improved to bring you more leads. To find these pages in Google Analytics, follow the steps described in the bullet point above. Next, spend a little time optimizing the content on these pages. Do they offer everything your prospect needs to understand the issue? Did you also link to other pages on your site? Do they offer ways to contact you or get a quote? Can your prospect get a free guide, kit, or other download? Did you include testimonials to build trust?
Write killer title tags and meta descriptions
Your page's title tag and meta description are what Google displays in their search results. Thanks to the Yoast SEO plugin, you can tweak these to entice prospects to click through to your page.
The most effective way to write title tags and meta descriptions is to put yourself in the customer's shoes. Picture it from their perspective: It's late, they're tired, and they're not that interested in long-term care, but they promised their spouse or kids they'd look into it. Which result is this prospect going to click on? The boring one that mentions reliable carriers, important decisions, blah blah blah? Or the one that says something like, "Get a policy, get covered, and get back to real life. I'll help you make the right choice in long-term care insurance so you don't have to think about this anymore"? Be creative!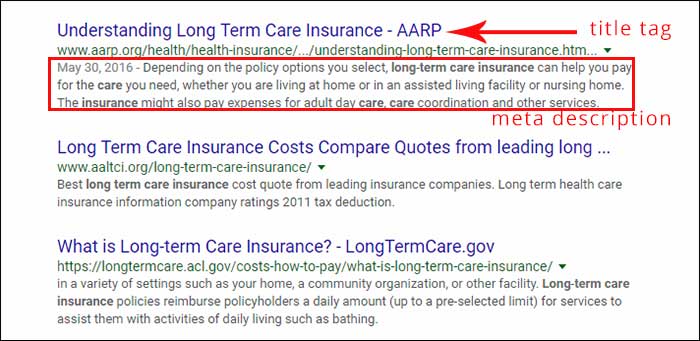 2. Social Media
There are some fun, little-known ways to use social media specifically for lead-gen, including driving them to your quoter. As with any words of advice on using social media, keep in mind that algorithms change, platforms decrease in popularity, and new networks arise to take their place. You can't master all of them, nor should you try. Here are a few ninja tips to help you stand out and generate leads on popular networks:
Facebook
Did you know you can embed a quoter widget on your agency's Facebook page? Or that you can embed a mailing list signup widget? If you have a service that provides a widget (i.e., Insureio for quoters or MailChimp for email list signup), all you need to do is paste their code into a new tab for your page. Your new tab will appear on the left-hand side of your page, along with About, Photos, Posts, etc.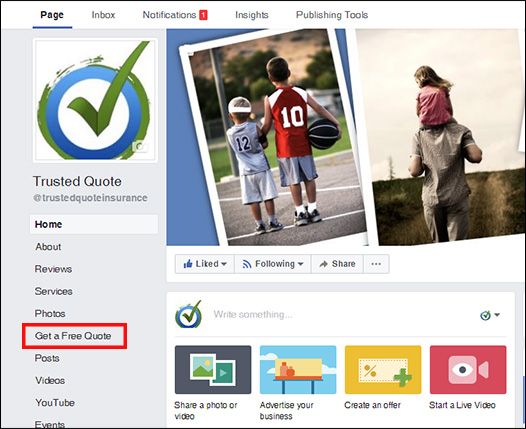 First, you'll create a new tab built to house static HTML on your Facebook page. Click here to open the static HTML app. You'll be redirected to your Facebook account, and asked to choose the page you want to add your widget to. Select your agency's page, click Add Page Tab, and paste your widget's embed code into the index.html tab provided by the static HTML app. You can then preview the widget before you save and publish the new tab to your page. Here's a more detailed walk-through if you're interested.

TIP: Create a post that: (a) prompts people to click your quoter tab, and (b) tells them how to reach you if they have questions. Finally, pin that post to the top of your page so it's always there for new visitors.
LinkedIn
LinkedIn offers fewer bells and whistles than Facebook. You don't have tabs or HTML apps to play with, for example. What you do have is the ability to share and embed eye-catching documents that make your profile stand out – and give prospects a clear call to action.
Video
You can add video to your LinkedIn profile as well as to your updates. Why not create a simple message welcoming new prospects and explaining how you can help them? Remember, while you may use LinkedIn for professional networking, prospects are looking you up to see if you're experienced enough to trust with their financial future. Add this video to the Summary, Experience, or Education section of your profile. While editing a section, click Link and paste in the URL of your video from YouTube, Vimeo, or other video hosting platform. You can also add testimonial videos, clips of your public speaking engagements, and more.

SlideShare
When you connect your SlideShare and LinkedIn accounts, you can add slide decks to your LinkedIn profile's summary section. Imagine a prospect looking you up, only to find a brief, organized slide deck that addresses their exact question – and directs them to get a quote on your site.
If you're thinking no one looks at SlideShare, think again. Blogger Ana Hoffman, a traffic-generation specialist, did an experiment to prove it. First, she posted 9 presentations in 30 days. Next, she checked her stats. Surprisingly, she earned over 243,000 views, got several first-page Google rankings, and turned SlideShare into her second largest referral traffic source.
To connect your accounts, log into SlideShare and go to Account Settings / Social. In the future, when you upload a new presentation, you'll be given the option to add it to your LinkedIn profile. To add an existing presentation, go to My Uploads and hover over any presentation. You'll have the option to add it to your LinkedIn profile.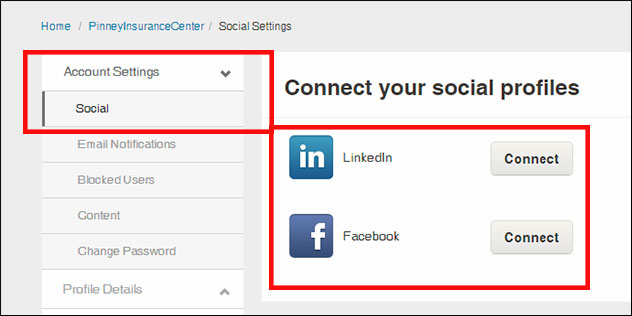 3. Content Marketing
In terms of using content to get more leads, you need to focus on two things: a call to action, and visibility. Every piece of content you put into the world needs a call to action: what do you want people to do next? When you're after leads, you want them to call, email, or visit your quoter. If you nail the call to action and use the strategies below to increase your online visibility, you should see an uptick in marketing-qualified leads.
Here's the system Ana Hoffman (the blogger mentioned above) uses to repurpose her content for greater visibility. To get started, pick a post or page you've already written. Next, start with step 2 below. Keep working backward through your best blog posts, and you'll be surprised how fast you fill your social channels with relevant content.
Here's how to get started:
Step 1: Write a blog post. Not sure what to write? Start by answering 10 questions your clients frequently ask during the application process. Next, create a catchy title like "10 Things Every Client Asks Me about Life Insurance."
Step 2: Turn your post into a bullet-point outline of 200-300 words.
Step 3: Turn your outline into a slide deck. Use PowerPoint, Keynote, or Google Slides. Paid tools with spiffy design template include Pitchdeck, Slidebean, or Slides.com.
Step 4: Turn the slide deck into a video using one of these options. Once you have the video file, upload to YouTube, Vimeo, or your video platform of choice.

Use screencasting software to record yourself giving the presentation. Jing is a great free option for this; Snagit and Camtasia are good paid options. They can all include audio if you use a USB microphone or headset.
Export your slides as a video directly from PowerPoint. You can even keep your timing and animation settings. Choose File / Export / Create a Video. You can also include recorded narration.
Export your slides as JPEGs. Next, stitch them together using free software like Microsoft Movie Maker or iMovie. Choose File / Save As / and use the filetype dropdown menu to choose JPEG. PowerPoint will let you export the current slide or all slides as images.

Step 5: Turn the video into an audio file. If you skipped the audio, you can skip this step, too. However, if your video includes your voice, you can strip the audio using a free site like http://listentoyoutube.com/. Download the resulting MP3, and upload it to audio-only platforms like SoundCloud.
Step 6: Turn your slide deck into sharable images. To do this, pick the best slides and add your logo and branding, if they aren't there already. Export as JPEGs as described in step 4. Now you have social-media-ready images!
Step 7: Turn those images into an infographic. After all, a basic infographic is just related images stacked on top of each other. If you use Photoshop, just stack your exported JPEGs in a single canvas. If you don't use Photoshop, create a new slide with a custom size in your slide deck program of choice. In PowerPoint 2016, for example, go to Design / Slide Size / Custom Slide Size. A good size for infographics is 700 pixels wide by 1800+ pixels tall (that's a portrait orientation of about 7.29 inches by 18.75 inches). Next, add a title at the top and your branding info at the bottom. Stack your slides in the middle. Finally, save it as a JPEG and post it on Pinterest, Visual.ly, and your website.

Step 8: Post those images on Facebook, Twitter, Instagram, Pinterest, or your chosen social networks. Lastly, don't forget the call to action. Put it in your post text or in a comment.
Step 9: Revisit your original blog post and add your new images. Now you have an infographic and JPEGs to add for visual interest!
Step 10: Share your revised post. Do you use LinkedIn's publishing platform? Republish it there. Do you already syndicate your content on Medium? Post it there, too. Do you compile your best blog posts into PDFs and offer them as free downloads to your prospects? If not, you should start now. Beacon is free software that does all the compiling for you, generating a ready-for-consumers PDF.
4. Email Marketing
If you want a steady stream of new leads, create it by building an email list. These days, prospects take their time to do homework and shop around. They might sign up for your list today, but not be ready to buy for another six months. Your mailing list is key for future sales, winback, cross-selling, and up-selling. Best of all, email marketing is permission-based and it's free—up to a point.
When you have several thousand people on your list, you'll need to upgrade from Gmail, for example, to professional-level email marketing software. This helps you avoid the daily sending limits providers like Gmail put on free accounts. If an extra $10 or $20 per month seems like a lot, remember...if you're marketing to enough people that you've outgrown Gmail, chances are you're doing something right. Here are five easy ways to get people on your mailing list.
Put opt-ins in multiple places on your site
Your home page should have an easy-to-find email opt-in. So should your footer, your sidebar, and your blog posts. You might even want to put one in your main menu, along with your "about" and "contact" pages. The sign-up prompt should offer something a consumer wants, like a free guide or downloadable eBook. Additionally, your signup button should also have enticing text like "Sign me up!" or "Yep, I want in!". Gone are the days when you can simply ask someone to sign up for a list—email fatigue is real. If you make a good offer (something for free), you'll see potential future clients begin to sign up.

Test colors for your opt-in buttons
Small design changes can yield big benefits. For example, Kissmetrics reported on a marketer who made one simple change to his list sign-up button. He added a red border that changed to green when your mouse hovered over the button. Afterward, he got 40% more sign-ups because of this change. If you have a red button, try a green one. If you have a green one, try an orange one. Run each test for the same amount of time, and track your stats during the test. It's not a direct correlation, but it's a great way to get some basic data on what drives your visitors to sign up.
Try a QR code for instant sign-up
Okay, QR codes are a little cheesy…but here's the thing: they're fast and they work. Most email service providers (MailChimp, AWeber, Constant Contact) will generate QR codes for you. You can also use a free QR code generator like Kaywa or QRStuff. Add the QR code image to your business card, flyers, your website, or a social media post – basically, anywhere people interact with you. When consumers scan that image with their smartphones, they're immediately taken to your email list signup page. It keeps anyone from having to remember or type in a URL, which can be handy.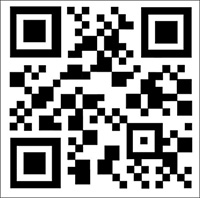 Use Facebook's Sign Up button
You can ask Facebook page visitors to sign up for your list with the "Call to Action" feature. If you've never added a call to action, here's the Facebook tutorial. If you're currently using a different button strategy (call, contact, etc.), hover your mouse over the button and select Edit button / Other options from the dropdown menu.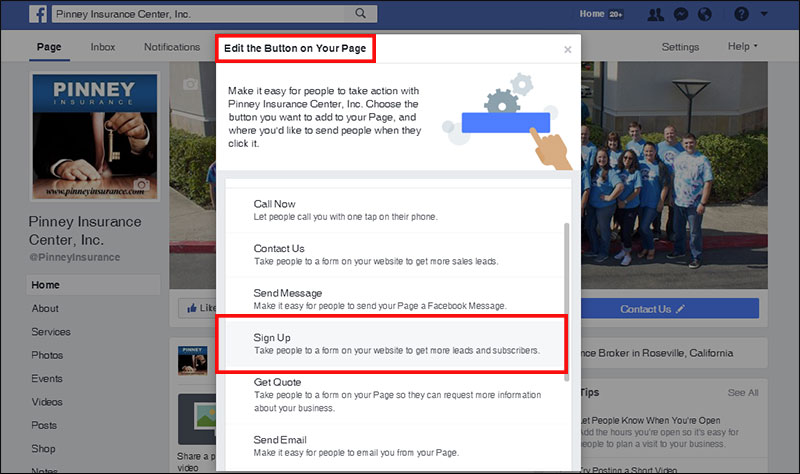 Bring a tablet, phone, or laptop to in-person events
When you're with a prospect, ask if they'd like to get occasional updates with free information about insurance and financial planning. If they agree, pull up your sign-up page on your device and let them enter their email address. This way, there's no need for them to pull out their device and try to type your URL. It's simple, easy, and clean.
5. Digital Advertising
It's a wild world out there when it comes to digital advertising. More social media platforms are offering advertisers space in their users' feeds. That's great for getting the consumer's attention, but there is a learning curve. In addition, these advertising platforms are designed to get you to spend, spend, spend. You have to learn how to implement the built-in spending limits of each system. The best way to make your dollars count is to have a very specific niche audience you want to target. After that, be sure you implement a strict spending limit per day, week, or month. If you're good with numbers, analytics, and cost analysis, this strategy is a good fit for you.
Facebook and Instagram Ads
Facebook owns Instagram, which is why their ads run through the same platform (the Facebook Ad Manager & Business Manager). The targeting options make these platforms incredibly valuable. For example, you can target by geographic location and demographics if you want local millennials to call you or swing by your office. You can also target by interest, which works well for niche markets like aviators, smokers, or moms. Or you can target followers of other pages or brands, allowing you to reach Dave Ramsey's followers, for example.
You can also run multiple types of ads – a traditional Facebook post, a video ad, a carousel with multiple images, and more. It's up to you to figure out how best to use each type of ad, which is both the fun and the challenge. For example, you could run a carousel ad (shown below) with images for different policy types, each linking to a quoter or a page on your website. To get started, check out the free walk-throughs from AdEspresso, Neil Patel, Buffer, and Facebook, in addition to the paid courses from Lynda.com and Udemy.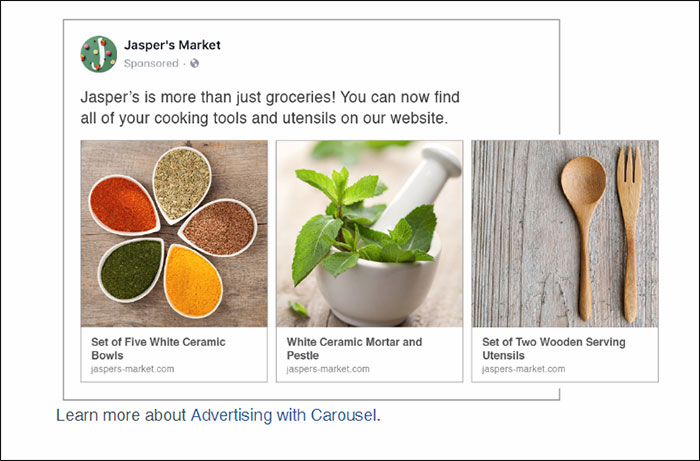 Google AdWords
These are the text ads you see alongside Google's organic search results, as shown below.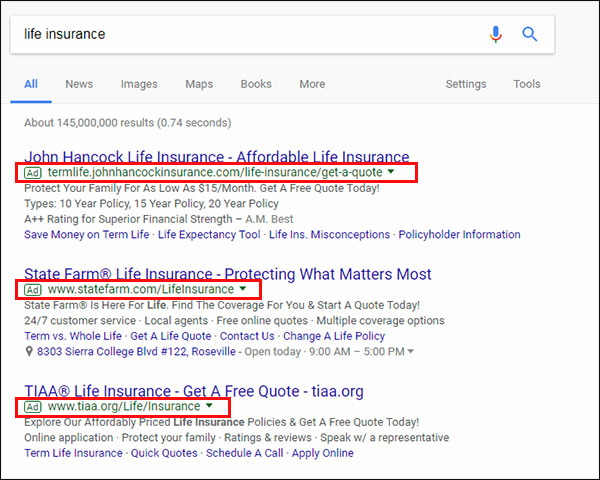 Unfortunately, ads with the word "insurance" in them are very expensive. Still, if you're targeting a niche, the cost may be worth getting qualified leads in the door. The ads themselves are easy to create since they're just text—no graphic designer needed! However, Google's ad manager takes a little getting used to. To get started, check out Google's Keyword Planner to search keywords and compare search volumes. You have to sign up for AdWords to use it, but you don't have to spend a dime just to research keywords. As with social media ads, you can get free AdWords tutorials from Google, WordStream, or Neil Patel, and paid courses from Lynda.com and Udemy.
Amazon Ads
Amazon ads can target either specific products or keywords. This means you can basically target anything anyone buys on Amazon. Both types of ads appear at the top of the search results, as in the image below. The drawback? Your ad needs to point to a product you're selling on Amazon (unless you have an ad budget of more than $35,000).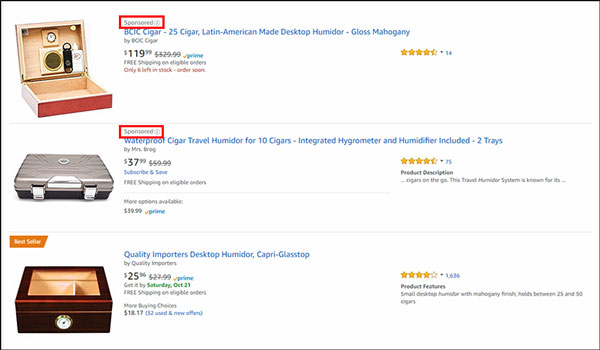 The easiest way to achieve this is to self-publish an eBook – a compilation of your best advice and blog posts, for example. It doesn't even have to be long. There are plenty of non-fiction business books in the 50-100 page range. This is surprisingly easy to do when you're "blogging" your book one post at a time. You can then hire freelancers to help you pull a finished product together. Alternatively, you can use Amazon's guidelines and do it yourself. You can even upload your book as a Word doc, making it totally do-able for most of us.
Once you have a product on Amazon, you can effectively target your niche. For example, let's say your niche is helping cigar aficionados get life insurance. First, you self-publish a short book about how to get coverage even if you smoke two Cuban cigars a month. Next, you buy ads targeting cigar-related products, like cutters and humidors. Remember, the goal isn't to sell books – it's to get people to contact you for a policy. You can emphasize this in your author bio and in your book's call to action.
6. Influencer Marketing
Influencer marketing does two great things for you. First, it puts you on the radar of potential future partners. Then it can give you a whole new audience to reach. If you're able to connect with an influencer, you can build a relationship that eventually allows you to talk to their audience. That might happen in the form of an interview, a guest post, or an appearance at their event.
But before you can approach an influencer, you have to find them and follow them. Here's how:
Hashtags
You can often find influencers by searching for Twitter hashtags. For example, who tweets about #insurance, #risk, #lifeinsurance, #insurancefacts, #terminsurance, #wholelifeinsurance, #finalexpense, #financialprotection, or #financialplan? Of course, you'll see a lot of individual agents who aren't necessarily influencers using these tags. Eventually, however, you'll recognize a few names. These are the folks you watch in order to develop a relationship with them. This is as easy as liking or replying to their tweets. If you use Hootsuite for social media tracking, you can create streams for useful hashtags to make searching and replying easy.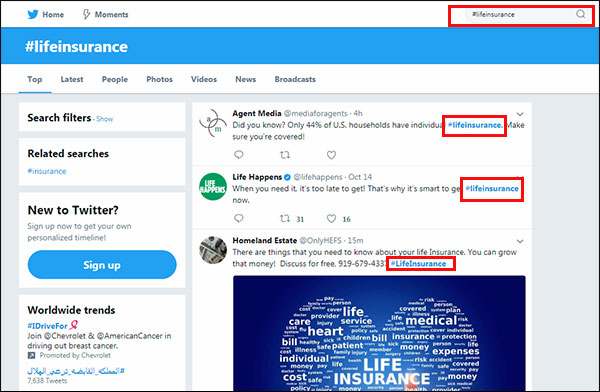 Google Alerts
You can have Google email you every time an influencer is mentioned. Depending on how often your influencer is mentioned, you may want to have this email sent weekly rather than daily. You can also limit Google's reporting from the entire internet to just blog, news sources, etc. to keep your results brief and relevant. Click here to create an alert. Next, be sure to reach out or reply when the influencer asks a question or posts good news.
Blog & Forum Searches
Consider approaching a blogger who covers your niche. If you convince them to interview you or give you a guest post, their audience becomes a huge source of potential new leads. When you find a blog or forum that covers your niche, pop their URL into MOZ's Open Site Explorer tool. This will tell you how much traffic that blog gets. You may not have much luck soliciting a blogger who gets 1 million monthly unique visits, but you also don't want to waste time on a blog that only gets 10 unique monthly visits.

To find blogs in a particular niche, check out Alltop.com or Buzzsumo.
To find forums in your niche, Google provides the best results. Try the following searches:
[your niche/keyword] forums
[your niche/keyword] community
Best forums to follow in [your niche/keyword]
[your niche/keyword] inurl:/forum
7. Online Events
Online educational summits have become big business in the past few years. Essentially, an organizer gathers speakers who give talks on different aspects of the summit's topic. Those interviews can be pre-recorded via webcam and posted on a particular day and time. Alternatively, they can happen in real-time using tools like Google Hangouts, Periscope, or Facebook Live. Attendees register in advance and visit the summit website when the event goes live. They can then watch the different speakers, sign up for their mailing lists, download free information, and more.
As a speaker, summits are great for networking and building your authority as an expert. So…how do you find one?
For starters, you can browse eVirtualSummits.com. Additionally, you could also ask members of your network or email list. Or you can search on social media using popular hashtags like #virtualsummit or #summits.
When you find a summit, participate as an attendee first. Next, contact the organizer with a compliment. You can praise their organization, speaker choice, or the quality of information presented. After that, feel free to briefly pitch yourself as a presenter for the next go-round. If you're reading this post on the day it goes live, you're in luck – the Insurance Agent Summit is happening October 23-27, 2017. It's free to attend during the event; click here to check it out and see what a virtual summit is all about.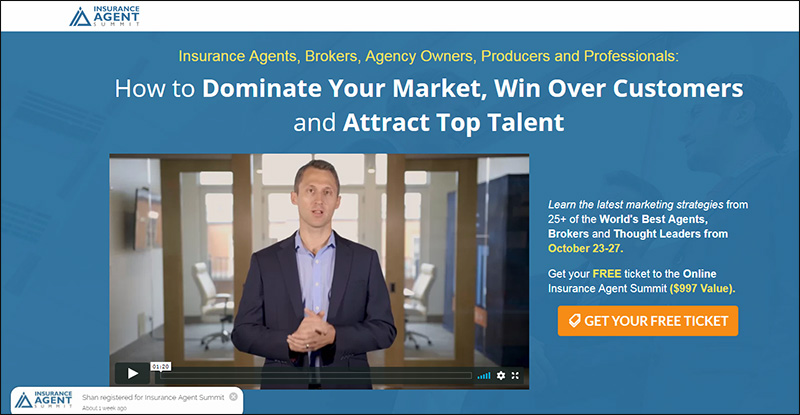 Of course, your other option is to host a summit yourself. It's a big undertaking, but as the organizer, you could help tens of thousands of people…and add tens of thousands of email addresses to your mailing list. If that idea gave you goosebumps, here's a fantastic guide on what it takes to create your own online summit.
That's our look at 7 ways to find new leads in the digital marketplace!
It's a lot to absorb, we know. Like we said earlier, just think about these strategies before diving in. If you hate the idea of looking at analytics on a daily basis, digital advertising probably isn't the best outlet for you. On the other hand, if you hate the idea of public speaking, you may find yourself more at home with spreadsheets and analysis than speaking at an online summit. Be honest about your strengths and weaknesses…but don't rule out the possibility of taking on a new challenge. You just might find a new lead-generation strategy that works wonders for your agency.
If you're interested in a particular strategy, tell us in the comments. We'll do a deep-dive on that subject just for you.
---