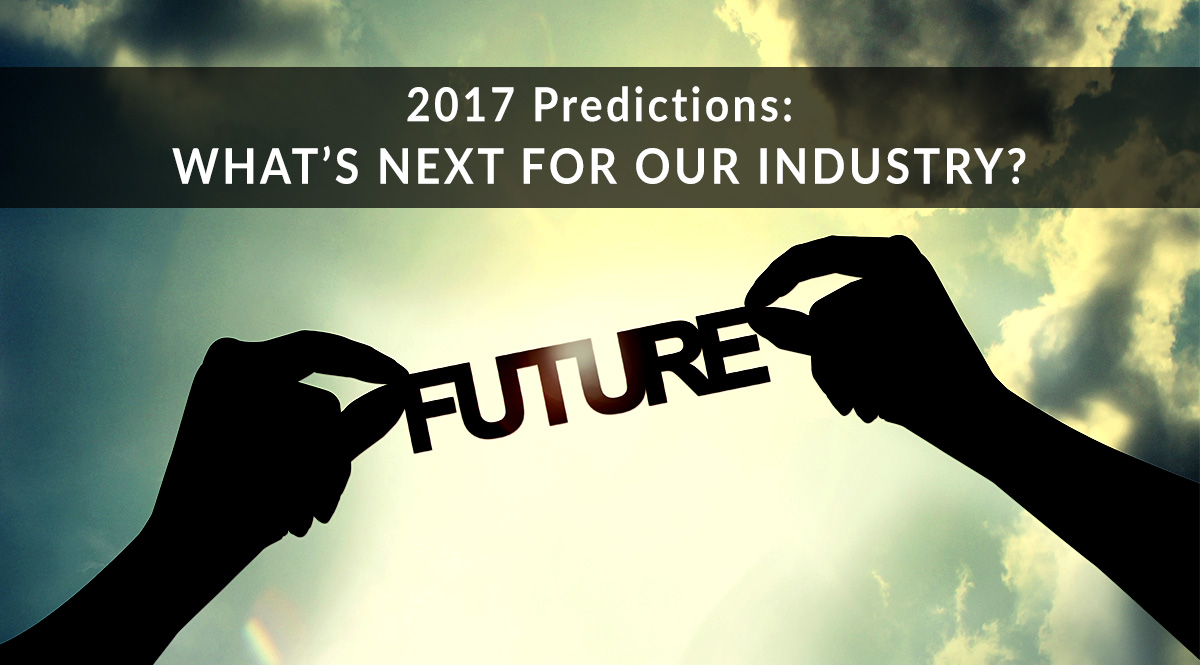 Like the country at large, the life insurance industry knows change is in the air…but it's not clear what form that change will take. We know where we need to be in order to keep up with consumers, and we're taking steps to get there. Silicon Valley is helping with a huge infusion of cash, but the hard work is up to us. Modernizing the way our customers buy insurance is a priority, and so is making sure they know what kind of value we provide as advisors.
Here are the topics making waves when industry blogs and publications talk about 2017.
The Trend: Video Marketing
We've predicted before that video marketing will be huge. It's taken a little time for the momentum to build, but it's really starting to happen. From live video to video voicemail, there are easy ways for you to get started with nothing more than a smartphone or a webcam.
Why should you bother?
In their Insurance Industry Outlook, Deloitte says, "Insurers should reinvent their marketing outreach efforts with more intuitive, interactive information channels and tools."
There's a good reason for this prediction.
As millennial consumers grow up and seek out their own financial solutions, they care less about working with established brands. Just because their parents and grandparents bought insurance a certain way doesn't mean they're going to—and no amount of brand recognition is going to change that. Instead, you have the potential to earn their business if you can show them you understand their needs and their technology.
What You Can Do
Right now, the best way to do that is with video. There's never been a better time to use amateur video as a marketing tool. We've seen several creative ways to do this on a shoestring budget, with little to no video editing experience.
The Concern: Cybersecurity
Hacking scandals are only going to be more prevalent in the coming years. From Sony to Yahoo, no one's immune. Two times a year, the Technology Tools for Today (T3) conference gathers leaders in the world of advisor technology. In November's meeting, the talk shifted from robo-advisors to issues of compliance and cybersecurity. The compliance issues are largely related to the proposed DOL fiduciary rule, which we'll get into below. But the cybersecurity issue is something that concerns us all regardless of the current political establishment.
According to the Financial Planning Association's Research and Practice Institute, only 40% of financial advisors say they understand the risks involved with cybersecurity.
But what are we, as financial advisors, supposed to do about it?
What You Can Do
Our clients and prospects need to know how we're protecting their data. The first step is to decide who will have access to that data, where it will be stored, and how it will be protected. Once you have a solid procedure in place, document it – and share that documentation.
The Niche: Are Big LTCi Changes Coming Our Way?
LTCi is a hard sell – it costs a lot, and no one wants to think about aging or dying.
In November, John Hancock announced it will discontinue new individual LTCi sales.
But there's also been a good deal of speculation about what a Trump presidency could mean for a revamped LTC product.
The Affordable Care Act (ACA) contains no provision for an LTC program. However, it's been noted that President-Elect Trump's companies offer a group LTC insurance program. Also, in Indiana, Vice-President-Elect Pence's state, people can buy LTCi with Medicaid-related incentives. With new advisors and new elected officials working to revamp the American healthcare system, it's possible LTC may get the attention it deserves.
What You Can Do
According to a traditional principle of marketing, it takes seven "touches," or impressions, for a marketing campaign to influence a consumer. Have your clients heard about LTCi seven times yet? It's not something you want to harp on, but it fits naturally into a discussion about retirement planning or estate planning, so there are plenty of opportunities if you're looking for them.
The Political Shake-Up: DOL Fiduciary Rule
We're still not quite sure what will happen with the DOL's proposed fiduciary rule. What we know so far is that president-elect Trump is expected to stop the DOL rule from taking effect. However, as of late November, a group called Save Our Retirement asked him to ensure the rule takes effect. This group includes representatives from the Consumer Federation of America, AFL-CIO, and Americans for Financial Reform. Both a Washington district judge and a Kansas federal judge have rejected attempts to challenge the rule. As of this writing, there's currently a third lawsuit against the rule pending in Texas.
The rule, published in April of 2016, is supposed to take effect in April of 2017. The newly elected Congress will convene before that date, however, on January 3, 2017. There's a competing piece of legislation, called the Financial CHOICE Act. The CHOICE Act would eliminate the DOL's fiduciary rule if passed. The CHOICE Act would require the SEC to create a fiduciary rule before the DOL, putting the current DOL rule on ice until the SEC takes action. According to Representative Jeb Hansearling of Texas, chairman of the House Financial Services Committee, Trump supports the CHOICE Act.
So does that mean the DOL fiduciary rule is dead?
Maybe.
It's unclear how that move would affect the companies that have already begun making big – and expensive — changes to adapt to this rule. As an example, CNO Financial Group has slated $8-$10 million in 2017 for compliance, followed by an additional $2-$3 million/year. Will the companies that have already started making changes follow through? It's a game of wait-and-see at this point.
What You Can Do
Get involved. Follow our industry's leaders and groups on social media and in the news. Make your voice heard!
You know what they say – hindsight is 20/20. Will these issues take center-stage in 2017, or will we see a new technology, new social media network take the year by storm?
Tell us – what's in store for the life insurance industry in 2017? Sound off in the comments.
---