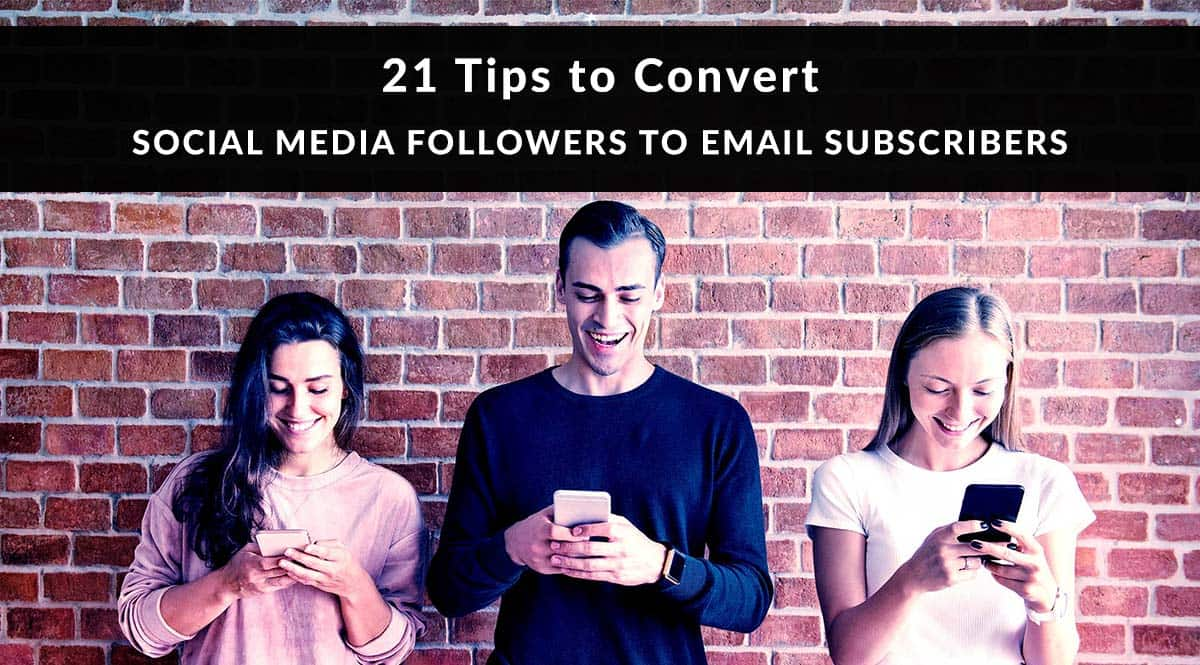 If you've amassed more followers during our digital-only quarantine, great! Now it's time to convert social media followers to email subscribers.
---
No time to read? Watch our video overview:
---
We've talked a lot on this blog about why you need a mailing list and what to do with it once you have one. Email is your direct connection to clients and prospects. Once they give you permission to email them, you don't have to worry about best posting times, algorithm updates, or diminishing organic reach. You have a fast, secure way to reach them at any time.
Social media may be great at generating leads, but it's not the best forum for closing them. So let's talk about how to convert your social followers into list subscribers. We'll go over a few tactics for the most popular social networks.
Jump to a section:
Facebook
LinkedIn
Twitter
Instagram
YouTube
Before You Start
The techniques we go over below require two things: a lead magnet and a landing (sign-up) page.
A lead magnet is something free you give subscribers in return for their email address. This could be as simple as a video, a checklist, an FAQ, or a fact sheet. Or it could be an eBook or guide. If you don't have a lead magnet yet, the simplest one to create is a video or PDF checklist.
Once you have your lead magnet, you need a page on your website to collect sign ups – your landing page. We won't go into the specifics of landing pages here – there's a trove of information, templates, and services online to get you started.
A good pointer for this page? Pick a short, easy-to-remember URL. This is particularly important if you do live video, or want to use a video to generate leads in the future. You'll want to say the URL in your video, and you don't want to give people a long, hard-to-remember URL. Go with something you'll remember, like yoursite[dot]com/signup or yoursite[dot]com/members.
BONUS TIP: Once you have your lead magnet and landing page, don't waste them! Put that signup URL in your email signature, social media bios, and on the home page of your website.
5 Ways to Convert Facebook Followers to Subscribers
Here are five ways to convert your Facebook followers to subscribers – both free and paid.
Use your cover image to prompt sign-ups. Create a new cover image asking people to sign up. Don't worry about fitting your signup URL in the image – you'll put that link in the image description once you upload it.
Use the Sign Up button. Facebook has a built-in method for you to get sign-ups: the sign-up button. All you need to do is drop the URL of your landing page, and you're good to go. BONUS TIP: Put a down arrow in your cover image to draw attention to your sign-up button.

Share your lead magnet landing page. Then ask co-workers, friends, and/or family to comment on it. The more comments you have, the more people the Facebook algorithm will show it to. Plus, if you want to use either of the two paid strategies below, these comments act as "social proof" that your lead magnet is desirable and interesting.
Boost your lead magnet landing page post. It costs as little as $1/day to boost a post, which gets it seen by more people. You can choose to target people who already like your page, people who like your page and their friends, or a custom audience. If you choose a custom audience, you can then select demographics for age, gender, location, and interests. If you're new to Facebook advertising, stick with boosting a post for now – if you like your results, you can dive into the Ads Manager later. Check out our post on Facebook Ads for Life Insurance Agents to get a feel for it first.

Create an ad. If you're already into Facebook ads, just create a promoted post campaign. Keep in mind that an ad isn't the same as boosting a post – it's a little more complicated, but it can help you reach a more targeted audience. For example, you can select whether to show your ad on desktop or mobile, and you have more options for targeting.
4 Ways to Convert LinkedIn Followers to Subscribers
Here are four ways to convert your LinkedIn followers to subscribers – and only one of them costs money.
Add your lead magnet to the Featured section on your profile. You can include media here, from an image of the cover of your eBook to a web page (your landing page, where people can sign up for your list). When you add a web page, people who click or tap will be taken straight there in a new tab. PDFs open in a native PDF viewer, with your text shown below it. You can also list PDFs and eBooks in the Background / Projects section of your profile.

Publish articles on LinkedIn. According to Kinsta, only about 1% of LinkedIn users share content on a weekly basis. You're just not competing with the same amount of content as you are on other social networks. Plus, LinkedIn notifies your connections every time you publish. You can include a request to sign up for your list to get your lead magnet at the end of every article.
Share a short post about your lead magnet. To do this right, you need to pull out something helpful or interesting from your lead magnet. Think of this as a teaser – if this tip piques someone's interest, chances are good they'll want more. But you need to put the link to your signup page in the comments, not the post text. This gives you two benefits. First, it keeps people from thinking you're just pushing your own content; instead, you're offering helpful content first. Two, LinkedIn's algorithm will show your post to more people because you're not trying to drive them off the platform with a link in the main text (that tidbit comes courtesy of Brittany Krystle, a LinkedIn expert who's worked with Gary Vaynerchuk and Marie Forleo).
Sponsor a page update. This is similar to boosting a Facebook post. First, you create an update for your business page. Then, you "sponsor" it. There's a "Sponsor Now" link above the post in your page feed. If you're already using LinkedIn ads, just create a new ad in your Campaign Manager. If you've never used Campaign Manager before, you'll be asked to specify a currency and associate a LinkedIn page with your account.

3 Ways to Convert Twitter Followers to Subscribers
Here are three ways to convert your Twitter followers to subscribers – and only one of them involves paid promotion.
Tweet your offer frequently – possibly daily, depending on your overall tweet volume. Twitter moves fast. There's no way all your followers saw that one promotional tweet you sent a week ago. The best way to approach this is to pull out quotes from your lead magnet, tweet them on a regular schedule, and always include your freebie signup URL. Be sure you balance your promotional tweets – never more than one-third of your overall tweet volume.
Host a Twitter chat. This strategy takes a bit more time, but it can really help you connect one-on-one with followers and prospects. A Twitter chat is essentially a stream of tweets sent during a particular time (an hour, say) all containing the same hashtag. These might be helpful snippets from your lead magnet. You might be answering questions, encouraging questions, or sharing resources. It's a mini-seminar conducted entirely through tweets. Attend one first and see how it works. If you enjoy the format, host one yourself and tweet out the URL for your freebie signup periodically throughout the chat.
Promote your tweet. Like all other platforms, you can pay to promote a tweet offering your lead magnet. Access your ad interface in the More section from your left-hand menu. Twitter will ask if you want to automatically promote your tweets (don't pick this your first time out – it involves a flat monthly fee) or launch an ad campaign (pick this). Next, select the ad options for "Website clicks or conversions." You'll have the option to target your ad by gender, age, location, language, device, or interests/keywords.

3 Ways to Convert Instagram Followers to Subscribers
Here are three free ways to convert your Instagram followers to subscribers.
Add your signup URL to your bio. You might think you should use your website or quoter URL as your bio link. But let's be real – offering your lead magnet makes a lot more sense. It's something tangible followers can get right away. It benefits them as much as it does you.

Use a poll. This is a great strategy for boosting engagement for your Instagram Stories. The trick is to create poll options that drive people to your lead magnet. Let's say your lead magnet is about using cash value life insurance to help pay for the kids' college tuition. Your poll might ask: are you confident or worried about paying for your child's education? In your analytics, you'll see exactly who responded to your poll. To follow up, send that person a DM and explain that you have a resource that can help solve their problem – and include your signup URL.
Use ghost posts. A "ghost post" is a post you delete after a couple hours. This is a great strategy to use with promotional posts so they don't clutter up your feed. Leave the posts that offer valuable tips or information so people scrolling your feed only see the stuff that truly helps them. When you want to share the occasional promotional post, leave it up for two hours and then take it down.
6 Ways to Convert YouTube Subscribers to Email Subscribers
Here are six ways to convert your YouTube subscribers to email list subscribers – and only one involves advertising.
Use your channel art to prompt sign-ups. Create new channel art telling people about your lead magnet. Just like in the Facebook strategy we listed above, don't worry about fitting your signup URL in the image. Just include a down arrow, pointing to the links below (YouTube overlays your channel's art with its associated links, discussed in the next idea).
Drop your signup URL in your About tab. This often-overlooked piece of YouTube real estate lets you include links beneath your channel description. It's also what populates the links that appear on the lower-left of your channel art. Give your link a click-worthy name – don't just use your URL as the link name. Your nifty description is what users will see when they hover over the link. Choose something descriptive like "Free training on [topic]," "How to [topic]," etc.

Use cards. Once you associate your channel with your website, you can use YouTube's "card" feature to drive traffic from YouTube to that website. Cards, unlike annotations, will display on desktop and mobile devices. Cards start out as a white rectangle on the screen with a brief message – "Get FREE personal finance tips!", for example. When a viewer clicks or taps, the box expands to include an image and clickable headline.
Include the signup URL in the video description. Don't ignore this valuable real estate. Be sure you explain what your lead magnet is and how it can help your viewers.

Ask viewers to subscribe at the end of every video. YouTube viewers are very comfortable with calls to action…nearly every regular video producer asks viewers to "like, comment, and subscribe" in every video. You may want to explain why you're asking them to subscribe to your mailing list in addition to your YouTube channel. Tell them what your lead magnet is and why it's valuable to them.
Use paid advertising. Like every other platform, you can pay to reach more viewers – or to retarget viewers who interacted with one of your videos without taking action. You can choose to place your video ad above search results, in pre-roll (before the video a viewer selected to watch), or in the sidebar.
That's our look at how to convert social media followers to email subscribers!
Which of these methods has worked for you? What other methods do you guys suggest? Share them in the comments - let's learn from each other!
---