"People who buy life insurance are people of character who love their family."
You might have heard that quote a couple times, and that's because Jan and all of us at Pinney Insurance Center truly believe in the statement. Most individuals who purchase life insurance are spending money on something they won't ever use. It's for their family. It's protection against financial ruin when one income suddenly stops coming in. Since it's February, this makes it a perfect time to approach new prospects to talk about life insurance, the ultimate symbol of love. But before you roll out a Valentines-themed "Insure Your Love" marketing campaign, be sure you've got the basics covered. Here are 3 questions you'll need to be able to answer.
Who Needs Life Insurance and Why?
The short answer is: everyone needs it, and at nearly every stage of life. Married couples need it so that if one spouse dies, the other spouse can take time off to grieve, remain in the home, and not make any drastic changes in lifestyle. Losing a loved one is difficult enough; the spouse left behind shouldn't have to face a mortgage bill, debt collectors, and exorbitant funeral expenses right away. Life insurance is just as important for those with children, whether they're married or single. A surviving spouse has the ability to continue working. Children don't have that advantage. But even parents with grown children should consider life insurance, because their children may not be able to cover the funeral costs on their own. Or if Dad dies and Mom doesn't have the funds to take care of herself, now the children have to find a way to support her. Death affects the entire family, financially as well as emotionally. It's smart to insure young people, too, even if they're single and childless. Their rates will be better and are locked in for a time in the future, should they choose to get married and have children. If they pass away unexpectedly, their beneficiaries can cover the funeral expenses without sinking their savings or withdrawing from a retirement account. Life insurance can also help business owners keep the business in the family or pass it on effectively, and it can help retirees leave a larger legacy to heirs without suffering loss from estate taxes.
Which Type Do They Need?
It depends. That's not an evasion--it means that every client's needs are different. One of the best parts of our job is sitting down with clients, or talking with them over the phone, and letting them tell us what their financial goals and worries are. Then we get to solve as many of them as we can. In a nutshell, however, here are the two main choices:
Term—This is more affordable and protects the insured for a certain period of time (10 years, 15, 20). The death benefit pays if a client dies within the term.
Permanent —This is more expensive, but it protects the insured for his or her lifetime. Rates are locked in. In addition to a death benefit, permanent policies accumulate cash value that grows tax-deferred.
How Much Do They Need?
One of the first things you as the broker should do is run a needs analysis. Start by asking questions and having a relaxed conversation. If you push prices and advanced statistics on your client at the beginning of the meeting, you may lose their attention, confuse them, or overwhelm them. This initial meeting is all about
them
. One good starting point may be to ask, "If life insurance were free, how much coverage would you get?" They may say $100,000, $500,000, or $1 million. Next, find out their actual needs by looking at the household's annual income, debt, and financial goals. Do the numbers match? If the client says they need $1 million and you find out the more realistic need is $400,000, you may have an easier sale on your hands. Life Happens has a good, unbiased
needs calculator
that you can use together during this visit. Since it's designed for consumers, your client can also change numbers and re-run the calculator later, if they want to see how different incomes or financial goals affect the overall recommendation for policy size. That should get you started on the road to a productive relationship with a new client! If you're interested in working together to help individuals of character protect the ones they love, we can help. From free agent training to thought leadership and drop-ticket application solutions, it's our goal to provide all the tools for your success. Need help with a particular case? Give us a call at (800) 823-4852 or
click here to email our Brokerage Sales Support team
.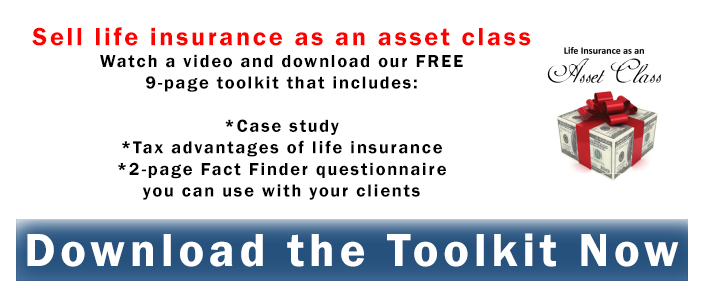 ---