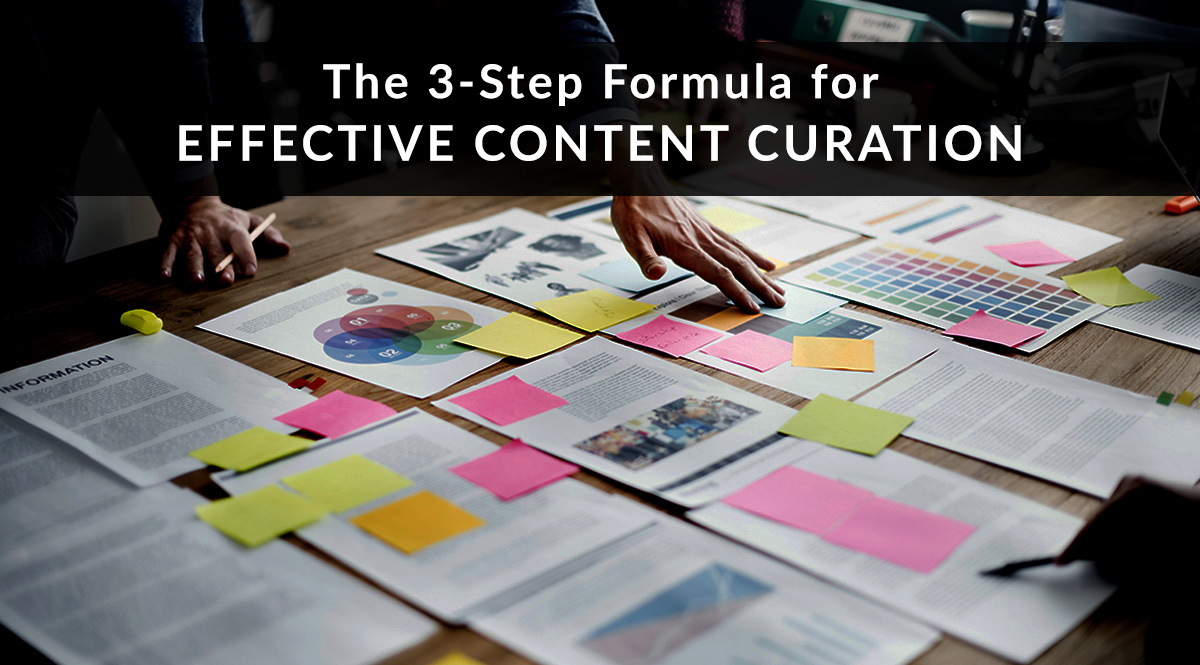 Building a digital brand, boosting your presence on social media – you probably know you should be doing these things, but who has the time? Even if you want to create original content, chances are you need that time to interact with clients, not write blog posts. Content curation is the solution.
Content curation is marketing-speak for finding and sharing content that resonates with your audience. Your followers don't need a 500-word article from you every day or even every week. What they do need is advice, wisdom, and encouragement...all delivered with your unique spin. If you hit the sweet spot – a mix of content that's informative and engaging - your audience might share your posts, bringing you a steady stream of new prospects.
Why People Share
Before we dive into the 3-step formula, let's take a step back and look at why people share content in the first place. Keep these factors in mind as you go through the process below. The better your content helps your audience do one of these things, the greater the chance they'll share it.
According to the New York Times Customer Insight Group, people share content online for 5 reasons:
Entertain, inform, or help others – 49%
Show others who they are – 68%
Establish relationships with others – 78%
Feel connected to the world – 69%
Spread the word about causes or brands that have meaning for them – 84%

As you set up your own content curation workflow, ask yourself whether the content you're selecting fits at least one of these criteria.
Step 1: Choose Your Sources
Which publications or blogs do you read frequently? Whose posts do you enjoy? Start keeping a list (or create bookmarks in your browser) for valuable sources you can turn to for sharable content. Gather these sources into an RSS reader like Feedly or a content aggregator like Flipboard. When you need content to share, you'll have it at your fingertips from sources you've already vetted.
The point of content curation is to help your audience, but that doesn't mean you can't help yourself, too. Are there industry influencers you want to meet? Add them to your list of content sources. If they see you sharing their work with thoughtful commentary, it may open up an opportunity down the line.
Here's a quick checklist of sources to add to your rotation:
blogs
digital editions of newspapers and magazines
YouTube videos
podcasts
Soundcloud embeds
Slideshare decks
Pinterest boards
books – you can share links to your favorite books on Amazon or Barnes & Noble
industry organizations that produce sharable content, like Life Happens
infographics from sources like Pinterest or Visual.ly
Step 2: Select a Variety of Content to Share
Watching TV would get pretty boring if one show aired all the time. Social media is the same. You want to share a variety of content: inspiring quotes, videos, financial advice, news stories, even book or movie reviews – with an insurance tie-in, of course.
If you're targeting Facebook, for example, keep in mind that people go there to catch up with friends and family and be entertained. If all you share is dry financial news, your audience is going to turn away when the next cat video scrolls by.
Here are a few key stats to keep in mind as you select the types of content to share:
The most-shared content type? Infographics. According to an OKDork and Buzzsumo study that looked at hundreds of millions of pieces of shared content, infographics came out on top. Infographics were shared an average of almost 15,000 times.
The second most-shared content type? List articles. Lists were shared an average of just over 10,000 times, according to that same study.
The quality that gets posts shared most often? Emotion. CoSchedule, a social sharing app, studied their most-shared posts and discovered that posts that spark a positive emotion are most frequently shared.

Step 3: Add Your Take
This may be the most important part. Your audience follows you for a reason. They trust you, they like your voice, and they want to know what you think. No matter what you're sharing, you can and should add your own thoughts.
If you share a news story or financial advice, what made you choose that article for your audience? If you're sharing an inspirational quote or story, how can you connect it to your life…or theirs? Try to add at least a one-sentence note to everything you curate. Or use the opportunity to ask your audience a question. Then, before you share, ask yourself: Does this add value to my client's day? Make sure you can answer yes before you post.
Here are the key factors that influence a reader's decision to share, according to the New York Times study:
It appeals to their motivation to connect with each other
They trust you
The message is simple
It appeals to their sense of humor
There's a sense of urgency/action needed

Depending on what you're sharing, this is also the place to give credit to the original creator. Sometimes this will be obvious, like when you share a link on Facebook. Most of the time, their link-sharer pulls in the source website's URL, for example. If it's not obvious where your shared content came from, give the original poster credit after you add your thoughts. If you tag them, they may also share your post, giving you both more visibility.
Set Your Routine
Once you nail this formula, the whole process can be done in a just a few minutes a day. You may want to dedicate a certain time of day to checking your sources and curating what you find on social media – the first 10-20 minutes of your morning, for example.
If you share evergreen (always relevant) content, you can save time by pre-scheduling your posts using tools like Buffer and Hootsuite, which we covered in this post. Pre-scheduling makes it easy to get a week or a month's worth of content curation done all at once.
Content Curation: Next Steps
Pay attention to what your audience likes and responds to. That way, you can deliver more of that type of content. For example, let's say you run a weekly schedule of content that contains a news story, financial advice, an explainer video from YouTube, a meme, and an inspirational quote. You may get a lot of likes and shares on the memes and inspirational quotes, but let's say you get real questions and thoughtful comments on the explainer videos.

This tells you three things:
Your audience is ready to sit down and listen.
They want complex topics broken down into plain English.
They enjoy consuming video content.
What do you do with this information? Right off the bat, you can try to find more helpful video content to share. If you do this and the engagement level stays high, you may even want to try making your own explainer videos. What questions do your clients ask most often? Can you address their FAQs on camera and share this for a wider audience? Remember what teachers in school used to tell us about asking questions: If you have a question, chances are someone else does, too. You could be the person to answer that question - and possibly earn their business.
Do you curate content on your website or social media accounts? What are your favorite sources or techniques?
We'd love to hear your best tips! Share with us in the comments.
---