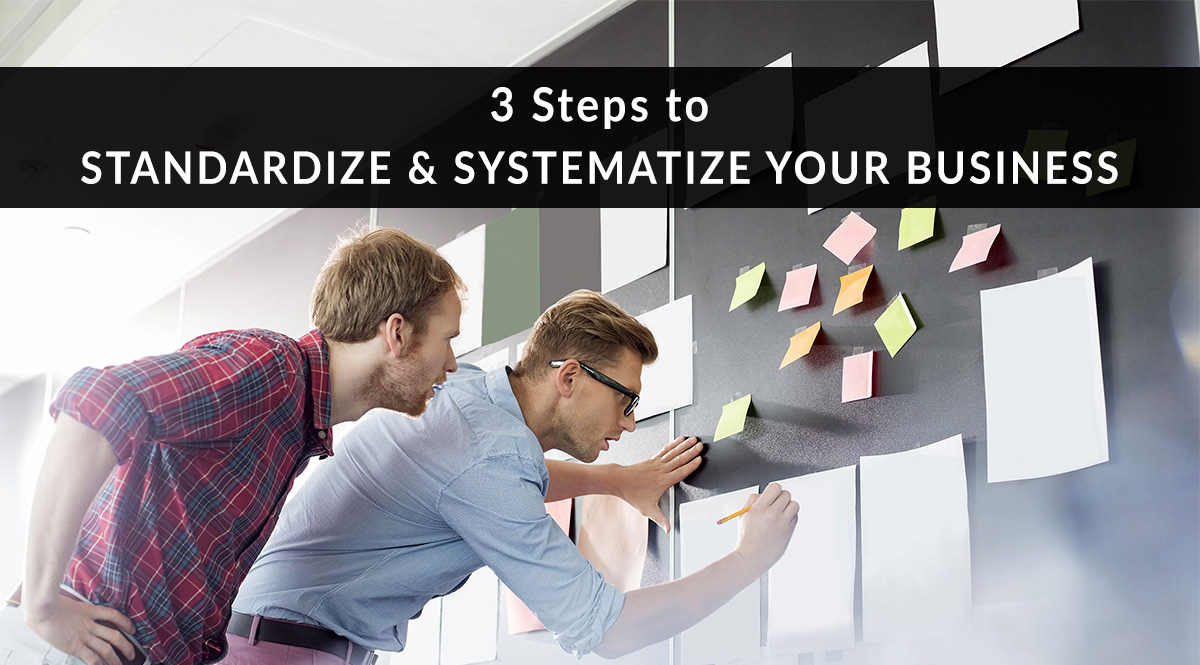 We've talked before about the need to standardize and systematize your life insurance business. This is especially important for independent agents, who have complete control over everything from hiring to outsourcing to marketing.
In this case, however, control actually comes with a downside. There are only so many hours in the day, and it's incredibly difficult to manage all of these processes from start to finish yourself. How do you build, grow, and manage a business while keeping your sanity?
The best solution we've found is to standardize, systematize, and automate your business's procedures and workflow. This key component of Sales 2.0 accomplishes two vital tasks:
It lets you spend time where you bring the most value to your business.
It lets you map out a clear way for others to help you manage the rest.
Step 1
Write down a complete list of processes required to run your business.
This includes everything from answering the phones to responding to emails to calling clients whose policies have lapsed. It's a good idea to keep a few separate lists: daily tasks, weekly tasks, monthly tasks, etc. There are some reporting tasks that might only need to be done monthly, for example, and you probably won't think of them until it's time to do them.
Keep these lists around the office on a permanent basis. Chances are, there's always something to add, even if it's a yearly task related to filing taxes, for example. Also keep in mind that you might not be the one currently doing these tasks. Ask your staff to help fill out the list with their daily duties, too, to make sure you end up with a comprehensive list.
Step 2
Write a step-by-step description of how to do each of those processes.
Some are simple: "Check your voicemail twice a day, once by 9 am and once by 2 pm." Others will be a little harder to document, like this: "Call clients who want to cancel their policies and try to keep them in force."
These complicated procedures might require support materials, like phone scripts. If there is no script, create one. You may need to sit down and role-play with another employee to get your thoughts on paper. You could also record your calls and transcribe them as examples.
Why should you go into this level of detail?
Because you need to write these descriptions for a hypothetical new employee with little or no knowledge of the insurance business, let alone your business.
Can you create a list so complete that someone from a temp agency could keep your business running if you were sick or on vacation? Could you hand your list to a virtual assistant and have them complete these tasks to your satisfaction?
Don't assume the person reading your instructions will know anything about your business. If they need to reference charts or websites, provide links. Will they need reference books or records in the office? If so, note where they can be found. Better yet, scan these materials and store them in a readily accessible location, like a common computer drive or Dropbox account.
If this feels like an overwhelming task, you're not alone. Like any big task, though, the best way to tackle it is one small step at a time. In our office, we track every question and create our own Wiki to provide the answers. Start by tracking common questions. As time allows, you can answer them and a build a resource employees and contractors can pull from.
Step 3
Decide which tasks you are going to handle.
Where can you add the most value to your business? Are you good at selling, managing, or building and maintaining relationships? You might be good at all of these, but realistically, you want to pick one and focus on that. You might be a great closer, which means you can bring the most money to your bottom line by selling to new leads. Or you might be a great relationship manager, which means you should handle things like policy review and upsells in order to keep your existing clients happy. If you aren't a good manager or administrator, don't assign yourself tasks like reporting. You won't enjoy it, and you might might something another eagle-eyed employee might catch.
Next, divide the remaining tasks among your team members.
In our office, we ask new employees to take a test that identifies their strengths and workflow patterns. We use the Kolbe A Index, which identifies the way you prefer to work using number ratings and four categories. These categories are: "Fact Finder," "Follow Thru," "Quick Start" and "Implementor." When you match people with tasks that fit their skills and aptitudes, it reduces the overall stress level in your office. It also lets you know how best to work with each and every one of your employees.
Creating a standardized, systematized workflow is the best way to ensure your business is run the way you want...without having to do everything yourself. Unless you plan on working every single day of the year, your business needs to be able to run without you. It's also a key part of your independence as well as the first step in succession planning.
The next step is incorporating next-gen technology into your processes, including a CRM and VOIP phone system. But we'll save that for another post! The process we've described here isn't fast or easy, but it works. Have questions about how to standardize or systematize? Tell us in the comments and we'll answer them as specifically as possible.
Find out more about what it takes to become a 21st Century Producer in our free eBook:

---