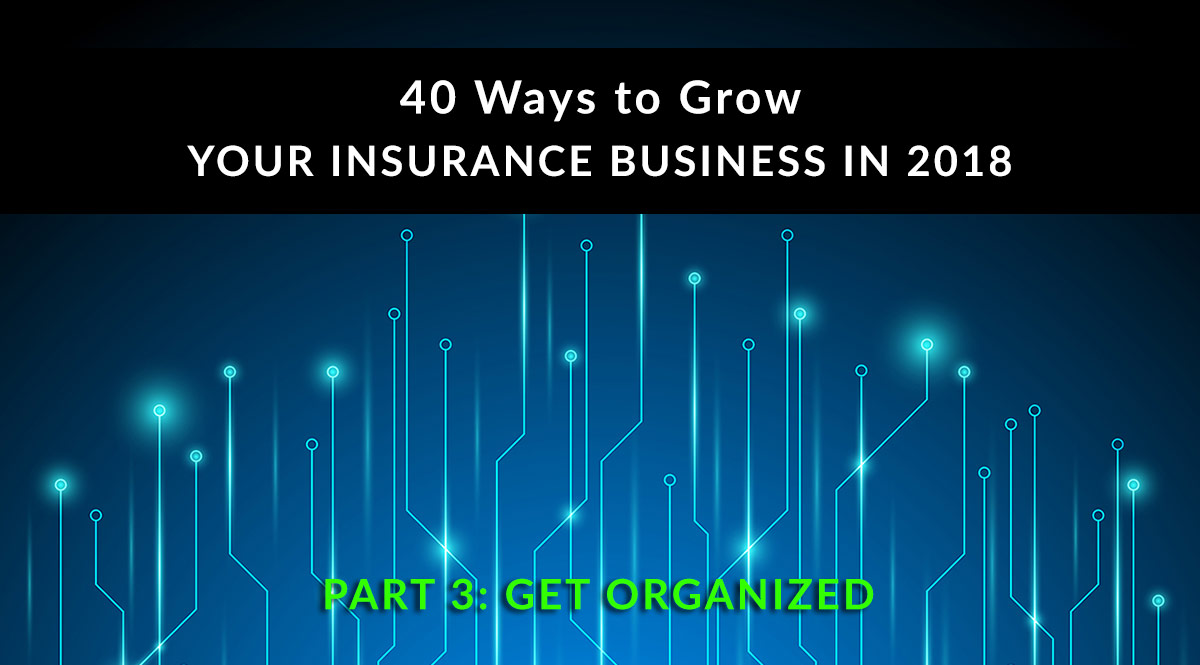 This is the third installment in our series presenting new ways to grow your insurance business in 2018. Let's get organized!
Missed an installment? Click here to read part one (sales tips) or here to read part two (growth hacking). In the post below, we'll go over the tips and tools you need to get organized once and for all. If you can form the habit now, you can stay organized all year long.
10 Best Tips to Get Organized in 2018
1. Schedule Your Day for Maximum Productivity
It takes as much energy to wish as it does to plan.
Chances are you have natural rhythms that affect your mental and physical performance throughout the day. You might be dragging until 9 a.m., for example. Then, after the coffee kicks in, you might be a task-finishing machine until 11:30 a.m. Then, you're dragging again until 1:30 p.m., when your creativity kicks in, and you have your best marketing ideas.
Once you notice these patterns, try to build your workflow around them. Of course, incoming calls and client meetings take precedence – that's part of the job. For the rest of the day, however, try to slot tasks and activities during the time when you're most able or receptive to doing that type of work.
For example, if you're super-creative from 9 a.m. to 11 a.m., do your brainstorming, marketing, or planning during this time. Don't bog down your creative brain with answering emails or doing routine admin work during this time. Try different schedules to see which works best for you.
2. Subdivide Your To-Do List
A to-do list is a tool meant to provide focus, organization, and inspiration. If your list is longer than War and Peace, it's not going to help you focus at all – it's a distraction. If you find your list constantly growing or overwhelming you, break it into separate lists: day, week, and month/quarter. This will help you prioritize and achieve more in the long run. If you've heard of the "bullet journal" strategy, it works a lot like this.
Good order is the foundation of all things.
The key is prioritizing your list items. What absolutely needs to be done today? Pick the 5 most important and achievable tasks. If or when you finish that list, start something that needs to be done this week. If you don't finish, that's fine. When the daily and weekly tasks are done, look at what needs to get done that month. Pick of a small piece of the task and tackle it now. By juggling a couple smaller lists, you'll complete more, feel more satisfaction in the achievement, and get better at prioritizing your business's needs.
3. Go Digital with Your To-Do List
Three rules of work: Out of clutter find simplicity; From discord find harmony; In the middle of difficulty lies opportunity.
Even if you live and die by paper to-do lists, chances are you think of things to add when you're driving, picking up the kids, or in line at the grocery store. Do you let those thoughts slip away…or do you jot them down on a paper napkin or receipt? Thanks to modern technology, you don't have to assemble your thoughts and ideas from random scraps of paper. It's time to go digital with a master to-do list so you can update it anywhere. If you still prefer paper to-do lists, there's a way to make it work. Consult your master digital list in the morning, and transfer the day's essential tasks to a piece of paper at your desk.
What are the advantages of a digital master list?
It's just plain easier to transfer information between devices and locations when it's in the cloud. You can add thoughts, tasks, or updates using multiple entry methods: type an update, add a voice note, or set a calendar reminder. All these can be done using voice commands and a smartphone.
Or, take a cue from spy thrillers and use a saved email draft as a way to store thoughts across devices and locations. You don't ever have to send the email; once it's saved in draft form, you can access it on a phone, tablet, or anywhere you have internet access.
If you don't already use an app to keep track of your to-dos, here are a few good alternatives:
4. Document Everything
Organizing is what you do before you do something, so that when you do it, it is not all mixed up.
In part one of this series, we talked about standardizing and systematizing everything you do. This helps you remember how to deal with one-off situations and tech problems, as well as train staff or partners quickly.
But where do you start? Who has the time to sit down and document everything they do?
Tackle small pieces of the project at a time – don't let it turn into an overwhelming experience. Just start documenting things as they happen, and your master file will build up over time. If you have staff who also need to document their processes, you may want to store this document in the cloud so multiple people can access it.
The next time you perform a task, document how it's done – this may be as simple as taking screenshots and pasting them into a document. Document everything from ordering supplies to using a bulk email client to send your newsletter to the procedure you follow when conducting a policy review. This file will help you the next time you can't remember how you did something, or when you're training new staff, outsourcing, or bringing on a partner.
5. Start Batching
Batching is a popular concept in the world of productivity and entrepreneurship. This means working on the same or similar tasks for a period of time (in a batch). For example, creating a blog post requires several types of tasks: research, writing, editing, formatting, and creating the featured image. I could go through that list one item at a time, or I could research several posts at a time, write several posts at a time, format those posts in a single sitting, create several featured images at a time, etc.
For every minute spent organizing, an hour is earned.
If you need to get through a pile of work faster, batching can help increase your speed. Your brain gets into a rhythm based on the kind of work involved in that task. Since there are fewer interruptions and re-orientations as you switch between tasks, so you can really get in the zone and focus.
Here's how batching can help in your business:
Policy review process. Use batching to separate tasks like gathering data on who needs a review, completing the actual review, and reaching out with the results of that review. You could batch these out and complete a month's worth of reviews at a time.
Social media posts. If you post on social media, doing it one-post-at-a-time can be a slow process. Instead, try to write a week or month's worth of posts a time, then pre-schedule them. Facebook lets you pre-schedule posts within the app itself, or you can use third-party apps like Hootsuite and Buffer.
6. Stay on Top of Industry News with Feedly
Start where you are. Use what you have. Do what you can.
How do you find out about new carrier products? Or the latest new about the DOL fiduciary rule? Or trends in marketing? If you use a news aggregator like Feedly, it's easy. Feedly is a souped-up RSS reader, which means it gathers news from a range of sources and presents it for you all in one place. You can select individual sources and topics, or let Feedly suggest sources based on your interests.
You can also create lists that subdivide your interests, if you want to keep carrier news and marketing blogs separate. Using a news aggregator is like creating a digital newspaper that's customized for you. Skim it daily to stay on top of industry news. Plus, it's a great way to find interesting and relevant articles to share with your clients and prospects.
7. Use More Templates
We use templates everywhere we can, especially during the life insurance application process. Yes, every case is different, but there are plenty of basics that never change – definitions, next steps, FAQs, what to expect, etc. There should always be some element of customization to make sure your clients feel well cared for, but if the essence of your message is the same, a template can save lots of time. We rely on the communication templates in Insureio, our CRM of choice. If you don't use a CRM, you can still create templates in Outlook, Word, or Google Docs to get you started.
Not sure where to start? First, refer to step 4, above, where you started documenting everything? Use this document to collect frequently asked questions, too. Prepare templates that address the steps, processes, and FAQs included in this document.
A good system shortens the road to the goal.
In addition to templates for communication, you can use templates for social media posts, press releases, reports, slide decks, and more. Websites like Creative Market and Envato are fantastic places to buy inexpensive templates for the uses listed above.
Plus, you can also use our free templates:
8. Make Regular Backups
A year from now you may wish you had started today.
How often do you back up your files? If your primary computer crashed, how long would it take you to recover important data and files? If the thought ties your stomach in knots, now's the time to solve the problem before it happens.
Back up your website. In most cases, your web host makes regular backups that you can access to restore your site. If you're not sure what your host offers, find out. If your host provides cPanel, you can also set recurring backups to happen behind the scenes. You can also use a third-party backup service like CodeGuard. If you have a WordPress site, there are free and paid plugins that will back up your site and store those backups in a Dropbox account, for example. These include BackupBuddy and UpdraftPlus.
Back up your in-office data. How easily could you get a new computer loaded with all the documents, bookmarks, and programs you use on a daily basis? It's a relatively painless process if you make regular backups. Services like iDrive and Acronis will back up the contents of your office computer to the cloud. iDrive even offers a free starter account. You can choose which folders and files to back up, so you're not using (or paying for) more cloud storage than you need.
9. Use a Password Manager
If you want to make an easy job seem mighty hard, just keep putting off doing it.
Part of being organized is keeping your data safe and accessible at all times. If you're hacked, it could take hours or days to change passwords, create new accounts, and notify affected staff or clients. It's an organizational nightmare, but it's one you never have to have.
If you're not using a password manager, now's the time to start. Weak passwords were behind 81% of confirmed data breaches in 2017, according to Verizon – and that's up from 63% in 2016. Many advisors use the same password for multiple sites, or use incredibly simple passwords like password, 1234, or their birthday. Password managers create super-strong unique passwords for you, storing them all in one place. Popular options include LastPass and Dashlane.
The catch? You need to create one super-strong unique password and remember it in order to log into your password manager. The best way to achieve this is to make your password a short sentence combining letters and numbers that means nothing, or contains ungrammatical usage. This makes it much harder to crack, but can often still be easy for you to remember ("[email protected].," for example.) According to HowSecureIsMyPassword.net, that sample password would take one computer 297 octillion years to crack. Cool!
10. Use a CRM
A client relationship management (CRM) system is the ultimate organizational tool. As mentioned above, we use Insureio. Other CRMs include VanillaSoft and Salesforce. A CRM is like a digital filing cabinet for your contacts and policy records. More sophisticated CRMs also have marketing capabilities, like bulk email sends. Insureio builds even more flexibility into the mix with email and text message templates.
Here's how Insureio helps you get and stay organized:
Store policy data, documents, recordings, and more, all attached to a client record.
Run, save, and email quotes to clients and prospects on the fly.
Create reports that keep you on track with sales goals.
Sales automation moves prospects through the sales funnel.
Marketing automation drips educational email campaigns on prospects.
Secure data storage in the cloud.
You will never be completely ready. Start from wherever you are.
That's our look at 10 more ways to grow your insurance business in 2018!
Stay tuned for the next post, where we'll cover 10 personal growth tips. After all, when you're a more well-rounded, healthy person, you'll have more energy, creativity and charisma to bring to your business!
Check out the other posts in this 4-part series:
---