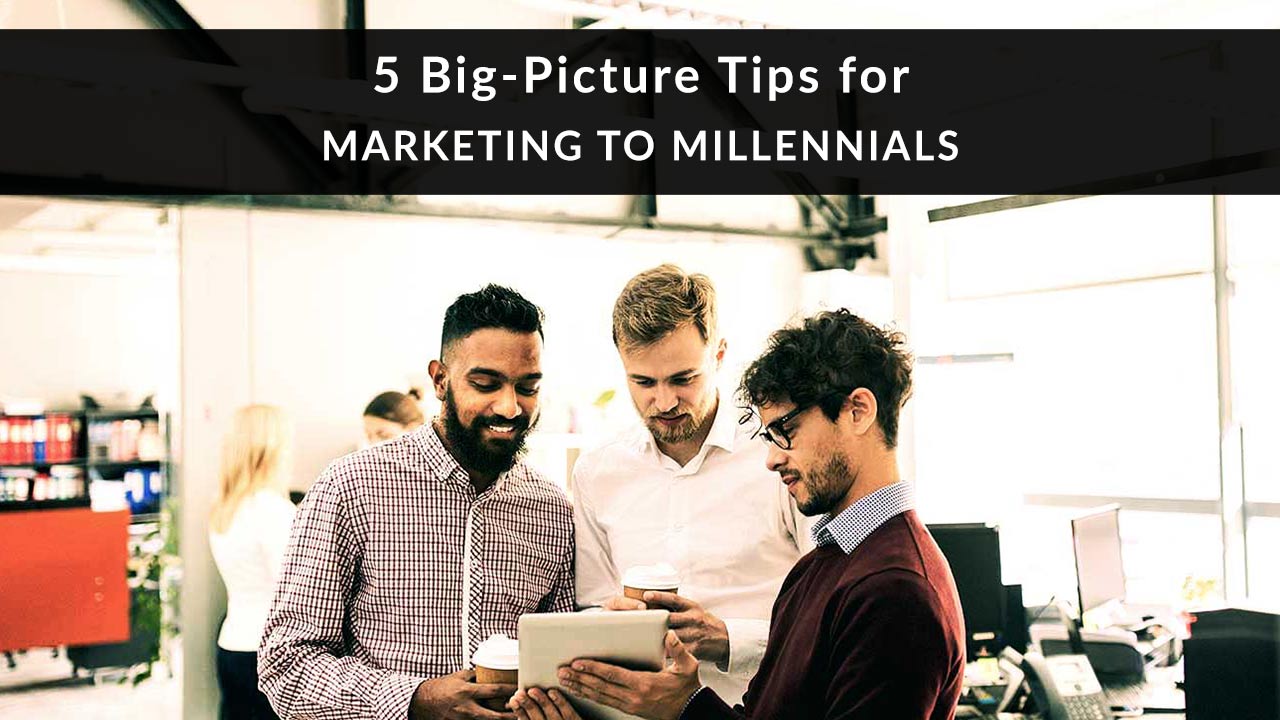 As millennials mature and buy more insurance, we need to use marketing and communication strategies that resonate with this huge market.
Millennial clients are roughly between the ages of 20 and 40, depending on who's defining the word "millennial." There's no way a group that large and diverse is going to have unified preferences. That being said, there's a big difference in what a 25-year-old and a 55-year-old look for in an insurance agent.
---
No time to read? Watch our video overview:
---
That's why this post is about the big picture. There's no single social media network you can join to reach millennials. There's no one marketing tactic you can use to make sure they read your blog or click your ad. But what you can do is shape your marketing around the kinds of themes that go over well with people who grew up as digital natives and began their adult lives in the 21st century.
Tip #1: Build your brand
Branding in this context is about more than having a business card and a website. That kind of branding is all style, no substance. Here, we're talking about your brand as a representation of your mission statement. We're talking about an identity for you and your business that includes your why in addition to your brand colors and logo.
Millennials respond to brands that stand for more than money.
Millennials respond to brands that stand for more than money. In fact, almost 50% of millennials would be more willing to buy from a company if their purchase supports a cause. According to Scott Cowley, a Digital Marketing Strategy Instructor for Arizona State University, millennials "…expect more assurances that companies care about their consumers, employees, and the shaping of a better world."
But because we sell other companies' products, we can't control what the carriers do with our clients' money. They don't have to support a cause or donate to charity. That's why your brand needs to do the heavy lifting in creating the "feel good" component of a purchase.
Here are a few ideas for building a brand that has the empathy millennials (and, really, all of us) want to see:
Share your "why." Why did you become a life insurance agent? Maybe it's because, as Jan Pinney says, you want to help people of character who love someone more than money. What moments in your career have really moved you? Or, in millennial parlance, got you right in the feels? Make sure your website, LinkedIn profile, and social media posts tap into that "why." If you're struggling with this, watch some of the Real Life Stories available through LifeHappensPro. Listen to how the families describe the way life insurance has helped them. That's your why.
Support a cause or charity. Pick your favorite and make it a part of your branding. Ideally, you'd be able to support this cause with your time, money, or both. If you spend time working with the charity, post pictures on your website and social networks. If you donate money, get permission to add the charity's logo with "proud sponsor of" or "proud contributor to" to your website. Explain why you chose this cause and what it means to you.
Use pictures of real people and places in your marketing rather than stock photos. If you have a smartphone, you have a camera good enough to take pictures for your website and social media. Your office isn't perfect (whose is?), but it's real. People in general (and millennials in particular) have grown up seeing the same types of carefully posed stock photos on websites for everything from doctors to daycares. Give them something less perfect, but more relatable. That's really all of us in the picture below!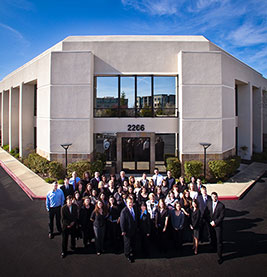 Tip #2: Engage with your community for word-of-mouth marketing
Here's one big take-away from this post: millennial marketing is local marketing.
We're talking about folks who grew up seeing banner ads, PPC ads, and maybe even Facebook ads. They've seen it all - and learned to ignore it. Instead, they want to ask around and find out what the cool kids are doing. They want to read reviews from people they know so they can feel good about you as a provider.
One great way to achieve that is with word-of-mouth marketing. But in order to get word-of-mouth marketing, you have to be visible in the community.
The best way to engage with your community is to become a resource. According to Hubspot, millennials are 44% more likely to trust experts than an ad – even if that expert is a stranger.
Here are a few ideas for engaging with your community for word-of-mouth marketing:
Conduct a workshop. Tell millennials what they need to be thinking about now in terms of retirement planning. Or about why now is the best time to buy life insurance because the prices will never be lower. You can do this in partnership with other local professionals (see below) or on your own.
Partner with CPAs, attorneys, and other local professionals. Refer clients to each other when they have needs outside your area of expertise.
Sponsor a local charity event. Yes, this costs money – but you'll get your name in front of a lot of prospects. You may be able to stuff a goodie bag for attendees with your swag.
Register with your Chamber of Commerce. You'll get invited to events like local openings, meetups, mixers, and more. This is how you find the other local professionals you may want to partner with.
Host an office open house. You don't need a special occasion to invite clients and prospects into your office for a mixer, Q&A session, or just a good old-fashioned holiday get-together.
Get interviewed by local news, bloggers, or podcasters. Spread the word to an audience other than your existing clients and prospects.
Keep a record of all the community activities and events you participate in. These are great moments to highlight on social media and your website. They prove you walk the walk, not just talk the talk. For example, that's us at the Folsom Walk MS event, there to support our very own Jerilyn Beesley.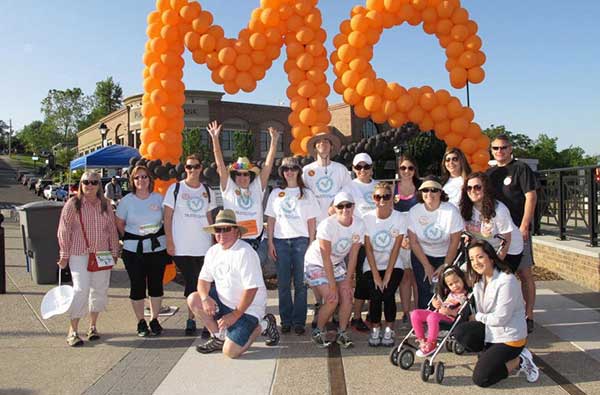 Tip #3: Think small when it comes to digital marketing – local, niche
As we mentioned above, most millennials distrust ads…if they even notice them. Ad blindess: the struggle is real. As a result, you should avoid generic, mass-market ads unless you have deep pockets and plan to make money on sheer lead volume.
The tip above covered in-person marketing that makes you a hit within your community. But what about digital marketing? You can still do that, too – but you need a very focused plan. Go local, go niche, or do both for maximum ROI.
Here are a few ideas for digital marketing to a local or niche audience:
Ask for reviews on Yelp, Google, and/or Facebook. According to a 2018 Sprout Social report, celebrity influencers aren't as—well—influential as they used to be. Friends are the new influencers—and you need their reviews to help guide their friends to you. Make a review request part of your client onboarding kit. We covered that topic in this post.

It costs a lot of money to target everyone in an age range. It costs a heck of a lot less to target, say, truck drivers or stay-at-home dads aged 25-35 within a 30-mile radius of your location.

Use paid ads to target a specific niche. It costs a lot of money to target everyone in an age range. It costs a heck of a lot less to target, say, truck drivers or stay-at-home dads aged 25-35 within a 30-mile radius of your location. Use the millennial age range as a starting point, then add either a reasonable radius from your office, a niche, or both.
Advertise a resource, not a product. We've talked about how millennials often ignore traditional advertising. But they don't tend to ignore helpful resources that educate and entertain them. According to research done by MillennialMarketing.com, "useful is the new cool" – millennials value brands that enhance their lives.
Tip #4: Communicate in the ways they're most comfortable
This one might be the hardest if you're truly old-school, used to phone calls and nothing but phone calls.
Most millennials hate phone calls.
Talking is often slower than texting, plus it requires chitchat and formalities that are time-consuming and, often, anxiety-inducing.
There are several reasons behind this, according to Inc.com: talking is often slower than texting, it requires chitchat and formalities, robocalls have discouraged many from picking up, and to top it off, talking on the phone is often a source of anxiety. For all these reasons, if you expect to get a millennial on the phone, you may be disappointed.
Here are a few ideas for other ways to communicate:
Texting. If you're confirming a fact or asking a simple question, texting rather than calling will get you a faster response.
Instant message. No, we're not talking about AOL Instant Messenger circa 2002. From Facebook Messenger to WeChat, chat apps have made huge inroads into the customer service arena.
Asynchronous video chat. Apps like Glide, Loom, and Google Duo let you send a video message, where you can explain or answer a question in more detail. Yes, it's more convenient if the other person is on the phone to respond, but if it's a matter of earning business vs. not earning business, it may be worth the effort.
Tip #5: Can't do any of these things? Hire a millennial!
If using new technology and communication methods are not something you can do (or want to do), consider hiring someone to help. Who better to give you tips for marketing to millennials than a millennial? You could delegate aspects of your marketing and communication, or have someone teach you how to use new methods and strategies.
Here are a few use cases for hiring help:
Freelancer. Hire a millennial coder, designer, copywriter, or social media specialist. A freelance web specialist from Upwork can set up a chatbot on your website, for example.
Consultant. A millennial consultant can advise you on social media, marketing, digital advertising, and more. They won't do any of the work, but they can help you create a strategy so you know you're headed in the right direction.
Coach. Need to learn how to do what your consultant suggested? Hire a coach. Coaches are more long-term than a consultant, and offer a mix of teaching, training, support, and accountability.
Virtual assistant. Virtual assistants are usually located overseas, but they can do simple digital tasks like post to your blog or social media accounts, as well as forward messages from a chat app to your email or phone.
That's our look at 5 big-picture tips for marketing to millennials!
Do you use any of these strategies? What tips would you recommend for finding (and keeping) millennial clients?
---