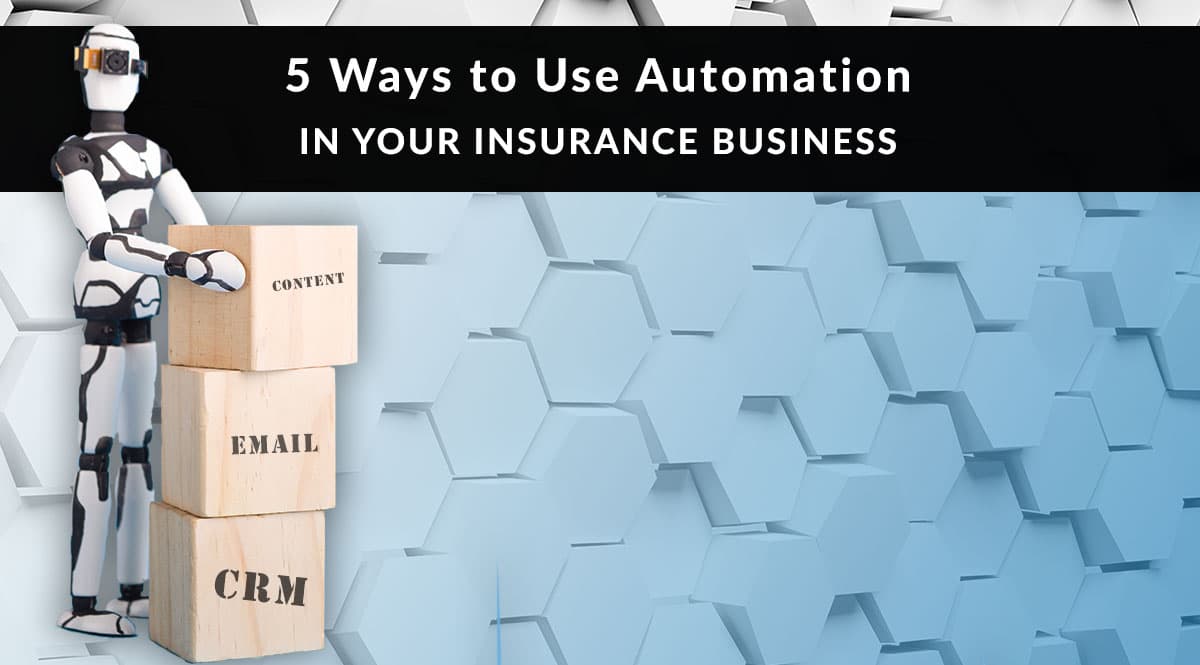 Time is the one commodity we can't make more of…or can we?
Automation is our best shot at getting more hours out of the day. It can't rearrange the clock, but it can perform tasks that don't require human interaction. Automation doesn't mean that robots are coming to take your job. Robots aren't very good at answering personalized, nuanced questions – the kind you get all the time about health conditions and underwriting, or how to meet retirement goals. Automation does mean that we have more tools than ever to help us better serve our clients and stay top of mind.
---
No time to read? Watch our video overview:
---
Here are just a few real-world examples.
1. Automate your workflow with a CRM like Insureio
A good CRM does way more than simply store your client data. It prompts you to follow up with clients when needed. It guides you – and your prospects – through the sales process. And it can help you cross-sell and up-sell, maximizing the lifetime value of every client.
But what does that mean in real life?
In Insureio, our CRM of choice, here's how automation helps drive the buying process:
Prospect makes contact, requests a quote, or is delivered to your dashboard via a lead purchasing system.
Automated emails and text messages let the prospect know they'll be contacted soon and what the next step entails - and how they can take action if they don't want to wait.

Automated follow-up reminders on the dashboard keep you on task to connect with prospects in a timely manner.
Made the sale? Use Insureio's built-in drop-ticket processing to hand off the paperwork to our application fulfillment team. Our app team can handle everything from the interview to ePolicy delivery, and you get automated updates as the case status changes.
Didn't make the sale? Add an automated nurture email campaign to your "case closed" status to automatically enroll prospects who didn't convert. Then, once you change the status, pre-written educational emails will go out to keep you top-of-mind and answer key questions that prospect may not have had a chance to ask yet.
Built-in marketing campaigns and templates let you schedule as much marketing as you want for every type of client: new clients, high net-worth clients, business-owning clients, and more.
In short, most forms of client communication can be standardized, systematized, and automated. This saves you time, keeps you on task, and makes marketing effortless.
2. Automate social media posting & monitoring
You probably know by now that just showing up on social media and posting regularly is half the battle in terms of building a brand and name recognition. But what if you're booked with appointments? What if you want to take a vacation? Automation helps smooth over the scheduling issues with social media.
There are plenty of tools that can automate posting to social media:
Buffer (free plan; paid plans start at $15/month for 1 user; analytics billed separately, starting at $35/month)
SocialPilot (plans start at $25.50/month for 1 user)
Hootsuite (plans start at $49/month for 1 user)
The problem? These tools have become pricier over the years, as they've expanded to support more networks and post types.
You can already automate and pre-schedule your posts in Twitter, Facebook, and Instagram (using Facebook's Creator Studio, shown below) for free.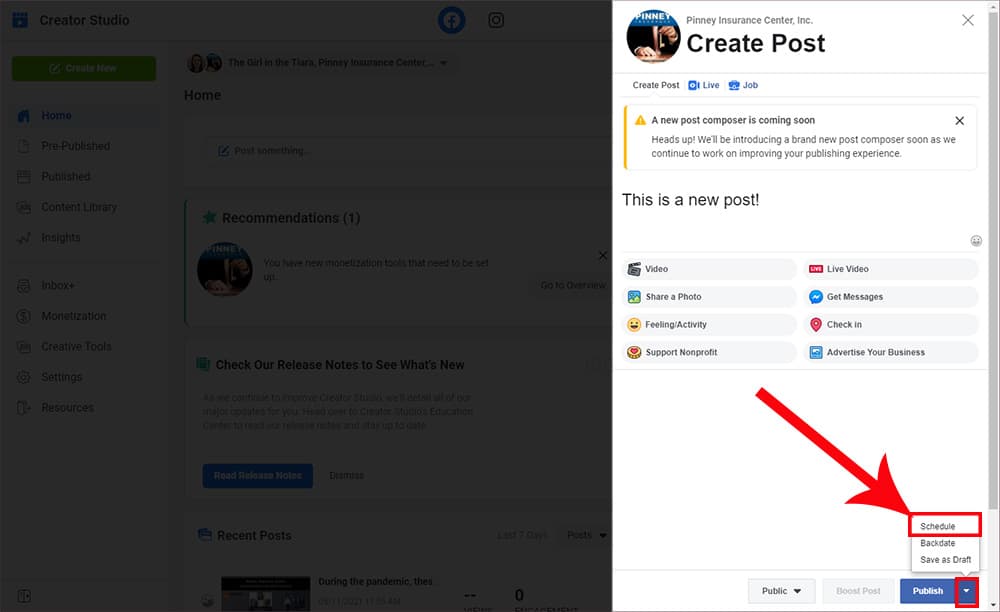 If your needs are minimal, using these built-in pre-schedulers keeps you from having to spend any money. If you want to pre-schedule on LinkedIn, however, you'll have to turn to a third-party tool.
In some cases (Facebook), there's a slight algorithm ding for using third-party automated posting. They would rather you be there live, in the moment, posting and responding. But Facebook's organic reach is so limited that this may not be a big deal after all. It all depends on your goals and how you want to use each platform.
If your goal is simply to maintain a presence that you can add onto in the spur of the moment with additional posts, automation is a great solution.
Social Monitoring
Depending on how active you are on social media, you may also want to automate social monitoring and messaging. Not every posting tool can accommodate those needs. To find out who's talking about you, your competitors, and your industry – as well as to do research on topics and hashtags – you can pay for a tool or you can cobble together a solution on the cheap.
Here are some paid tools that can do the job with all the bells and whistles:
Sprout Social (plans start at $99/month for 1 user; includes post scheduling tools)
Mention (free plan; paid plans start at $25/month for 1 user)
Falcon.io ($108 per user per month)
And here's a way to do it on the cheap, with a little bit of legwork:
Zapier. Build one Zap per social media network, and you can get direct mentions delivered in the format that's most helpful to you: added to a spreadsheet, an email, a text message, etc. No more checking each and every network for mentions! With a free plan, you get up to 5 Zaps. If you want to monitor more than 5 networks (or more phrases or names per network), you'll have to upgrade to a paid account.
3. Automate your email
We've already covered marketing email automation in #1 above, when we talked about Insureio's automated status and marketing emails.
Here, we're talking about regular old email – answering client emails, dealing with repeat questions, and more. There are several automated tricks you can use to make email a less overwhelming experience for you and your clients.
Create folders and filters to keep your inbox clear(er). Folders and filters can help get clutter out of your inbox by automatically routing, say, newsletters and marketing emails into the appropriate folders and leaving the client emails more visible in your inbox.
Create an auto-responder confirmation that tells clients you got their email, and will respond as soon as you can – with links that might help if they have common questions in the meantime. If you only check or reply to email at certain times of day, this can be very reassuring for clients.
Create templates for emails you send frequently. If you use Gmail, for example, the Settings / Advanced menu has a templates function that lets you save any message as a template (shown below). You can then insert this canned response into any email. Outlook has a similar feature called Quick Parts. Highlight text you want to save and re-use, save it to your Quick Parts Gallery, and then insert it later when you need to send the same information again.

4. Automate your content generation
This one is the Wild West of automation. Only recently has AI's machine learning gotten good enough to consider using automated content in the public sphere. It's still a work in progress, but we're mentioning it here to show you what's possible.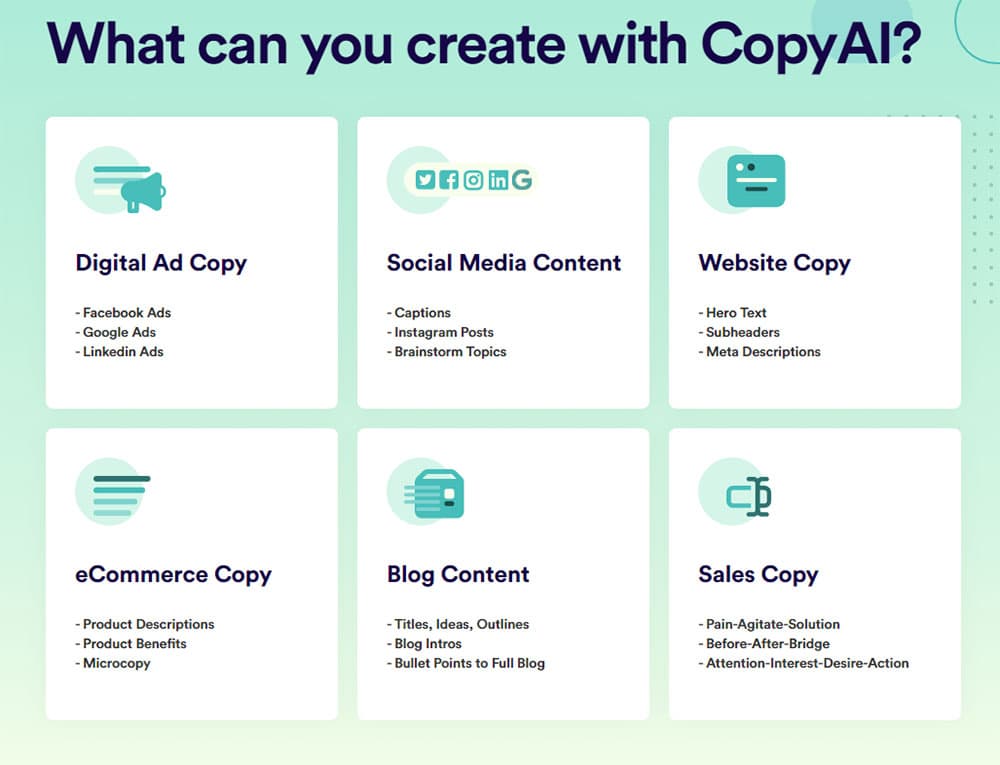 Here are a few tools that are already producing AI-generated content:
AI tools analyze what's already been published on a particular topic and use that data to produce brand new content. Here are just a few of the possible use cases:
Generate PPC and social media ad text
Create new landing page text & calls to action that you can A/B test against your own
Avoid writer's block – use AI copy as a rough draft that you can then spiff up
Generate video scripts and social media posts
However, these AI tools have several caveats.
A knowledgeable human needs to read over their content to make sure it's not inaccurate or misleading, especially in our industry. And because the tools only use previously published content to shape their responses, they can't answer one-off questions or provide customized financial advice. They will never be the same as getting information straight from a professional. But they are a tool you can use to help build your marketing platform if the written word isn't your strong suit.
5. Automate data entry with Zapier
We mentioned Zapier above as a way to automate social media listening. But it can also automate a lot of your data entry chores. We've talked about this app on the blog before, but if you're new to Zapier, it's basically software that moves your data from place to place. For example, let's say you have 20 people who sign up for your webinar and you also want to add them to your mailing list. Instead of copying and pasting 20 addresses into your email marketing software (or downloading and reuploading a CSV), you can create a Zap that moves that info for you.

Here are a few other ways you can automate data entry and scheduling with Zapier:
Get an email or text reminder for Calendly appointments.
Transfer Calendly appointments to Google Calendar or Outlook.
Add Calendly or Zoom invitees to your mailing list.
Email Zoom meeting links to invitees when they schedule via Calendly.
Add Zoom meetings to a calendar.
Transfer to-do items received by email to Trello, Asana, Todoist, and more.
Transfer survey or form responses to Google Sheets.
Get emails or texts when there's a new Facebook Lead Ad lead.
Those are 5 ways to use automation in your insurance business!
The main idea here is not to let automation scare you. It isn't something to fear - it's something to embrace. Even with the learning curve, technology lets you spend more time doing what you love: meeting with clients, or spending more time out of the office.
What tasks would you most like to automate? Have you already automated tasks that save you minutes or even hours per day?
---