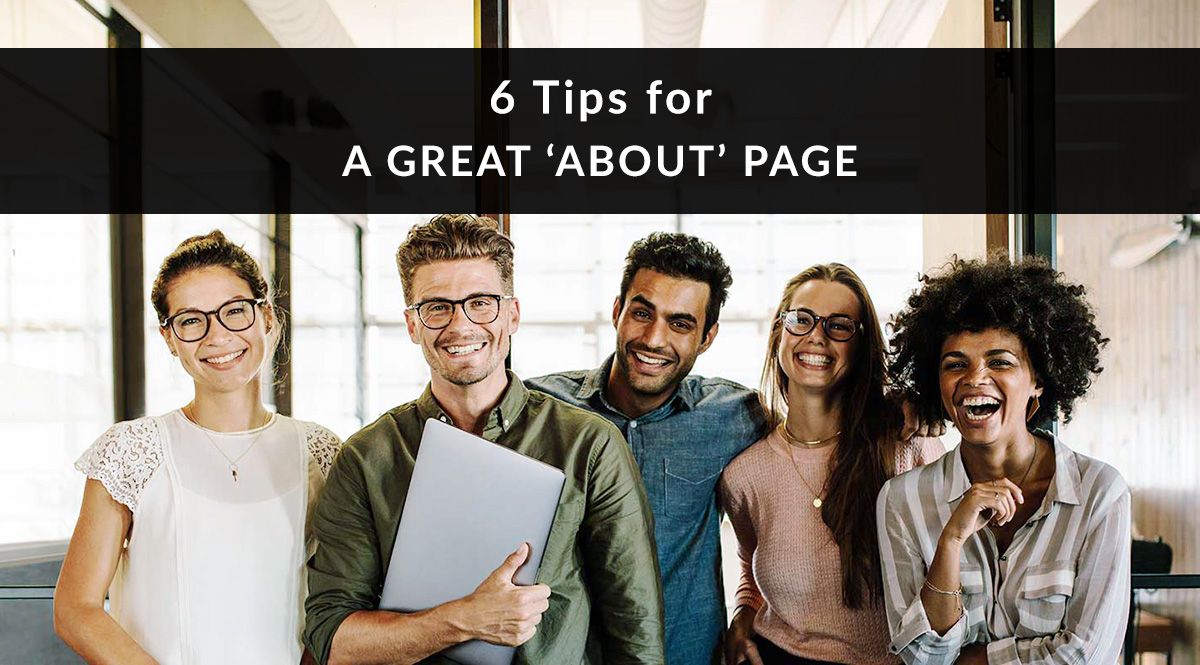 As an insurance agent, your personal brand is important in convincing a prospect to do business with you. Having a great 'about' page on your website is a key component of that brand. It's the most obvious place to look for more information about you, from contact details to your brand's story.
Today's consumers want to feel a connection with the companies and people they do business with. When it comes to insurance, we have to start with trust and respect. But then we also need to engage the consumer with emotion, inspiring them to like us, not just trust us. Your website's "about" page is tailor-made for the job.
As far back as 2012, consulting companies like Blue Acorn were testing About Us pages as a conversion tool. Turns out, they work. Consumers who visited a company's about page were 22.5% more likely to buy from that company. To make sure you're getting the most out of your website as a conversion tool, here are 6 tips to create a great 'about' page.
Put the Most Important Details above the Fold
The phrase "above the fold" refers to the space visible on a web page without scrolling. Before mobile browsing, this was a huge deal. It's a bit less so now, since most pages need to be scrolled on a mobile device. Still, imagine you're a consumer. Why do you visit a company's about page? Chances are you want their contact information, or you want to learn more about their story and what they believe in. Ideally, you'd want to provide a teaser for both of these at the very top of the page. As an example, check out our home page. There's a headline, a teaser, and a call to action above the fold: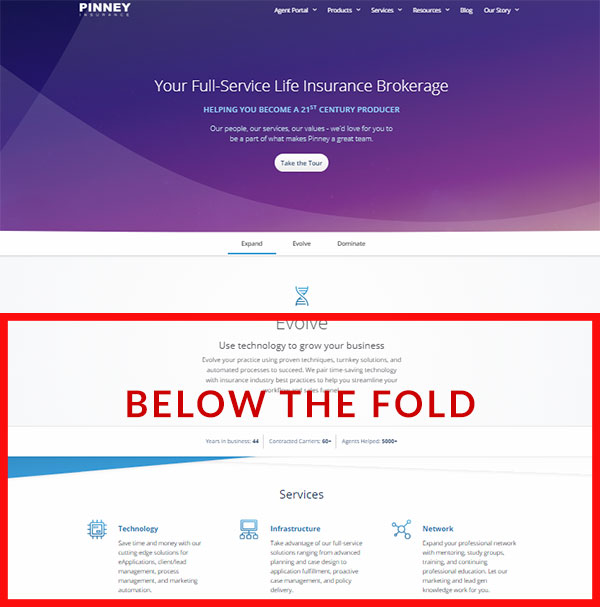 You can achieve something similar on your about page by beginning your page with a simple 3-5 sentence formula:
Who you are
What you do and why
What a prospect should do next
Here's what that looks like when you apply it:
Hi, I'm John Doe. I sell life insurance because I believe protecting someone's future is the most selfless thing you can do for them. Keep reading to see how I got into the business, or call me right now at 800-555-5555 and let's protect your loved ones' financial future first.
Next, you can move on to provide more detail about your agency, along with additional calls to action.
Tell Your Story
In this section, tell your prospect how you got into the business and why. The point of this section is to make them feel a connection to you and your story. You can reinforce your professional experience and credentials later. Right now, you want to talk to them like you're sitting in a coffee shop.
You should answer questions like:
What made you choose insurance?
If you have a niche, what made you choose that niche?
Did you do anything before getting into insurance?
What's been your most memorable moment in the industry so far?
What's the furthest you've gone to help a client – and how did they react?
What role does insurance play in your life?
What motivates you in life? Who are your role models and sources of inspiration?
When you share details like this, it gives your prospect a sense of who you are. For example, let's say you went the extra mile for a client. Let's say you got an expert medical opinion on their case to help present it in the most positive light before it went to underwriting. Now, let's say your strategy worked and you got that client's application approved.
A story like this is a great thing to include on your about page because it shows you much you care about your clients. Your prospect wants to be one of the people you care about. Show them how well they'll be taken care of! With just a few sentences, you've made them like you and trust you, all by sharing an experience that may be perfectly ordinary to you.
Use Real Photos
Your prospect is visiting this page to learn more about you. Don't post a stock photo of a dude in an office wearing a headset. Stock photography doesn't inspire trust; it can often have the opposite effect.
Ideally, you want to use several photos on this page. Of course, you need the obligatory professional headshot (probably the same photo you use on your LinkedIn profile). It's also nice to include photos that show you with your staff, or meeting with a client (you can stage this with a staff member if you don't want to put a client on the spot). Use these photos to give your prospect a sense of what to expect. By the time they do come to see you, they'll feel like they've been to your office already. (Bonus points for accomplishing this with a video!)
If you're comfortable with it, a personal photo can also make you more relatable—a snapshot from a family vacation, or with a pet, or while you're doing your favorite hobby.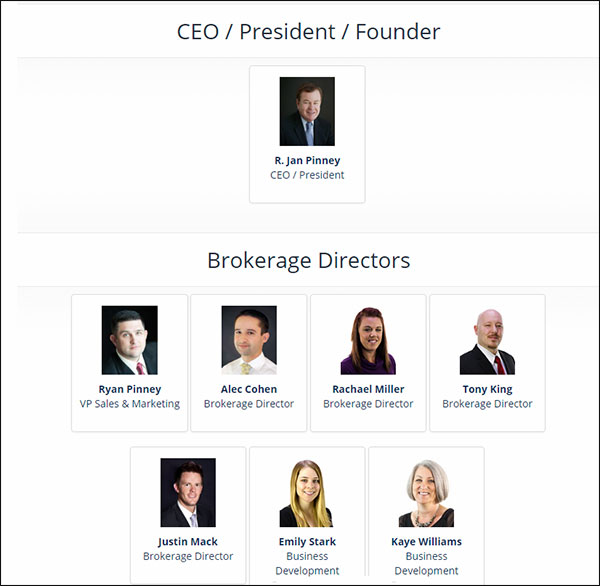 Establish Your Credibility
Now that you've hooked a prospect with a quick glimpse at what you do and why, tell them why they should trust you. You can assume they've scrolled down the page a bit by this time. Clearly, they're still interested. This is your chance to convince them they're in the right place. Spend 3-5 sentences (or use bullet points) to prove you've got the chops to answer their toughest questions.
What degrees, credentials, or certifications do you have?
Have you won any awards or industry praise?
How many clients have you already helped?
What are your special skills?
What are your 2-3 best client testimonials?
Reinforce Your Value Proposition
If you followed the advice above, you gave your prospect a quick and direct statement about what you can do for them. Next, they read about you and your credentials. If they're still reading, you've done everything right! But now we have a new problem - there are dozens (if not hundreds) of other agents who also care about their clients and have similar or better credentials.
Why should a prospect choose you? What's your unique value proposition?
This is where you take a few sentences to sell yourself. Remember, the personal story isn't a good place to sell your skills or a service because you haven't established a rapport with your prospect yet. By this point, however, they know about you as a person and how you got here. They know how you've developed as a professional.
Now, combine all these ideas into a few simple statements to convince them you're the right person for the job. If you remember writing papers in school, think of this as your conclusion. You're recapping the high points of what you've shared and adding a clear statement about your value.
End with a Call to Action
Now that you've established a rapport and convinced your prospect to work with you, what should they do? Always give them a clear path to take. End your about page with a directive – should they get a quote, or would you rather they called or emailed you? Do you want them to make an appointment for a free consultation? If your story has made them like and trust you, they're likely to take your recommendation. Use the call to action that builds your business in the best way for you, whether it's encouraging in-person or online interaction.
That's our look at building a great 'About' page!
Have you seen a great 'About' page? Put a link in the comments and let's figure out what makes it so good!
---