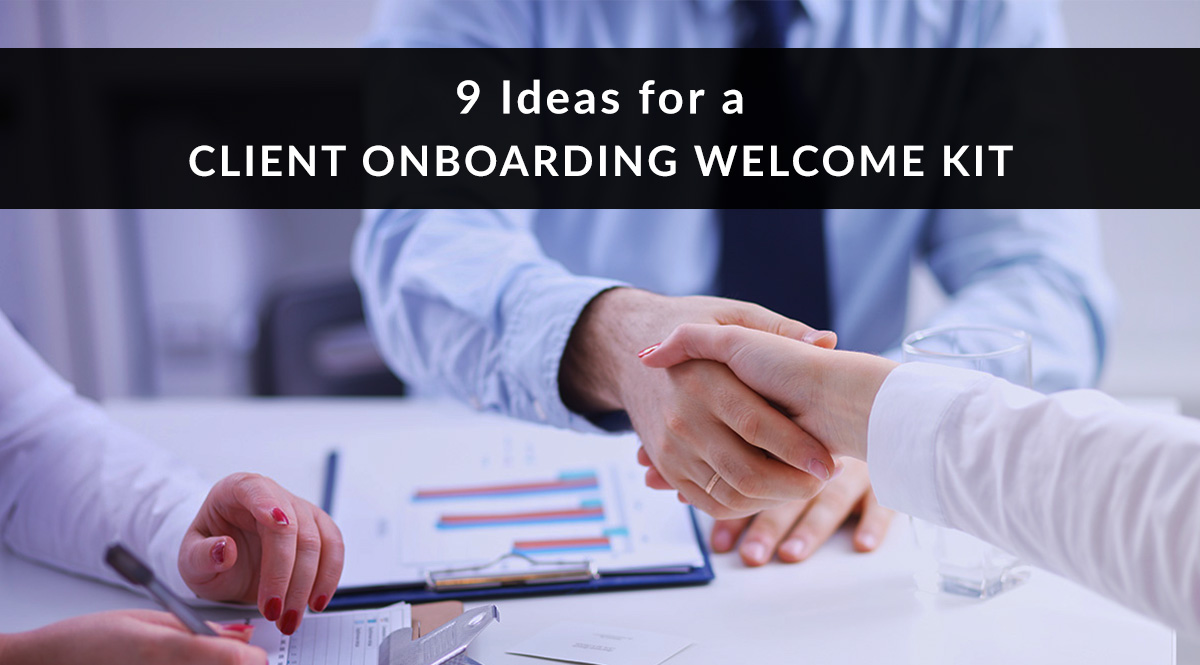 Do you have a plan for welcoming new clients to your agency? Whether it's called a welcome kit or a client onboarding campaign, you need a process that spells out how to reach you, what else you can do for them, and what's going to happen next.
Creating a client onboarding welcome kit is a great way to standardize and systematize your workflow. It will force you to collect the information your clients need, keep it updated, and have a presentable version at all times. Plus, it's just good customer service to provide the information before your clients have to ask for it. Here's how to get started.
Step 1: Make a Plan
In most cases, your welcome kit should be entirely digital. Whether you're a traditional agent doing business face-to-face or a hybrid agent who also does business online, a PDF, email, or web page is eco-friendly and convenient. If you really want to give your client something tangible during a face-to-face meeting, consider a simple card that has the permanent URLs of pages or documents they may want to access later.
The good news with keeping your welcome kit digital? It's free and easy to update at any time. There are no printing costs, and no wasted material when you change staff or update contact information.
As part of your welcome kit, you could include:
a PDF eBook
commonly used forms - URLs to download and print, or fillable PDFs
a contact sheet
a sequence of automated welcome emails that deliver the above
What's best for your clients will depend on the amount of information you want to give them, and what you're asking them to do next. Take a look at the suggestions below. We're not suggesting you include all of these - that would probably be overkill. Many of these ideas can also be combined into a single document. If you only want to implement a couple of these ideas, you could do it in a single-page PDF or email. If you want to incorporate more ideas, consider making a downloadable PDF eBook or spreading the information across a sequence of automated welcome emails.
Step 2: Create Your Client Onboarding Materials
Here are nine ideas for what to include in your welcome kit.
1 - Personalized cover letter or email
This isn't the time for a generic "dear valued client" letter. This is someone you're hoping to build a relationship with. This letter needs to be customized with, at a minimum, the client's name. Microsoft Word's mail merge function can achieve this if you're preparing individual letters for clients. If you have a CRM (we use Insureio) or are using email marketing software, merge fields will do the trick.
2 - Your contact info, including social media accounts
In the old days, a business card did the trick. Today, you may also want your client to follow you on Twitter or bookmark your blog. It's easier to create a page on your website (or a page in your PDF) listing all the ways to contact you – and which one(s) you prefer. Why does this matter? Say you have a Facebook business page, but haven't installed the Facebook messenger app on your phone. If a client sends you a Facebook message to ask a quick question, they're not going to get the speedy response they're looking for. To avoid situations like this, tell clients how and where you're most responsive. If you respond in minutes via email but may take an hour to return a phone message, say so. Be honest and set reasonable expectations.
> FREE DOWNLOAD: We created a contact sheet template for you! Download it as a Word doc (edit/add text in Word, save as PDF) or fillable PDF (add text in Adobe Acrobat, save).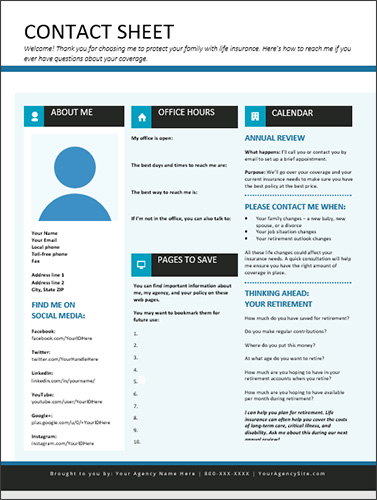 3 - Team bios
If you have office staff or an assistant, be sure you introduce them to your client. Including a bio page in your welcome kit is also a great way to show some personality. What's your favorite movie? Your favorite ice cream flavor? What are your areas of expertise? You've already made the sale; now, focus on building rapport and making yourself memorable to the client. If you've already included this info on your website, it'll be easy to paste it into your welcome doc, too.
4 - Timeline of events
Once their policy is in force, how often do you check in with clients? Every 6 months? Every year? From the client's point of view, what's in it for them when it comes time for a policy review? If there are standard questions you know you'll ask during that policy review, include them in your timeline so your clients are prepared. For example, if you know you're going to ask them to dig out their last tax return, tell them up front and refer them back to this document later, when you call or email to make the appointment for that review.
5 - How to make a claim
No one wants to make a claim on a family member's life insurance policy. That situation is stressful enough, but if it happens, you can make it easier by providing clear instructions on how to make a claim. What documents will the client need to gather? Should they call you or the carrier? How long will it take the carrier to issue a payout? Think back to all the questions you've been asked by clients in the process of filing a claim, and answer the most important ones in this document.
6 - List of recommendations
Now that your client has life insurance, what else do they need to protect their finances? Direct them to a few helpful resources, like this consumer-friendly article on 35+ types of credit scores. Provide these resources in a bullet point list that's short and easy to read. This is also a great opportunity for you to cross-sell and up-sell. You can mention coverage types like:
long-term care
disability
critical illness
related financial products like annuities
7 - Set-up instructions
Do you have an app? Does their carrier? Include an explanation of how to sign up for online access. If you work with multiple carriers, you may want to direct clients to your website, and include specific instructions for each carrier there. If you have an assistant or staff, you could make these updates part of their job duties.
8 - Referral request
What do referrals mean to you? Can you describe an ideal client and give an example of how you can help someone who fits that description? This is your chance to tell your client exactly who you want to work with. It's also a great opportunity to give your client time to think about who they want to refer. If you ask them on the spot in your office, chances are they'll draw a blank. By providing a well-thought-out request in your welcome kit, you're removing the pressure and giving them the opportunity to recommend only the people they think would be a good fit.
9 - Review request
Like referrals, reviews work best when you provide very clear instructions. If your client had a positive experience, you can ask them to leave a review on Google, Yelp, or your business Facebook page. At a minimum, you want to provide:
Guidelines or leading questions to help them write their review
Your expectations - tell them you want a fair, honest review and that it's okay to include things that can be improved, as well as the positive parts of their experience.
A suggested length (2-5 sentences)
To really go the extra mile, your review request document should include URLs and screenshots that show exactly where and how to leave that review. For example, you could Google your agency, take a screenshot of the results, and show your client where to click to leave their review, like this: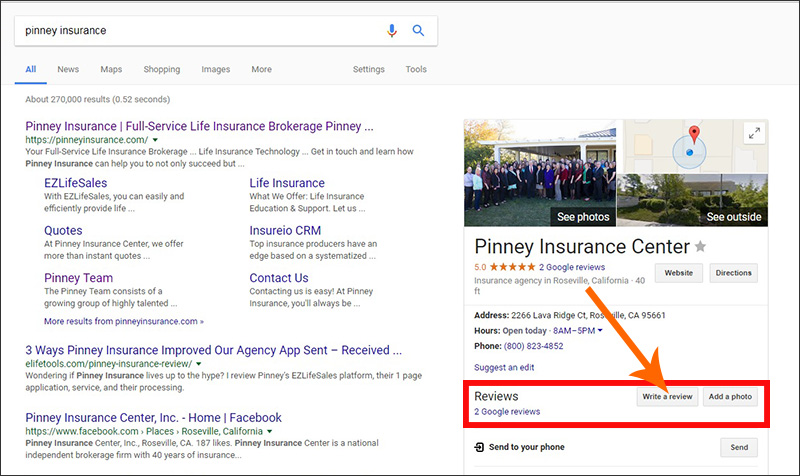 Those are our 9 ideas for your client onboarding welcome kit!
Do you currently have a new client welcome kit? If so, what do you include in it? Tell us in the comments!
---