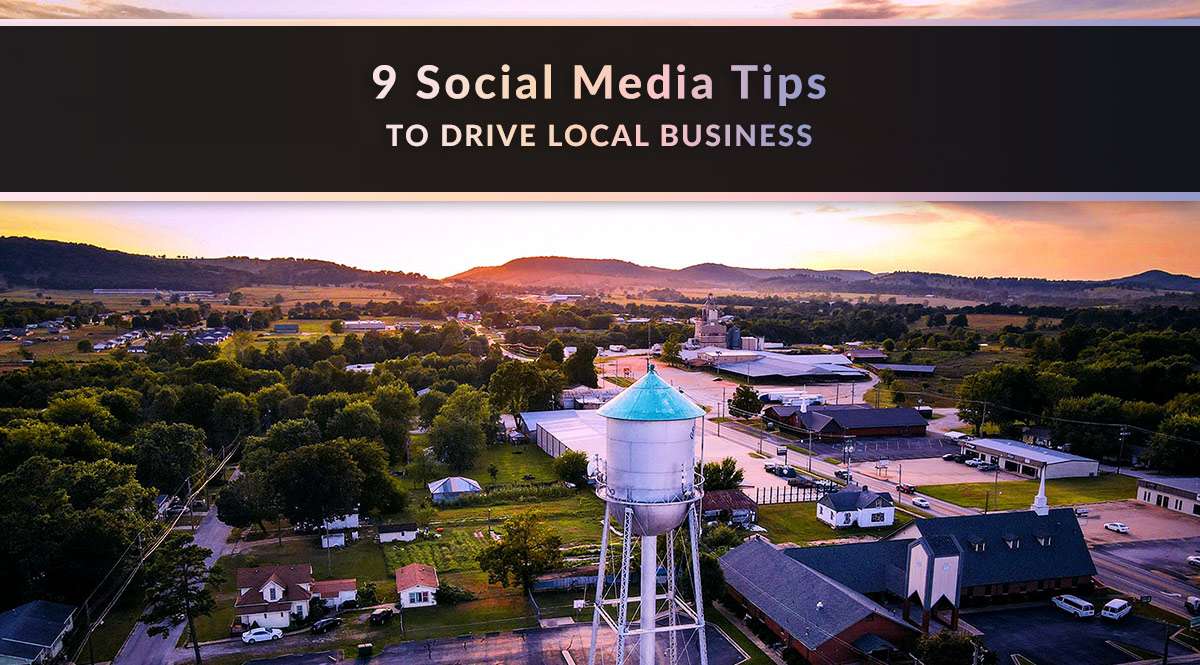 Here are some strategic ways to drive local business and engage with your ideal prospect on any platform.
When we talk about social media, it's often in the context of nationwide business. But what if you want to drive local business? How can you use social media to find more local prospects? Here are 9 things you can do to make sure local clients and prospects find and engage with you on social media.
---
No time to read? Watch our video overview:
---
1. Make a list of local businesses & people to follow and interact with
Local business is all about community. And what better way to show you're a part of that community than by following and interacting with local businesses and personalities?
Every town has its rock stars, from librarians to teachers to the mayor. Find them on social media, follow them, and interact with them. Let them see that you're here to support your community, too. That pays off when you need help or support for something you're doing in the community – like a free seminar or workshop.
BONUS: Many of these people & businesses will post content that promotes their ideas, successes, or events – great things to share when you need a break from constant content creation. The more of them you follow, the more variety you'll have to choose from when reposting.
City/county personnel & offices (mayor, parks, police/fire, etc.)
Chamber of Commerce
Libraries & librarians
Teachers & school staff
Colleges & universities
Coaches & local sports teams
Other local businesses & business owners
SPCA & animal shelters
News channels, anchors & reporters
Accounts for recurring local events: farmer's market, summer concert series, Christmas home tour, etc.
---
2. Post pictures of local hotspots or events
Did you try a new local restaurant this weekend? Play a round of golf at a nearby course? Or see flowers in bloom in the park? Snap a photo to post later. You don't have to be in the photo if you don't want. And you don't have to post it while you're there, if you'd rather keep your schedule or your current location private.
The goal is to spotlight your favorite local spots as a way to show your engagement with the community. This is an easy thing to incorporate into your posting schedule on a weekly basis. You could even create your own local hashtag (#shoutoutsaturday) and select your favorite local moment of the week to highlight.
---
3. Reply to all comments
You won't always be able to tell if a commenter is local, but if they are, your attention will make them feel seen. Plus, if you consistently post and share local content, chances are you'll start seeing a few of the same names respond. That's a big clue that they're local, too. You want them to understand your connection to the area. You want them to feel like they can ask you questions about the topics you consistently post about. It's all about building a rapport and getting name recognition with your followers.
---
4. Share or repost positive local posts
Did the local Little League team just make nationals? Is there a Fourth of July fireworks show scheduled for the weekend? Feel free to share content others have posted and encourage them to cheer or join in. If a local celebrity is advertising a show, concert, book, or other event, share it. Let them see that you're helping to promote their event. Over time, little actions like this get you on the radar of prospects and local influencers. Plus, it's just good business for your community.
---
5. Follow and use local hashtags
Every community has its own hashtags – and once you know what yours are, you can start using them to gain visibility on social media. Sometimes that's as easy as using the name of your city in a hashtag, like #TownnameInsuranceAgent. But other times, these will be specific to your area, like #ShopTownname or #TownnameProud or #TownnameMoms.
The best way to find local hashtags is by reading local posts and noting which hashtags they use. But you can also use free hashtag finder tools to get a jump-start on the process:
---
6. Use geotagging
Geotagging is when you allow your specific location to be included in a social media post. You can do this on a post-by-post basis – add a location when it makes sense, and leave it off when your post isn't location-specific. Your geotagged locations become a part of a photo map for your account, so people can see where you've posted from. Also, when people look up that location, they will see photos geotagged with that location, including yours.
It's easy to do this on most networks, including Instagram. Look for "Add Location," which will provide a list of nearby locations – or you can type in your business's address.
You may want to use a combination of strategic geotags across various posts:
City or town
County
Your exact office address
You can also retroactively geotag photos on most networks. On Facebook, for example, just click or tap any photo you've uploaded and now want to tag. Select Edit Location and select or enter a location. Done!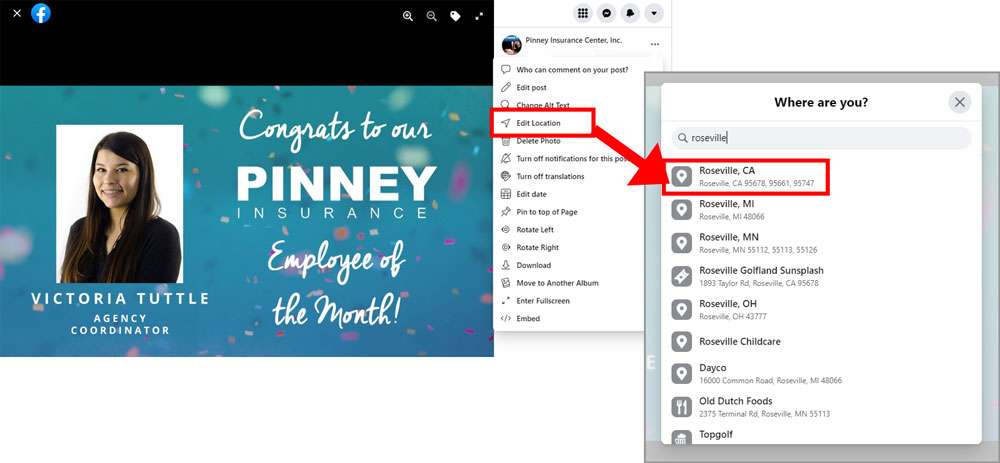 ---
7. Use interactive features like polls to generate local engagement
Getting interaction with your social posts is key – so why not combine an irresistible poll with a local question? For example, you could create a poll asking people what the best pizza restaurant is in your town. Select your top 3-4 contenders and let your followers have their say. Or, at the beginning of March Madness, select 3-4 nearby schools and ask which one people think will make the Final Four. You can do this using:
Twitter polls
Facebook polls
LinkedIn polls
Instagram Stories interactive stickers
---
8. Mix local content with educational content
Once you've gotten some local engagement with your content, start mixing in more educational and insurance-based content. Your local followers – and their followers and friends – will start seeing it, too. The right balance will depend on your audience. Keep an eye on your engagement metrics – likes, shares, and comments. If they start to drop, increase your entertaining and engaging local posts to draw those followers back.
---
9. Use local examples and images in your insurance content
Most people aren't on social media to learn about life insurance. So the challenge is to make your insurance posts more engaging and accessible for the locals you want as clients. One way to do that is to use local places, names, and images in your insurance-based content.
For example, if you want to talk about disability income insurance, your post text could use the name of a local park: "If John breaks his leg playing football with friends in [your local park], he can't work construction for 6-8 weeks. How will he pay the bills in the meantime?"
Here are some other ways to inject local places & things into your social posts:
Use a scenic local photo as a background for inspirational quote posts. Be sure to mention and/or tag the location when you post.
Tie insurance concepts to current clients, with their permission. For example, "I helped John Doe of John Doe's Dry Cleaning to create a business succession plan. How can I help you?"
Take a picture of a busy commercial street in your town. Post with a caption like: "Just another beautiful day in [town name]! But I see X businesses that probably don't know what would happen if the owner died or got disabled. If your business is one of them, call me and let's make a plan."
Take a picture of a local cemetery. Post with a caption like: "How many of their loved ones regret the money they spent on life insurance? None."
Take a picture from the stands at a high school sporting event. Put something recognizable in the image: the school name on the scoreboard, or the team in a huddle. Post with a caption like: "These are the moments our kids live for. Life insurance makes sure those moments keep coming, even if you're not there to see them."
Caveat: Don't use close-up or identifiable photos of real people without their permission. When in doubt, ask!
---
That's our look at 9 social media tips to drive local business!
How do you drive local business using social media? Tell us in the comments!
---