It's the final month of tax season – and you probably have clients still looking for last-minute tax strategies.
Our sales kit can help. Reach out to clients who are still looking for ways to reduce 2016's taxable income…or offer to find ways to reduce next year's taxable income for those who have already put 2016 behind them.
For early birds
For prospects and clients who've already done their taxes, the 1040 form is a great way to identify insurance planning opportunities for the coming year. Offer a free insurance planning consultation when they bring you 1-2 years of their completed tax returns. Comparing the 2015 and 2016 tax returns can tell you right away whether any big changes have occurred in their lives that require additional insurance coverage. Kids, marriage, divorce, inheritance, a new job, a lost job, a business partnership – the 1040 form tells you what assets need protecting.
For tax procrastinators
Some of your clients and prospects may be looking for ways to reduce their taxable income in 2016. There's still a way, and it involves making a tax-deductible contribution to an eligible IRA. Now is the time to ask clients if they're interested in last-minute tax strategies. If so, offer your help with other forms of financial planning that can give them security and peace of mind.
What's in the Kit
Our FREE 40-page kit includes:
2-page guide to identifying opportunities from a 1040
13-page guide to uncovering life insurance and LTC needs from a 1040
3-page 1040 overlay form
3-page 1040 worksheet for a client meeting
2-page 2017 tax rate guide
3-page guide to income tax implications of living benefits
12-page client guide to a zero estate tax strategy
Get the Kit
How to Use This Month's Sales Kit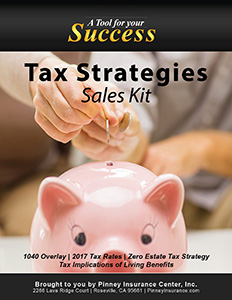 Invite clients and prospects to a free consultation via Skype, Google Hangouts, or in person. Ask the questions on the 1040 overlay in the kit. You'll get valuable information about your client's coverage needs and retirement planning strategies. There's also a worksheet you can print out and use during the meeting to take notes on your client's goals and financial objectives. Once you have a clear picture of their situation, you can make recommendations for life insurance, long-term care, retirement planning, and more.
For example, here are just a few topics you can dive into using the 1040 overlay form:
Change in marital status
Change in number of dependents
Is their earned income adequately protected with life insurance?
Do they have tax-exempt income? Can you maximize those investments by reallocating funds?
Are they taking IRA or annuity distributions? Do they need that income for living expenses or could it be put to better use in a life insurance policy?
Are they a high-earner limited in the amount they can contribute to a qualified plan?
Do they give to charity? Would they be interested in converting underperforming assets into a charitable lead trust or charitable remainder trust?
The 1040 overlay form is a great conversation starter. Even if your prospect doesn't move forward at that time, you'll know what topics they need more education on – wealth transfer, business planning, long-term care, etc.
Get the Kit
Insureio Subscribers: Use Our Tax Strategies Marketing Campaign
If you're an Insureio subscriber at the Standard or Professional level, you have access to our pre-written Tax Refund / Tax-free Retirement Income marketing campaign. The campaign consists of four educational consumer emails pre-scheduled for delivery throughout the month. Two emails go out before tax day, with last minute tips and strategies – including the tip about contributing to an IRA to reduce 2016's taxable income. Two more emails go out after tax day, discussing strategies for tax-free retirement income.

To view the campaign, visit the Marketing Materials section of Insureio. Select Campaigns from the Material filter on the top left. Click April Newsletter Series: Tax Refund / Tax-free Retirement Income (Monthly Focus Topic). You'll see the list of pre-scheduled emails. To see what a template looks like, click any of the blue links under Template.
Want to learn more about Insureio campaigns and how to enroll contacts? Click here to visit the Insureio Academy.
Help Your Clients Save on Taxes and Plan For a Secure Financial Future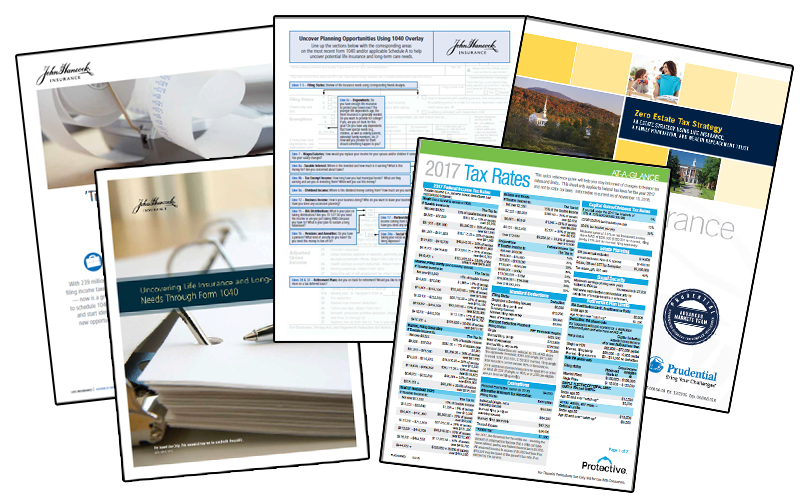 ---