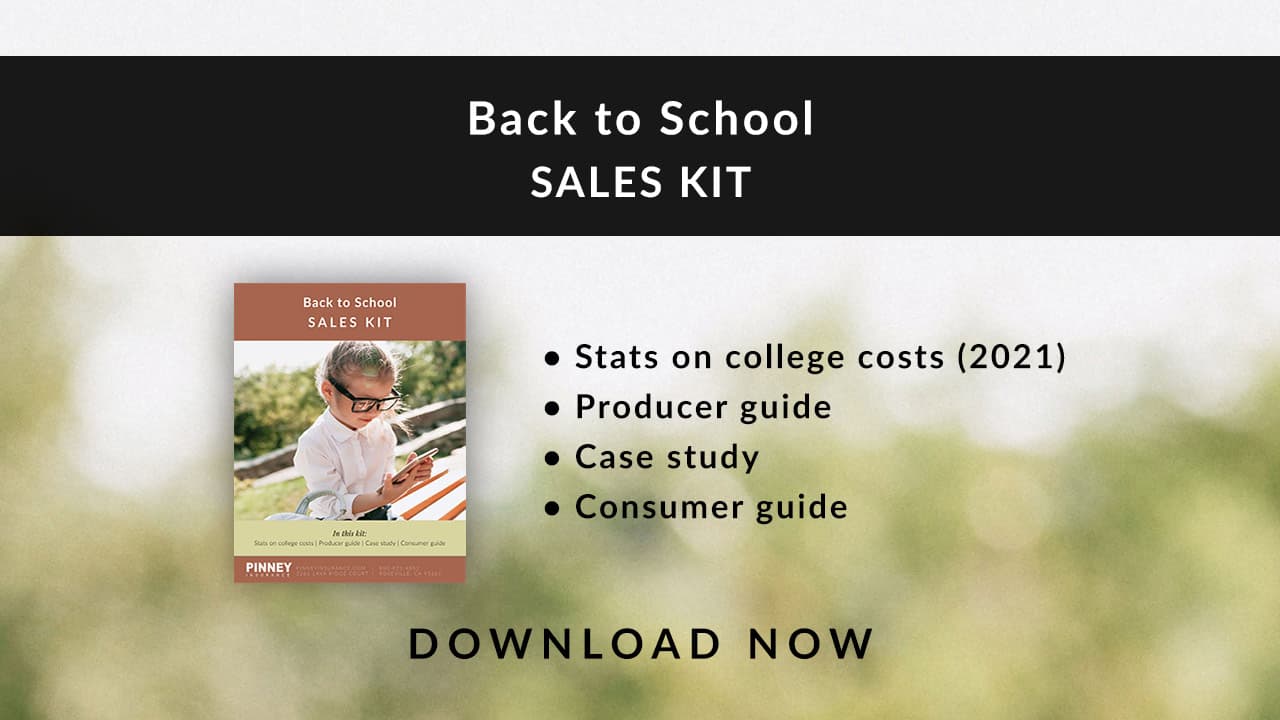 Our August 2021 sales kit is all about college funding with cash value life insurance.
This month's kit will help you share stats about how much it costs to send a kid to college these days - and how life insurance can help provide the money to pay for it. The catch? Your clients need to start early so that their cash value policy has time to grow.
What's in the Kit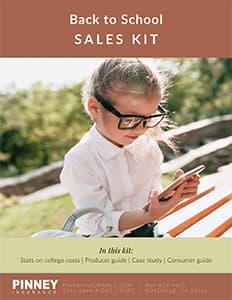 Our free 54-page kit includes:
17-page report on the cost of college in 2021, with averages and estimates for all 50 states
2-page article for producers on using cash value for college funding
8-page producer guide on using permanent life insurance as a college funding source
2-page case study
1-page client profile
4-page client guide to using life insurance as a college funding source
12-page discussion guide
2-page consumer article on using a permanent policy to help pay for college
2-page consumer article on different financial vehicles that can help save and pay for college
2-page consumer article on how to start preparing for a child's college expenses now
Get the Kit
How to Use This Month's Sales Kit
The best way to use this month's kit is to start conversations with parents of young children. Because this is a strategy that matures over time, it's not going to be as beneficial for the parents of a college senior as it will be for the parents of a fifth grader. You can use the stats in the kit's first piece to pique their interest. Because as of 2021, the average cost of college is $35,720 per year. That cost is growing annually at 6.8% - and it's already tripled over the past 20 years. If their child is years away from college, there's still time to act.
One of the selling points of using cash value to pay for college is that "college" doesn't have to be a traditional 4-year university. Because life insurance's cash value has no restrictions on usage, parents can help their kids pay for vocational training, travel, or to start a business if that's what they'd prefer to do. Unlike with other college-specific funding vehicles, parents aren't locking their kids into a particular path before they're ready.
Get the Kit
Insureio Subscribers: Use Our August Email Marketing Campaign
Are you an Insureio subscriber? If so, you have access to a pre-written marketing campaign for August. It includes five emails for your clients and prospects, pre-scheduled for delivery throughout the month. Topics include multiple ways they can use life insurance's cash value, how they may be inadvertently damaging their own retirement savings by funding a college plan, and how a well-funded life insurance policy can actually help a student qualify for federal student aid via the FAFSA form.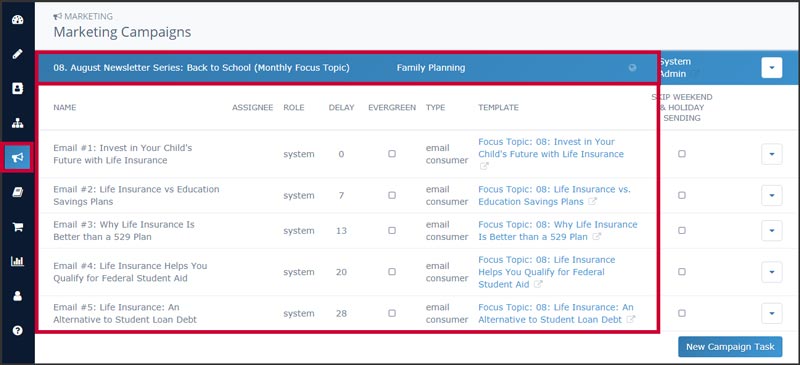 To preview the campaign:
From your left-hand nav menu in Insureio, hover over Marketing and then click Marketing Campaigns.
Scroll down and click August Newsletter Series: Back to School (Monthly Focus Topic). You'll see the list of pre-scheduled emails. To see what a template looks like, click any of the blue template title links. The template will open up in a new browser tab.
Want to learn more about Insureio marketing campaigns and how to enroll your clients and prospects? Click here to visit the tutorial in the Insureio Academy.
Download Our August 2021 Sales Kit Now!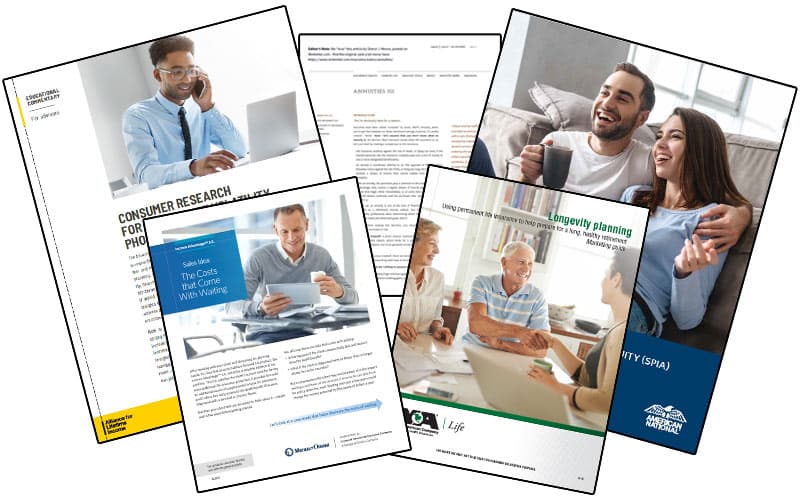 Enjoying Our Blog?
If so, please leave us a Google rating or review! It really helps others discover us and our content online.
Leave a Review
---