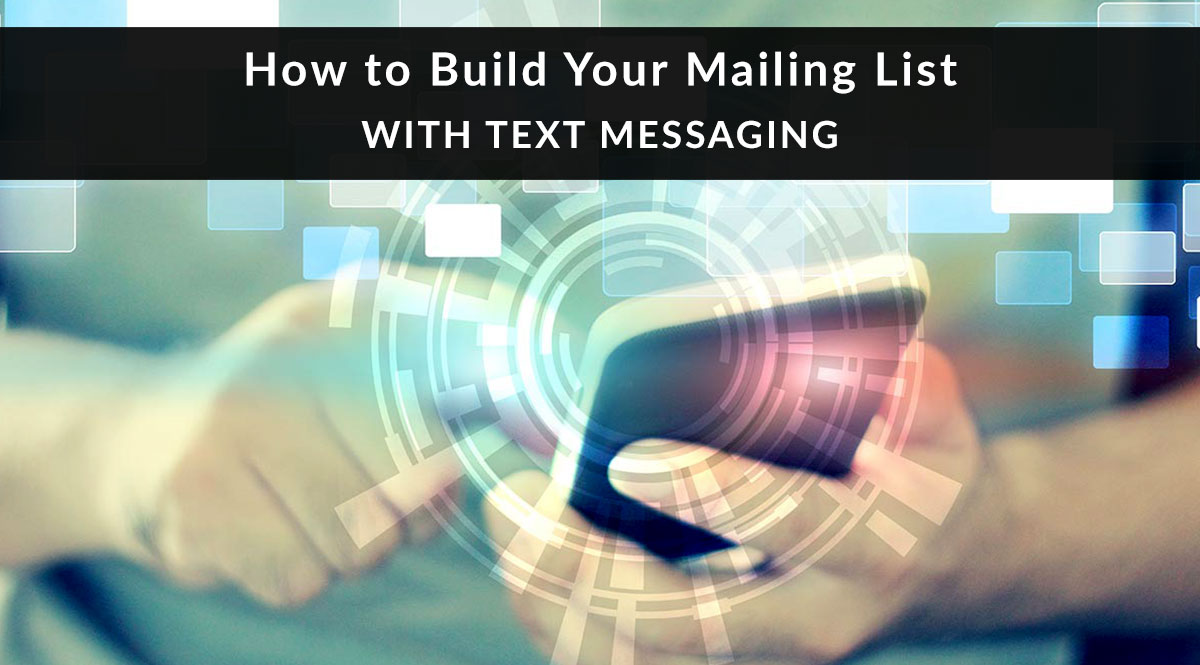 When you build your mailing list with text messaging, you're giving your clients and prospects more ways to interact with you. In today's fractured media landscape, this is always a good idea.
How often do you text your family members and friends? If you're like 97% of smartphone users, you text someone at least once a week. In fact, mobile phone users spend more time texting than calling or browsing.
Texting is, hands-down, the most popular use for a phone.
So why wouldn't you allow clients and prospects to join your mailing list via text message? Every form of marketing and advertising you do can then drive prospects to sign up for your list by text. This includes:
Signs and flyers in your office
Digital and print ads
Transactional emails or texts
Social media posts
You've probably seen examples of this already – brands asking you to text [word] to [5- or 6-digit code] for a coupon, to vote in a contest, or to subscribe to a mailing list.
Here are a few ways you can build your mailing list with text messaging, plus the TCPA-compliant language you'll need to use during the process.
Method 1: Business Texting Software from a Landline Provider
Best for: Traditional agents
85% of mobile phone users prefer businesses to text rather than call or email.
If you have an office landline, your provider may already have business texting solutions. You can then receive texts on any office phone number, even if it's a 1-800 number. When a customer calls the number, your phone rings like it normally would. But if they text that number, the software sends that message to a laptop, desktop, mobile phone, or other connected device. It doesn't interfere with incoming calls, so you don't have to worry about missing a potential lead.
The benefit? You don't have to change business phone numbers to accept texts. But you now have the flexibility to include new calls to action in your marketing: call or text me at 1-800-555-5555, for example. There's only one number for consumers to remember.
Then, if you have business texting enabled, you can ask prospects to text "opt-in" to 1-800-555-5555, for example. Of course, someone on your end still need to receive the message and manually add this person to your contact list. You may not get much info about them from a single text message, either—but it's a good start. Over time, you can develop that relationship by sending them links to more information, or surveys where you can learn more about them and add that info to their contact record.
Method 2: Texting Integration with Email Marketing Provider
Best for: Hybrid or Digital Agents
But what if you already have email marketing software? No problem. If your software doesn't offer texting as a native option, you can find integrations with existing text message providers to bridge that gap.
For example, Mailchimp has integrations with Burst SMS, Call Loop, SimpleTexting, Boingnet, MakePlans, and DialMyCalls. Infusionsoft has integrations with Call Loop, Tatango, Burst SMS, Text Integration, FixYourFunnel, and more. If you already use Twilio, a popular voice/SMS cloud-based platform, you can use Zapier to connect it to your email marketing provider.
Once you have a texting integration, you can use a text-to-opt-in CTA in your marketing emails, on your website, in print advertising, your email signature, and more.
Method 3: Standalone Business Texting Service
Best for: Hybrid or Digital Agents
Mobile calls-to-action that ask people to text convert up to 5X better than ads that ask people to call you.
If you don't use a landline or email marketing software, you can use a standalone business texting service. These services offer dashboards where you store and manage your contacts, as well as your texting campaigns. Through them, you can create a short code people can text to join your mailing list.
Examples of standalone texting services include ProTexting, EZ Texting, LivePerson, GoQuiq, SimpleTexting, and many more.
Many of these services offer widgets that let website visitors click to join your mailing list. When the consumer clicks the widget on a mobile device, they get a text message inviting them to subscribe to your list.
Also Available: Texting Integration with Insureio
Best for: Traditional, Hybrid, or Digital Agents
We use Insureio to manage our contacts and email marketing. But the system also has text messaging capabilities you can use to create one-off messages, blast messages, and campaigns. You can use the system's custom fields to personalize any message with your name, contact info, website, and more. To check it out, go to the Marketing/Templates section, and choose SMS as the "medium" filter, as shown below.

To use Insureio as a marketing hub for texting, you'll need to include a mobile phone number in your personal profile and select your carrier from the dropdown menu. If you have a landline with texting enabled as described in method 1 above, feel free to use that here.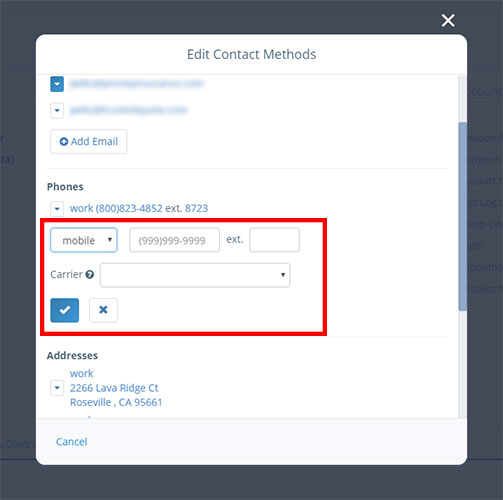 You can also set up a free Google Voice number and use that. Google Voice will send any texts you receive into your phone's Google Hangouts app. If you have push notifications turned on, you'll know to go into the app, get your prospect's phone number, and add them to Insureio.
Don't Forget: Required Language & Disclaimers
If you want to use text messages for marketing, you must use comply with the rules laid out in the Telephone Consumer Protection Act (TCPA). To make sure you're in compliance, you should always seek legal advice from your attorney. In this section, we'll go over some best practices, but keep in mind this is not legal advice.
There are two components to compliance: providing the required elements in your call to action, and providing required elements in your actual text messages.
If you use a paid service as described in method 2 and 3, the required elements in your text messages will probably be inserted for you. Before you send anything to a prospect, it's a good idea to send yourself a text to make sure these requirements are in effect. The requirements in your call to action are your responsibility.
In Your Call to Action
Purpose & frequency. What are they signing up for? Instead of saying "sign up," you'd need to specify "sign up for my monthly newsletter" or "get weekly insurance tips," or something similar. The point is to explain briefly (a) what they're getting, and (b) how often they'll get it.
You also have to specify that "Message and data rates may apply." People need to know their wireless providers may charge them if they sign up for your mailing list via text.
Terms & conditions. Include the URL of the terms and conditions of use of your mailing list. This page on your website might be the same as your privacy policy. At a minimum, it should include your agency name, licensing information (states and numbers), contact address and phone number, description of what people are signing up for (repeat your purpose and frequency statement), and unsubscribe instructions.
Privacy policy. Include the URL of the privacy policy on your website. This may be the same as your terms and conditions.
In Your Marketing Text Messages
Remind your subscriber how often you'll be contacting them.
Cost of receiving text messages. Include the disclaimer "Message and data rates may apply" so recipients know their wireless carrier may charge them to receive your messages.
Unsubscribe instructions. Pick a common word or phrase that you want subscribers to use to unsubscribe. Common words include STOP, UNSUBSCRIBE, CANCEL, END, and QUIT. Your instruction to the end user should read, "Reply [your word] to unsubscribe." Remember, your text message provider may handle this for you; check with them to be sure. If not, you'll have to manually unsubscribe people who reply with an opt-out.
29% of consumers never listen to voicemails.
Here's what it looks like when you put it all together:
Call to Action
Get my weekly insurance tips! Text VIP to ######.
You may receive up to 1 txt/wk. Reply STOP to unsubscribe. Message & data rates may apply. Privacy & terms at mywebsite[.]com/terms.
Opt-in Confirmation
From John Smith Insurance Agency: Thanks for subscribing! Message & data rates may apply. 1 txt/wk. Reply STOP to unsubscribe.
That's our look at how to build your mailing list with text messaging!
Do you use text messages with your clients and prospects? Does it create more engagement and higher response rates? Tell us in the comments!
---