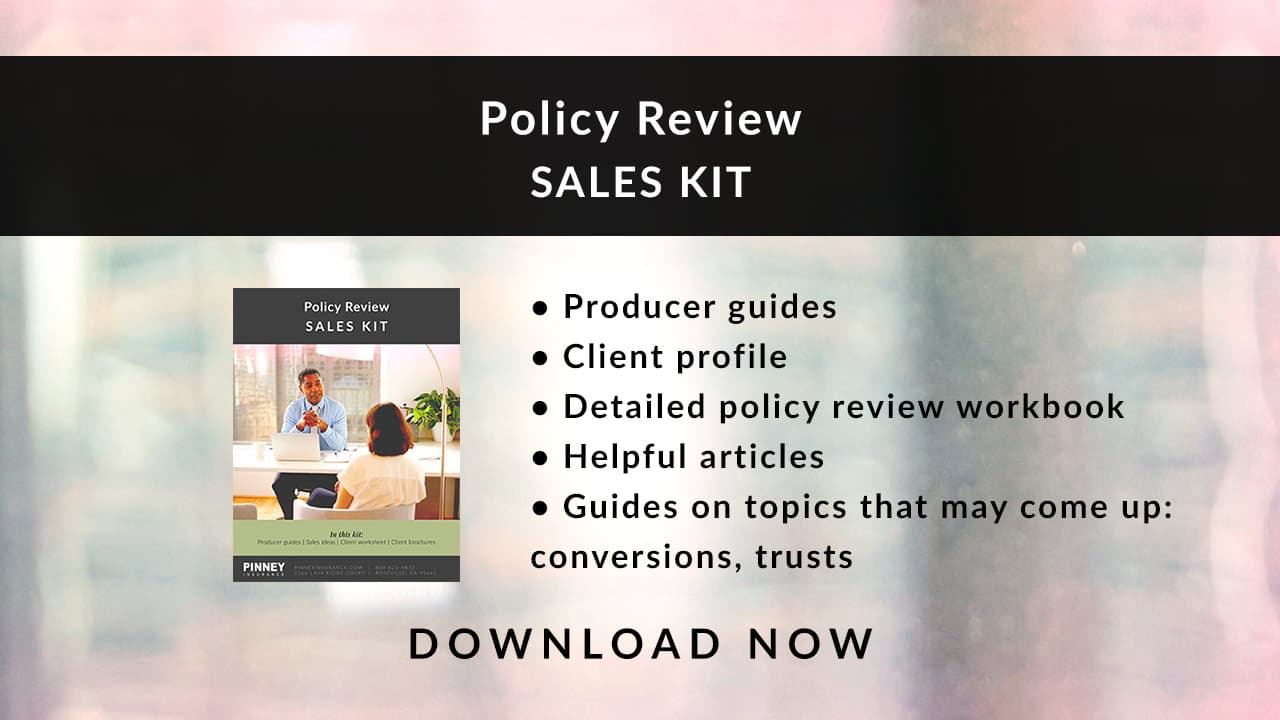 Our December 2020 sales kit is all about policy review. If your clients' coverage doesn't reflect their situation right now, it's not the coverage they need.
Policy reviews are a win/win situation. Not only do they ensure the client has the coverage they need, but it also strengthens your relationship and reputation. If you sell a client a policy and never contact them again, you have no relationship with them. You're less likely to be able to sell them ancillary products or up-sell them on a policy conversion. But you'll have an easier time helping them round out their coverage if you keep in touch at least once a year.
A yearly policy review is your opportunity to build a long-lasting relationship with your clients. In a best-case scenario, you'll interest the client in a new product. In a worst-case scenario, nothing will have changed in the client's life and they won't need or want additional coverage...but they'll know you care enough to check in. It's a quick, 5-minute phone call that leaves a positive impression. There's no downside there. Your five minutes might be what earns you a referral when that client's friends or family ask how they got coverage.
What's in the Kit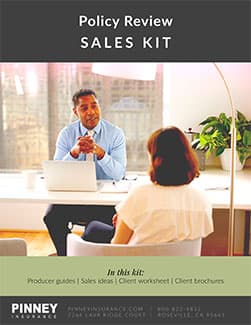 Our FREE 61-page kit includes:
20 pages in two producer guides with tips and strategies for conducting a policy review
1-page sales idea/case study
1-page client profile
16-page policy review workbook
2-page prospect checklist
8 pages of articles on constructing & performing annual reviews
2-page client flyer asking if it's time for a review
1-page sample email: convert term to perm
4 pages on spousal lifetime access trusts
2 pages on special needs trusts
2 pages on family bank trusts
Get the Kit
How to Use This Month's Sales Kit
Take a look at the case study and client profile in this kit. If you don't already conduct annual reviews, these will help you figure out who you should reach out to first. Next, look at the producer guides and the articles that talk about how to conduct an annual review. These will give you the talking points you need to ask the right questions and pinpoint changes in your clients' lives and financial plans.
This kit also contains a few extras, to get you thinking about solutions that might be good to bring up during a review. These include converting a term policy to a permanent policy, and future planning using special needs, spousal access, and family bank trusts. You might also want to bring up disability income insurance and/or long-term care insurance; if so, grab our sales kits on those topics for more stats and conversation-starters.
Get the Kit
Download Our December 2020 Sales Kit Now!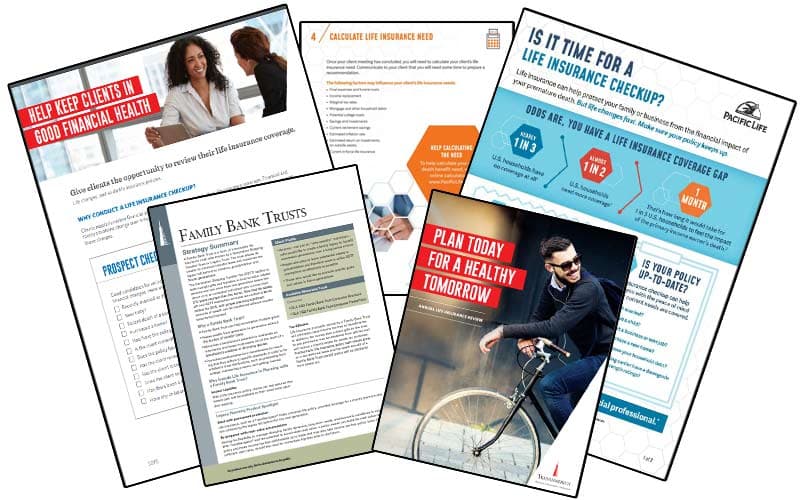 Enjoying Our Blog?
If so, please leave us a Google rating or review! It really helps others discover us and our content online.
Leave a Review
---