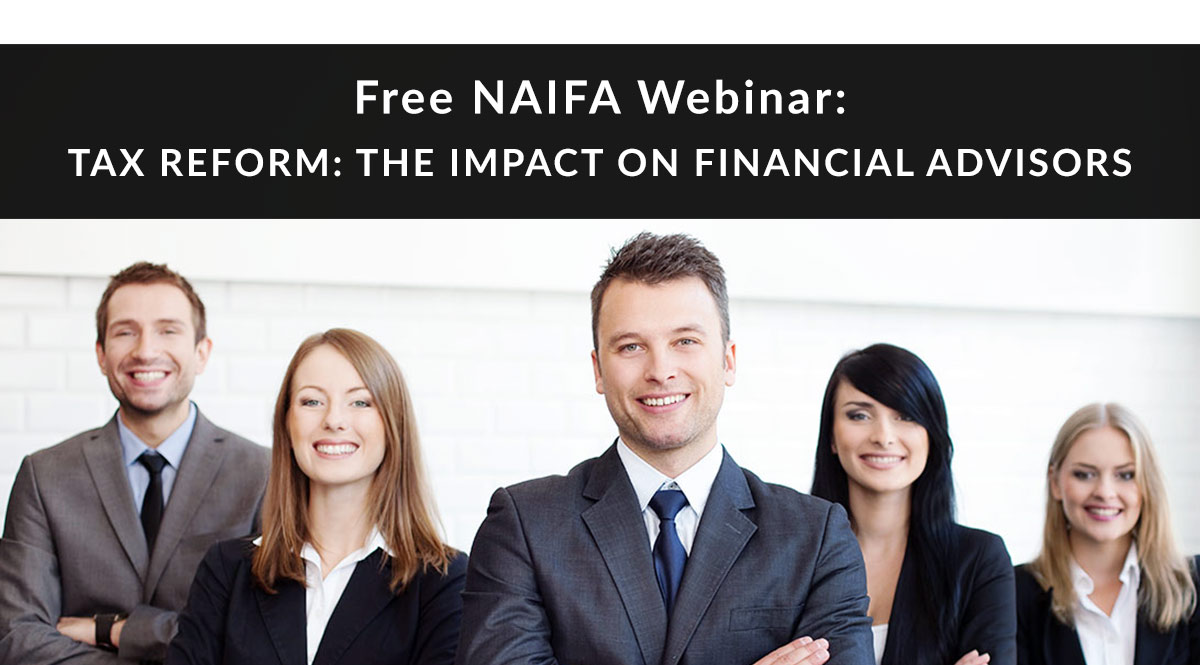 You've probably been hearing a lot about the new tax law. How will it affect you and your clients? We've got a source for authoritative answers.
Our friends at NAIFA put together a fantastic webinar last week. It's all about the impact of the tax reform legislation on financial advisors. If you've already seen overviews of the law, this webinar goes way beyond that. You'll get real specifics on how to continue serving your clients and growing your practice once the new law goes into effect. It's presented by Robert S. Keebler, an authority on tax law.
Here are just a few of the topics you'll hear about:
New drawdown planning ideas
Changes to real estate taxation
College planning
Charitable planning
Modification of the AMT
Because of our relationship with NAIFA, we're able to bring you this recording even if you aren't a NAIFA member.
Click Here to Watch the Free Webinar
Here's what you'll get:
A better understanding of how the new law impacts you and your business
The biggest potential opportunities you'll have because of the law
Ideas on how to help your clients using new provisions
If you need a little background before going into the webinar, here's a quick summary of what happened via the new tax law:
The law, called the Tax Cuts and Job Act of 2017 (TCJA), was signed into law on December 22, 2017.
Estate and gift taxes were not repealed - they remain in the text of this new law.
The law raised estate and gift tax exemptions to $11.2 million for individuals and $22.4 million for married couples.
The federal estate tax and gift tax remain at 40% above the exemptions.
These changes will last through 2026, according to the law as it exists now. Keep in mind that future legislation could change this at any time.
Watch the webinar to learn more - and come away with new sales ideas for 2018 and beyond! A big thanks to NAIFA for making this webinar available to us.
We do our best to support industry organizations we believe in, and NAIFA is one of them. If you're not a member, we encourage you to check it out and consider joining. You can find more information about them on their website.
Click Here to Watch the Free Webinar
About NAIFA
NAIFA advocates for a positive legislative and regulatory environment, enhances business and professional skills, and promotes the ethical conduct of its members. The NAIFA solutions center also has expert tips and advice, certifications, and ways to self-promote so that you can be the best advisor possible and take your career to the next level. Click here to learn how to join.
Click the button below to check out the free NAIFA webinar on tax reform.
Click Here to Watch the Free Webinar
---