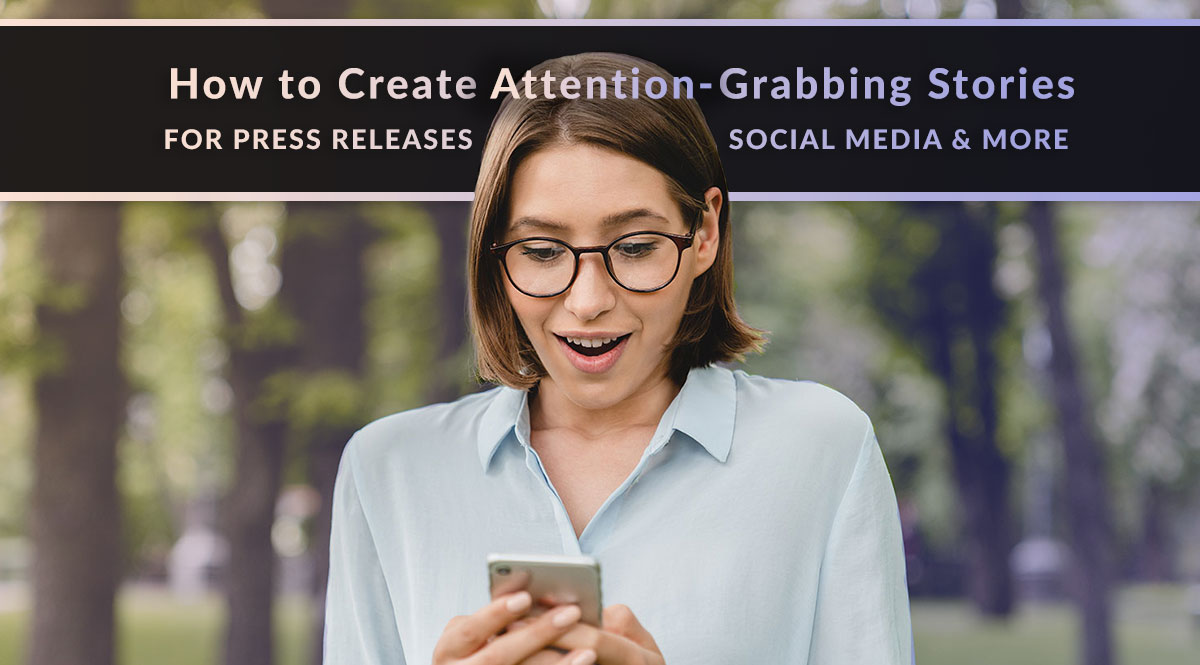 Looking for more organic reach on social media…or want a press release that will get you attention from media outlets? You need four things: an angle, a stat, a story, and a hook.
Competing for attention in today's media landscape is brutal. For starters, you're up against click-bait news stories and, well, anything on TikTok. But we can use the same tactics those click-bait articles use. It all boils down to a formula – and once you learn how to apply it, you can use it to create press releases, blog posts, social media posts, videos, and more.
If you can turn ho-hum insurance content into attention-getting content, you can dramatically increase your:
Name/brand awareness
Credibility as an expert in your field
Organic lead generation
Partnership opportunities
Sounds good, right? All it takes is a mindset shift…and the 4 elements we'll discuss below.
---
No time to read? Watch our video overview:
---
Jump to a section:
Element #1: An angle
Element #2: A stat
Element #3: A story
Element #4: A hook
Putting It All Together
A Totally Made-Up Example
---
Element #1: An angle
If you're interested in press releases, pay attention - this is the most important component. To interest journalists, you need to give them an angle. What's the big idea? What's new, current, or unexpected about the topic? Life insurance is the same product, day in day out. So what can they tell their readers about it that's new or timely?
If your first thought is, "I don't know," don't worry. Here are a few ideas to get you started. The trick is to pair your angle with the other elements we'll go over.
Something new. This isn't common in the insurance world, but remember – most consumers know little about life insurance. Something that's new to them might seem like old hat to you. More non-med options emerging thanks to Covid is one example. Another example might be annuities with higher guaranteed interest rates, thanks to the recent Fed rate increases. Your prospects see headlines about inflation, interest rates, and health scares every day. They don't automatically connect those to insurance, but you can.
Something timely. New and timely might seem like the same thing, but in this case, "timely" refers to things like holidays. Life insurance is about protecting your family, so what family-centric events or holidays are coming up in the next quarter? These can be local events, too, as well as nationwide events like Mother's Day and Father's Day.
Something unexpected. This might not seem intuitive, but remember that journalists and consumers are not insurance experts. What might surprise them about little-known features like return of premium or living benefits? What ancillary benefits does a life insurance policy have for business owners?
---
Element #2: A stat
Credible news stories need numbers to back them up, or they're just an opinion. Plus, have you noticed how often numbers appear in click-bait headlines? Numbers pique people's interest, so they're an important part of the formula.
Sometimes, your angle might come first – and then you can go look for an accompanying stat. Other times, the stat might come first. For example, every year, LIMRA releases updated stats for Life Insurance Awareness Month. Similarly, Genworth releases updated yearly stats on long-term care costs. One of these stats might be worth building a press release on.
Here are a few good sources for stats:
American Council of Life Insurers (most of the stats in their Industry Facts section are outdated, but the Newsroom section contains current press releases and blog posts that you can mine for useful information)


Sample stat: Colorado recently became the 28th state to adopt stronger protections for consumers shopping for annuities.

Annuity.org


Sample stat: 25% of Americans say they don't have anyone they can ask for trusted financial guidance.

Bureau of Economic Analysis


Sample stat: As of September 2022, Americans' average saving rate (the amount they save after paying their bills and taxes) is 3.5%.

Insurance Information Institute


Sample stat: From 2012 to 2021, independent life insurance agents gained market share, rising from 44% to 50% of sales distributed among independent agents, affiliated agents, and direct response campaigns.

LIMRA.com


Sample stat: Q2 2022 was the sixth consecutive quarter of growth in new annualized premium for life insurance sales.

Genworth's Cost of Care survey


Sample stat: The monthly rate for assisted living facilities ranged from a low of $3,000 in Missouri to a high of $6,978 in the District of Columbia.

Your own customer data. Do you keep data on customer trends over time? What changes have you noticed in consumer behavior over the past year? Two years? Five years? Do you have data to back this up?
---
Element #3: A story
This is the hardest part of the process. It's where you take your angle and your stat(s) and wrap them in a story. The story is necessary because, in the end, you want people to care enough to take action. And people care more about stories than raw statistics. While you need those stats to back up what you're saying, you need a real person's experience to make it come alive for your audience.
When we say "story," we mean a real person who has experienced the problem or event you're talking about. You don't need to tell their whole life story, but you do need to show how this problem or idea is affecting them. We'll go over how to do this below.
First, you can pick any of three ways to tell a story:
It's about you. In writing, we call this "first person." You use "I" to tell the story, and include your own experience. If you were writing about the cost of long-term care, for example, the story component might be your experience caring for a dying parent – what did it teach you? What lessons can you share with others? What is the one take-away you most want people to have?
It's about the audience. This is called "second person," and it's the rarest of the three storytelling points of view. In this case, you use "you" to tell the story as if it features a hypothetical member of your audience. For example, if you describe a scenario about passing away without life insurance, you might say it like this: "If you skip buying life insurance now, imagine what might happen later. When your spouse gets the notification for a property tax increase, will he or she be able to pay the increased mortgage amount?" This is not your experience. This is not the experience of an actual client or person you interviewed. This the experience of an unnamed member of your audience - your ideal client - referred to as "you."
It's about a client, friend, neighbor, etc. This is called "third person," and it consists of you telling the story of a real person. You use "he," "she," or "they" to tell the story and share the other person's experience, tips, and lessons learned for the benefit of your audience.
So how do you pick which point of view to use?
That depends on your angle.
Do you have personal experience with this topic? If so, your experience is valid, especially when supported with current stats. Consider using first person.
If you don't have personal experience to share, try to seek out someone who does. You could ask your mailing list or social media followers if they'd be willing to answer a few questions on your topic. You would then use the third person point of view to tell their story.
If you have no personal experience or real person's experience, you can use second person. Shape a story that shows what could happen if the audience doesn't pay attention or heed the advice of an expert (that's you). It's better to have a real person whose story you can share, but in a pinch, second person can get the job done.
---
Element #4: A hook
If you're interested in creating click-bait style articles, this is the most important component for you. A hook gives you that irresistible urge to find out more. It's a one-sentence summary of your article, story, or press release…with the most important point deliberately left out.
Here's a headline we saw this morning: "A Man Went Out with Friends and Discovered Something Hidden for Over 1,000 Years." The hidden object is the most interesting part of the story, which is why the headline writer refused to give it away. Your imagination is probably already at work, and it takes willpower to navigate away without clicking the headline to find out if your guess is right.
So how do you create a hook?
Look for elements that generate emotion, like these:
A surprising number (pull from your stats)
A shocking experience (pull from your story)
A heartbreaking realization (pull from your story)
A huge problem that's about to affect us all (pull from your angle)
Your exact hook may change depending on what you're creating. Social media posts don't need to make bigger connections between current issues or have earth-shattering impacts. They can simply be about a person's experience. On the other hand, if you want press coverage from journalists, you need to have a hook that also explains why this is newsworthy (not just interesting).
Press release: combine your hook + your angle to create your headline.
Blog post: must include your hook + can include any of the other elements.
Social media post: combine your hook + your story to intrigue your followers.
---
Putting It All Together
Okay, so you have all the elements of a headline-grabbing story…but what do you do with them all?
1 - Start with your hook – that's your opener. Get the audience's attention without telling them the whole story. Here are a few headline examples:
The #1 Thing an Insurance Advisor Wants You to Know about Life Insurance
The Hidden Benefit of Life Insurance…That Just Might Save Your Life
Business without this Key Form of Insurance Are More Likely to Fail
A Grieving Wife Wishes Her Husband Knew This One Thing about Life Insurance
The opening of your piece should set the stage by briefly explaining what the big problem is. Don't explain how it got that way. Don't define life insurance or annuities or long-term care. Start with the emotion of your hook. What happened? Why is this a problem? What terrible trouble is facing the hero or heroine of your story?
2 - Next, bring in your stat. How many other people will this affect? Is this a growing problem? Can the stat help explain why we should care about this now? By leaving the hero of your story in the middle of their terrible trouble, you prolong the suspense of how they'll solve their problem. And while the reader is concerned, you add stats to the story to convince them that this problem isn't a one-off. Now they're anxious, wondering if the hero's problem could happen to them.
3 – Now, flesh out the details of the story. What brought the hero of your story to this place? What choices – good or bad – have they made? Why should someone care? And finally, how did the hero or heroine of your story succeed…or fail? What lessons can we learn from this?
4 - Finish with a summary of your angle. Remind people what's at stake, and what matters about this story. If you're creating a blog post or social media post, you can also include a call to action. For a press release, there is no call to action. The urgency of the issue you brought up in the release should stand on its own to convince readers to take action.
---
A Totally Made-Up Example
In the example below, imagine you're Indiana Jones, an independent life insurance agent. This is a rough draft of a piece on the importance of updating life insurance beneficiaries, featuring the story of your neighbor, Jane Deer. With Jane's permission, you included details and quotes to help tell this story. You also included a call to action. With a few tweaks, you can turn this into a video, a press release, a blog post, a presentation, a podcast episode…just about anything!
Hook: A Grieving Wife Wishes Her Husband Knew This One Thing about Life Insurance
Story: Every morning, Jane Deer used to drop her three kids off at private school, uniforms freshly pressed and homemade lunches in hand. Until yesterday, that is – when her kids went through metal detectors for the first time. She could no longer afford to pay the enrollment fees at their private school and re-enrolled them in the local public school.
Their financial troubles started two months ago, when Jane Deer's husband, John, passed away.
His death shouldn't have left the family bereft because he had over $500,000 in life insurance. But instead of receiving a check, Jane received a phone call that told her John had failed to update his beneficiary…and his ex-wife would be receiving his death benefit.
Stat: According to LIMRA's Facts About Life 2022, 4 in 10 families would face financial hardship within six months without their primary wage earner. Jane Deer's family wasn't supposed to be one of them.
Continue the story: But because John Deer purchased his policy fifteen years ago, he named his wife at the time, Rhonda, as his only beneficiary. After their divorce, John failed to update his policy's beneficiary information. It remained unchanged throughout John's marriage to his second wife, Jane, and the birth of their three children. Jane Deer found the policy documents while cleaning out John's office, and contacted the insurance company only to find out she and her children would not benefit from the policy at all.
"I wish someone had talked to us about this," Jane Deer said. "I know he would have fixed it if he'd had a reminder. And we wouldn't be in this situation. The kids have already had to change schools. If I can't find a job soon, we might lose the house, too."
This is exactly the kind of situation life insurance is designed to prevent. That's why I make yearly updates a part of my client outreach program. I talk to every client, every year, to make sure things like this don't happen.
Secondary stat & big idea: In 2021, life insurers paid out a total of $97,191,646 in death benefits, according to the Insurance Information Institute. But did all that money go to the right people, as the insured person intended? We'll never know – and unless you keep your beneficiaries updated, you may unintentionally be harming your loved ones with the very policy that was supposed to ensure their financial futures.
Call to action: Ready to work with a financial advisor who treats you like a person and not a profit? I'm here to help make sure your coverage works for you. To go over your current insurance needs, call 1-800-555-5555 or email me at [email protected]
---
That's our look at how to create attention-grabbing stories!
It's a lot to take in – but it gets easier. Once you have these basic elements in place, you can easily shape them into a press release, blog post, video, social post, or all of the above.
---