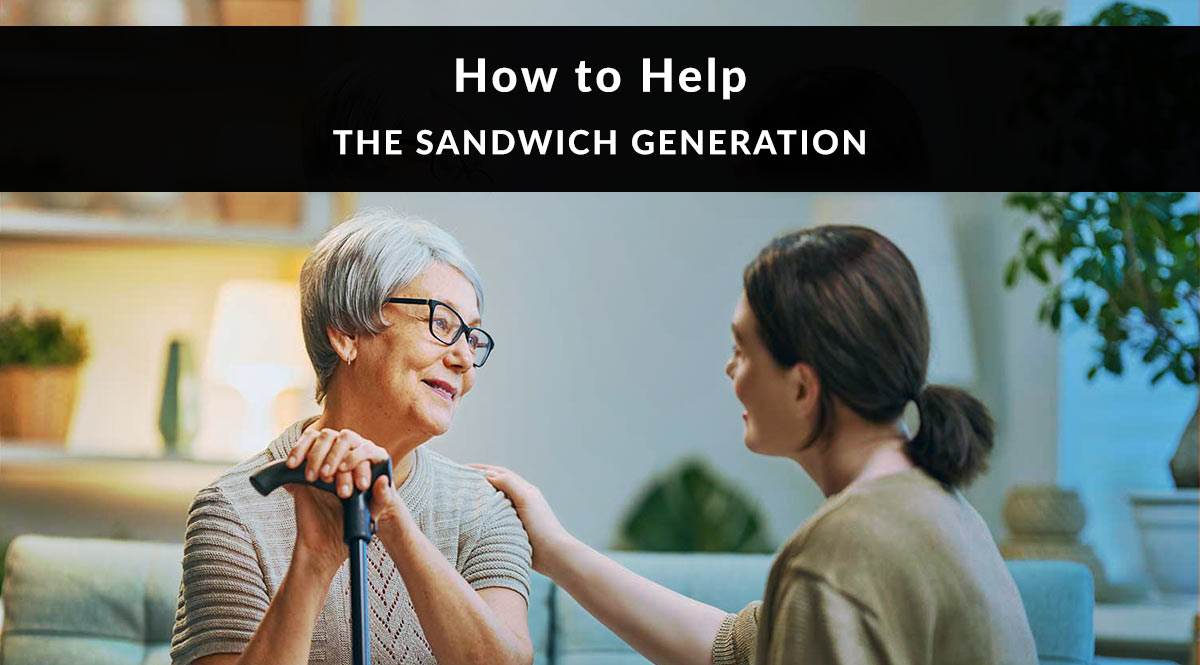 The Sandwich Generation needs our help! We're talking about people in their 30s, 40s, and 50s who do double-duty supporting both their growing kids and aging parents.
The "Sandwich Generation" is a nickname coined to reflect this generation's unique stresses. You're probably more familiar with the labels "Gen X" and "Gen Y," which roughly correspond to their ages (they're older than millennials and younger than Baby Boomers). According to Pew Research and BLS data, about 29% of U.S. adults have an under-18 child at home, and of those, 12% also provide unpaid care for an adult. That adds up to 2.5+ hours per day of unpaid care.
What they're doing is no easy task – and it's stressing them out, affecting their health, and sidelining their ability to save for retirement. And that was *before* the ongoing havoc wreaked by the coronavirus pandemic.
---
No time to read? Watch our video overview:
---
What the Survey Says
In January of 2020, Haven Life conducted a survey of over 1,000 people in the Sandwich Generation who care for kids and their parents. Keep in mind that "care" doesn't necessarily mean being a primary physical caregiver. It also means providing financial support, emotional support, or being a decision-maker for elderly parents' housing, medical care, and financial planning.
The survey results are a little scary. Basically, this generation feels overwhelmed on a near-daily basis. Here are a few highlights:
80% of survey respondents feel constantly overwhelmed.
68% of respondents feel overwhelmed 5 days a week.
25% of survey respondents feel overwhelmed 7 days a week. (Ouch)
42% say their financial health has suffered as a result.
In other words, these folks are in crisis mode nearly every day of their lives.
---
Which of these stats surprises you the most?
We're a little surprised that only 42% say their financial health has suffered - but worried about the 25% who feel overwhelmed every single day of the week! What do you think?
---
What They Need
In short, us.
When asked what they need to lower stress levels, their top three answers were a mental health professional, support from their family, and a financial advisor. The key component they're looking for is long-term support. They don't want a quick fix to one problem; they need a comprehensive approach to help solve as many problems as possible.
As advisors, that's exactly what we do.
The good news? You probably already have a fair number of clients who fit this profile. According to the Haven Life study, 61% of them already have life insurance. This means they understand the value of insurance and financial planning. As a result, they're very likely to be receptive to more ideas you have about how they can do more with less to plan for themselves and their families going forward.
Three Ways You Can Help
So what, specifically, can we do?
First, let them talk.
Part of the stress inherent in their dual roles is keeping it together in front of their kids and parents. We're not therapists and can't provide that service, but there's value in giving them the space to think out loud. Ask leading questions about their financial goals, fears, and frustrations. The more you know about their needs, the better you can help them.
Second, understand these common problems so you can have solutions ready.
Here are some of the issues you're likely to hear them raise:
"How can I save for retirement when I have to raise kids and support my parents?" 59% of Haven Life's respondents said they expect to have both of these responsibilities.
"What happens to my peak earning years if I have to cut back on work hours to provide the care my family needs?" A second survey from NYT Parenting and YouGov found that respondents estimate they've lost more than $10,000 thanks to reduced working hours, increased expenses, and other setbacks directly associated with providing care.
"I want to help my kids with college, but how do I do it without dipping into my retirement account?" The number one piece of advice they need is to safeguard that retirement account. Most online advice doesn't explain how to do that – but you can, using strategies like cash value life insurance.
"Is retirement even possible based on all the above challenges?" The Haven Life survey reports 55% of respondents have changed their retirement goals, while 29% don't think they'll ever be able to retire.
Third, offer helpful follow-through.
As we know from the COVID-19 outbreak, clients want (and need) clear, concise communication during times of uncertainty.
Let's say you help a client prepare a plan for their parents' long-term care. That's a difficult conversation to expect them to have with their parents on their own. Plus, your client probably isn't equipped to answer many questions about policies, riders, triggers, and more.
You can ease the situation by making a house call (or video conference call). Be the voice of calm and reason explaining their plan and answering questions. Having someone else take the lead will go a long way towards relieving stress for your Sandwich Generation client.
---
How have you helped clients through stressful situations?
Sound off - tell us in the comments!
---
Three Products That Can Help
When it comes to helping the Sandwich Generation, we need to protect (and grow) their retirement savings, and plan for the possibility of long-term care. Look to products that meet multiple needs, like these:
Life/LTC hybrid products. A true hybrid product offers more comprehensive LTC benefits than an LTC rider on a traditional life policy. If your clients are nervous about their own LTC needs due to what they're seeing with their parents, this may be a good fit.
Annuities with LTC riders. We talked about this issue in our post, Six Reasons to Sell Annuities in 2020. In a nutshell, annuities with LTC riders solve the problem of clients (or their parents) not being able to qualify for or afford traditional LTC policies. Not only does an annuity protect clients against high LTC costs – it also preserves their assets from drawdown during a down market.
Cash value life insurance. If your clients have younger kids, talk to them about the possibility of using accumulated cash value to help those kids through college. That way, they can continue socking away as much of their money as possible for retirement.
That's our look at how to help the Sandwich Generation!
Do you have clients who fit this description? Or are you part of the Sandwich Generation yourself? What tips do you have for people struggling with these issues? Tell us in the comments!
---