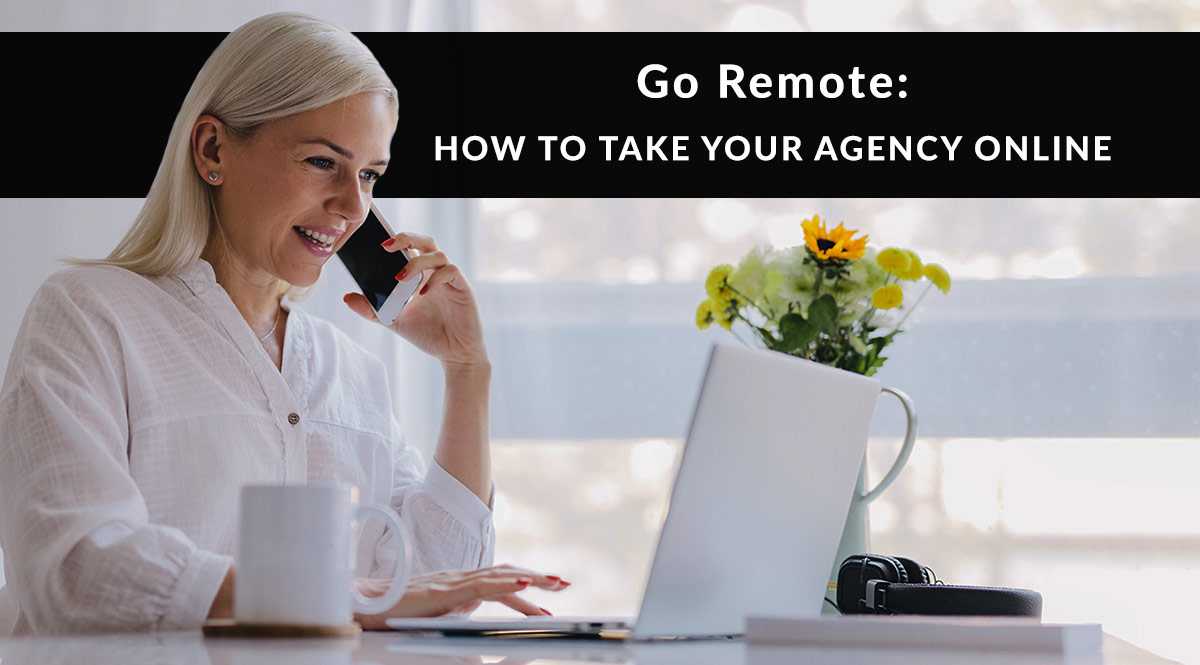 We're all being asked to make big changes to the way we live and work in order to keep as many people safe from the coronavirus as possible. But whether it's today's COVID-19 or the next natural disaster, being prepared is essential for success in today's hyper-social, fast-paced business world.
---
Keep track of the latest responses to COVID-19 from carriers and other industry partners and providers. Click here to download our spreadsheet.
Last updated: June 1, 2023.
---
These are difficult times if you prefer selling face-to-face. At the same time, when people have so much uncertainty in their day-to-day lives, they'll be comforted knowing they protected their loved ones in case the unthinkable happens. The good news here is that even if you're late in preparing, you can still take your agency online today.
Instead of waiting, watching, or worrying, you can take steps right now to help your business and your clients.
Here at Pinney, we're now fully remote. We made the call to go remote and sent everyone home halfway through the day on Friday, March 13th. First thing Monday morning, our team was up and running because we already had the tools and a plan in place.
There's still plenty of opportunity to thrive even in the face of uncertainty, thanks to technology, a can-do attitude, and a little help from your friends (that's us). Instead of waiting, watching, or worrying, you can take steps right now to help your business and your clients.
Without further ado, here's a quick run-down of what you need to take your agency online.
VoIP
Voice-over-Internet-Protocol (VoIP) is a great alternative to using your cell phone to transact business all day. Most VoIP services offer a free trial, so you aren't locked in right away. You might remember residential services like Vonage from back in the day. They're still around, but you can also try a made-for-business option like RingCentral or Grasshopper, both of which offer features like call forwarding, call logs and recording, conferencing, and more.
CRM + eApplications + Non-Med Policy Options
Our CRM of choice, Insureio, makes it super easy for you to work remotely and help get prospects the insurance coverage they need. You can do everything from marketing to quoting to submitting drop tickets. Speaking of marketing, there are 3 new pre-written emails in the Marketing Templates section that reference COVID-19, designed to help you reach out to those who don't have life insurance coverage yet (one version for people you already have a business relationship with, and one for those you don't).
Our ATeam has been doing remote interviews and using eApplications and eSignatures for more than 15 years.
In terms of eApplication processing, you have several options: our ATeam (concierge-level application fulfillment service), iGo, ApplicInt, or carrier-based processes. Our ATeam has been doing remote interviews, using eApplications, and helping clients sign those apps over the phone with eSignatures for more than 15 years. Doing business this way is nothing new for us, so we can help you navigate the ins and outs of each carrier's process. Of course, you can still use iGO, ApplicInt, or carrier-direct processes with the added comfort of knowing that our ATeam is there to back you up and help your clients along the way.
BONUS: You also get our expertise and access to simplified, non-med, and instant-decision products and carriers. That means your business doesn't have to grind to a halt because of delays or service suspensions by exam vendors – or by consumer fears about letting a stranger into their home during a time of social distancing and potential quarantines.
---
Need help with non-med products?
We're here to help! Give us a call at 800-823-4852 and ask to speak to a brokerage manager, or drop a comment below and we'll have a brokerage manager reach out to you.
---
Accessories
Our staff is all geared up to use the Logitech H390 USB headset and C270 webcam. Both are inexpensive and work well in most home-based settings. They're currently available for around $25 each from BestBuy and other legitimate retailers.
If you're looking for a few more bells and whistles like wireless connectivity and HD stero sound, prepare to pay around $100. At this price point, Jabra Bluetooth headsets ($100+) get rave reviews.
TIP: Once you have a headset you like, you can also use it with your cell phone, if you decide to skip VoIP in favor of your wireless plan. All you need is a $5.95 headset-to-smartphone adaptor from Amazon.
Virtual Meeting Tools
Two standout options for remote meetings are Zoom and Uberconference. They're both incredibly easy to use and even easier on the wallet. We use Uberconference all the time for conference calls, screen shares, and more – it has our seal of approval.
We know many carriers and industry associations who are now using Zoom, and they say it's easy to use, even if you've never used videoconferencing software before. In fact, NAIFA members are using Zoom now, too - they're rising to the challenge by putting together videos that address current consumer needs for the newly launched site www.financialsecurity.org.
With virtual meeting tools like these, you don't have to cancel your previously scheduled in-person meetings. Instead, swap them for video meetings – assuming your clients have a camera, which most modern tablets or smartphones do. That way, you'll still have the advantages of meeting face-to-face:
See and read body language
Share your desktop screen to show clients quotes and illustrations
Provide downloadable PDFs, compliance docs, or application forms
Staying Focused
One other thing many don't consider when working remotely is the lack of camaraderie and personal interaction. For those of us in sales, personal interaction is a big part of what makes us who we are. We suggest a great music playlist to lift your spirits and help you focus. In fact, recent research shows music does exactly that. It can also alleviate anxiety and help with depression.
Here are a couple great ones to consider:
As for your home life, it's important to maintain balance there, too. That can be hard to wrangle with kids, spouses, pets, chores, and everything else modern life consists of outside of a job. If you find yourself getting overwhelmed, here's a good guide to creating and maintaining boundaries within your family during the pandemic.
That's our look at how to take your agency online!
We hope these tips help you think of new ways to keep doing business.  Yes, the world is a little scary right now. But you can adapt – and we'll all get through this together. Who knows - you might like working remotely so much that you never look back!
Need a little help regaining your zen? Check out the New York Times "Calm Place" - a web page full of calming images and activities. You can even use your mouse to pet a virtual emotional support dog (totes adorbs).
---
What's your biggest challenge in taking your agency online?
Drop a comment below and we'll try to help!
---
Enjoying Our Blog?
If so, please leave us a Google rating or review! It really helps others discover us and our content online.
Leave a Review
---