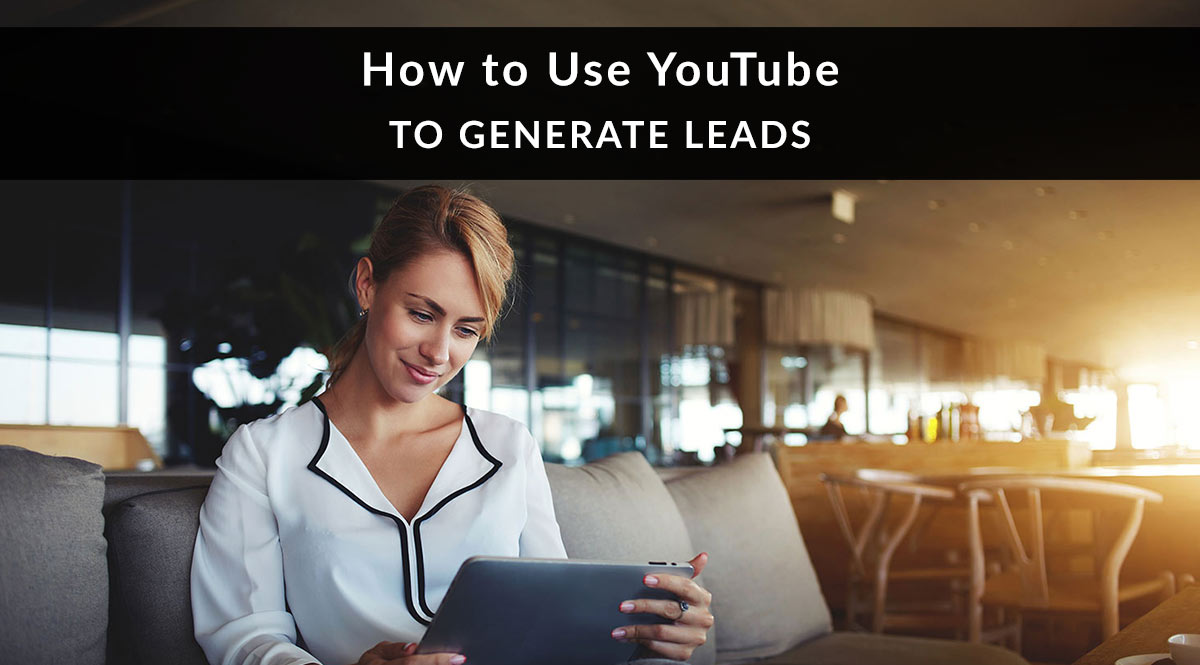 You've heard us talk about video – a lot. But what you really want is leads. Here's how to combine what prospects want (video) with what you want (leads) and turn your YouTube channel into an evergreen lead source.
YouTube is the second largest search engine in the world. It started out as a place for cat videos and movie trailers, but it turned into a resource for getting stuff done. Need to know why your AC stopped working? How to invest $500? YouTube has the answers. You may not use YouTube this way, but your prospects do. If you're not building a presence on YouTube, you're missing out on search queries that could be bringing you leads.
But I hate being on camera, you say. No problem! Check out our post here on how to make videos without appearing on camera. Of course, the lead-gen strategies below will work best if you can show clients more of your personality.
Here are 2 quick tips that combine a little bit of screen time with the suggestions in our post linked above:
Record yourself in a quick intro or outro so prospects can put a face with the name. This can be as simple as saying, "Hi, I'm John from John Doe Insurance Agency. I'm going to try to answer all your insurance questions so you can make the right choice for your family. If there's something you want to know, drop your question into the comments or send me an email at [email protected]" Add this intro or outro to every video you post on YouTube.
Record yourself asking the question your video will answer. Use this as a quick intro ahead of your pre-made video that answers the question. This way, prospects get a glimpse of who you are. They know there's a real person behind the video. It builds your brand, and it builds trust.
Let's get on with the lead generation!
Step 1: Collect Frequently Asked Questions
This is the easy part. You're talking to clients all day, every day. What questions do you hear all the time? What words do your clients use to ask them? If you can't answer off the top of your head, start jotting down questions as you get them, in the exact words your clients use. To capture the most views, you need to combine the questions people actually ask, the vocabulary they use to ask them, and some smart SEO principles to help your video get found.
Next, you'll need to do a little competitive research. Type some of your FAQs into YouTube. Have other agents already addressed this question? If so, what information do they leave out? Or are they using jargon that might confuse the viewer? Which videos have the most views and/or comments?
The goal is to find out what's been done, what's been done right, and what could be done better. When you find a question that doesn't have a great answer with less than 100,000 results, you've hit paydirt. That's a question you should answer.
Step 2: Use SEO to Pick the Most Discoverable Video Title
First, do some research
Your video title plays a huge role in discoverability. It needs to match a prospect's search query as closely as possible. The closer the match, the more likely YouTube will serve it up in the list of search results.
You've done half the work by jotting down the exact words your clients ask. Next, you want to type that search query into YouTube. This time, instead of looking for competitor videos, look at the autofill suggestions YouTube generates as you type.
For example, let's say a client asks you why Dave Ramsey says not to buy permanent life insurance. When we type "why dave ramsey" into YouTube, here's what we get:
But if we change the wording slightly and start with "why does dave ramsey", we get a few different options:

This is where you'll make a judgment call. Pick the phrasing that generates the best combination of results with the least amount of competition. It may feel like you're searching and clicking aimlessly, but you're not. This is the step most people skip – and it's vitally important for discoverability.
PRO TIP: YouTube expert Sunny Lenarduzzi suggests using the free extension Keywords Everywhere for on-the-spot research in Chrome or Firefox. Every time you do a search, whether it's on Google, YouTube, Amazon, Bing, etc., the extension shows you how many people search that phrase per month. It also provides a list of related keywords that may give you even more video ideas. Aim for topics with 100 to 10,000 searches. Her YouTube channel is one of Forbes' "20 Must-Watch YouTube Channels That Will Change Your Business."
Next, finalize your video title
You've chosen your keywords – now make sure that query is the first part of your video title. This is what tells YouTube's search engine your video is the best match for that query. Here are a few examples using the search term "why does dave ramsey hate permanent life insurance":
BAD SEO: I explain the real reason Dave Ramsey hates permanent life insurance.
BAD SEO: Dave Ramsey hates permanent life insurance because he wants you to buy term and invest the difference.
GOOD SEO: Why does Dave Ramsey hate permanent life insurance? An insurance agent's honest answer.
GOOD SEO: Why does Dave Ramsey hate permanent life insurance? Video #2 in my Insurance Straight Talk Series.
As you can see in the examples above, the titles with better SEO replicate what prospects type into the search box. You can still include branding or other information, but it needs to come after what your prospect is asking for. It sounds simple, but it's easily overlooked.
Finally, add keywords to your description and tags
You're not done with SEO yet! In addition to the title, you should include your keywords in the video filename, the first line of your description, and your video's tags. Together, these four elements provide the signal that YouTube needs to match your video with a consumer's search.
Step 3: Make the Video
Now that you have a focused subject and title, it's time to make the actual video. Whether you're speaking on camera or using a PowerPoint deck, put the most valuable content first—that is, the answer to the customer's question. Don't introduce yourself or your agency. The purpose of this video is, first and foremost, to answer a consumer's question. If you do this well, it builds trust and you can then point them to other resources or make an ask.
The Opener
Start with a quick one-sentence opener that tells the viewer exactly what's going to happen. This reassures them they're in the right place, and gets them primed for the main idea. You can do this in two ways:
Repeat the question. Example: "In this video, I'll answer the question, 'How much life insurance do I really need?"
Provide a goal/learning outcome. Example: "In this video, I'll teach you how to calculate how much life insurance you really need."
After the opener, either continue talking to answer the question, or splice in one of the off-camera video types we went over in this post.
The Call to Action
When you're done answering the question, tell your viewer what to do next. The goal is to draw them further into your brand ecosystem so they don't forget who you are, and you can eventually convert them into a client.
Here are a few ideas:
Download a free resource. This is the gold standard, providing even more value and leaving behind a tangible item with your branding.
Get a free quote. Have a quoter on your site? Send them there and let them start the process on their own time.
Call or email for a consultation. If you'd rather establish a connection than send them to a website, just ask!
Ask me another question. Never underestimate how confusing insurance is to others.
Make an appointment. If you're focused on local traffic, provide a phone number and ask viewers to schedule a visit.
Join my mailing list. Once they sign up, you can market to them independently of any platform.
Visit my website. If you're doing remarketing with a pixel on your website, you can keep trying to reach those who don't convert.
Follow me on social media. If you have a more robust LinkedIn or Facebook presence, use YouTube to drive traffic to your preferred network.
Watch another video. Suggest a related video and keep them on your channel longer.
FOR EVERY VIDEO, IN ADDITION TO ONE OF THE ABOVE: Share, comment, and/or subscribe. This is another big component of discoverability. Interaction like this tells YouTube your video answered their question and should be shown to others who ask the same question. As you close your video, ask viewers to like, share, comment, or subscribe. Tell them why so they know you're not just out for yourself. When they like, share, comment, or subscribe, it helps others find the video and get the answers that will help them on their personal financial journeys, too.
Step 4: Drive Traffic for 24-48 Hours
The YouTube algorithm rewards videos for viewer retention, and activity within the first 24-48 hours. Viewer retention is why you repeated the question at the beginning of the video. It reminds the viewer they're in the right place, and gets them sucked in by promising the exact answer to their question. Once they've heard you restate the question, they've already watched for about 3 seconds, which is great.
The next step?
Share that video everywhere else you can. If you already have a mailing list, send them the link and explain why they'll find it valuable. Share it on your other social media networks, including LinkedIn. Embed it on your blog. Do whatever you can to drive traffic to it.
The more traffic you get, the more shares and likes and comments you'll get. This will tell YouTube to keep ranking your video highly. By sending traffic that consists of people you know to your video, it will end up making your video relevant to that search query and YouTube will show it to people you don't know.
This technique is what can turn your video into a lead-generating tool. As more people discover it, thanks to the burst of engagement when you publish it, you'll start showing up in search results, in AutoPlay lists, and more.
That's our look at how to use YouTube to generate leads!
How have you optimized your YouTube channel? Tell us in the comments!
---