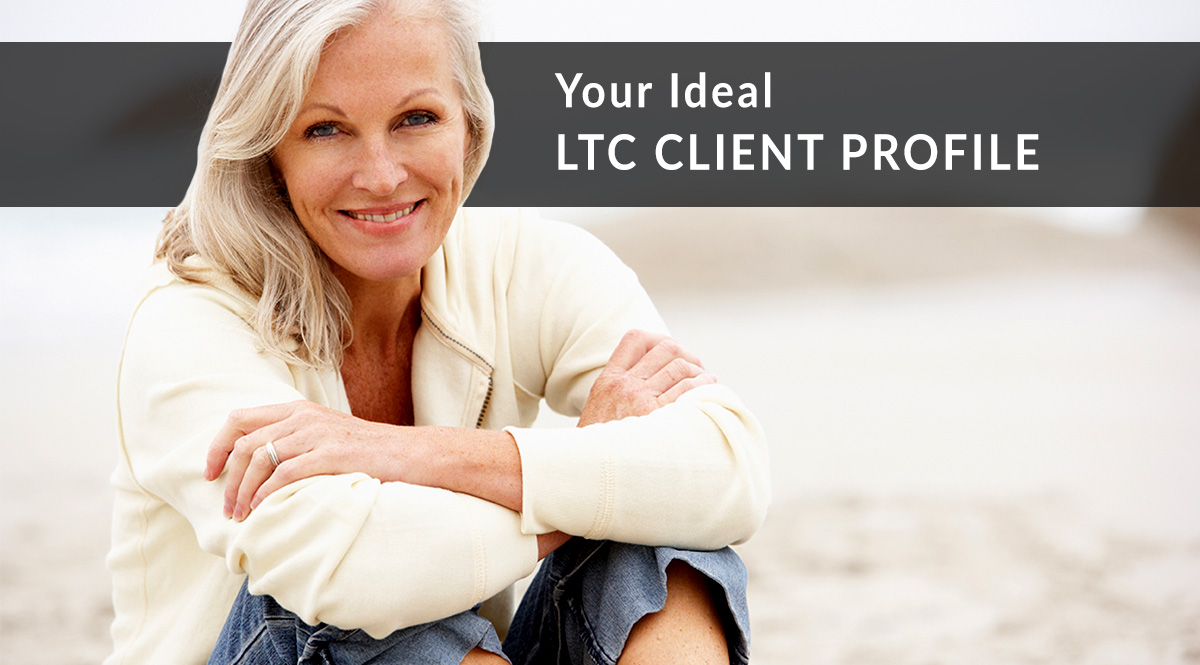 Two weeks ago, we brought your our Long-Term Care Awareness Month sales kit. Now, we're going to look a the ideal LTC client profile, so you can target your outreach efforts.
In our sales kit, you'll find a Mutual of Omaha producer guide and consumer study. These contain the results of an LTCi survey given to policyholders, policyholders who purchased from another carrier, and those who didn't buy at all. They asked the questions that tell us exactly what we need to know to find others who fit that profile. Here's what you need to know.
Surprising Facts
People without LTCi expected an insurance agent to approach them.
People without LTCi wanted to be educated, not sold.
The #1 reason people bought a policy was to protect their retirement savings.
Less than 1 in 100 LTCi policyholders said an agent told them about long-term care insurance.
More than 50% of LTCi policyholders said they bought a policy because they'd already provided care for someone with a chronic illness or disability. They've seen the effects firsthand and are very likely to appreciate the policy's benefits.
Many buyers made the purchase so they could stay at home if they needed care. Instead of using the policy to help pay for a nursing home, they want to use the policy to stay out of one.
78% of people have NOT talked with their spouses and children about what they want to happen if they need long-term care.
Ideal LTC Client Profile
Female, Caucasian
Age 55 – 64
Married
Adult children
College educated
White-collar employment
Lives in a metropolitan area – 250,000+ population
Homeowner
Household income: $100,000+
Probably already owns life insurance
Research-oriented; willing and able to self-educate
Likely knows someone who needed long-term care
Often skeptical of insurance companies

Not sure how to talk to a prospect who's skeptical? Check out the advice in Van Mueller's October 2016 newsletter – it's chock-full of tips on the best ways to approach clients and get them to see your point of view, even if they initially disagree.
Where to Find Clients
Your existing book of business. Clients who've already bought a policy have taken their financial future into consideration. Prepare an email or letter to send, asking if they've thought about how to safeguard their retirement savings in the event that he or she needs long-term care.
Organizations in your area. From AARP to DAR, there are plenty of groups whose members may be interested in what you have to say. Ideally, you could approach the group as a member. If not, you still may be able to hold a seminar or informational meeting to present the issue – no hard sell, just a time to ask questions and distribute information.
Other area professionals. Accountants and lawyers in your area may have clients who need advice regarding their end-of-life directives, including their plans for long-term care. Are there ways you can work together to best meet these clients' needs?
Hold an informational seminar, and advertise in local publications your typical buyer reads. Even though the survey results showed a buyer age 55+, don't rule out online advertising methods like Facebook posts and/or ads. Baby Boomers are the fastest-growing group of Facebook users.
Common Objections
"I won't need it." If a prospect firmly believes they won't need it, you're not likely to change their mind. But much like life insurance, the policy is designed to cover the "what if" and provide peace of mind. Do they have family members who might be affected by the need to provide care if they did happen to need it? Would a policy help ease their minds and financial worries?
"My family will take care of me." Some policies can offer stipends that reimburse family members for the work hours lost while providing care. Wouldn't it be good to have that as an option?
"I have savings for that." The cost of care is going up every year. Taxes are also likely to continue to rise. The savings your client has now may not stretch as far as they'd like in 10 or 20 or even 30 years.
"I don't want to be in a nursing home." There are plenty of other options for care. Buying a policy doesn't mean they're accepting the idea of going into a nursing home someday. It does mean having funds available to pay family members, in-home caretakers, or move into an assisted living facility – all a far cry from what we all picture when we hear the words "nursing home."
How to Proceed
Match clients in your book of business to the profile above.
Reach out to them in a way that feels comfortable for you – by phone, email, etc.

>TIP: Not sure what to say? Start the conversation with a few social media posts aimed at all of your followers. Ask them what questions or concerns they have, and use any responses as a guide.
TIP: Reaching out one-on-one? Use the common objections listed above as conversation starters. You can ask your client if they agree or disagree with any of the statements listed above.

Turn to us for quotes and help. You can get quotes and illustrations from our website, or call us to get customized advice and planning help for your client.
Let's get this conversation started! Download this month's free sales kit, if you haven't already, then reach out to the clients who are the best fit.
We'll be here to offer help and support the entire way.
Download the Kit
---