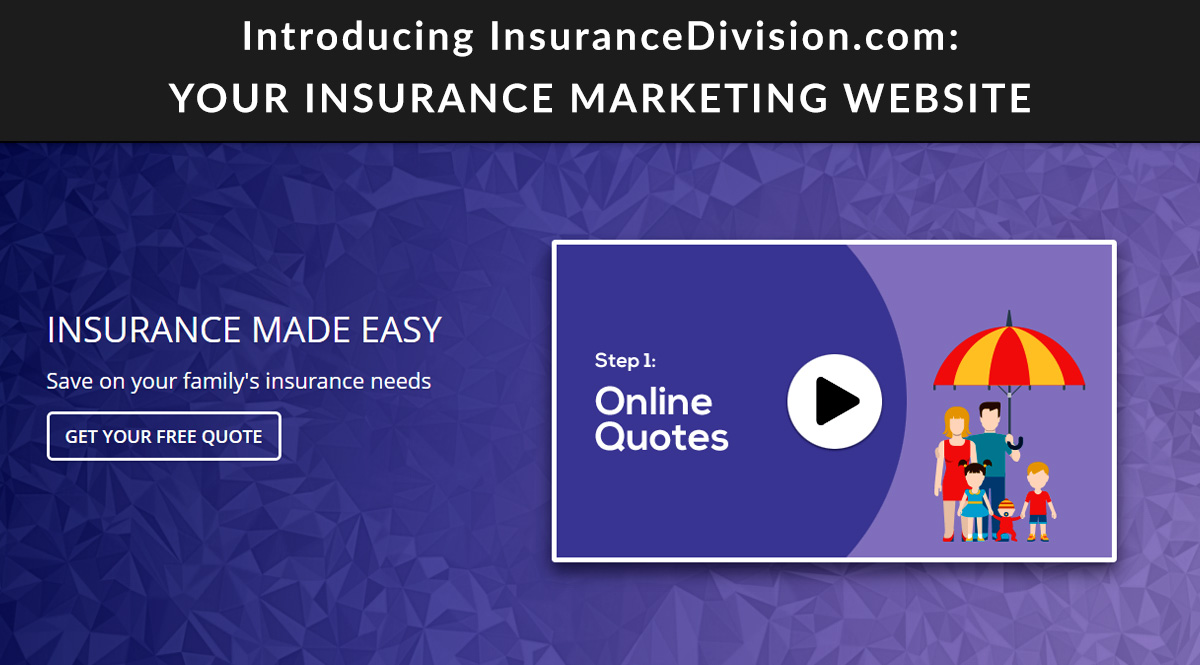 We've talked before about our CRM of choice, Insureio. There's a new feature available we want to tell you about called InsuranceDivision. It was created for busy agents who know they need a marketing website, but don't have the time or money to create one themselves.
If you've ever felt overwhelmed by the prospect of creating a website, writing content, dealing with plug-ins, hiring a developer to make it all work, and worrying about being hacked, you're not alone. Your job is to sell, not to worry about content, search indexing, and hackers, right?
In today's digital world, however, you need a web presence. Period.
Your website is your digital billboard and business card in one.
We've found a solution.
Insureio now offers an insurance marketing website as an add-on to your subscription.
How It Works

InsuranceDivision.com is a customer-facing insurance marketing website that's customized for you and your brand.
It works with Insureio to educate your consumers, as well as collect and track leads. In a nutshell, here's how it works:
Content pages contain the contact info and logo for your brand, along with a quoter.
Every page footer contains state-required licensing disclosures, along with a privacy policy, terms of use, terms of service, and an embedded TCPA-required disclosure for lead capture.
The pre-written marketing email templates in Insureio correspond with specific pages on InsuranceDivision.
Send clients marketing emails through Insureio, with an automatically embedded link to more information on InsuranceDivision.
Leads gathered from InsuranceDivision are posted straight to your dashboard.
Use Insureio's status rules to trigger a series of automated tasks that take place for each new lead, such as introduction or thank-you emails, follow-up call reminders, and/or text messages.
InsuranceDivision Features
Home Page
Your InsuranceDivision home page can function as your personal home page, with valuable information about you and your agency. Here's what visitors see up top: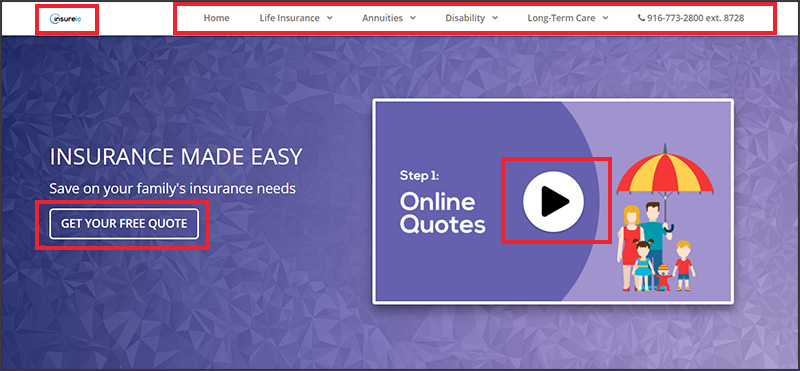 Your logo
Easy-to-navigate menu options
Call to action: Get Your Free Quote
Video walking them through the process of buying insurance online
If they click the Get Your Free Quote button, a pop-up modal will step them through the process: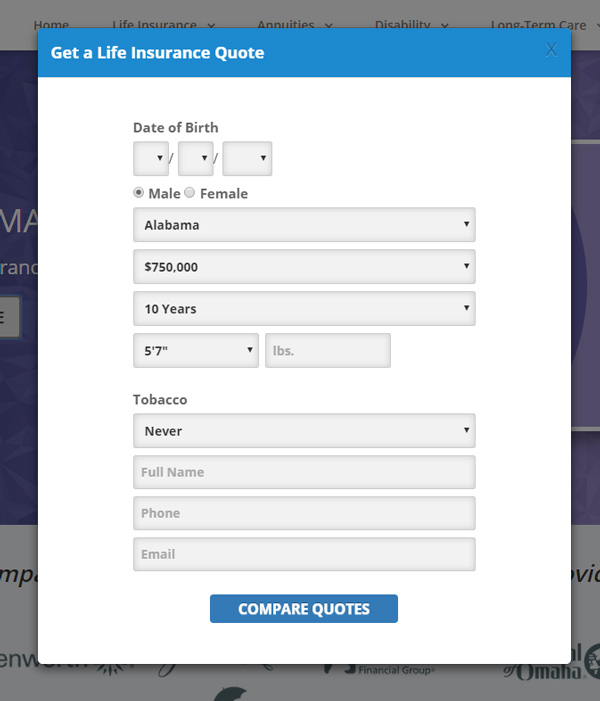 If they click the video play button, they can watch a video explaining how to use the site to shop for life insurance online: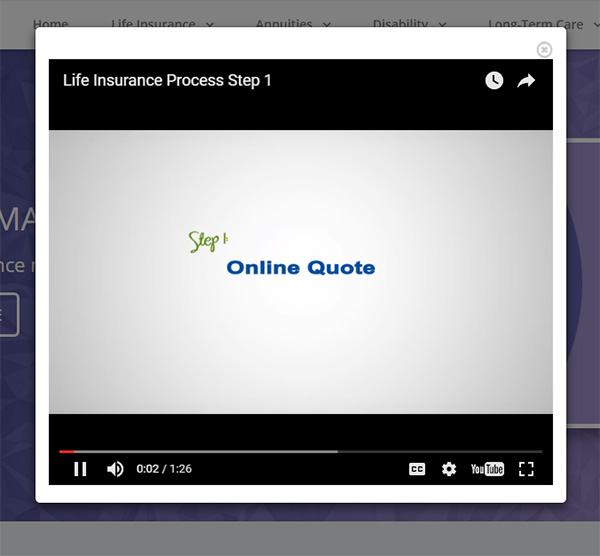 If they explore the menu options, they can learn more about life insurance – or jump to any other insurance types you've opted to include via your Insureio account: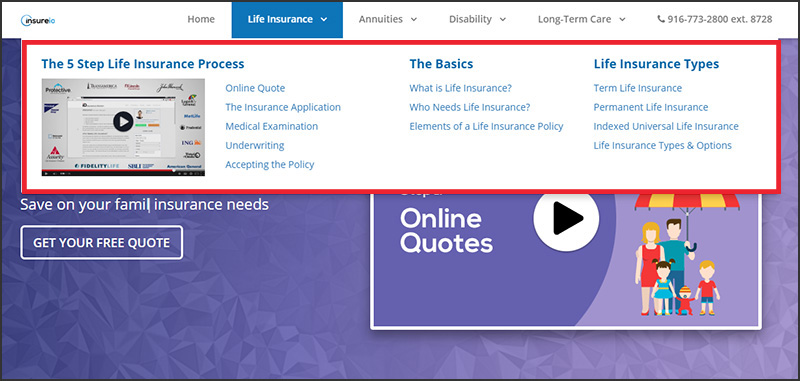 Content Pages
When a site visitor navigates to a content page – or arrives by clicking through from one of Insureio's marketing emails – they'll see educational content written especially for consumers.
Each page also includes your logo, contact information, and a quoter. If you have social media accounts, you can also connect them to your account so site visitors can find you on Facebook, Twitter, LinkedIn, or Google+. No matter where your site visitor clicks, it's easy to find a way to reach you.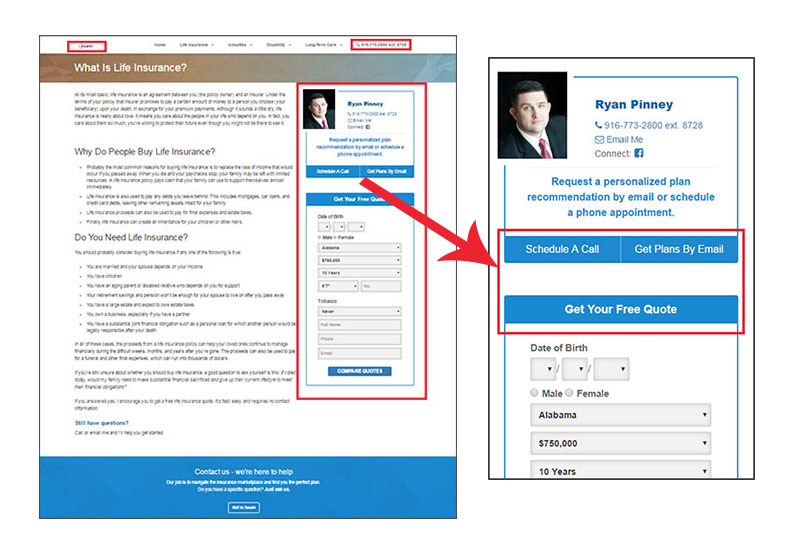 Using Marketing Emails and Content Pages Together
Use the email marketing templates in Insureio to send clients and prospects to pages that educate them on important topics in insurance and personal finance.
InsuranceDivision pages cover a range of planning needs and insurance types, including but not limited to:
Individual & family planning
Business & executive planning
Retirement planning
Health & long-term care planning
Estate planning
And many more, including content for specific demographics (newlyweds, single parents) and industry campaigns (Insure Your Love, Life Insurance Awareness Month)
Here's how they work together:
Select from 400+ marketing email templates and campaigns within Insureio, based on planning need, product category, or a combination of both.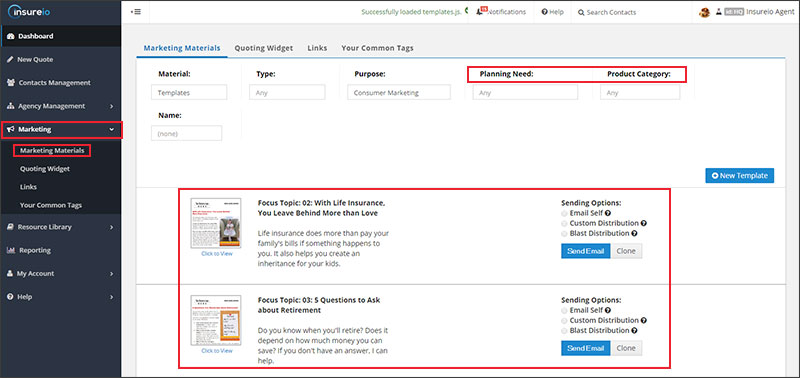 Use Insureio's SMTP email capabilities to send the campaign to some or all of your prospects. You can limit distribution to an individual, a small group, or blast to your entire marketing list.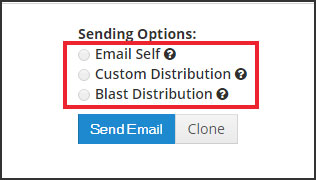 Consumers will read your email and click through to learn more or get a free quote. They'll be taken to the corresponding page on your branded InsuranceDivision.com website.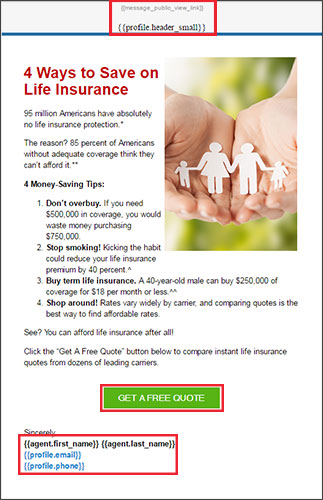 Then, when a consumer gets a quote, Insureio adds that lead to your dashboard. Based on the initial status you defined for your brand profile, the system will start a series of automated tasks, like introduction or thank-you emails.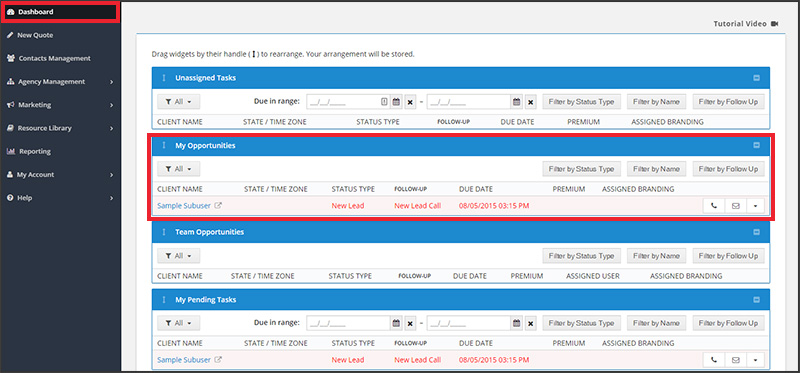 Insureio + InsuranceDivision
InsuranceDivision is available to Insureio subscribers at the Standard or Professional level. If you're already subscribed at one of those levels, you can add InsuranceDivision in the My Account section. Just click on the Payment Info tab, and select InsuranceDivision as an add-on. Over the years, we've heard from many agents who want a consumer-facing website, but don't have the time, knowledge, or energy to create one themselves. If this sounds familiar, InsuranceDivision is the tool you've been waiting for.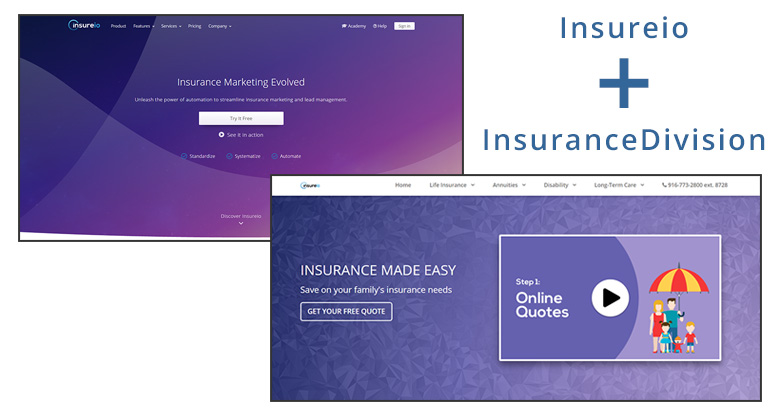 You can learn more about Insureio here – and claim a free 30-day trial to find out if it's right for you.
---