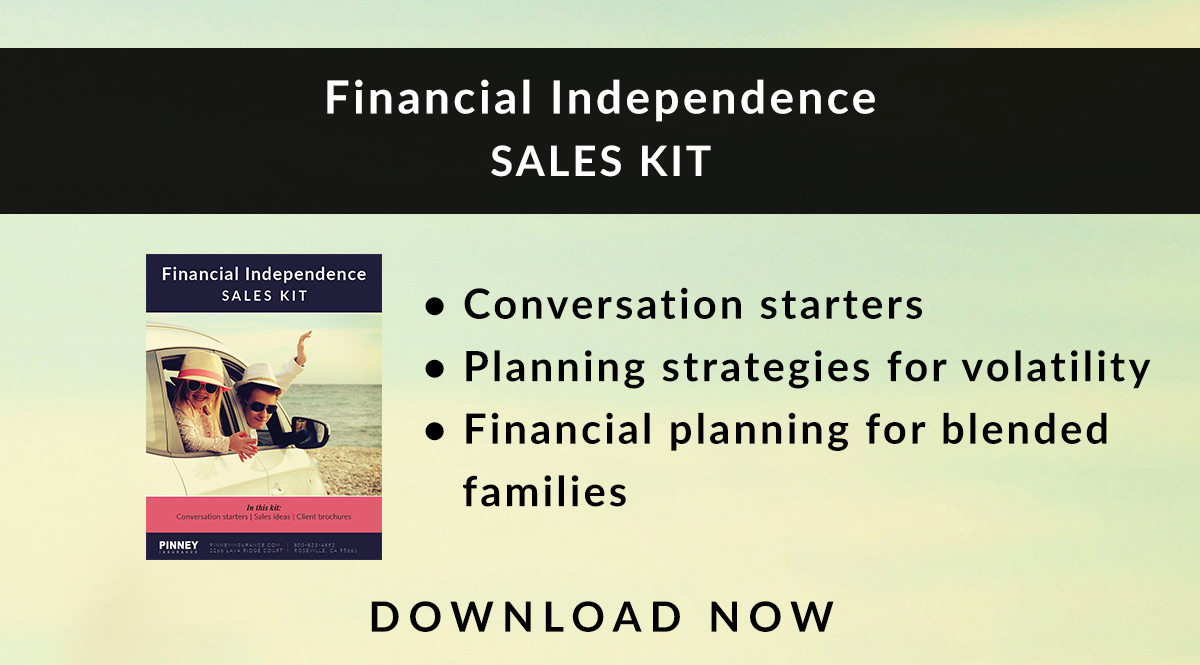 This month, we're talking about financial independence! Our July 2018 sales kit will help you talk to clients and prospects about what it takes to protect their present, build their future, and leave a legacy. In a world that's full of risk, how can we help them achieve these financial goals?
What comes to mind when you think about financial freedom? For your clients and prospects, it may mean paying the bills without worrying if there's anything left at the end of the month. Or it may mean retiring early and enjoying a little R&R after years of hard work. Life insurance and annuities play a role in both cases.
---
What's in the Kit
In this month's kit, we have 33 pages of resources to help you approach clients about financial solutions for volatility, longevity, and more. From conversation starters to worksheets to producer guides, you'll have the tools you need to get the conversation started.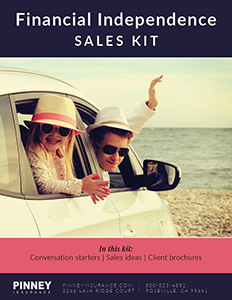 Our FREE 33-page kit includes:
2-page conversation guide
8-page trust planning white paper
6-page client brochure on market volatility
1-page sales idea on asset protection & GUL
1-page sales idea on life insurance to strengthen a portfolio
2-page consumer brochure on life insurance to strengthen a portfolio
1-page sales idea on "short paying"
2-page consumer brochure on "short paying"
2-page consumer brochure on life insurance for blended families
6-page consumer guide + worksheet on life insurance for blended families
Get the Kit
How to Use This Month's Sales Kit
This month's topic is broad - but that gives you a lot of opportunity to reach out to your book of business. One easy way to get started? Send a quick survey to ask what your clients fear most about the financial future. Longevity? Inflation? Saving enough for retirement? You can build a survey in Google Forms in just a few minutes (we explained how to do it here).
Once you have some responses from clients and prospects, approach them about the issues they feel strongest about. Reach out with an email, a phone call, or even a social media post. Use the conversation starter in this month's sales kit to get the ball rolling. At this point, you're not pitching a product or a solution. You're just gathering info on what they most need help with. Once you know more about their situation, you can suggest a course of action that diversifies their portfolio with life insurance and/or annuities. Need help with case design? We're just a phone call or an email away.
Get the Kit
Insureio Subscribers: Use Our Financial Independence Email Campaign
All Insureio subscribers can use July's pre-written marketing campaign. This campaign includes five pre-written emails, already scheduled for delivery throughout the month. The first email is a feel-good email wishing them a happy Fourth of July! We're big on patriotic holidays - are you? First, enroll your clients and prospects and they'll automatically get each email in the sequence. After the friendly intro email, each message explains a concept that can help them achieve financial independence. They don't mention specific carriers or products. They're meant to raise questions, bring up ideas, and get your prospects thinking about topics they should talk to you about.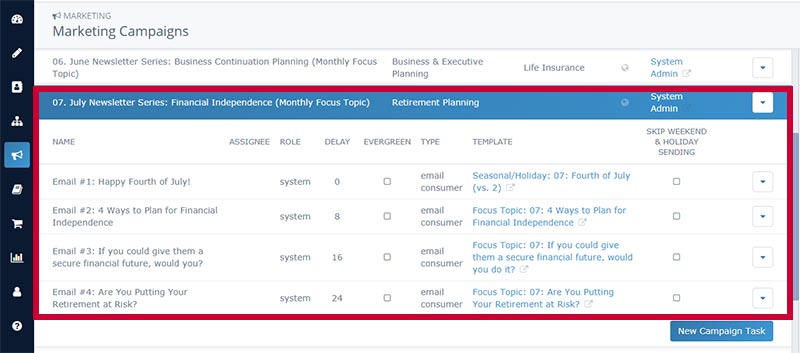 To preview the campaign:
Click Marketing and then Marketing Campaigns from your left-hand navigation menu in Insureio.
Scroll down and click July Newsletter Series: Financial Independence (Monthly Focus Topic). You'll see the list of five pre-scheduled emails. Click any email title to preview the template in a new browser tab.
Want to learn more about Insureio marketing campaigns, including how to enroll your clients and prospects? Click here to visit the tutorial in the Insureio Academy.
Download Our July 2018 Sales Kit Now!
---