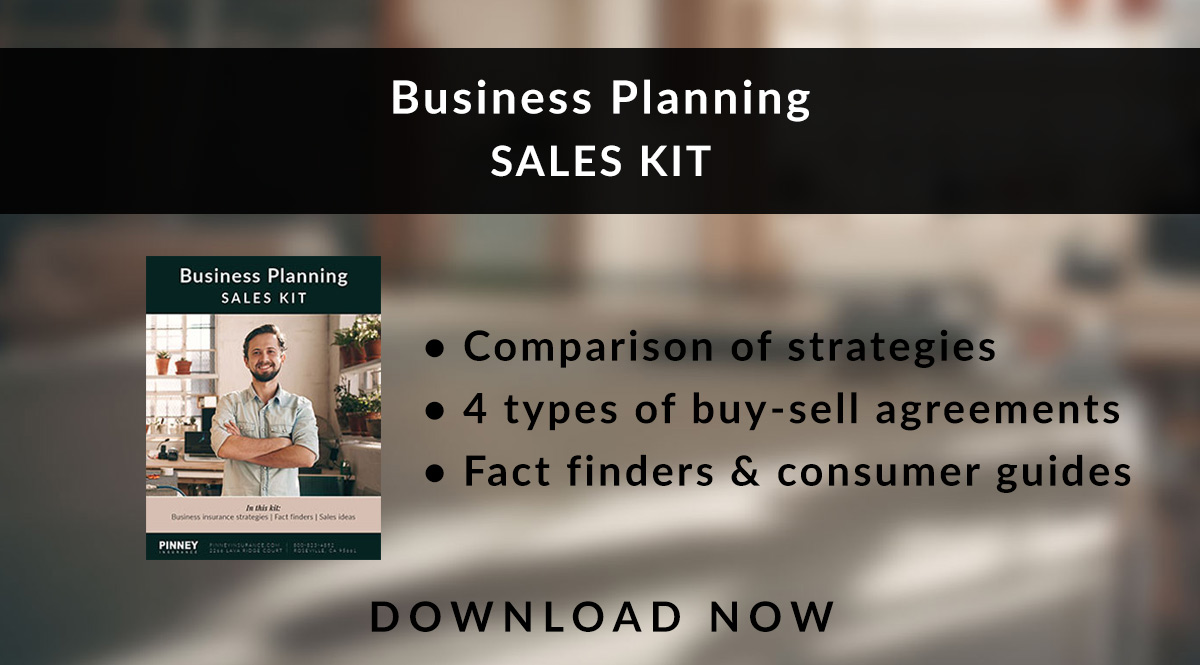 This month, we're talking about business planning! Our June 2018 sales kit is designed to help you reach out to business owners and help them plan for a range of events, including retirement and disability.
If you're like a lot of agents, you're not as familiar with business planning as you are with individual and family needs planning. We're here to help. In this month's sales kit, you'll find material that will help orient you - and your client - for a discussion. The kit begins with a comparison of business entities, from sole proprietorship to a limited liability company. Other good reference materials include a comparison of insurance strategies for small business owners.
---
What's in the Kit
In this month's kit, we have 68 pages of resources to help you approach clients about business succession planning and insurance solutions. Topics covered range from life insurance as a bonding asset to a deep-drive on buy-sell agreements.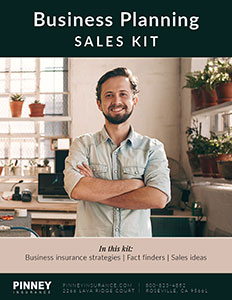 Our FREE 68-page kit includes:
5 pages of summaries and comparisons of business entities, needs, and insurance strategies
1-page sample consumer letter
8-page fact-finder
4-page guide to life insurance as a bonding asset
18-page producer guide for buy-sell agreements
20 pages of guides & sales ideas on buy-sell agreements, including cross-purchase, entity purchase, wait-and-see, and one-way
10 pages of guides & sales ideas on key person insurance
Get the Kit
How to Use This Month's Sales Kit
The first step is to identify the business owners among your current book of business. You may want to start by emailing or calling them and conducting a brief survey. If you don't know what kinds of business needs they have, it may be easier to ask than to offer services they don't need or want.
Once you've selected the appropriate clients and have an idea of their needs, use the sample client approach letter in the kit to reach out. It lists examples of common challenges business owners face. You can always replace these examples with specific ones you discovered in your survey. The goal is to get an appointment where you can go over these concerns with them and learn even more about how they've prepared for retirement, disability, and more. The fact-finders in the kit will help you there, too.
Get the Kit
Insureio Subscribers: Use Our Disability Insurance Campaign
All Insureio subscribers can use June's pre-written marketing campaign. This campaign includes five pre-written emails, already scheduled for delivery throughout the month. Enroll your business-owning clients and prospects and they'll automatically get each email. These emails aren't selling a policy or a carrier. They're asking questions and introducing concepts that business owners need to know, like buy-sell and key man coverage. They're designed to start a conversation that continues with you, their advisor.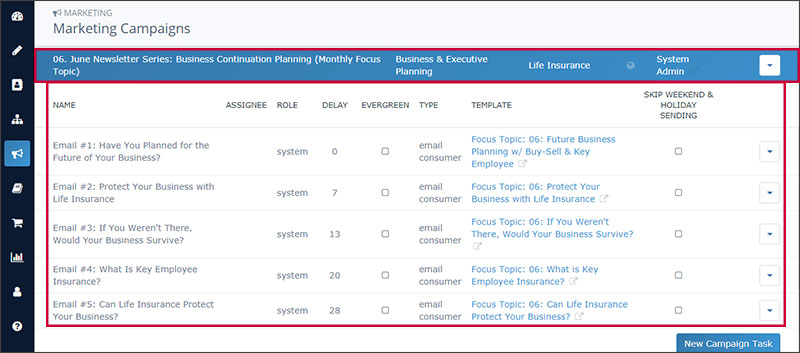 To preview the campaign:
Click Marketing and then Marketing Campaigns from your left-hand navigation menu in Insureio.
Scroll down and click June Newsletter Series: Business Continuation Planning (Monthly Focus Topic). You'll see the list of five pre-scheduled emails. Click any email title to preview the template in a new browser tab.
Want to learn more about Insureio marketing campaigns, including how to enroll your clients and prospects? Click here to visit the tutorial in the Insureio Academy.
Download Our June 2018 Sales Kit Now!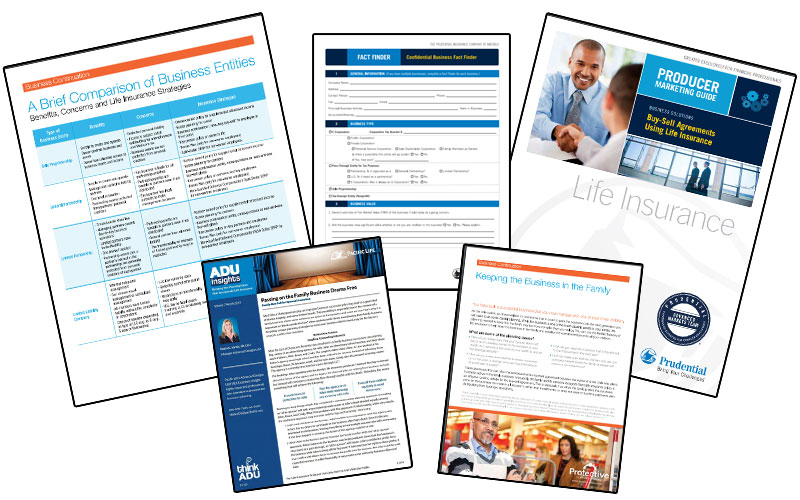 ---