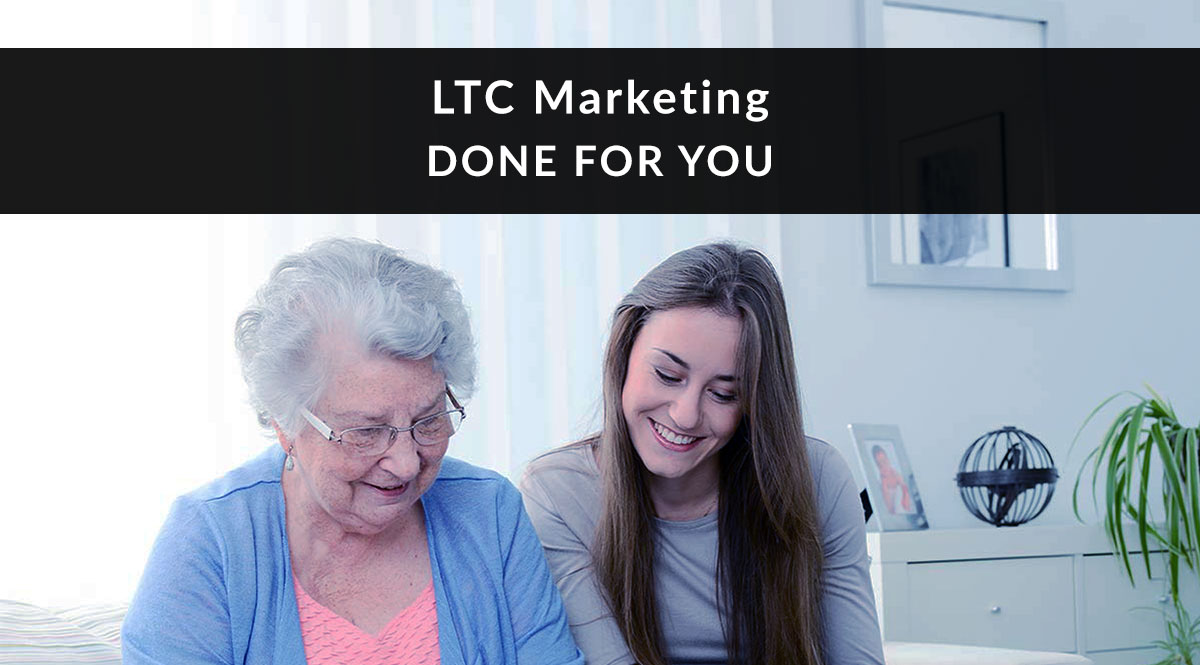 Earlier this month, we brought you our free LTC sales kit with ideas, stats, and conversation starters. This time, we're bringing you a full LTC marketing campaign from OneAmerica.
OneAmerica has a fantastic ready-made marketing campaign based on the income gap created by the need for long-term care. Click here to access the campaign. Below, we'll go through how to use all the materials they offer.
The Sales Idea
What happens when a chronic health condition or physical disability strikes your client during retirement? What's the alternative to simply spending down their savings to pay for care? What if their investments don't bounce back at the rate needed to offset, say, the costs associated with an Alzheimer's diagnosis?
It's entirely possible that 70% of our clients will have to find an extra $70,000 per year to cover unanticipated LTC expenses. As advisors, this scenario should worry us. It could undo all the hard work you've done to help them prepare for retirement over the years.
As a quick example, let's say your client gets diagnosed with Alzheimers in 10 or even 20 years. If they need a private room in a care facility, that costs approximately $83,580 per year in 2017, according to the US Department of Health & Human Services. If the average medical inflation rate holds at 3.5% (a big if), your client will need $117,897 per year in 2027, or $166,306 per year in 2037. Yikes!
These unplanned expenses are the "gap" OneAmerica refers to in their campaign materials. Here's how they illustrate it: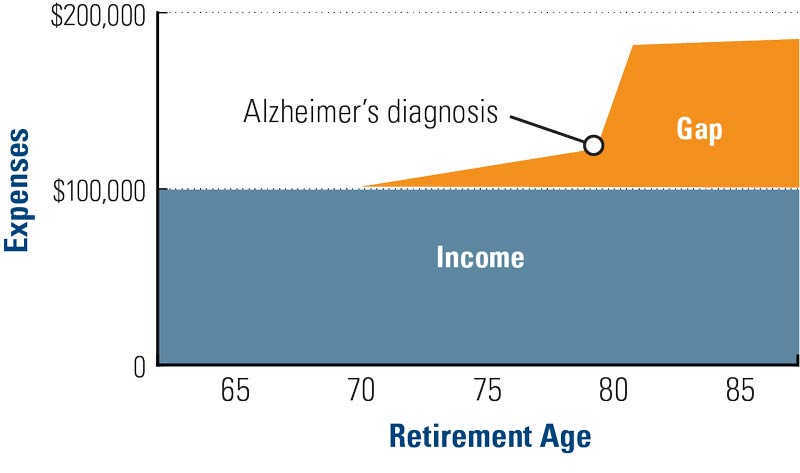 The Solution
So what's the alternative to spending down a client's savings? Liquidating other investments is an option, but that might put a surviving spouse at risk. It's a safer bet to use life insurance and annuities with LTC provisions. OneAmerica offers asset-based LTC products that offer:
Death benefit, guaranteed
Cash value growth, guaranteed
Return of premium, guaranteed
Optional joint protection
LTC benefits with guaranteed lifetime protection and no premium increases
Their strategy combines a base policy and a rider. The base policy is an annuity or life insurance policy, funded by any of the following:
Cash lump sum (possibly from a liquidated or underperforming asset)
Annual premiums
Nonqualified annuities
Qualified money
Cash value life insurance
The base policy serves as a sort of "deductible." When its benefits are used up, the rider kicks in, covering additional LTC costs for the rest of your client's life. The cost of that rider will never increase; those premiums are locked in at the time of purchase. Your client can use any of the following to fund that rider:
Cash single premium
Fixed annual premium
The Marketing Campaign
Now that you're familiar with the sales idea and the proposed solution, let's talk about how to market to your clients.
First off, who should you target for this campaign? Scan your book of business for couples aged 45 and over. Chances are they're in the thick of retirement planning, and starting to become aware of the financial challenges LTC presents. Once you've identified a marketing list, use OneAmerica's marketing materials to approach them.
Brochure
Email this to clients, with the highlights bullet-pointed in the text of your email. If they don't read the full brochure, your bullet points can still make an impact.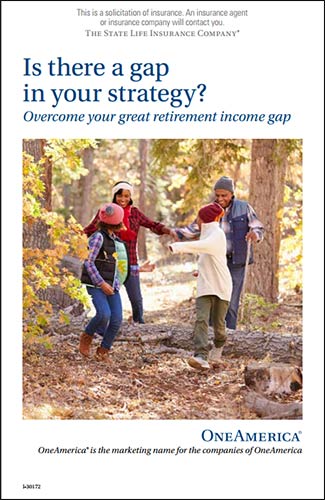 Client presentation
Be sure to choose the state-specific presentation available – they're all linked for you here. This presentation offers a range of funding examples so your clients can see how many options they have. Case studies include the following funding sources:
Converting a CD or money market account
Earned income
Required minimum distributions
Income rider on an existing annuity
Existing annuity with a 3% guarantee
Existing annuity through a 1035 exchange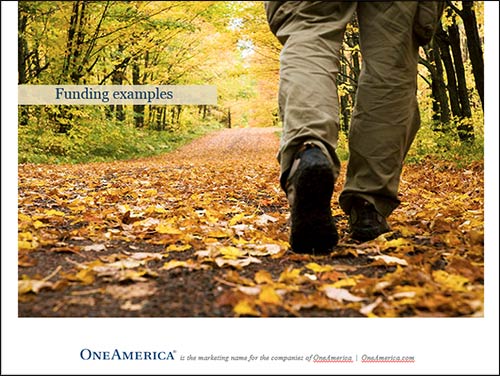 Direct mailer
Reinforce your email by printing and mailing this 4-page mailer, already formatted for postage and mailing labels.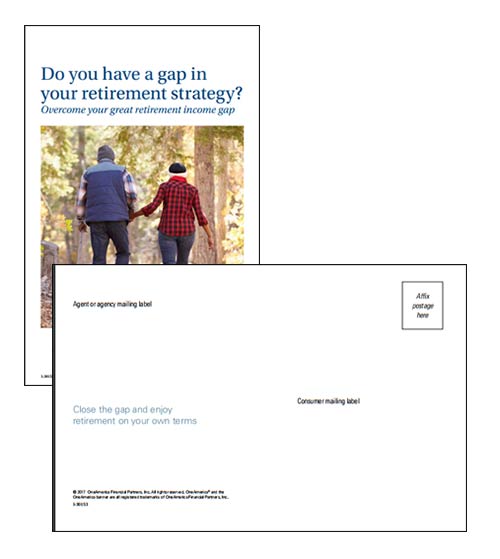 Video
You can email this video to clients, show it to them in-office, or play it in a loop on a monitor in your office/lobby. (Note: this is a video version of the client presentation in slide format; click your state on this page to download the video in MP4 format.)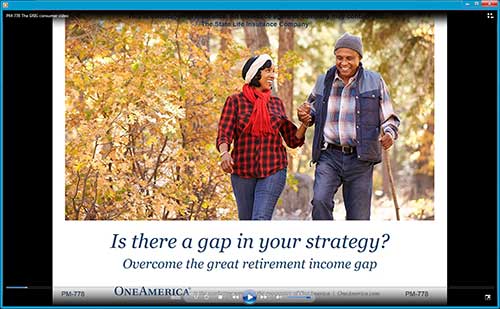 Social media campaign
Download a zip file that includes a recommended posting calendar and the supporting images to post. The PDF calendar includes instructions for posting on Facebook, Twitter, and LinkedIn. It includes 22 posts and sample calendar with twice-weekly posting schedules, complete with the text for each post. If you can cut and paste, you can use this kit!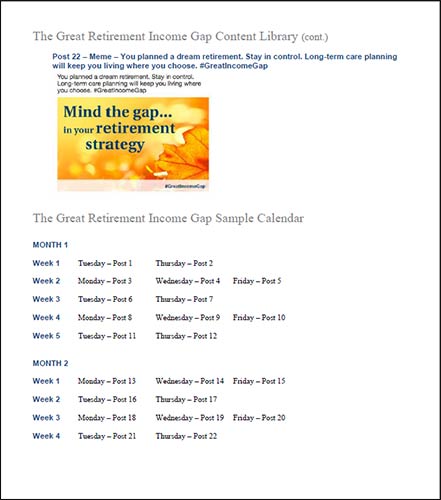 Concept report
This whitepaper is geared toward consumers. You can download your state's version and send it to them, or print it out and give it to clients you meet with in-office.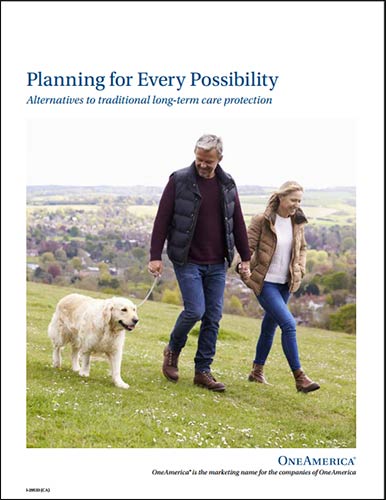 That's our look at OneAmerica's LTC marketing done for you!
Which assets are you most likely to use? Do you have any LTC sales ideas that have been particularly effective? Tell us in the comments!
---