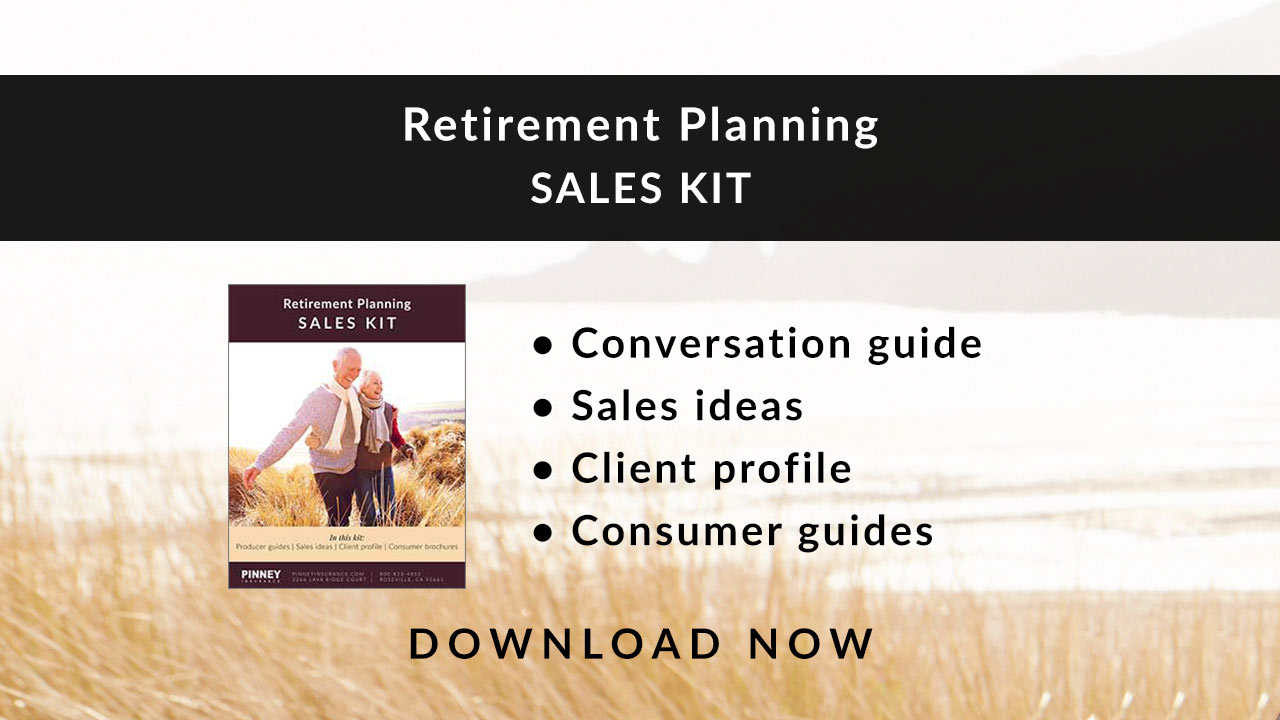 This month is all about retirement planning. Since 1 in 4 of your clients will live to age 97, it's time to start talking about longevity and financial planning.
Did the statistic above surprise you? It's from the Society of Actuaries, included in one of the producer guides in this month's sales kit. Now let's put that statistic in context. Of the 25% of your clients projected to live to age 97, how many are prepared for that? Saving enough to pay for a 25-35 year retirement is a daunting task. The good news is we're up for the challenge. We've got the tools that can help clients turn savings and other under-performing assets into double-duty workhorses.
---
What's in the Kit
In this month's kit, we have 50 pages of guides and resources to help you talk to clients about retirement planning. More specifically, these guides will help you talk to them about cash value life insurance and its role in retirement planning. Van Mueller's February newsletter explained in detail why this approach is key for creating financial independence and reducing tax liability. Now, we're bringing you the tools to help you take action.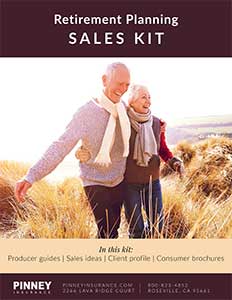 Our FREE 50-page kit includes:
6 pages of conversation guides
2-page case study
2-page client profile
12 pages of sales strategies
12-page consumer guide to life insurance in retirement planning
2-page consumer guide to managing tax brackets
12-page retirement income workbook
Get the Kit
How to Use This Month's Sales Kit
Start with the talking points in the two conversation guides - you'll find them in the beginning of the kit. The first guide goes over common fears your clients may have about the economy and how its potential instability affects their financial decisions. The second guide gives you a list of talking points to help you get that tough conversation started, from longevity to long-term care. The kit also has a retirement income workbook you can print and fill out with your clients to help them see what they're up against.
Insureio Subscribers: Use Our Pre-Built Retirement Planning Email Campaign
If you're an Insureio subscriber, you can access our March email marketing campaign. It includes five emails scheduled for delivery throughout the month. Each email introduces a concept relevant to retirement planning, from traditional IRAs to indexed IUL. These emails never mention products - all they do is introduce concepts and encourage the recipient to contact you to talk more about life insurance and retirement planning.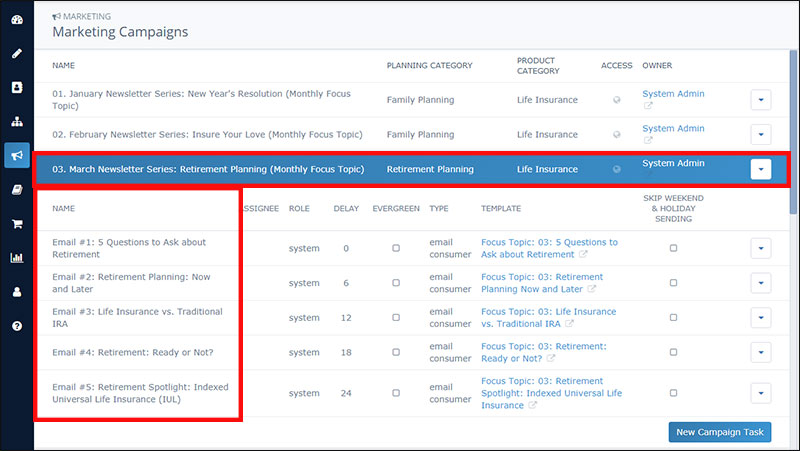 To preview the campaign:
Click Marketing and then Marketing Campaigns from your left-hand navigation menu in Insureio.
Scroll down and click March Newsletter Series: Retirement Planning (Monthly Focus Topic). You'll see the list of five pre-scheduled emails. Click any title to preview the template in a new browser tab.
Want to learn more about Insureio marketing campaigns, including how to enroll your clients and prospects? Click here for a complete tutorial in the Insureio Academy.
Download Our March 2019 Sales Kit Now!
---