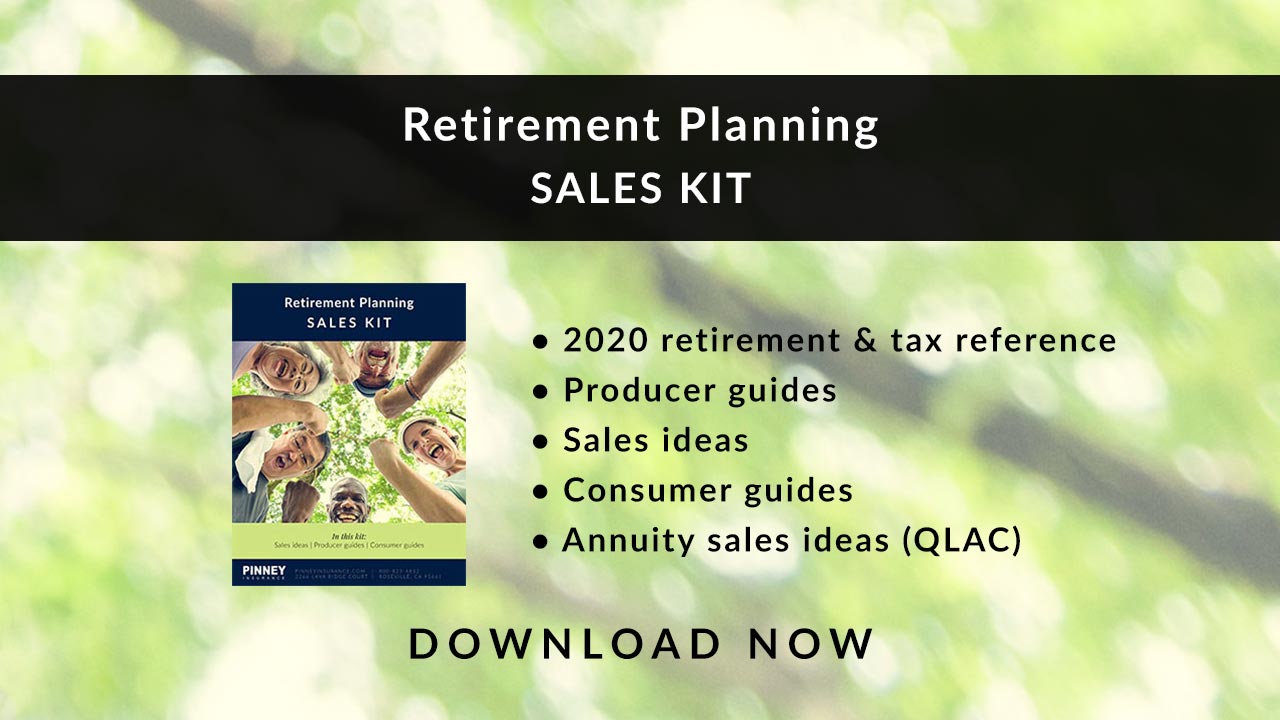 Our March 2020 sales kit is all about retirement planning. With the new SECURE Act in the news, now's the time to reach out to clients.
On December 20, 2019, the president signed an end-of-year tax law that includes the Setting Every Community Up for Retirement Enhancement Act, also known as the SECURE Act. Retirement has never been a sexy topic, but it's newsworthy right now because of this act. So what's in it for you? In short, a golden opportunity to reach out to your clients and ask if they've been keeping up with headlines.
The purpose of the new act is to make it easier for everyone (employers and individuals) to offer or participate in retirement savings programs. Last year, Vanguard shared a scary statistic: the median 401(k) balance for people 65 and older is only $58,035. Yikes. Your clients need your help figuring out how to maximize what they've already saved, not to mention how to future-proof their retirement against threats like inflation and longevity. That's where this sales kit comes in.
What's in the Kit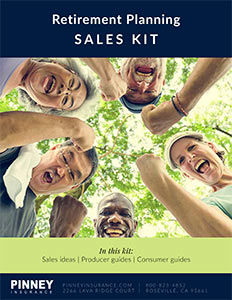 Our FREE 60-page kit includes:
2-page 2020 retirement and tax reference guide
12-page producer marketing guide for using life insurance during retirement
2-page sales idea using indexed IUL during retirement
8-page producer marketing guide on retirement planning with life insurance
2-page sales idea on cash value life insurance in retirement planning
8-page consumer guide to a deferred income annuity as part of retirement planning
2-page fact sheet for Lincoln Deferred Income Solutions Annuity
8-page consumer guide to longevity planning with deferred income annuities
2-page consumer brochure on managing how their retirement accounts are taxed
8-page consumer guide to using life insurance as a part of retirement planning
2-page consumer guide to using variable life insurance to accumulate tax-deferred earnings
2-page consumer guide to passing on the maximum amount of leftover retirement funds to the kids
Get the Kit
How to Use This Month's Sales Kit
The SECURE Act gave you a great conversation starter. First, reach out to clients and ask if they know what the act is and why it's needed. If so, congratulate them on their awareness! Next, ask if they've revisited their own retirement plan lately in light of issues like longevity, inflation, and the potential for an economic downturn in the next year or so.
As they talk, really listen to their answers. Take notes, and look for ways they can maximize their existing solutions with cash value life insurance and income annuities. Use the producer materials in the sales kit to have talking points and stats handy. Need a refresher on QLACs (annuities clients can buy using pre-tax money in a traditional retirement account)? Click here for our recent post on the new lifetime QLAC limits.
Get the Kit
Insureio Subscribers: Use Our Retirement Planning Email Marketing Campaign
Are you an Insureio subscriber? If so, you have access to a pre-written marketing campaign for March. It includes five emails for your clients and prospects, pre-scheduled for delivery throughout the month.
These five emails focus on general awareness about life insurance and retirement. In particular, they introduce the concept of permanent life insurance (namely, IUL) and how it compares and contrasts to a traditional retirement account like a 401(k) or IRA. These emails don't push a particular product or even mention a carrier. They're educational emails that simply lay the groundwork for a conversation you get to have with your client.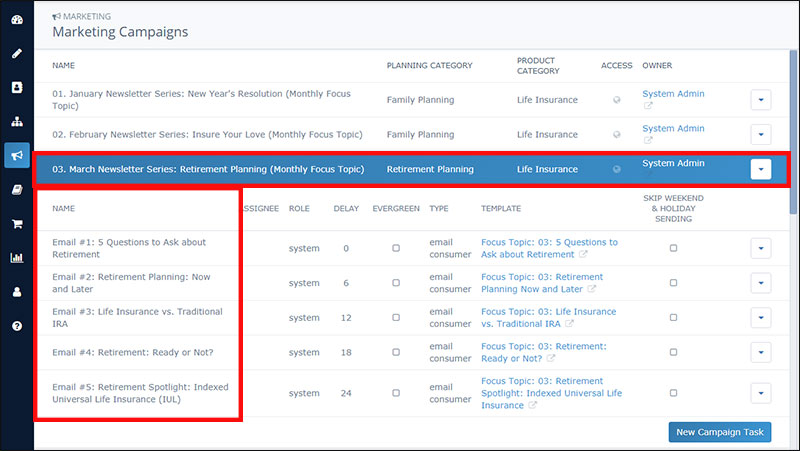 To preview the campaign:
From your left-hand nav menu in Insureio, hover over Marketing and then click Marketing Campaigns.
Scroll down and click March Newsletter Series: Retirement Planning (Monthly Focus Topic). You'll see the list of pre-scheduled emails. To see what a template looks like, click any of the blue template title links. The template will open up in a new browser tab.
Want to learn more about Insureio marketing campaigns and how to enroll your clients and prospects? Click here to visit the tutorial in the Insureio Academy.
Download Our March 2020 Sales Kit Now!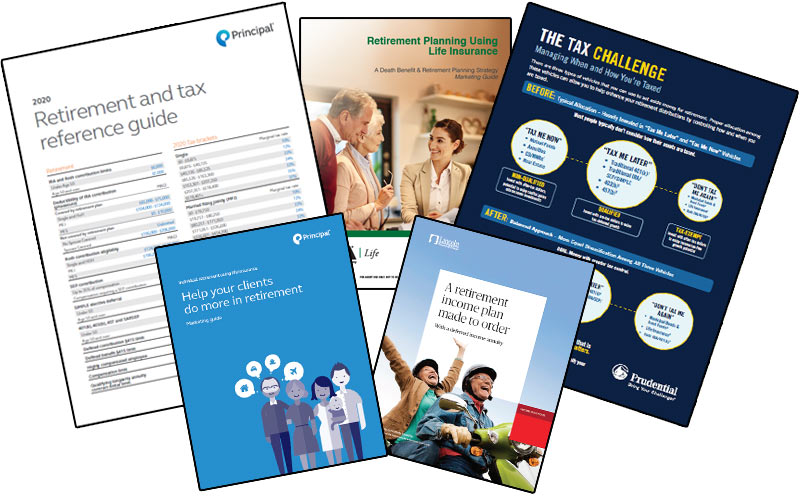 ---