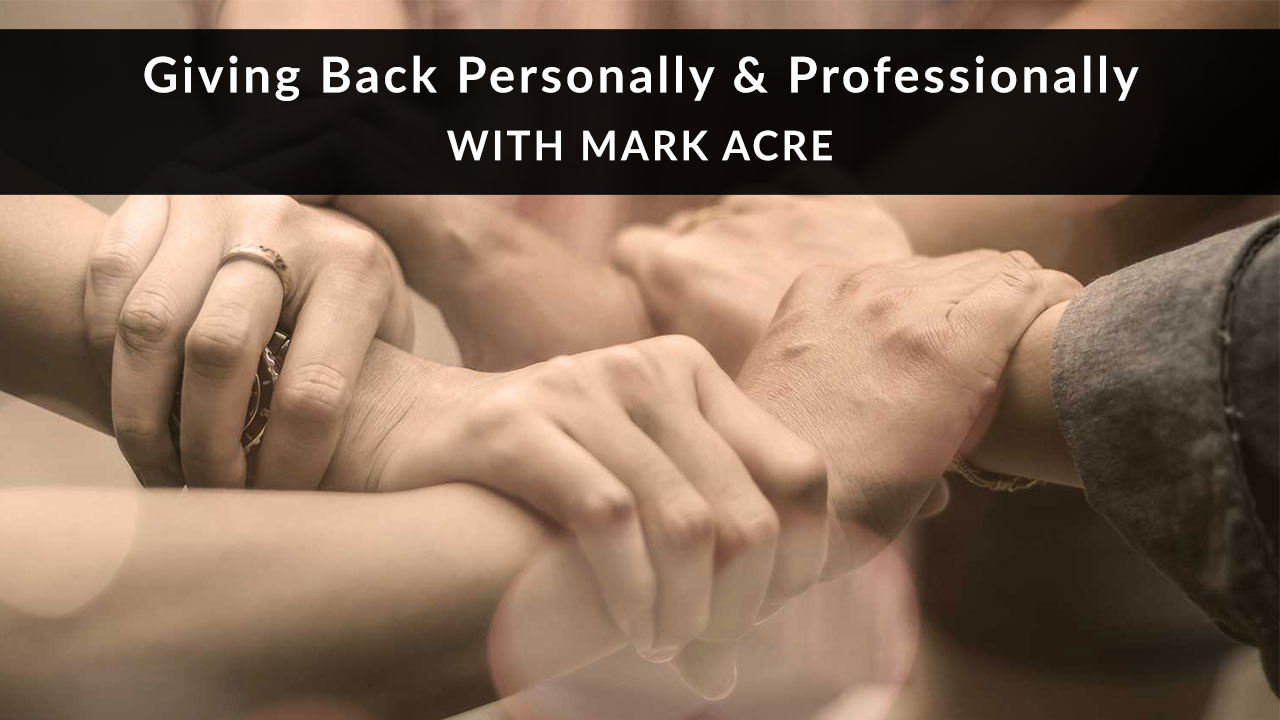 We're lucky to work with thousands of agents who have the drive and determination to succeed professionally. But when we meet someone who has that same drive and determination to do amazing things in their personal life, we're inspired – and we want to tell you about it.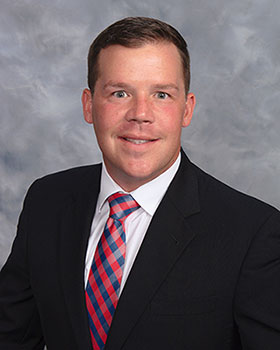 Our brokerage manager, Dave Cranfield, introduced us to Mark Acre, LUTCF. As the president of OneSource Insurance in Ozark, Missouri, Mark is a great example of an independent agent going the extra mile to make sure his agency helps clients with as many types of coverage and services as possible.
But Mark's story doesn't stop there.
When we found out that he climbed to the top of Mount Kilimanjaro to raise money for kids, we had to learn more about that epic climb, what drives him to give back, how he balances his personal and professional lives, as well as what he sees as our industry's biggest opportunity.
First, tell us how you became an insurance agent. What made you choose this job? What about it fulfills you professionally and/or personally?
I went to college and got a 4-year bachelor's degree from Missouri State University. When I got out, my first job was in an office at a local hospital. My income there was only about $17,800 per year, which wasn't great. I also felt unfulfilled and undervalued in terms of having a degree. I thought I could be doing more with my 4-year education.
Then I started getting recruiting emails from firms like Edward Jones and State Farm. I'd always been told I should be in sales of some type, so I went on 4 or 5 different interviews. I fell in love with the concept of being paid for my effort and performance. I also have a heart for doing good things for people, like finding solutions to help them protect what they need to protect. So I thought it'd be a great fit.
The man who interviewed me at the company I eventually picked became a mentor. He took me under his wing. I worked for three years at that company, in a captive situation. But I fell in love with the industry as a whole and knew I could never leave at that point. In addition to feeling more fulfilled personally, I love that our income in this industry correlates to our performance and the effort we put in. It's based on immediate gratification. If you work hard today, your effort will be rewarded tomorrow.
How did you get involved with Man Up and Go?
In 2013, a good friend of mine had already been involved with Man Up and Go for about a year. He told me this organization was right up my alley. Man Up and Go's mission is to fight for the fatherless. My father left home when I was 6, so I know the struggle and the obstacles that you go through as a kid in a home without a father. Their mission really matched with what was in my heart.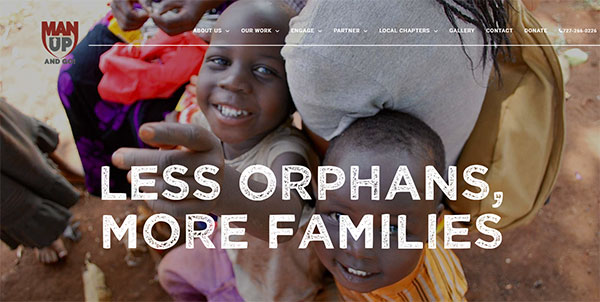 The organization has three main goals:
Engage the fatherless. We want to show them what it looks like to be a man in our society in the home.
Empower single mothers. We have a vocational program that helps women sustain their household financially. It finds ways to get them employed and helps them provide for the household they've been put in charge of, as well as provides emotional support.
Equip men to lead. We have an authentic masculinity program, which leads by example in terms of what it looks like to be a father. It shows how to provide for, protect, and rear children, as well as how to take care of wives and children.
We feel that when men refuse to step into the role that they are called to fill, the world burns. You can see that in terms of suicide rates, domestic abuse and violence rates, divorce rates – without men in the home, those issues are on the increase. These beliefs and goals absolutely match with what I believe and what I wanted to do as far as philanthropy in my practice.
Man Up and Go works all over the world, from Africa to the Caribbean to domestic projects in the U.S. Our group has been to Africa countless times. We have a strong focus on Uganda, with partners in Kampala and other cities, as well as a few other partners in the neighboring countries of Ethiopia and Kenya. In the course of my service, I've gone to the Dominican Republic, as well as made six or seven trips to Africa, starting in 2013.

As part of that organization, you participated in Climbing Kili for the Kids. How did that come about? And how did it feel to look out from the summit of Mount Kilimanjaro?
It started when one of the guys had an idea: wouldn't it be awesome to do something fun along with our service and have an adventure? So that's what we did. Now I've white-water rafted on the Nile twice and foraged through the jungle of Africa. Some of our group have bungee-jumped over the Nile, but I passed on that one. OSHA doesn't exist in Uganda, so I didn't feel comfortable with that one – plus, I'm a life insurance guy! I know the risk involved.
Then one of the guys suggested climbing Mount Kilimanjaro for the kids. It seemed silly and far-fetched – this is the highest peak in Africa we're talking about. But we did it! It was obviously quite the adventure.

We took the Rongai Route, and it was a 6-day trip from start to finish.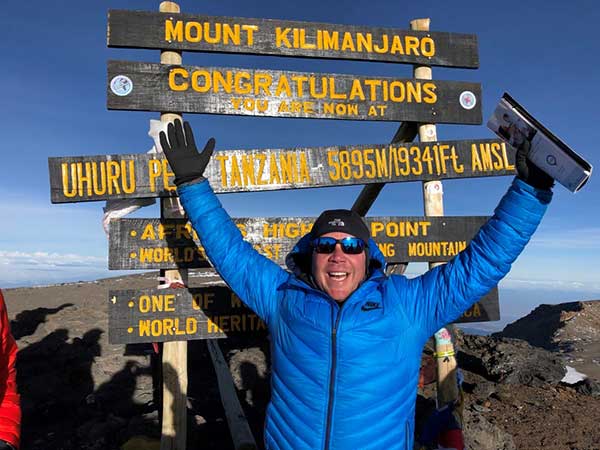 Words can't describe what it's like at the summit – that's an overused description, but it's true. At 12,000 feet, clouds come across the mountain as you're standing there. You're literally kicking clouds. From the top of Kilimanjaro in Tanzania, you can see 171 miles, all the way to Kenya. The land and the trees and the forestry is surreal. The natural beauty is indescribable.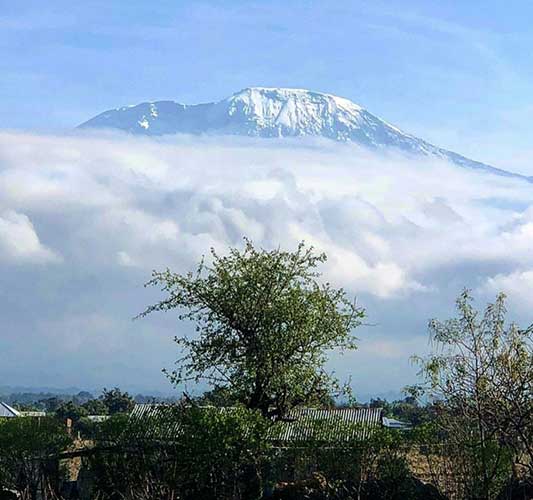 But in addition to the natural beauty, the real feeling is one of accomplishment and camaraderie with the men you're climbing with.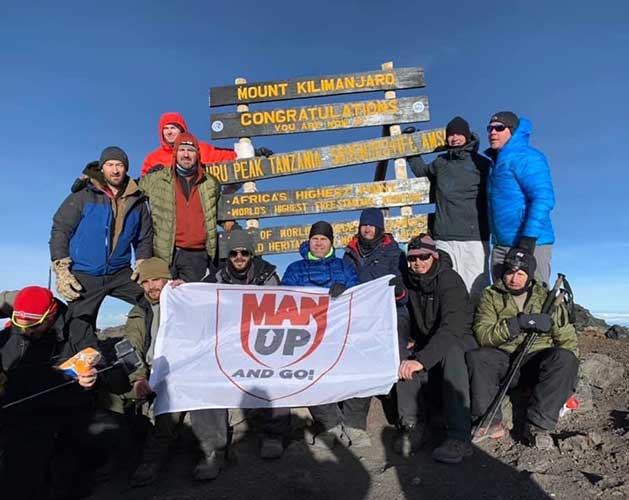 (Editor's Note: Check out the highlights of the climb in these two videos!)
What struck you most about Tanzania?
One of the things I'm still speechless over is the mindset of the people in the different parts of Africa I've been to. Anytime I'm there, I'm so struck by the people and the joy that they exude. They're thankful. They're appreciative. And they're humbled that you care about them, that you're there to help them, support them, and talk to them.
These are third-world countries. They're very poor, and you do see that everywhere. For example, we sponsor a 9-year-old girl in Uganda named Anita. I think about her almost every day because my daughter is 9, too. When we bought Anita a coloring book, it made a difference in her life. With something so simple, we're truly affecting them.
Of course, in all the countries I've been to, the landscape is just beautiful.

It's amazing to drive the streets – even the roads that aren't really roads – and see the wildlife and the trees. It's like The Lion King, one tree in a vast landscape of brown. That's extremely pleasurable to see, but for me, it's always about the people. We just don't have that culture here. We're not as appreciative of people. They love interacting with us, and not just because we're from the U.S. They're about relationships and each other.
What have you learned through your volunteer work that has helped you in other endeavors, personal or professional?
I have an appreciation for the life that I have that I could never have without that service.
Perspective. It's all about perspective. Whether I'm serving with the Rotary Club, Man Up and Go, in our local food pantries, or doing things with our church, the appreciation for what I have is so much greater because I do serve and give my time, energy, and resources to those who are less fortunate. I have an appreciation for the life that I have that I could never have without that service.
I have two pictures I took in Africa that I look at a lot. In the first, you see a little girl, three years old at most. This was at a Super Saturday feeding program, where we fed 920 kids in one day for $100. Just $100 – compare that to here, where I can't feed my family of five for $45 at Panera. At that feeding program, I saw this little girl. She had no shoes. Her shirt had more holes than cloth. Her pants were soiled and dirty. But she was smiling at me like I'd just given her a new Xbox. Not only was she eating, she was putting food in a bag. We asked her what she was doing, and she said she was taking food home for her younger sister.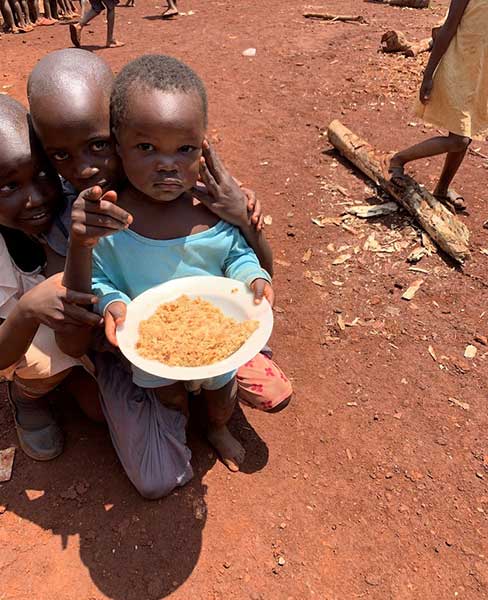 The other picture is of a little kid pulling a string. Now, attached to that string was a toy car, but not the kind you might expect. He turned a water bottle into the car's body, and its wheels were water bottle lids. He made a toy out of that.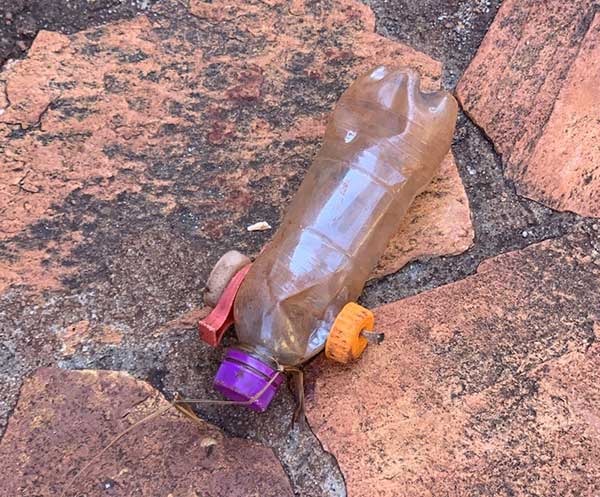 These things impact you. They help you to see with perspective.
These things impact you. They help you to see with perspective. Like when my kids ask for an Xbox for Christmas, or complain that they don't have any new Xbox games. I pull out that picture twice a month and tell them, "Chill out, you've got plenty. You have plenty of toys. You were born here and you're blessed."
I believe that givers get. It works in everything we do – in our industry, in our family, with the people we work with. The more you give, the more you get. It doesn't come back in terms of money, which people focus on too much. You not only get financially, but intrinsically. Bless people and be blessed by them.
You were also a NAIFA YAT Team Leader of the Year in 2014. What made you want participate in industry organizations, in addition to everything else you already do?
I came to NAIFA looking for answers. I'd just left a captive agency and started my own with no staff and no training – just myself. I needed to network with people who'd done it before. I needed a mentor to teach me the ropes. And that's what I found there. It wasn't easy to create those relationships, but that was the first thing I did. Then, after getting involved for about a year, I was asked to serve on the board. As I got more involved, I learned what NAIFA really had to offer and the power of membership.
I stay involved now because I see how we advocate for our clients. We're able to be a resource for national legislators in order to advocate for our clients. The education NAIFA provides is also invaluable. They offer ambassador programs that teach young advisors how to do things like time management, along with other key topics to help an advisor grow their practice. Through NAIFA, I found ways to learn how to sell more life insurance. I got my designation, LUTCF, which helped me differentiate myself from other advisors. Not everyone has the same values that I do, because NAIFA empowered me to want to be that guy.
How has your involvement with NAIFA helped you professionally?
As just one example, I spoke at a NAIFA meeting in 2015 in Springfield (I was a Past President at that point). A lady approached me and asked me to buy her practice. She wasn't a member, but she heard me speak and asked me to buy her practice. I was leaving in three days to go on my third trip to Africa. I told her, "Let me think about it." I knew I'd have 40+ hours on the plane to give it some careful thought. When I came back, I made her an offer and I bought my first practice.
I got to acquire another practice in 2018, also due to a NAIFA connection. A lady who'd been Secretary/Treasurer when I was President said she was thinking of selling. She now works with me as Director of Operations in our office. We have a strong NAIFA presence here. So to say that NAIFA is the reason I'm successful is right – there's a little bit of me in there, too, but NAIFA has been crucial for me and my business being successful.
What advice do you have for agents struggling to find a balance between professional activities, networking, personal activities, family life, running a business, and serving clients? How can we juggle it all?
Mentorship is crucial for anyone's success. Smart people learn from their mistakes. Wise people learn from other people's mistakes. The good thing about this business is that we don't have to create a new, awesome idea or spend thousands of dollars to market an idea that might not work. There's not a lot of risk involved after 128 years – at least that's how many years NAIFA has been around. We've been doing insurance for a very long time. It's not difficult to hit the street and find someone to give you a little insight on how to be successful.
Find a good mentor who can give you both practical resources and accountability – that's crucial.
Find a good mentor who can give you both practical resources and accountability – that's crucial. When it comes to sales or marketing, sometimes you don't know if what you're doing is right for three or six months. That's too long. It's crucial to have a mentor who's been there and done that and had success.
I also believe in using this principle daily: begin with the end in mind. I learned this in LILI (NAIFA's Leadership in Life Institute), where we once had to write our own eulogy – what we hoped our spouse and co-workers would say about us at our funeral. Typically, when you write your own eulogy like this, you're not the person you want to be yet.
To get closer to that, I wake up daily and don't think about the $X thousand in income I might want to achieve, or the number of policies I want to sell, or the dollar value of assets I have under management.
I think about what I can do today to influence my future so that I do absolutely hit the goals I want to hit.
Instead, I think about what I can do today to influence my future so that I do absolutely hit the goals I want to hit. I have it broken down by year, quarter, month, week, and day. When I'm on my game, I can actually break that down to 30-minute segments in the day to make sure it ends the way it's supposed to, that I moved the ball toward the goal line. I need that daily accountability for myself to be the best that I can be.
Another good strategy is to learn how to compartmentalize. When I wake up every day, I'm "daddy/husband" Mark. Next, I'm "business" Mark. Most days, I can have a "golf" Mark. Sometimes, I'm "philanthropist" Mark and "NAIFA" Mark. I have all these different hats and roles. They all reward me, and I reward others by being those things. But it takes compartmentalization to do all the different things that life throws at you. "Golf" Mark or "daddy" Mark doesn't think about work or philanthropy, for example. The key is understanding and separating those roles.
There's a lot of talk about disruption in our industry, from non-traditional competitors to apps to AI. What makes you excited or optimistic about in the insurance industry's future?
I love the evolution of our industry. I love being able to do e-apps and phone sales, where our clients don't have to sign 19 different pieces of paper. It's also great not to have 29 filing cabinets in our office. If we hadn't evolved, we wouldn't be able to do those things.
Main Street USA still needs – and will always need – expert advice and relationships with trusted advisors.
But Main Street USA still needs – and will always need – expert advice and relationships with trusted advisors. It's a crucial part of the industry. Sure, some clients will use apps and tech resources. But they'll still need that trusted advisor to accomplish their goals, from auto to home to retirement plans.
It's all about mindset for me. When it comes to technology and adaptation, if you think something is going to kill you, then it probably will. I believe that as a man or woman thinks, so he or she becomes. We can adapt and overcome through every medium that comes our way. I don't see new technology as a tension – I see it as an opportunity to grow or modify your practice to accommodate what consumers are looking for. Then, walk alongside with those things to make sure you're relevant and doing what consumers call for.
If the industry changes, your agency needs to change with it.
If the industry changes, your agency needs to change with it. When it comes to things like robo advisors, sure, it's going to happen. So we have to adapt and overcome at that point. If we lose clients to robo advisors, we have to find clients who don't want robo advisors. We have to take on those challenges.
Those of us who get sedentary, who resist challenges and opportunities, are going to have a harder time. I'm not talking about a specific demographic here – this applies to all advisors in general. We have to figure out how to give the consumer what they're looking for, in the parameters we're given. If our consumers change, we have to change with them.
That's our interview with Mark Acre of OneSource!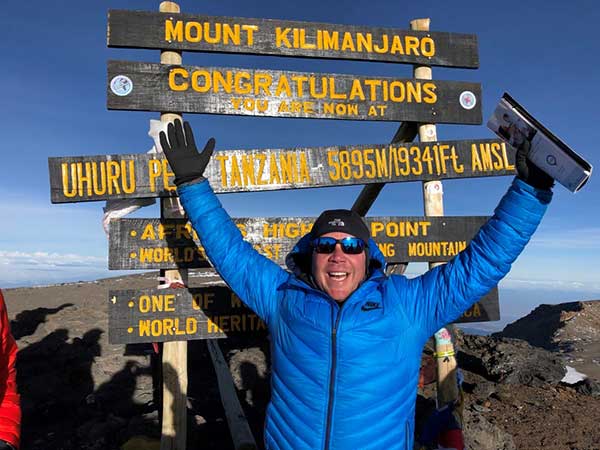 We hope you enjoyed Mark's enthusiasm, perspective, and optimism as much as we did. Do you know someone in our industry who gives back in a big way? Tell us about them! You can drop their name and give them a shout-out in the comments, or send us an email at marketing [at] pinneyinsurance [dot] com. We may feature them in a future post!
---