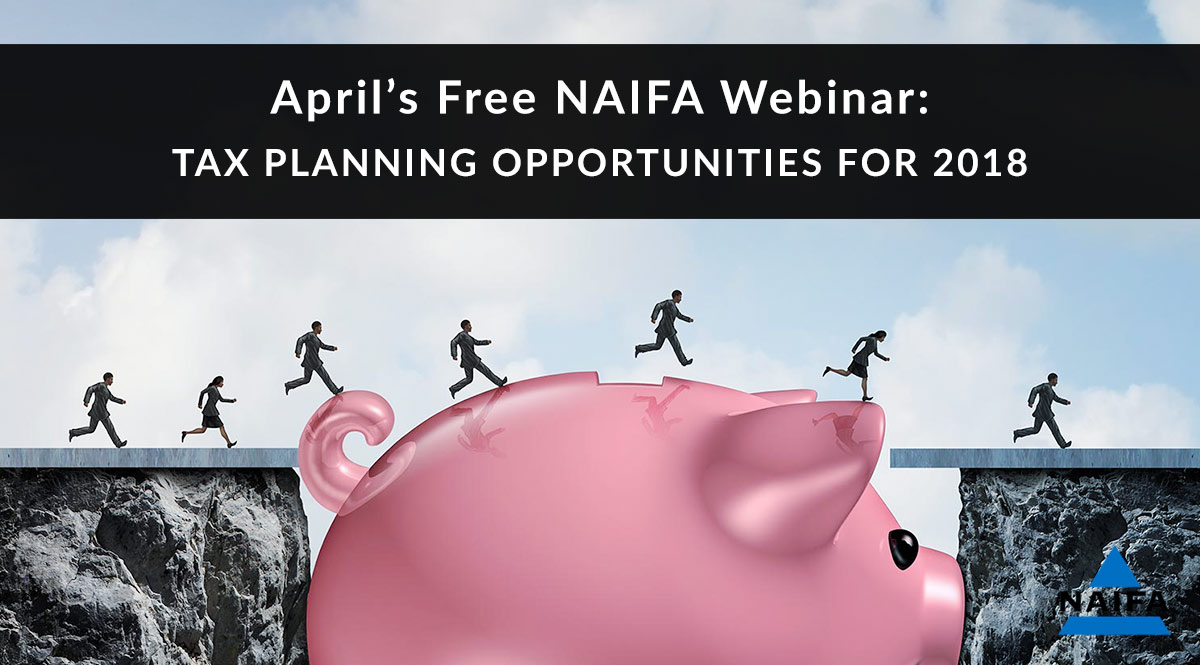 This April, we're talking about tax strategies and planning opportunities. Find out how to help your clients make the most of the recent tax code changes with two tax experts! Sign up now for the free NAIFA webinar on Wednesday, April 18, 2018 at 3 p.m. EDT!
We're proud to bring you another free webinar from our friends at NAIFA: "Tax Planning - Opportunities for 2018," with tax experts Nick Paleveda and Max Coulliette. This webinar was specifically designed to give you information you can use to help your clients understand and take advantage of the changes in the Tax Cuts and Jobs Act of 2017. This act, signed into law in December 2017, is the most sweeping rewrite of the U.S. tax code in more than 30 years. With the help of NAIFA's experts, you can get actionable advice and insight into the opportunities these changes offer for you and your clients.
Register Now
Join tax experts Nick Paleveda, MBA, J.D., LL.M and Max Coulliette, CFP, CLU, CRPS as they provide you with the latest and most relevant insights on the federal income tax including:
Different scenarios for optimizing your clients' Social Security benefits
How working in retirement may impact Social Security benefits and other retirement plans
How to set your clients up to cover basic expenses with guaranteed income that will last a lifetime
The importance of having a plan for unknown and likely increasing medical costs
How your clients can most efficiently pass wealth to heirs
Plus learn the new hot item in pension plans and much more!
It all happens on Wednesday, April 18, 2018 at 3:00 p.m. EDT. Space is limited, so register today!
Register Now
About the Presenters
Nick Paleveda, MBA, J.D., LL.M is CEO of National Pension Partners, Adjunct Professor of the Graduate Tax Program at Northeastern University, and Adjunct Professor at the Campbell University School of Law. He is admitted to practice in the State of Florida, the U.S. Tax Court, the 9th Circuit Court of Appeals, the 11th Circuit Court of Appeals, and the Supreme Court of the United States.
As President of National Pension Partners, Max Coulliette, CFP, CLU, CRPS brings more than 30 years of retirement planning experience to the team. He also owns Intermountain Financial Education, which provides licensed continuing education to CPAs, insurance producers, and other financial professionals. In addition, Max is President and Managing Principal of One Financial Advisors, a comprehensive financial services firm helping clients to maximize their wealth, retirement security and financial protection.
A big thanks to NAIFA for making this webinar available to us!
We do our best to support industry organizations we believe in, and NAIFA is one of them. If you're not a member, we encourage you to check it out and consider joining. You can find more information about them on their website.
About NAIFA
NAIFA advocates for a positive legislative and regulatory environment, enhances business and professional skills, and promotes the ethical conduct of its members. The NAIFA solutions center also has expert tips and advice, certifications, and ways to self-promote so that you can be the best advisor possible and take your career to the next level. Click here to learn how to join.
Click the button below to register for the free NAIFA webinar on Wednesday, April 18 at 3 p.m. EDT - it's all about tax opportunities in 2018!
Register Now
---