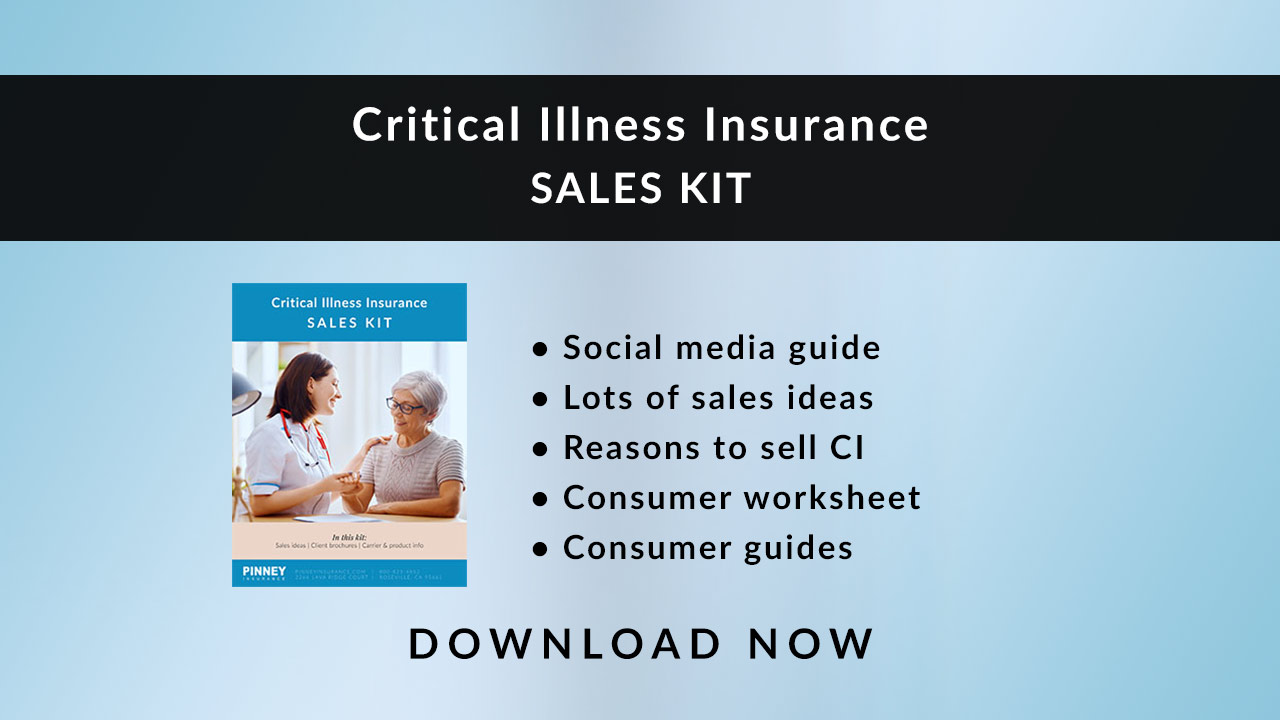 Our October 2020 sales kit is all about critical illness insurance. Clearly, there's a need - or crowdfunding wouldn't have become the go-to solution for paying medical bills.
The rising cost of healthcare has forced many families into high-deductible plans. According to CBS News, in 2019, 43.2% of Americans had one of these plans. A high deductible is all well and good when you're trying to balance the monthly budget. But if someone in your family actually needs to use their health insurance? Watch out - that deductible could change everything...and not for the better.
That's where critical illness insurance comes in. These policies cover illnesses including cancer, heart attack, stroke, organ transplant, kidney failure, and more. If your client or a covered family member is diagnosed, they get cash to spend any way they want. It's as simple as that. This kit has a bunch of eye-opening stats that can help you show clients how valuable this coverage can be. Like this one: The median cost of hospitalization after a heart attack is over $53,000 (American Heart Association, 2017).
What's in the Kit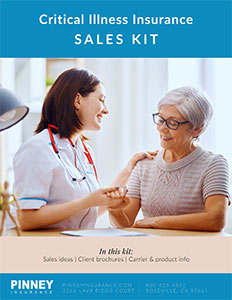 Our FREE 49-page kit includes:
16-page seller's guide
1-page client profile
12-page social media kit
6 pages of sales ideas, from high-deductible health insurance to MedSupp clients to stay-at-home parents
2-page client flyer
1-page client worksheet
9 pages of client brochures, addressing different needs: men, women, mortgage protection, etc.
Get the Kit
How to Use This Month's Sales Kit
Take a look at the 1-page client profile in this kit. Who in your book of business meets that description? Start prospecting there, as well as on social media. Alternatively, you could start adding critical illness insurance into your sales process for life insurance - add an extra email or text to your closing process, and ask if your new clients are also interested in protecting their savings from the effects of a cancer diagnosis, for example. There are plenty of sources in this month's kit for the language and stats you need to start that conversation.
Get the Kit
Insureio Subscribers: Use Our October Email Marketing Campaign
Are you an Insureio subscriber? If so, you have access to a pre-written marketing campaign for October. It includes four emails for your clients and prospects, pre-scheduled for delivery throughout the month.
These four emails focus on the big picture of critical illness insurance: what it is, what it covers, and how it can help protect your client's savings or retirement should an unexpected diagnosis occur. They cover topics like how critical illness insurance is different from life insurance, how it's different from disability insurance, and where to get answers if they have more questions. They can contact you, natch, or check out the FAQ page on your InsuranceDivision website.

To preview the campaign:
From your left-hand nav menu in Insureio, hover over Marketing and then click Marketing Campaigns.
Scroll down and click October Newsletter Series: Critical Illness Insurance (Monthly Focus Topic). You'll see the list of four pre-scheduled emails. To see what a template looks like, click any of the blue template title links. The template will open up in a new browser tab.
Want to learn more about Insureio marketing campaigns and how to enroll your clients and prospects? Click here to visit the tutorial in the Insureio Academy.
Download Our October 2020 Sales Kit Now!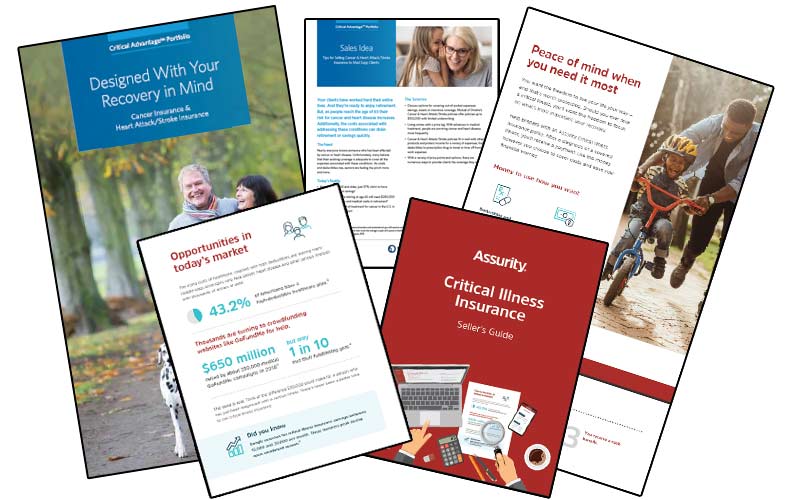 Enjoying Our Blog?
If so, please leave us a Google rating or review! It really helps others discover us and our content online.
Leave a Review
---