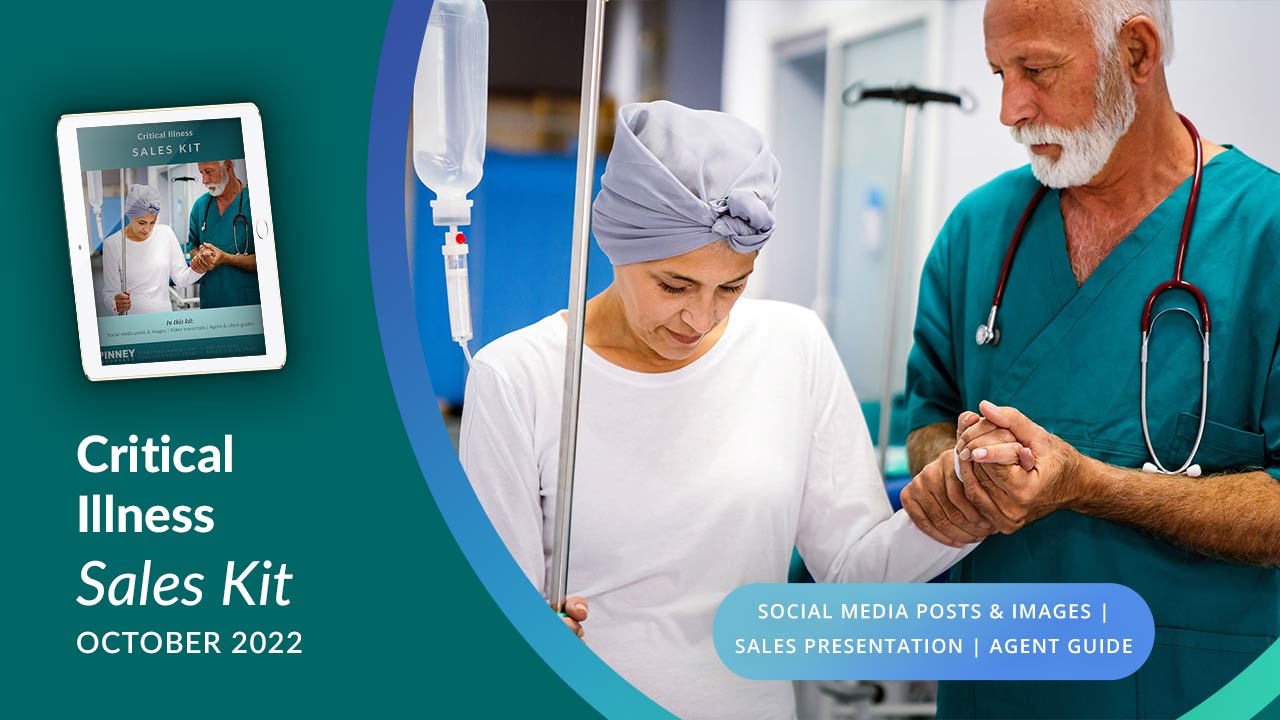 Our October 2022 sales kit will help you show clients the value of critical illness insurance, which pays out if they're diagnosed with cancer, suffer a stroke or heart attack, and more.
Critical illness insurance pays your clients cash if they're diagnosed with a covered illness. There are no restrictions on how they use that money. It can pay their out-of-pocket health insurance costs or subsidize the cost of experimental or uncovered treatments. It can also help with paying the household bills while they take time off work to recover.
When something as major as cancer or a heart attack strikes, there are a lot of unforeseen expenses: the cost of gas for numerous trips to the hospital, prescriptions, co-pays, co-insurance...not to mention lost salary from any time taken off work. These costs can really add up, as evidenced by the growing number of GoFundMe campaigns asking for financial help after just such an illness. Critical illness insurance provides peace of mind that a setback like this won't destroy their financial security.
What's in the Kit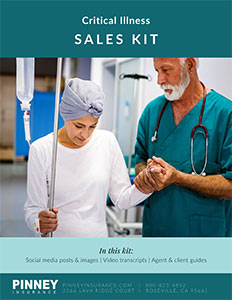 Our FREE 53-page kit includes:
3 pages of sharable images & post text
16 pages of video transcripts: sales tips, a sales presentation, a carrier presentation
3-page article on how to grow CI sales
16-page agent guide to selling CI
2 pages of sales ideas
1-page with 5 reasons to sell CI
4-page consumer brochure
2-page client flyer: CI eases financial worries
1-page client flyer: mortgage protection
1-page needs estimation worksheet
2-page client flyer: CI and women
Get the Kit
How to Use This Month's Sales Kit
This month's kit includes everything you need to get the conversation started. Download the social media images in the front of the kit, and post them with any of the text we've provided. You'll find rectangular and square images to suit your favorite network and post type.
Check out the YouTube video links and transcripts, too. We created transcripts for three videos that give you multiple perspectives on critical illness insurance and how to sell it. You'll hear from an MDRT member on how she talks to clients about CI, see a sales presentation in action, and get insight and marketing tips from a carrier. The kit contains links to the videos if you prefer to watch on YouTube, as well as the transcripts for those who'd rather skim the content.
Get the Kit
Insureio Subscribers: Use Our Critical Illness Email Marketing Campaign
Are you an Insureio subscriber? If so, you have access to a pre-written critical illness marketing campaign. It includes four emails for your clients and prospects, pre-scheduled for delivery throughout the month. These four emails focus on the big picture of critical illness insurance as a way to offset the financial impact of a diagnosis. They include an explanation of what CI is, whether you need it, how it works, and a Q&A to wrap up the sequence.

To preview the campaign:
From your left-hand nav menu in Insureio, hover over Marketing and then click Marketing Campaigns.
Scroll down and click October Newsletter Series, Option 3: Critical Illness Insurance (Monthly Focus Topic). You'll see the list of pre-scheduled emails. To see what a template looks like, click any of the blue template title links. The template will open up in a new browser tab.
Want to learn more about Insureio marketing campaigns and how to enroll your clients and prospects? Click here to visit the tutorial in the Insureio Academy.
Download Our October 2022 Sales Kit Now!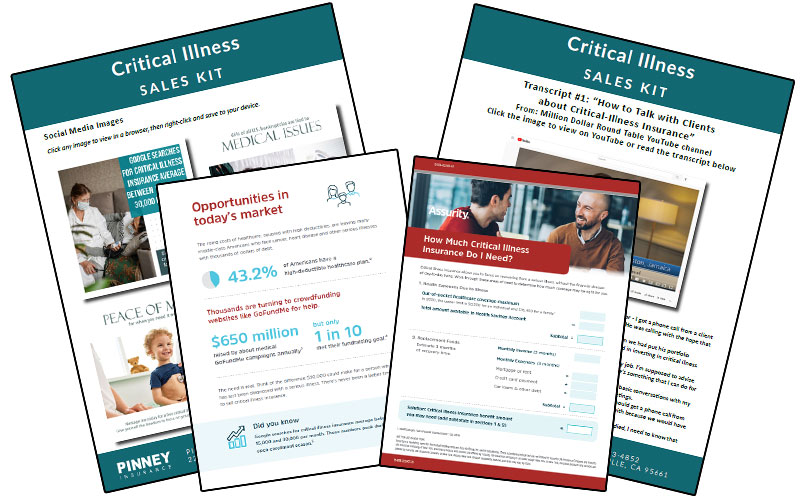 Enjoying Our Blog?
If so, please leave us a Google rating or review! It really helps others discover us and our content online.
Leave a Review
---