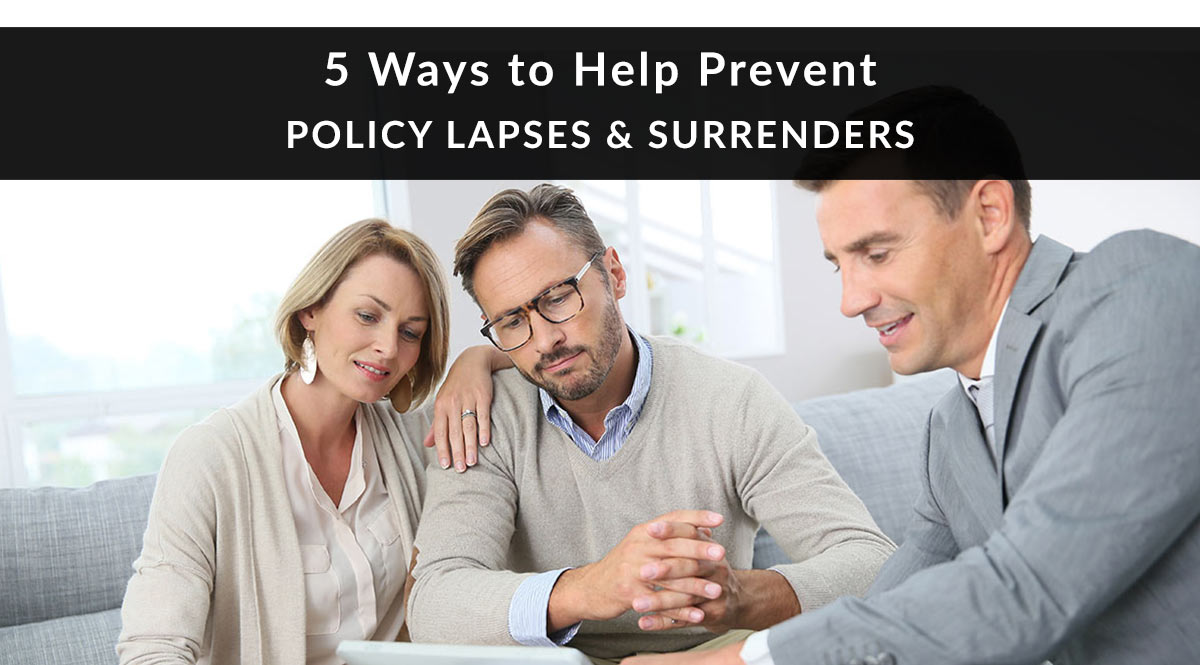 What can you do to prevent policy lapse and surrenders? It starts with educating your client and ensuring they always know their options.
According to new research from Conning, the total number of in-force life insurance policies is in decline. New policy sales can't keep up with the number of policy owners who lapse or surrender their existing policies.
To keep our industry growing – and to help your agency's bottom line – it's time to find ways to help clients before they let a policy lapse or surrender it. It all starts with better communication, much of which can be standardized, systematized, and automated.
Here are 5 ideas to help you reach your clients with other options before they become uninsured.
Idea 1: Explain Lapse & Surrender in Your Onboarding Materials
The best defense is a good offense, right? Be up front about what it means to lapse or surrender a policy. Include a fact sheet with common questions and tips to avoid lapsing. Cover subjects like grace periods, reinstating coverage, and best practices to avoid a lapse.
In most cases, clients lapse a policy because they can't afford it. So what other options can you give them before a lapse happens? If they know there are options (reducing coverage, sourcing a cheaper policy from a new carrier), they're more likely to reach out to you for help before dropping their coverage.
Include this information in your client welcome/onboarding packet. This is the information they're most likely to keep, whether you provide it in digital or paper format. Not sure what that is or how to create one? Click here – we explained it all.
Idea 2: Ask about Their Budget during the Annual Review
In an annual review, the goal is often to make sure clients have enough coverage. But you may also want to give them the space to bring up any financial hardships.
It's hard for people to admit they're not doing well financially, or that they've had a serious setback since the last time you talked. Give them an opening to tell you they may need to downgrade their coverage. This might be as simple as, "Is the monthly payment for this policy still do-able for you?" Keep it casual, and if they give you any indication that it's not do-able, offer to run a new quote then and there so they can see what a new policy might look like.
Idea 3: Send a Reminder
Okay, so you've talked to your clients about pricing during their annual review. But jobs and budgets often change more frequently than that. You may want to send a quick check-in email every year, offset from their annual review by six months.
This email doesn't have to be specifically about financial hardship, either. You can ask a short series of questions that, if the answer is yes, means the client should contact you to talk about their options. Sample questions might include:
Have you reviewed your beneficiaries lately?
Do I have your most recent contact info?
Do you have more (or fewer) family members now that change your coverage needs?
Are you having trouble making your policy's premium payments?
Idea 4: Create Specialized Content
You can also create content that specifically answers the question, "What if I can't afford my policy?" This might be a video, a blog post, an entry on your FAQ page, social media posts, and more. The goal is to make it easy for clients to find.
In your content, make sure they know they have options – and you'll help them figure it out. Urge them to contact you so you can help. Reinforce how valuable the coverage is so they understand that lapsing or surrendering may not be their best option. Bring up ways to make the coverage more valuable, with riders for disability or long-term care, for example. If their current carrier or policy doesn't offer those riders, you can help them look for a new policy that does.
Idea 5: Tag and Monitor in Your CRM
If you use a CRM to keep track of your book of business, you should be able to tag clients you want to monitor. If a client tells you their primary concern is the budget, or indicates their financial circumstances have changed, tag them. Why? So you can check in with them more frequently.
If you follow our blog, you probably know we use Insureio as our CRM. It's easy to tag clients you want to keep in touch with.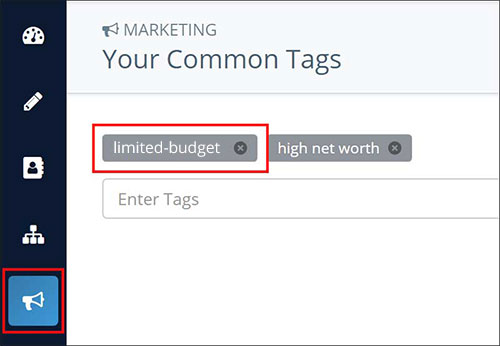 You can then gather those clients into a report and send them specific emails or text messages to check in. Best of all, you can re-run that report with one click and the system automatically includes anyone you've tagged since the last time you ran the report. Tagging and blast-email capability makes checking in with segmented client groups quick and easy.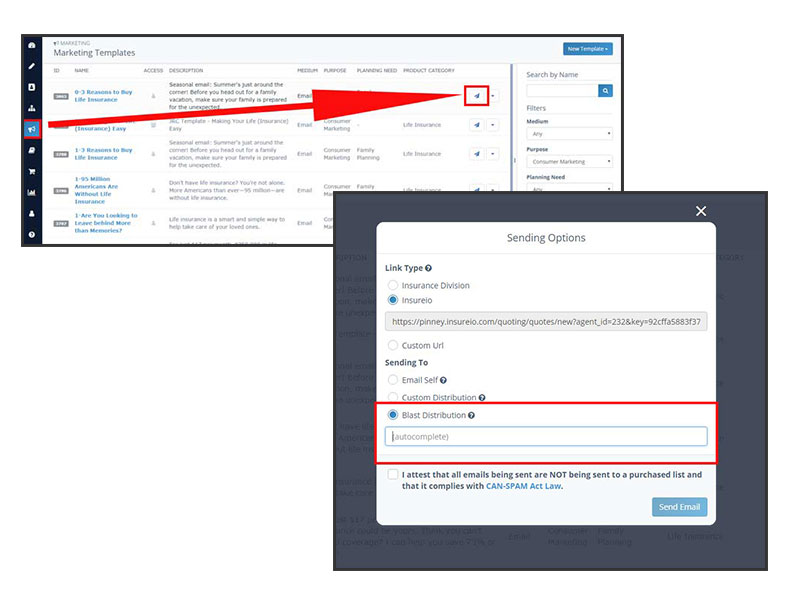 That's our look at 5 ways to help prevent policy lapse and surrenders!
What are your tips for helping clients with financial difficulties? How have you helped them keep coverage in force? Tell us in the comments!
---
---