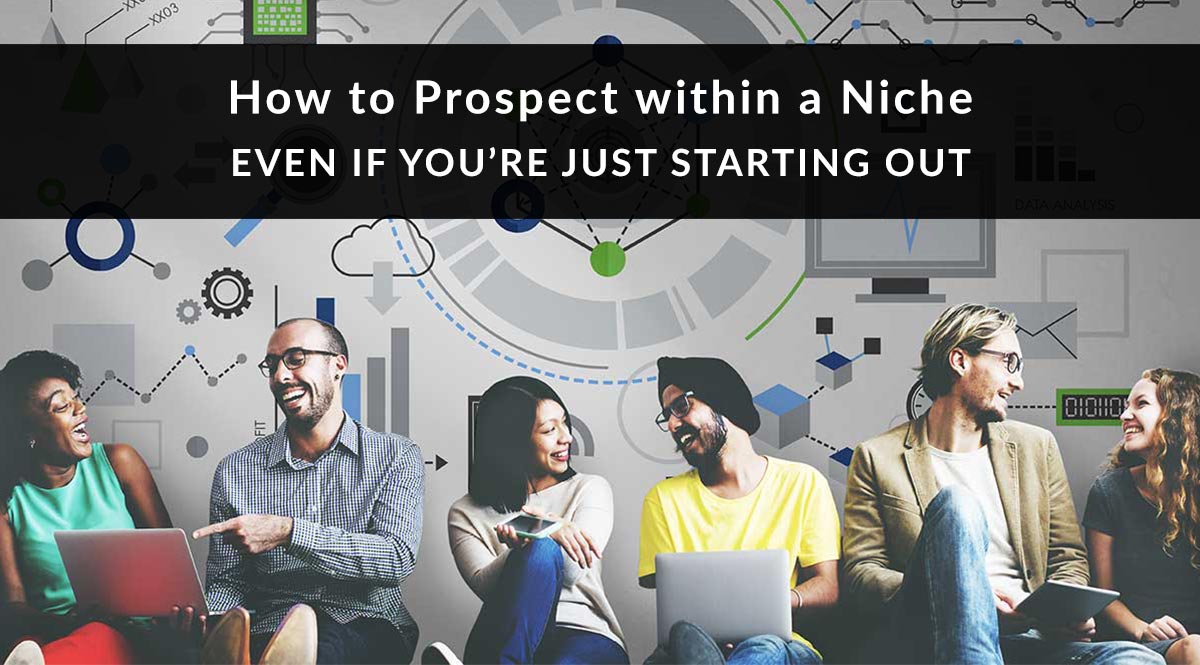 Recently, David Schwendiman appeared on the Connected Insurance podcast and talked about the 6-step method that helped him go from zero to hero in commercial life and P&C sales. With just a few tweaks, his method is a great way to prospect in a niche – even if you're just starting out.
As proof that his method works, Schwendiman gave a little backstory about his experience. He got started in insurance by answering a Farmers Insurance ad on Craigslist. The job? Cold calling eight hours a day. In his first two months, he didn't make a single sale.
He realized he wasn't able to sell because he wasn't comfortable with the selling methods he'd been taught. So he took matters into his own hands and did what felt right. He just tried to help people any way he could. Using the method outlined below, in just five months, he went from making zero sales to being #2 in the state of Oregon for life insurance, and the top rookie for commercial insurance in the state.
If you'd like to hear Schwendiman explain his method, check out this episode of the Connected Insurance podcast. Below, we'll go over the 6 steps he described and how to tweak them so that they apply to individual life sales within a consumer niche.
Step 1: Create Your Call List
In this step, Schwendiman had a head start—his agency, Farmers, gave him a call list. But his suggestion for independent agents is to find something you're passionate about, or an industry you already have a background in. For commercial lines, he suggests seeking out the biggest commissions and the highest close ratios. Call a broker who serves the kind of accounts you want, and ask for tips or suggestions. Or call your primary carriers and see what's hot, then find out who the target market for that product is.
To use this in a niche:
Start with his suggestion for choosing a niche—find something you're passionate about, or already have experience in. Your niche could be people who work in a certain field, who went to a certain school, or who enjoy a particular hobby.
Love golf? Your niche could be high-net-worth individuals you met on the links.
Used to be a teacher? You could hold workshops for local teachers interested in retirement planning strategies.
Passionate about helping online entrepreneurs? Get a booth (real or virtual) at one of the many seminars or conferences for digital entrepreneurs.
Once you've picked your niche, it's time for a little homework. The goal is to find resources that are valuable for people in that niche. These are usually educational resources, like books or videos. They could also be recommendations for tools or partners with related skills. You'll need these later, in step 4.
Step 2: Recruit an Ally
In this step, Schwendiman suggests that, when you cold call, you turn whoever answers the phone into an instant ally. How? By being honest and asking them to direct you to the right person to talk to. Chances are, the person answering the phone isn't the decision-maker. So why waste their time and yours?
For commercial sales, he used a script like this:
"Hey, I'm [name] with [agency]. You're probably not the right person to talk to about this, but I'm trying to get in touch with someone at [company name] about [issue]. Can you point me in the right direction?"
To use this in a niche:
If you're cold-calling a prospect, you might get to skip this step. For non-commercial sales, you're more likely to reach the decision-maker directly. But if you're working to build a platform within your niche (i.e., host a seminar, attend a function, get a booth at a trade show), you might need to make friends with a few gatekeepers. The key points to get across are:
Your name and agency.
You're not going to take up their time – you know they're not the right person to talk to.
You'd like to talk to the person who handles [thing] because [reason].
Can they point you in the right direction? If they offer to transfer your call, ask for the recipient's name and number so you can reach them if the call drops or if you prefer to try again rather than leave a voicemail.
Step 3: Have a Quick Conversation with the Decision-Maker
In this step, Schwendiman's goal is to make a connection. You want to learn enough about your prospect to offer them something. Don't even think about selling a product. In fact, you might not get around to talking about insurance.
It may also help to be a little self-deprecating. If you're struggling to sell, it might be because you're trying too hard to come off as the expert. Instead of being convincing, that can actually be off-putting, according to Schwendiman.
Here's the basic call script he uses:
"I know I'm calling out of the blue and interrupting your day, but I just wanted to ask when your policy renews, so I can get back in touch a little closer to that date, maybe two months before. In the meantime, if there isn't anything you want to ask me about insurance, I'd love to learn more about you and your life. How long have you been in business?"
As you can see, he's moving quickly to get two things:
The policy renewal date
A pain point you can help them with
Using this technique, Schwendiman collected 185 commercial expiration dates in 5 months, giving him a full queue of prospects.
To use this in a niche:
Ask for one small thing, then get your prospect talking about him- or herself. Remember, your prospect doesn't know you and doesn't want to talk about insurance because you caught them off guard with a cold-call. Choose something that's easy to say yes to—for example, "Can I send you my contact information?"
Then, tell them you'd like to know more about them—what they do, if they have any questions about financial planning or retirement, if they're going to need help with college funding someday. Most people like talking about themselves, and you can glean useful information along the way.
As they're talking, listen to see if there's something you can offer. This might not even be in the world of insurance. Maybe you can help recommend a dentist or orthodontist for their kids. Maybe you can recommend a new local restaurant, or a great electrician for their kitchen remodel. This is where it pays to have local connections  - the more you know, the more you can help.
Step 4: Send a Gift
In this step, Schwendiman offers a gift to his prospect.
He keeps copies of his favorite business books in his office, so he always has something to send. For example, you could send a relevant business book, a link to a YouTube video, or the name and number of a service provider who can help with a project your prospect is working on. A book is the most tangible, though, and will help keep you top of mind with your prospect.
Schwendiman created a template for a note to accompany the gift. His assistant wrote it out by hand every time, filling in the prospect's name and other relevant details.
The note template was something like this:
"Hi [client name]! Thanks for taking the time to talk on [day of week]. I'm really looking forward to connecting in [future month], [#] months before your policy renewal. In the meantime, this book has [specific detail about how book or gift relates to client's pain point]."
Next, he signed each note personally and handed it back to his assistant to mail.
He made sure to send this gift right after the conversation. Schwendiman called this period "the half-life of enthusiasm." The minute you hang up with your prospect, they start forgetting you. It's important that your gift arrives while they still remember you, and are still enthusiastic about you.
To use this in a niche:
Do the exact same thing.
Once you make contact with a prospect, send a follow-up gift based on what you learned about them. As part of that conversation, you probably also got permission to send your contact information or a free guide. Have printed copies rather than digital ones to accompany your gift.
Because it does require startup money to buy books and mail them, this strategy works best when targeting a niche. You don't want to waste money and time sending generic money management books to your entire prospect list. The benefits of this strategy come when you're working with a dedicated niche and you have something genuine to offer them.
Step 5: Prep Your Follow-Up Ahead of Time
In this step, Schwendiman prepped a second note that would be sent later, prior to his follow-up. This is a reminder to let the prospect know you'll be reaching out.
Here's his sample:
"Hi [client name]! Your policy renewal is now 2 months away. I'll be reaching out on [day] at [time]. If that doesn't work, call me back and we can reschedule."
Just like the previous note, this one is handwritten and delivered by mail. He prepared this note when he created the note in step four. Once prepped, he files and organizes these notes by date.
The key to success is making this note feel personal. A handwritten note at the right time, especially after sending your gift, is often enough to get prospects to call you first. They feel like you're putting a lot of time and energy into the relationship, and they'll reward you for it.
To use this in a niche:
Do exactly what Schwendiman did. Set up a filing system and keep your notes sorted by date. It's a little old-school in these days of CRMs and marketing automation, but analog touches like this require a supplemental filing system. You'll still want to enter client data in a CRM, where you can save notes and contact information for this client.
Step 6: Make the Follow-Up Call
In this step, Schwendiman calls the client. They've already received his gift and handwritten note, and will usually ask how he has the time to do this. His response?
"I only do it for the clients I'm really excited to work with and really think I can help."
This makes your prospect feel special, and it establishes trust. Once they believe you really want to help them, they'll find a reason to hire you.
According to Schwendiman, his permission to quote and closing ratios are very high. There's very low sales resistance once you go through the effort of sending a gift and two handwritten notes to a prospect.
To use this in a niche:
Do exactly what Schwendiman did. Call the client and ask if they received your gift and your note. Even if they haven't read it or taken action, your gesture will usually open the door to a follow-up call or an appointment. If possible, set that appointment on the phone, and get a list of questions they'd like to discuss so you can be prepared and provide a ton of value for them in your next appointment.
That's our look at how to prospect in a niche!
Have you used a tactic like this? What niche were you working in? Tell us how it worked in the comments!
---