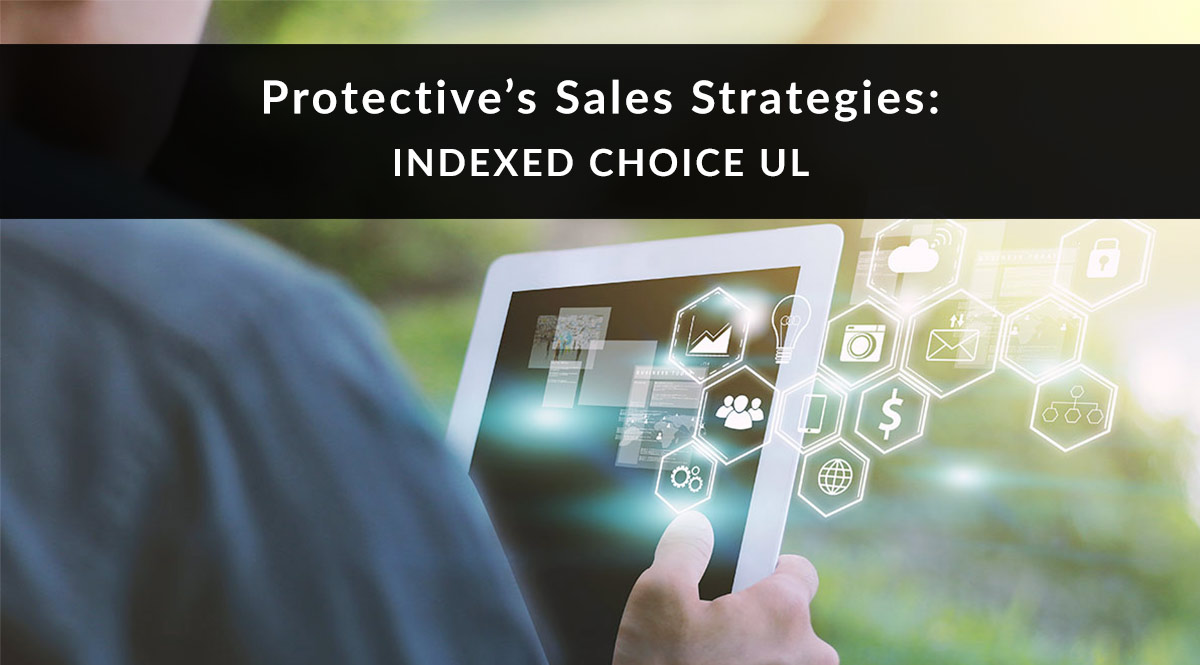 In this post, we're bringing you another great strategy to help your clients get more for their money.
Clients want more flexibility in their coverage options, but they also want value and a guaranteed death benefit. How can you provide all of these at the same time? Protective has a great solution - their Indexed Choice UL. Here are a few highlights.
---

Thinking outside the GUL Box: Indexed Choice UL
Sure, GUL has its place. However, it's not a one-size-fits-all product. Let's consider life down the road. What if needs change or your client is unable to make a premium payment at some point?
Life happens, this we know. How about a solution that offers strong guarantees, but also: 1.) provides more flexibility; 2.) offers the potential to accumulate cash value based on the performance of the S&P 500; and 3.) offers death benefit protection that has the potential to last longer than traditional GUL based on the same premium? Protective Life's Indexed Choice UL is a competitive alternative to GUL that offers more flexibility for when life happens.
On your next GUL case, try taking the most competitive GUL premium and plug it into Protective's Indexed Choice UL. You'll notice that the guarantees, although slightly shorter, will go to at least life expectancy (if not longer), but cash values in 20-35 years are significantly higher. In the attached case study on a Male age 40 Preferred NT, you'll see that the same premium buys a guaranteed death benefit to age 90 (only 10 years less than our competitor's GUL), but our Indexed Choice UL has 4X the cash value at age 75!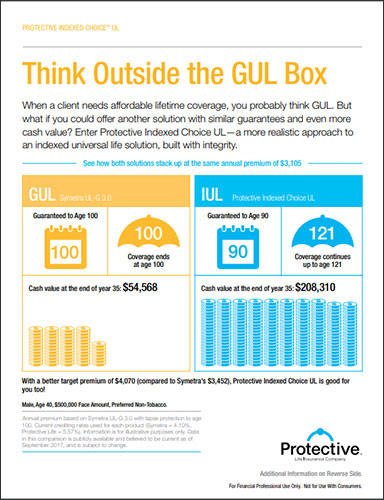 Download this case study to share with your clients!
Download Now
Highlights
Strong guarantees out to life expectancy or beyond
Potential for greater cash accumulation than with traditional GUL
Potential for death benefit protection that lasts longer than traditional GUL based on current assumptions and paying the same premium
Low policy expenses
Higher compensation with two-year rolling target
---
That's our look at the Protective Indexed Choice UL!
We hope this sales idea helps you show more prospects that they can get flexibility, cash value, and competitive rates with an IUL product.
Have questions or need an illustration? We can help! Call us at 1-800-823-4852 or click here to email our Brokerage Sales Support team.
---