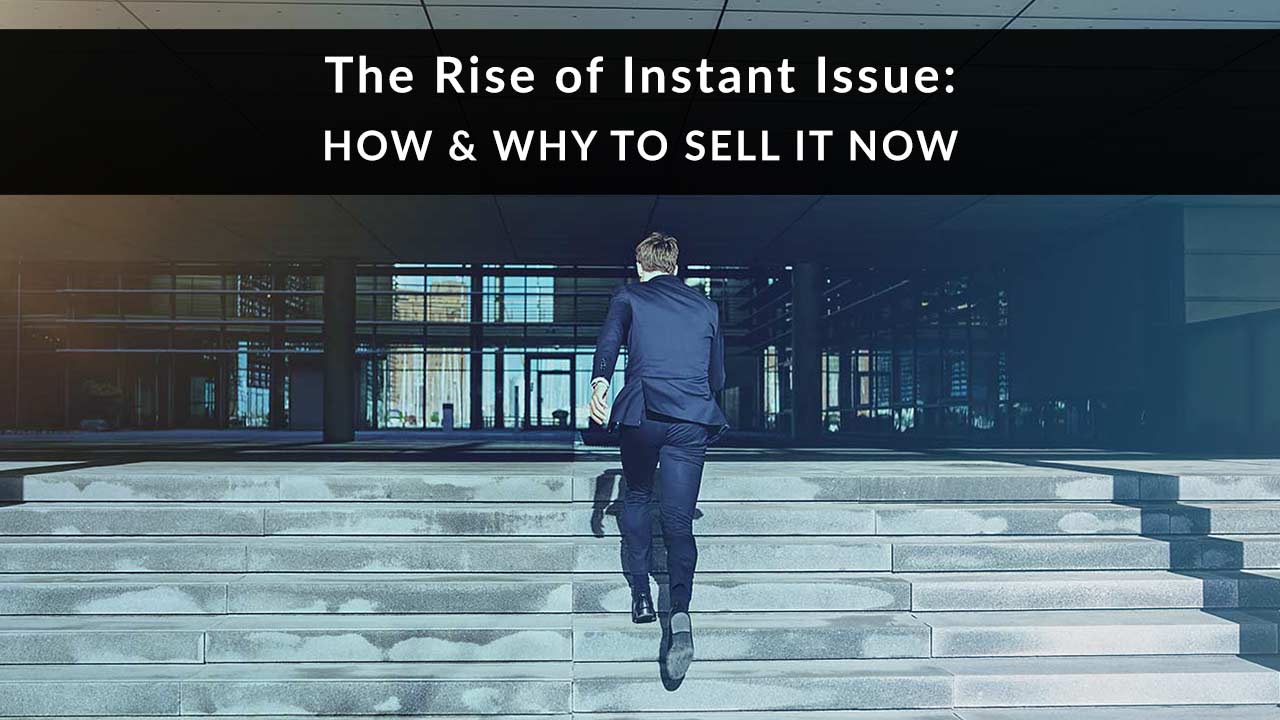 Instant issue life insurance is more affordable than ever – and easier to sell, as a result. If you're like most agents, the biggest roadblock in selling instant issue has been the price. But that's all changed in recent months.
Today's instant issue policies are exactly what the consumer wants: a fast, hassle-free way to get a good amount of affordable coverage. We're not talking about simplified issue, final expense, or even most non-med policies, which still require phone interviews and can take days to receive approval and issue. We're talking about term and whole life policies that offer coverage in amounts up to $10 million, for prices that compete with fully underwritten products, approved in a matter of minutes.
---
No time to read? Watch our video overview:
---
Just how well do these instant issue products compete?
One of our favorite carriers offers $250,000 of 30-year term coverage for $67 per month.1
---
Want our top picks for instant issue carriers?
Download a free cheat sheet with our 5 favorite instant issue carriers & policy details.
---
Instant issue policies are great for insurers, too. A faster issue time increases the percentage of people who finish the process and complete their purchase. Fewer cases with full underwriting lowers the insurer's overall cost. Plus, the automated algorithm-driven process is consistent with regard to decision-making, which helps with risk management.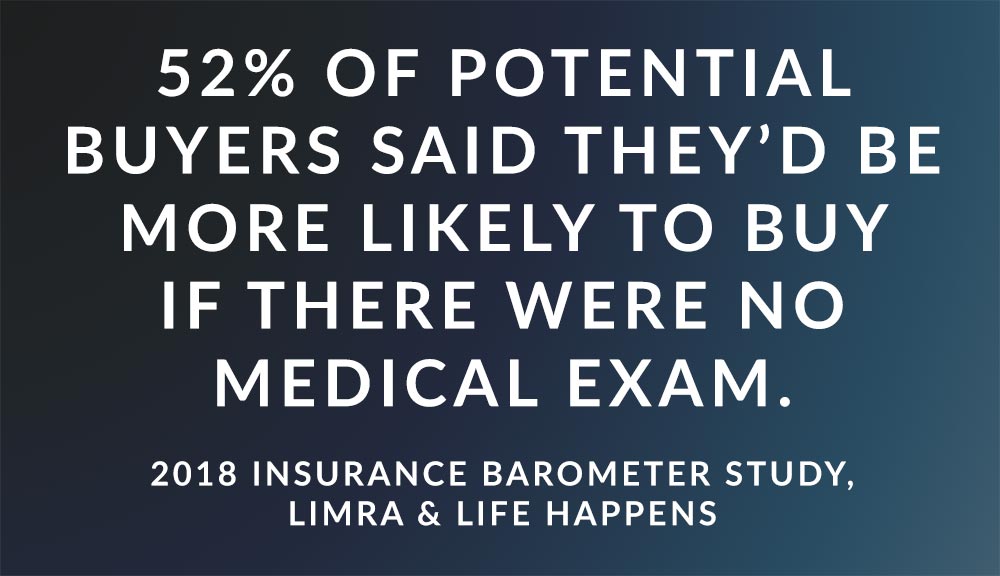 Reasons to Sell Instant Issue
Reason #1: Pricing
It's a lot more competitive. In the past, instant issue was far more expensive than a traditional fully underwritten term life policy.
At least one of the carriers in our hot list (carrier #5) has made significant improvements in their pricing model – click here to find out who they are!
Reason #2: Timing
True instant issue has an approval time of mere minutes. For 4 out of 5 carriers on our hot list, clients who qualify can walk away with an approval in less than 30 minutes. That's huge, even compared to the 72+ hours for many non-med policies.
What does this mean for you? Capture consumer interest while it's hot – don't wait for your prospect to get distracted by TikTok, a political rant on Facebook, or the latest Netflix comedy special.
Here are a few use cases where the time frame might require instant issue:
Your client has a trip coming up and needs coverage before they go. There just isn't time to wait for underwriting, sign documents, provide delivery requirements, etc.
Your client needs life insurance to secure a business loan. It's not likely they'll want to wait up to six weeks for full underwriting before they can move forward with their business plan.
Your client needs life insurance to satisfy a divorce decree. Whether the divorce is amicable or not, it's in everyone's best interest to get this situation resolved ASAP.
Your client needs life insurance for a buy-sell agreement. As with the business loan, how likely is it your client will be happy waiting up to 6 weeks to proceed with their plan?
Reason #3: No needles
Trypanophobia (the fear of needles) is real. At the thought of a medical exam, your client might experience anxiety, insomnia, panic attacks or memories of a past bad experience. In more severe cases, if they go through with the exam, they might faint or become dizzy thanks to a vasovagal reflex reaction when the needle pierces their skin. If that doesn't happen, the high blood pressure and heart rate they experience due to stress and anxiety could affect their exam results. Not fun…and not productive.
If you have a client with a strong fear of needles, tell them about instant issue stat.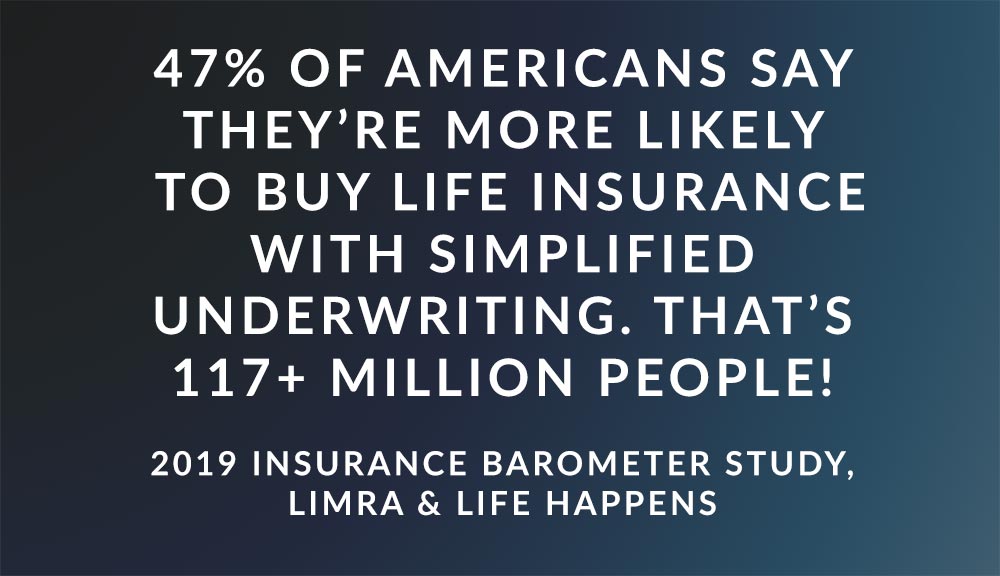 Reason #4: Unbiased, transparent procedure
Here's another tidbit from the 2019 Insurance Barometer Study. Two-thirds of people surveyed said they liked the unbiased pricing and transparent explanations. This is an interesting point, and one that many of us probably overlook. Millennials, in particular, want transparency in the buying process. They want to know where their products are coming from and how they're priced. A simplified underwriting process gets us closer to meeting these expectations.
It's easy to forget how our clients see these things. They see underwriting as complicated, confusing, and opaque. To many, the instant issue algorithm provides an unbiased result they feel like they can't get from traditional underwriting.
---
Want our top picks for instant issue carriers?
Download a free cheat sheet with our 5 favorite instant issue carriers & policy details.
---
Prospecting: Who Does Instant Issue Appeal To?
According to the 2018 Insurance Barometer Study, instant issue policies appeal to a wide variety of consumers. In fact, 70% said of those surveyed said instant issue is very compelling as an option. The survey also revealed two specific niches that may help with prospecting:
High-income households. These clients may be less price sensitive, or they may have business commitments and a travel schedule that makes the traditional application process harder to accommodate.
Older consumers. These clients may want to avoid the medical exam, or they may not be comfortable letting someone into their home to perform the exam.
Sales Tactics: How and When to Pitch Instant Issue
There are two ways to sell instant-issue: up front, and as a secondary solution if a sale stalls or falls through. We've already talked about the situations where it makes sense as an up-front offering.
But the real market for instant issue policies may be as a secondary solution for one of these problems:
A prospect dropped out of your sales funnel before getting a quote
A prospect dropped off the radar after you gave them a quote
The carrier came back with an offer your client didn't take
A client failed to submit delivery requirements and ended up without coverage
Revive their interest by telling them about a fast, easy way to get coverage with no exam and no waiting. See how many sales you can recapture before you drop these leads into a long-term nurture email sequence.
PRO TIP: Take a look at your current sales processes for the situations listed above. Add a call, text, or email to your automated sequence that explains what instant issue policies are and invite clients to get covered right away. We do this using Insureio – just create one email or text message template explaining instant issue and add it to any status for withdrawn prospects. See how many sales you can recapture!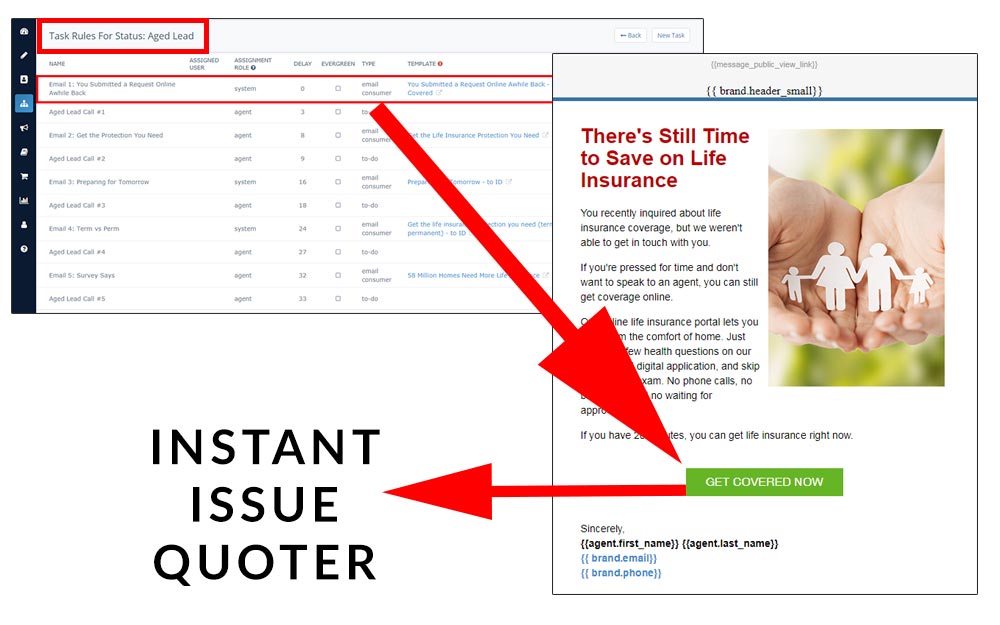 ---
Want our top picks for instant issue carriers?
Download a free cheat sheet with our 5 favorite instant issue carriers & policy details.
---
Underwriting: What Happens Behind the Scenes?
So how does it all work? Here's a quick reminder so you can explain it to clients, if they ask.
Behind the scenes, carriers use data and predictive analytics instead of full underwriting to assess risk and make an offer. They query databases that hold things like driving and prescription medication records, as well as previous insurance applications, all while the consumer's online and waiting.
Databases Used
Public Records Search (LexisNexis): Many carriers use LexisNexis Risk Classifier, which compiles data from sources like federal/state/county records, insurance records, law enforcement, and healthcare providers. The report will include mortgages, liens, bankruptcies, criminal records, professional licenses, and more.
Medical Information Bureau (MIB): This group of 400+ insurers stores information from previous applications for health, life, disability, long-term care, and critical illness insurance. Insurers check this to make sure your client's information and answers match up with what they've reported in the past.
Motor Vehicle Records (MVR): As with fully underwritten policies, your client's driving history helps evaluate risk. This database will show any DUIs, DWIs, moving violations, etc.
Milliman Rx Risk Score: Your client's answers to health questions will be compared to this database of prescription history. This proprietary algorithm predicts relative mortality based on prescription drug info.
Build chart: Some carriers will also use a build chart in addition to the above databases. This would result in a knockout if your client exceeds the allowed combinations of height and weight set by that carrier.
Lab results: Up to 40% of carriers use these results, with the client's permission. An additional 30% are planning to add this to the array of data they use to assess risk, according to the 2018 Insurance Barometer Study.
If there's a discrepancy between these records and your client's answers on the application, the carrier may not issue the policy then and there. Instead, that client's case is usually referred for further underwriting.
---
Want our top picks for instant issue carriers?
Download a free cheat sheet with our 5 favorite instant issue carriers & policy details.
---
Don't Take Our Word for It
Instant issue is growing. A whopping 50% of insurers now have automated underwriting programs, according to the 2019 Insurance Barometer Study. Of those, 75% have shortened the time it takes to issue a policy.
And it's only going to get better and faster from here on out. Insurers are working to improve nearly every aspect of the process:
Offering higher coverage amounts. Up to $3 million in coverage is already available via instant issue, according to the study.
Reducing the number of questions asked. It seems like a small thing, but asking 5 questions versus 8 questions could have a huge effect on the number of consumers who complete the process.
Issue time. Some carriers still have a cycle time measured in days. With better algorithms and more data, we may see more consistent approvals in minutes, not hours or days.
More product options. Millennials are going to drive the need for more product options. As they age, they're going to start families, buy homes, and enter their prime earning years. The market needs to respond by offering more than basic term coverage via instant issue. And since 40% of millennials buy insurance online, they're going to expect the products they need to keep up.
That's our look at the rise of instant issue policies!
Have you noticed an uptick in the number of clients seeking faster, easier options? Which instant issue carriers and policies do you keep coming back to?
---
Download a cheat sheet with our top 5 picks for instant issue carriers!
1 Quote for a 35-year-old non-smoking male in Ohio.
---