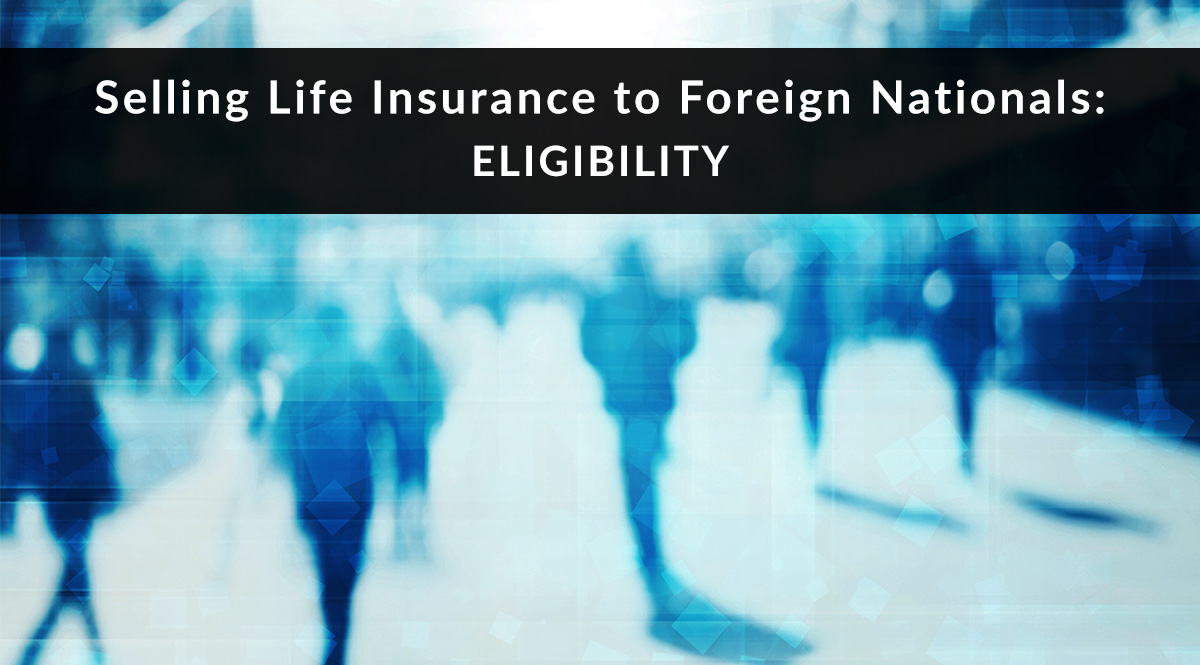 Life insurance policies for foreign nationals typically generate much larger than average premiums. If you're not working to serve this growing market, you're missing a big opportunity.
Foreign nationals are people who live in the U.S. at least part of the year, but are not citizens. For tax purposes, the IRS classifies them as resident aliens or non-resident aliens, depending on how much time they spend in the U.S. One of the biggest draws for foreign nationals is U.S. property. According to the National Association of Realtors®, foreign buyers bought $102 billion in U.S. residential property from April 2015 to March 2016. Other foreign nationals come to the U.S for jobs, schooling opportunities, to be with family members, or because they married a U.S. citizen. They may also be able to get better coverage options here than in their country of citizenship. As a demographic, their growing portfolio of real estate and investments make them great candidates for life insurance protection.
Every case needs to be evaluated individually, but the guidelines below will give you an idea of the carriers' minimal requirements. Keep in mind that, as world events occur, the degree of risk associated with particular countries will change. If you're not sure how to proceed, call us - we're happy to help.
Jump to a section:
Country of Residence
Physical & Financial Presence
Foreign Travel
Additional Considerations
Country of Residence
The first step in the sales process is to make sure your client is eligible for a policy. Full- or part-time residents of certain countries won't be offered coverage due to their country's risk classification. Additionally, some countries don't allow full-time residents to buy life insurance outside their home country. Since these rules may change over time, check with us or a specific carrier to be sure your client qualifies.
Government Regulations
If they're a permanent, full-time resident of Belarus, Burma, Cuba, Gaza Strip (Palestine), Iran, North Korea, Sudan, or Syria, you can't sell them a policy because of current U.S. legal restrictions. This list is current as of June 2017, according to Prudential.
If they're a permanent, full-time resident of Argentina, the Bahamas, Belgium, the Canary Islands, the Cayman Islands, Costa Rica, the Czech Republic, France, Greece, Hungary, Ireland, Italy, Japan, Malta, Monaco, Netherlands, Panama, Poland, Portugal, Puerto Rico, Saipan, Singapore, South Africa, Spain, St. Barthelemy, St. Kitts & Nevis, Switzerland, Turkey, the U.S. Virgin Islands, United Arab Emirates, Uruguay, or Venezuela, their government won't let them buy life insurance here. However, part-time residents may still qualify. This list is current as of June 2017, according to Prudential.
Risk Classifications
In addition to legal and governmental restrictions, carriers won't offer coverage to citizens of some countries due to risk classification. Afghanistan, Colombia, Cambodia, Haiti, Iraq, Lebanon, and Russia fall under this classification. Sometimes, risk classifications will differ between cities and outlying areas in the same country. For example, Prudential's current ratings show the metro Manila area of the Philippines as a "B region," while the rest of the country is a "C region." If your client lives in a country with a low risk classification, like Australia, Canada, or Mexico, they'll have a wider range of options for policy types (term, whole, or universal) and may be able to get preferred best rates.
Feel free to call us at 800-823-4852 and we'll help you better evaluate your client's situation.
Physical & Financial Presence
Next, you have to demonstrate that your client has a physical and financial presence in the United States. Here are some common criteria:
Are you soliciting the policy here? Will the medical exam and policy delivery be completed here?
Will the client be paying in U.S. dollars from a U.S. bank account?
Does your client spend at least 15 days here per year?
Does your client own real estate or a business here? If not, do they work for a U.S. company, have U.S. tax liability, or have an immediate family member living in the U.S.?
Did you answer yes to all of the above? If so, keep going with the sales process. If not, it's a good idea to evaluate this client's situation further. Is your client's time in the U.S. the main issue? Keep in mind that now may not be a good time to apply. Once your client is aware of the requirements, they may be able to plan their travel accordingly and apply at a later date.
Foreign Travel
Now that you've established your client is eligible and has a physical and financial presence in the U.S., your next step is to ask about their travel plans and any other countries they reside in part-time. Carriers may not approve applications from clients who reside in or plan to visit countries:
with a U.S. State Department travel warning, risk of terrorism, or political uprising
that are currently at war
that are experiencing an epidemic, famine, or other similar event
with limited medical care available, should something happen to your client while traveling
The duration of your client's planned trip(s) may also affect coverage and pricing. In general, shorter trips are perceived to be less risky than stays of one month or more.
Additional Considerations
Finally, you want to make sure your client knows what to expect – including a few additional requirements imposed by the carriers.
Minimum coverage amount. Many carriers require a minimum of $250,000 coverage for foreign nationals.
Coverage type restrictions. Your client may not qualify for a term policy. For example, John Hancock doesn't offer term products to non-U.S. citizens except when a U.S. business insures them for business purposes (a key man policy, for example).
Copies of required paperwork. Your client will likely need to submit a copy of their passport, visa, I-94, and W-8.
Copies of financial documents. It's a good idea to have copies of U.S. bank statements, U.S. property deeds, and U.S. brokerage/investment account statements.
Medical records. The carrier will probably want to see your client's medical records for the past five years. If your client has copies of those records handy, translated into English, it can really speed up the process. Some carriers ask you to submit these records with the application. If your client's preferred carrier doesn't, consider contacting them in advance and asking for permission to do so.
Duration of the application process. Your client should be in the U.S. for the duration of the application process. If that's not possible, you may want to postpone the application until they can be in the U.S. for 6-8 weeks. Alternatively, you can check with the carrier to see if they'll allow a limited power of attorney transfer so your client's representative can sign and accept delivery.
That's our look at basic eligibility requirements for selling life insurance to foreign nationals.
In a future post, we'll go over some tax implications and marketing strategies for foreign nationals.
Do you have experience working with foreign nationals? Tell us in the comments!
---