September is Life Insurance Awareness Month! Our free sales kit will help you talk to your clients about the financial peace of mind life insurance provides.
This September, we're all about life insurance awareness, in support of the yearly LifeHappens.org campaign. It's easy to join in, and we hope you'll use the free shareable social media images we created in this kit. You can also visit LifeHappensPro.org to download more shareable materials to use this September.
What's in the Kit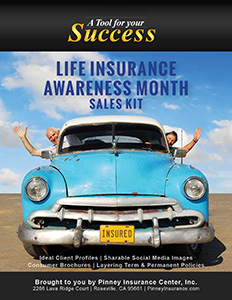 Our FREE 45-page kit includes:
3 pages of pre-written social media posts with shareable images
19-page client profiler - includes questions to ask for a range of opportunities, including income protection, policy review, retirement planning, longevity protection, gifting and estate equalization, business continuation, special needs planning, and more
3-page client prospecting worksheet
3 pages of sales ideas
4 pages of carrier guides on laddering term and permanent coverage
4-page consumer guide: 12 life insurance mistakes to avoid
6 pages of printable/emailable consumer brochures
1-page fillable consumer worksheet: how much life insurance do I need?
Get the Kit
How to Use This Month's Sales Kit
Our kit makes it easy to reach out to your clients in a way that's comfortable for you:
Use our social media posts. The first thing you'll find in this month's kit is a social media starter pack. We created text and images for social media posts. To use them, just copy and paste the provided text. There are short posts for Twitter, and longer posts that will work on Facebook, Google+, and LinkedIn. Right-click any of the shareable images, save the image to your device, then upload it to your favorite network. We've got heartwarming images as well as some humorous images, so you can see what works best with your audience. Have fun with it!
Send a brochure. This month's kit also includes a variety of client brochures that make introducing the topic easy. Print them out and send them to clients with a letter asking if it's time for a policy review. You can also put these brochures out in your office so visitors will see them.
Prospect within your book of business. This kit contains a great 19-page client profiler from Prudential. It goes far beyond the basic income protection use case for life insurance. Each page spotlights a different use case, from X to Y. It includes questions to ask in that scenario, as well as an ideal client profile for that solution. Even if everyone in your existing book has a policy, chances are their needs also include one or more of the scenarios in this profiler. You can touch base with these clients to make sure their current policy still meets their needs.
Get the Kit
Insureio Subscribers: Use Our Life Insurance Awareness Month Campaign
If you're an Insureio subscriber, you have access to our pre-written Life Insurance Awareness Month marketing campaign. The campaign consists of educational consumer emails pre-scheduled for delivery throughout the month. These emails aren't about the hard sell. They're designed to introduce concepts and ask questions, so your prospects are receptive when you contact them. You can also create your own marketing campaign by choosing from our vast selection (seriously - there are a couple hundred to choose from!) of pre-written marketing emails.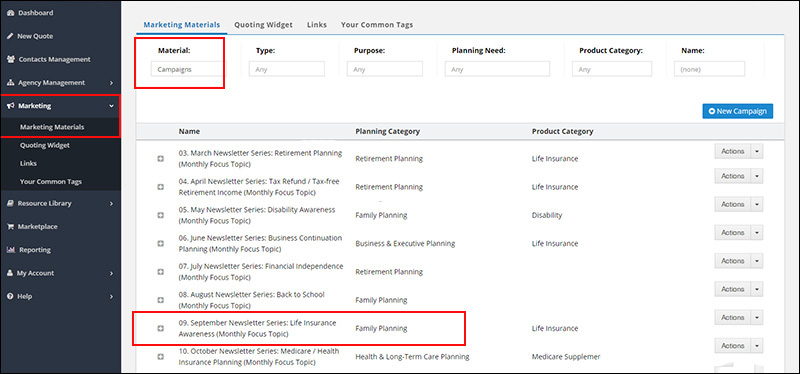 To preview the campaign:
Click Marketing and then Marketing Materials from your left-hand navigation menu in Insureio.
Select Campaigns from the Material dropdown menu on the top left.
Click September Newsletter Series: Life Insurance Awareness (Monthly Focus Topic). You'll see the list of pre-scheduled emails. To see what a template looks like, click any of the blue links under Template.
Want to learn more about Insureio marketing campaigns and how to enroll your clients and prospects? Click here to visit the tutorial in the Insureio Academy.
Help Your Clients Protect Their Financial Future with Life Insurance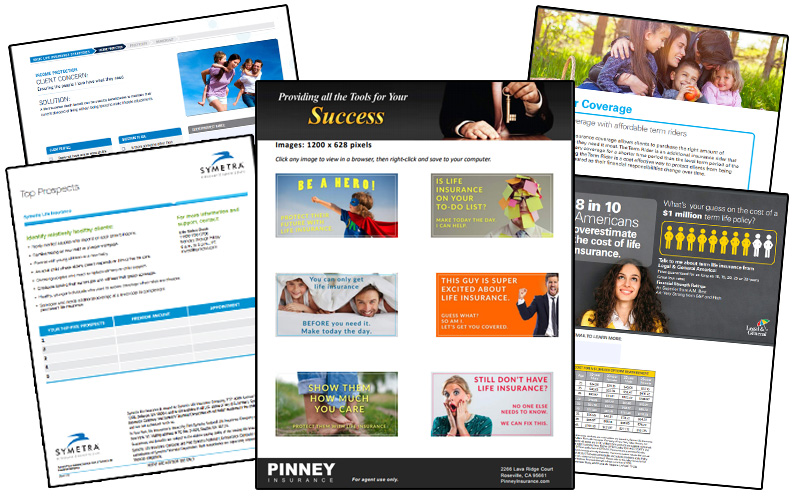 ---