Get the Kit
Our FREE 49-page Life Insurance Awareness Month 2016 sales kit includes:
14 pages of pre-written social media posts – just copy, paste, and post!
8 sharable consumer flyers & infographics
1-page sales idea: 5 ways to reach "stuck" consumers
1-page sales idea: marketing 25-year term
10-page sales idea: life insurance as income protection, including producer marketing guide, agent checklist, and client worksheet
2-page sales idea: layering life insurance policies
10-page sales idea: focus on final expense, including a consumer product overview, plus a carrier guide to selling & product info to get you started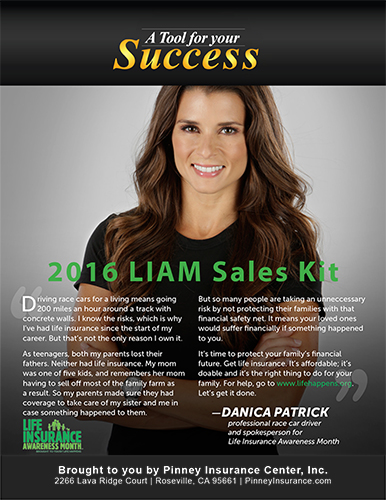 It's Life Insurance Awareness Month! This month, we're bringing you a sales kit that's packed with materials to share. Life Happens created many of these materials, and we want to give them a big thank-you for all they do to help producers promote life insurance during the month of September.
This year's celebrity spokesperson is Danica Patrick, professional race car driver. Because Danica's career is all about risk, that's a theme you'll see in the Life Happens materials provided. The concept of risk is a great way to start the conversation with your prospects. Do they realize how big a risk they're taking by not having live insurance? It's easy to see how speeding around an oval at 200+ miles per hour is risky…but many people don't think of doing nothing as a risk.
That's exactly what we need to help them understand. When it comes to life insurance, doing nothing is the biggest risk of all.
How to Use This Month's Sales Kit
Our favorite part of this month's sales kit is the pre-written social media posts. All you have to do is cut, paste, and post! The posts come complete with graphics to share – click on any graphic in the social media calendar at the beginning of the kit to download it. Upload to your favorite social media network, paste in the provided text, and you're good to go.
There are posts provided for every day of the month during Life Insurance Awareness Month. Chances are, however, you're not going to be sitting in front of the computer every single day. Or maybe you'll be on a mobile device without access to the sharable graphics. No problem! There's plenty of time to pre-schedule your posts. Our last few posts have been all about social media, in preparation for LIAM. Here's what we've got for you:
There are also a few sales ideas in this month's kit. Because the LIAM campaign is focused on awareness, the concepts are pretty simple – no 1040 overlays or buy-sell agreements here! Instead, we're just talking about easy ways to connect with clients and prospects. From a simple term policy to income protection strategies, the sales tips in this month's kit are simple but effective. If you want to reach out to clients who already have a policy, you could introduce the concept of layering policies. If their coverage needs aren't being met, adding a secondary policy might fill the gap better than a conversion or a brand-new policy.
How will you help clients & prospects this September?
Consumers estimate that life insurance will cost twice as much as it actually does. 65% of Americans say they won't buy life insurance because they think it's too expensive. Let's work to change that misperception! Source: Facts from LIMRA: Life Insurance Awareness Month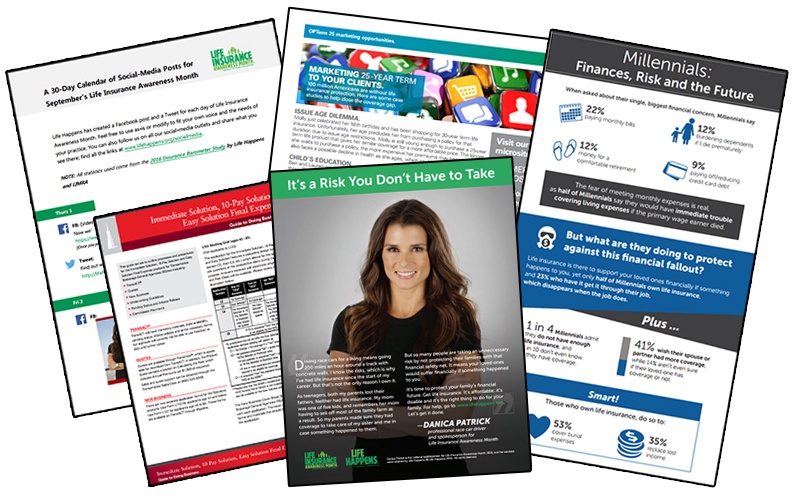 ---