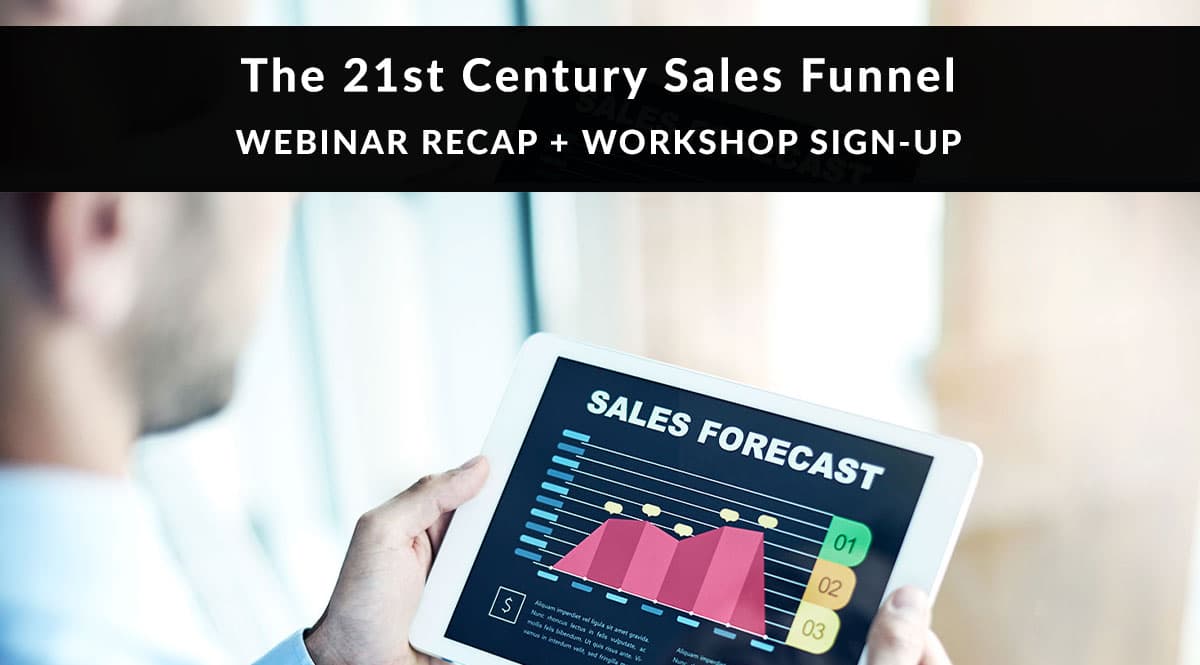 On June 3, Ryan Pinney spoke at a Finseca webinar on the 21st Century Sales Funnel.
If you missed that webinar, there's good news - there's still time to sign up for the paid workshop where Ryan will help you implement what you learned. Plus, we'll recap the information Ryan went over in the webinar here, so you'll be all caught up - just in time for the workshop.
---
3 Steps to Effective Insurance Marketing: Simplify, Optimize, Repeat
2-hour workshop: Thursday, June 24
9-11 am Pacific |11 am -1 pm Central | 12 pm – 2 pm Eastern
Finseca members: $29.99 Non-members: $49.99
Sign Up Now
---
The 21st Century Sales Funnel
Most agents ask me how they can get more leads, especially online leads. They ask me how to get on social media and get more leads - they want to go straight from a brand-new platform to getting leads. While internet marketing and SEO were a great way to get leads a few years ago, it's no longer a good idea to depend on search engine traffic to bring you an easy source of revenue. The new sales funnel will require you to look elsewhere to make more sales—and it's somewhere you probably don't expect.
To become a 21st Century Producer, you need to understand the new sales funnel. It will help you avoid the mistake of discounting the marketing aspect of growing your business. Visualize this sales funnel as three vertical, interconnected funnels: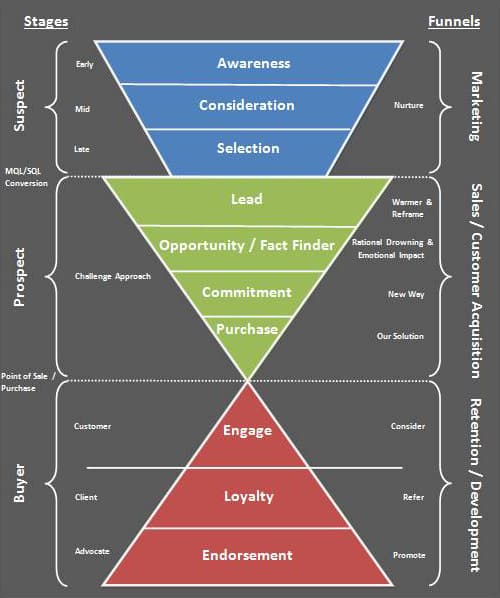 The point of this funnel is to help you create awareness of who you are and what you do as an organization or an individual. Once there's awareness, you're then trying to give the consumer the ability to make a selection and move forward if they want to do business with you. This concept is really important - you can't skip this step if you want high-quality leads and retain customers at a high level.
Conversion Points
Let's start by going over conversion points. In our sales funnel, these are the four key points where:
A prospect or lead transitions into an applicant
An applicant transitions into a customer
A customer transitions into a client
A client transitions into an advocate
Each point is important. As you look at your practices, you'll likely find that you're doing little or nothing in the top (marketing) or bottom (retention) funnels, and spending all your time on the middle (sales) funnel. In my experience, most of us live and breathe and die in this middle section. This is counterproductive for your current sales efforts and extremely detrimental to your future cross-sell and referral efforts. Your best leads and sales opportunities come from your existing clientele and centers of influence.
That's probably not a big surprise, yet how many of you have a standardized, systematized, and automated way of reaching out to these clients and centers of influence?
Better yet, how many of you know how your clients and centers of influence prefer to be communicated with, educated, and solicited for new business opportunities? My experience tells me not many. But before we can create that communication, we need to know exactly where each and every consumer is in that sales funnel.
Categorizing Consumers
To figure out where each consumer is in your funnel, you need to focus on the metrics of each step in the process. You must know what your conversion numbers are at each stage of the opportunity cycle. For example, you need to be able to answer questions like this: What percentage of your leads become qualified prospects? What percentage of your customers become clients?
In looking at your metrics, it's important to identify what stage of the opportunity cycle each consumer is in when you interact with them. For us, we place consumers into three major categories:
Suspects
These are the people you're proactively marketing to but who haven't yet expressed a specific interest in a service or product. These people are underappreciated and often overlooked in the traditional insurance sales model. In fact, a Forrester Research study concluded 84% of these people, specifically the ones that say they aren't interested in purchasing today, will go on to buy from you—or a competitor—within the next 24 months. This showcases the importance of effective communications tools and informational content to help a Suspect move to the next phase of the process.
Keep in mind that a suspect is just a prospect. A suspect is not a customer, not someone who's necessarily going to buy from you. You still have to go through the prospect of creating an interaction with them to move them from that prospect/lead status to the point of commitment and purchase.

Prospects
Those are people who have expressed an interest but haven't actually purchased yet. Most insurance agents refer to them as "leads," and whether you purchase them or cultivate them, it's where most sales people focus the bulk of their time. Why? Because they are often considered "sales qualified" or "ready to buy." The truth is that only 50% of consumers in this category are actually ready to buy today. That's why a lead nurturing process that takes them from "interested" to "qualified" to "ready to buy" is so important.
We do this using automated statuses in our CRM to guide prospects through the funnel to the point of commitment and purchase. Using automation and standardized messaging helps us make sure that messaging is on point and specific to what the prospect is interested in. It's important to have a process you can replicate and follow. If you practice diligently and have that process in place, practice makes permanent.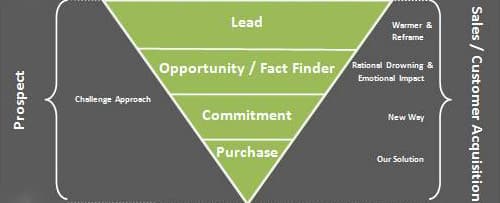 Buyers
These are people who have already purchased at least one product or service from you. This is the most important and neglected category in the bunch. In my experience, the property & casualty side does a much better job with this because they tend to be more focused on retention. As an industry we talk a lot about providing service, doing annual reviews, and getting referrals, but the truth is that most of us don't actually do so. In our agency, we break this category down into:
Customers: one-time purchasers,
Clients: those who have made 2 or more purchases
Advocates: those who have or make referrals to us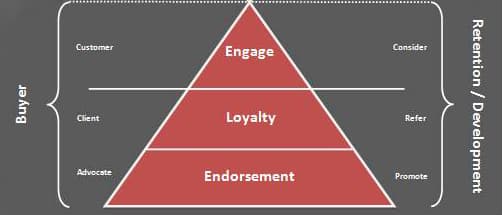 This allows us to focus on and maximize the time spent with each buyer type. In case you're wondering, this last category—buyers, and more specifically, clients and advocates—is the most important and the one you should focus on most. If you look at the metrics—the numbers associated with these two groups—you will find, like we did, that they account for nearly 80% of our profits and less than 20% of our total expenses.
Why?
One simple reason: they're the most open to the last three items on our focus list, namely up-sells, cross-sells, and referrals.
How to Maximize the Lifetime Value of Every Client
The single best way to take your sales to the next level is to use the insurance matrix (also called account rounding). It combines the concepts listed above: up-sells and cross-sells. Here's what it looks like: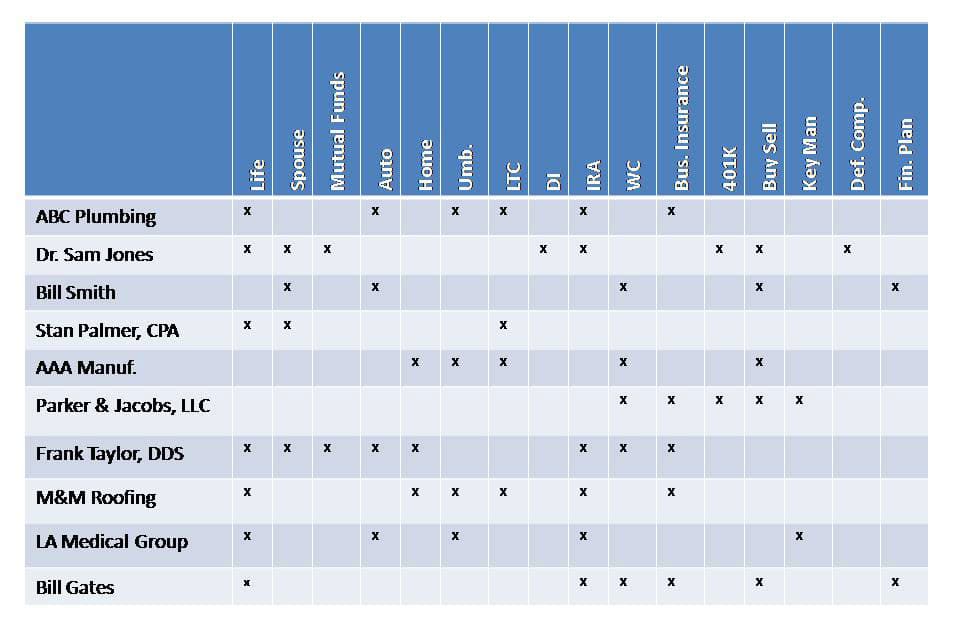 Up-selling serves several purposes, including making each client more profitable to interact with. Up-selling involves adding riders and additional policy options that help the client better meet their goals. This is where we as an industry can add the value back to the products and services we offer, by making them more personalized and client-focused. This is something Customer 2.0 demands – remember, they want the sales process to be about them, not about you.
Cross-selling is about focusing on account rounding, the process of adding additional products and services to each lead, customer, and client you work with. The goal here is to provide every option you can to every consumer you interact with. Already sold a customer a life insurance policy? Now's the time to offer income protection or retirement planning. The best time to set the stage for the next sale is right after the first. This is when you should start the conversation about the next piece of the financial planning puzzle, filling coverage gaps, and protecting other parts of the client's life.
The Insurance Matrix
So how does this work in real life? It's just a simple chart with an X and a Y axis. Here's how to apply it:
Identify your top 25 "A" clients. Fill their names in along the left-hand side of your matrix.
Identify every product or sales concept you offer. Fill these in along the top of your matrix.
Check off the boxes for products and sales concepts you already have in place for that client.
Try to fill in the empty squares with additional sales. Your "A" clients already trust you and are comfortable doing business with you. They're primed to consider any additional relevant products you want to offer them.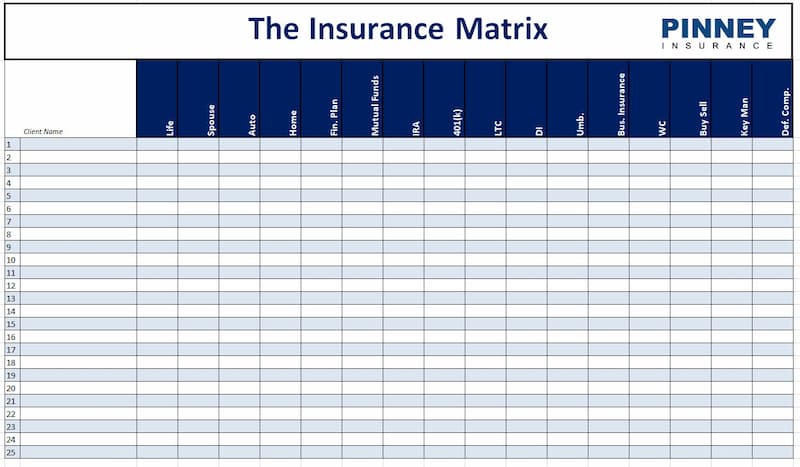 We created a free template to help you get started:
Download the Excel Template
How to Standardize and Systematize Your Marketing
Unfortunately, your customers often only remember what you sold them last – even if you've talked to them about all of your services. Remember, you're constantly competing with other sources of information, including your competition, for their attention.
To get the most out of your marketing - and to make it as easy as possible - we use the focus topic system. We've talked about this here on the blog, and created a template for you below. In a nutshell, a focus topic is a 12-month cycle where every month has a pre-assigned subject matter emphasis. Most of our focus topics play to our strong suits (life insurance), but a few dip into related topics (disability income insurance, long-term care insurance). Those topics drive our content and social media for the entire month.
We've been using this system for over five years now, and we highly recommend it. If you've ever wanted to diversify the types of products you sell, refine your audience into a niche, or just get more organized with your marketing, a focus topic calendar could be just the thing.
Download our brainstorming worksheet and calendar template: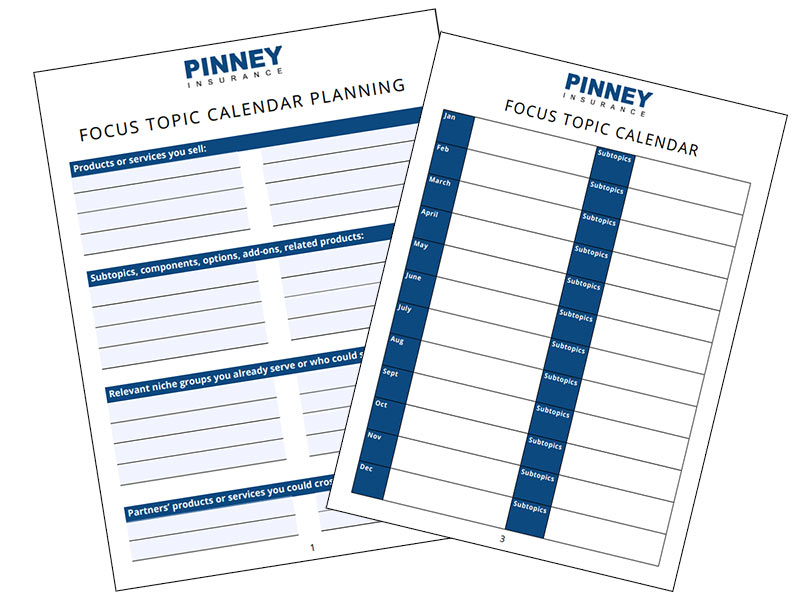 Choose the printable PDF...
Get the Printable PDF
...or the fillable PDF:
Get the Fillable PDF
And Now You're All Caught Up!
The next step in the process is implementing what you learned - and Ryan Pinney is here to help. You can sign up for his 2-hour insurance marketing workshop, hosted by Finseca. You'll take abstract marketing concepts and turn them into practical solutions you can deploy right away. When you leave, you'll have a cohesive marketing plan for the next 90-120 days. You can then use the techniques you learned to create an evergreen annual marketing plan that's easy to maintain. But because this is a hands-on workshop, there are several things you should have ready first:
Download and read The Innovator's Edge: Insurance Sales in the 21st Century. The process you'll learn is based on the big-picture principles discussed here.
Bring an Excel spreadsheet of all your clients, preferably with a ranking or sorting assigned. During the workshop, you'll use that data to build out a sales matrix.
Have a general idea of events and ideas you want to leverage in your marketing. But be aware that your ideas should also be flexible enough to accommodate changes…like the tax filing deadline postponements in 2020 and 2021.

---

Ready to get started? Reserve your seat now!

3 Steps to Effective Insurance Marketing: Simplify, Optimize, Repeat

2-hour workshop: Thursday, June 24
9-11 am Pacific |11 am -1 pm Central | 12 pm – 2 pm Eastern
Finseca members: $29.99 Non-members: $49.99

Sign Up Now

---
---