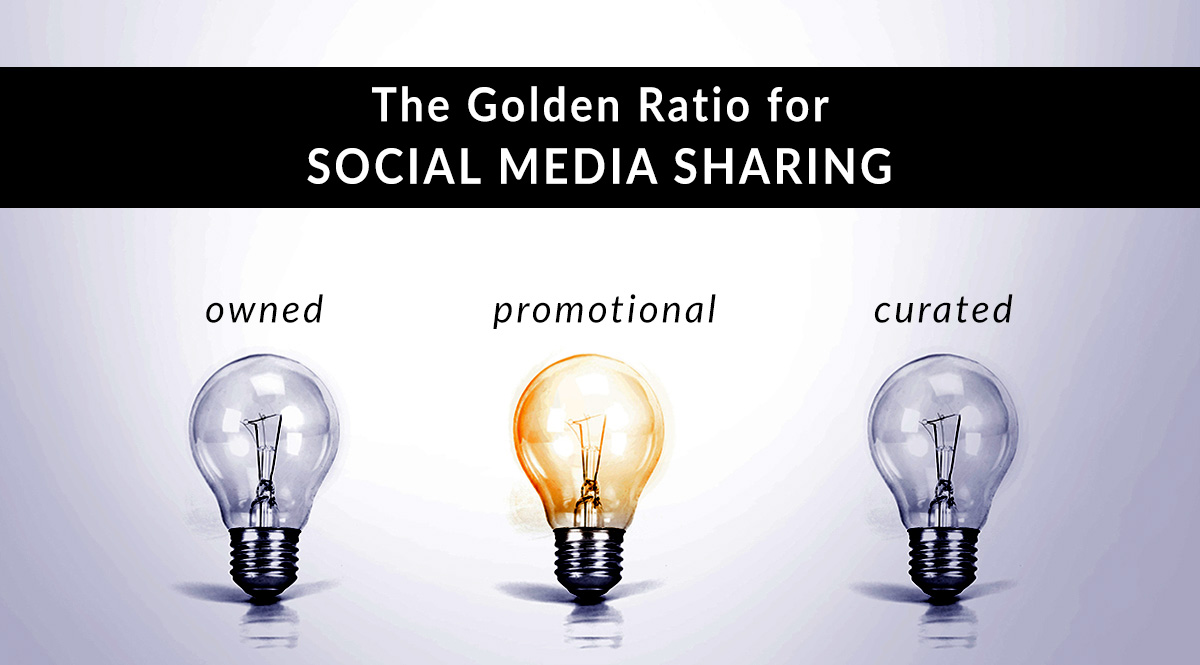 Tackling social media when you have no idea where to start is hard. We'll make it easy with a can't-miss formula and free, easy tools that anyone can use. If 2017 is the year you want to start making a difference in social media, this is the post for you.
The Golden Ratio for Social Media
The most-quoted piece of advice when it comes to using social media is this: Pretend you're at a cocktail party. It's not new advice, but you'd be surprised how many people don't follow it. Some people still do nothing but ask others to buy whatever they're selling, whether it's a book, product, or course. They don't mingle, introduce others, or share. This makes for a really boring party.
But how do you translate your cocktail party prowess into social media success? Use the Golden Ratio of 30, 60, 10. This is the ideal ratio for owned vs. curated vs. promotional posts.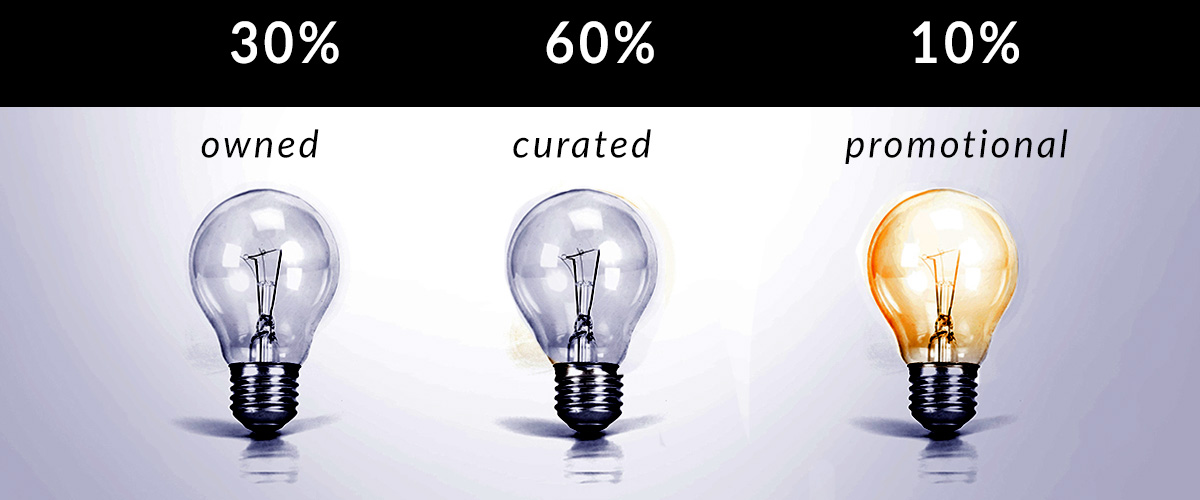 What the heck are owned vs. curated posts? Let's find out.
Owned
What It Is
Posts created by you where you're not selling anything.
In these posts, you can be funny, serious, goofy, or dramatic – this is a good way to showcase your personality. These posts can be about anything. What they shouldn't be about is life insurance. You'll want to save the life insurance talk for your promotional posts. You can talk about your pets, heartwarming moments, challenges you face, fears, exciting moments, or anything else that gives people a glimpse into your daily life. You can also post family pictures if you feel comfortable with it — sometimes, clients want to know we're just like them. If you're not comfortable with this, don't feel bad. There are plenty of topics to post about without revealing any details your loved ones aren't comfortable with.
How to Do It
Take pictures when you're out and about; post them to show people what you're up to
Share a favorite: quote, movie, song, album, food, restaurant, sports team
Post a Throwback Thursday photo – this is great for getting comments
Post a simple text update. How are you feeling? What's inspiring you? What's on your to-do list today?
Helpful Tools
If you like any of the ideas above, here are free, easy ways to create nice-looking posts.
Pablo. Use this tool to lay text over an image to make a sharable quote. You don't even need your own image – they have more than half a million to pick from. If you've got one, upload it. If you don't, browse by keyword to find something right for your text. Change the color, size, and font of your text. Add a logo or graphic if you want. Boom. You're done. Share directly to social media, or send the image to Buffer and share it later.




PicMonkey. An easy way to make quick collage images, quote images, and more. You can edit photos you already have, or add text to their selection of backgrounds and shapes for a quick sharable quote. PicMonkey is also great for making banners, backgrounds, cropping profile photos, and more. It's fast, easy, and if you want, you can do a surprising amount of photo manipulation here, like whitening teeth or removing red eye. Win.




Canva. Another free, easy way to make sharable graphics. Start with their free photos, backgrounds, and decorative elements. You can also import photos from Facebook or your computer. Canva's templates make it easy to create eye-catching designs you don't have to think about.




Curated
What It Is
Posts created by someone else that you share
In these posts, your only job is to offer a quick introduction or comment. You're letting the content creator shine. Provide a quick introduction that tells people why this piece of content caught your eye, or what you hope they'll get out of it. The good news? You get the credit in your reader's mind for bringing them this information…and you didn't have to create it.
How to Do It
Share pictures, articles, or videos on topics you find interesting – some insurance, but also your personal interests.
Post pictures, articles, or videos on topics your audience finds interesting – finance, insurance, life hacks, stress management, health info
Offer advice you think your audience needs to see – keep an eye out for financial advice they can't afford to miss
Helpful Tools
Feedly. Add the blogs and news sources you already read, and Feedly pulls that content into one place, with links to share directly to social media. No more scrounging through bookmarks trying to find good consumer-facing content. Create a folder in Feedly, add your trusted sources, and you have an always-on source of content to share.




Quuu. With a free account, you can select 5 interests and have 2 human-curated articles posted to your Buffer account per day. Use this as a backup in case you don't have time to post anything manually.




Alltop. Alltop is a gathering place for — wait for it — all the top news of the day. On the home page, you can scan headlines from TechCrunch, Lifehacker, the New York Times, CNN, and more. Hover over the Topics heading at the top of the page to dive into subjects like health, tech, people, and more.




Promotional
What It Is
Posts that promote your own services
How to Do It
These posts can ask people to get a quote for life insurance, download a free guide you prepared, attend a q&a session, watch a video you created, etc.
Provide a link to your quoter and ask your followers to get a quote. Bonus points for asking a leading question first. For example, "Could you be paying too much for life insurance? Find out by getting a free online quote, no identifying information required."
Share a link to a landing page where you offer a free downloadable guide in return for an email address and/or phone number.
Share information about an award or professional designation you've received. You can close the post with a call to action asking your followers to email or call you to talk about their insurance and financial planning needs.
Helpful Tips
For Facebook: Remember, you can change the headline and blurb that appear with any link you share. If your landing page or quoter page doesn't have a great title or a description, add one here! Click the headline or blurb text to highlight them, then edit.




For Twitter: Use images and 1-2 hashtags in your post. If you're still thinking of Twitter as 140-character posts and that's it, there's a lot more you can do. Upload an image, and the resulting image URL will count against your character limit, but the image is a great eye-catcher. Video works the same way – upload your own, or paste the link to a YouTube video.




To track clicks: Use bit.ly. Bitly is a free link tracking service. Paste a link you want to share, and bitly creates a new custom link that you then share on social media. Bitly will track clicks, showing how many you got, where those referrals came from, and where your clickers are located.




Create Your Formula
Let's say you want to post twice a day each on Facebook and Twitter. We'll assume you plan on using the same content on both networks. In one week, that's 7 days x 2 posts = 14 posts. Based on our ratio, that means you should have 8 owned, 5 curated, and 1 promotional post.
The easiest way to organize this is to combine three tools:
We've written about Buffer before because it's super handy. It even has an "optimal scheduling" feature we told you about in this post. Basically, Buffer will analyze your followers and decide when it's best to post to your account. Let them handle this, and your only responsibility is to find content for your posts.
Buffer browser extension. We've told you about this tool, too. It makes adding articles and images to your Buffer queue easy. Just click the Buffer icon in your browser when you find something you want to share, and that's it. Easy peasy.
A calendar (pen and paper, iCal, Google Calendar – you make the call). This is where you'll plan out your posts. You don't have to plan in detail, right down to the text of the posts. All you really want to do is control your ratio, like this: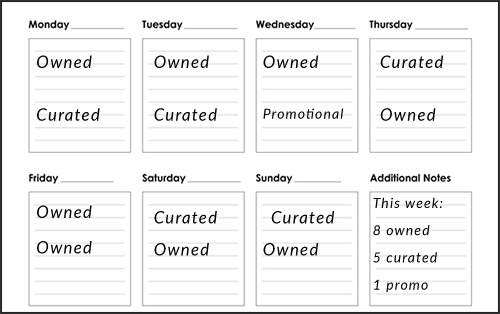 On the calendar, cross out the post once you've made it or loaded something appropriate into your Buffer queue. That's all there is to it! You'll always be able to tell whether you hit your ratio.
How do you manage your social media? Which tools do you find most helpful? We'd love to know!
Sound off in the comments below.
---