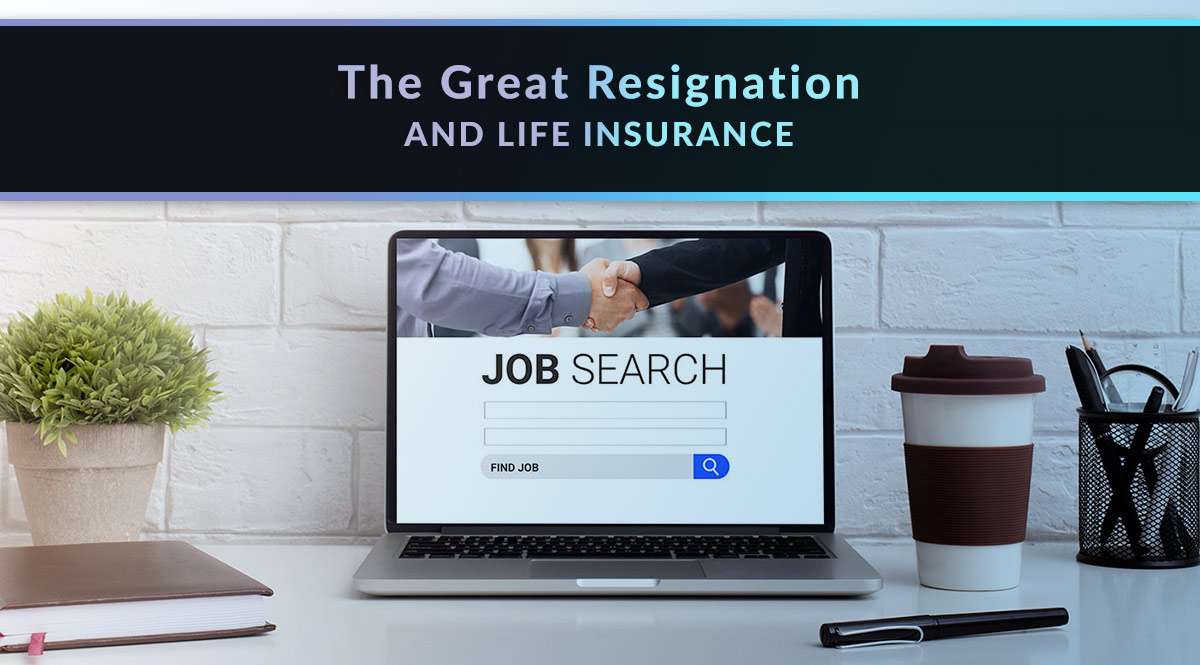 The Great Resignation is all over the news – but what does it mean for life insurance sales?
---
No time to read? Watch our video overview:
---
In November of 2021, a record number of people quit their jobs. According to data released in January 2022, that number was a whopping 4.5 million people, or 3.4% of the American workforce (not counting those who work on farms). About 6.9% of those who quit are in the accommodation and food services sector; for comparison's sake, only about 1.7% of the people who quit work in finance. Another 4.3 million people quit in December of 2021. That's the highest level of resignations we've seen since the Bureau of Labor Statistics began tracking them in 2001. (Source: Bureau of Labor Statistics via Fortune)
The industries most affected are those with the most disruption from the pandemic: retail, hospitality, food services, and leisure. But right behind them are industries including professional and business services, manufacturing, and education.
Are most of these workers quitting and taking new jobs right away? Since the nation's hiring rate is as high or higher than the rate at which people are quitting, that's likely. But there's more than money at play here. Higher salaries are crucial, as are a healthy work environment.
What's Life Insurance Got to Do with It?
The fact that so many people are willing to leave or change jobs gives us a great marketing tactic. If they had life insurance through their previous job, they need new coverage that's not dependent on an employer. If they didn't have life insurance before, they may be more willing to consider it now. Ironically, not having a paycheck is a great motivator for getting your financial house in order. Between the pandemic and the financial insecurity it's caused, life insurance is one affordable step they can take to safeguard their family's financial future, no matter what comes next.
If they quit to take a different job with a higher salary: They have a little financial breathing room now. It's a great time to re-assess financial needs and make sure loved ones are provided for.
If they quit a job due to pandemic worries: It's a scary world out there, but one way to take control is to protect your loved ones should something happen to you.
If they quit a job to find a new one more aligned with their values: As our founder, Jan Pinney says, "People who buy life insurance are people of good character who love someone else more than money." Anyone willing to quit a job on principal may feel as strongly about the future in store for their loved ones – and the need to safeguard it with life insurance.
5 Marketing Tips to Reach Job Seekers
This changing job market provides a great opportunity for unique messaging and targeting. Here are just a few ideas:
1. Market to a younger audience
According to ADP, 16-24 year olds have a quit rate almost three times higher than the national average. While this might be part of the usual churn of temporary, low-paying jobs for teens, that's not the whole story. Recent college grads fall into this age group, too. Here are a few reasons they should think about life insurance right now:
Cover your student debt. Can your parent(s) afford to take on that debt if something happened to you?
Your future self will thank you for not overpaying for life insurance. A good marketing approach here? Yesterday is the cheapest day ever to buy life insurance.
Start small. Barring major health problems, you can scale up if you have more family commitments later in life.
2. Pay more attention to LinkedIn, where job seekers congregate
Have you created any posts that speak to job seekers who left a life insurance policy behind? What do they need to be thinking about in terms of benefits as they look for their next job? A good point to highlight here is the ease of having an independent life insurance policy that's not dependent on any job.
3. Share your values
Let's face it – life insurance sales isn't the most glamorous career in the world. So why do we do it?
Because we believe in protecting families. Because we've seen the gratitude and relief in people's eyes when that claim check arrives - it's truly life-changing.
No one wants to think about what happens when they're gone. But for those of us who do it anyway, we're taking a stand that our loved ones mean more than money. And that kind of stand might resonate with people who quit their jobs to find an employer more aligned with their personal values.
If this is the kind of client you want to serve, tell the story of a client whose claim check you delivered. How did that make you feel? What was the family's reaction? How did that money help them? The deep love and family values at the core of every life insurance purchase are going to resonate if you tell that story.
4. Target people who visit job-seeking websites
To reach people who are switching jobs, you can run ads on social media using interest targeting. Your ideal prospects are probably using sites like:
Indeed
Glassdoor
Monster
ZipRecruiter
Ladders
AngelList
Getwork
Scouted
Snagajob
This is likely the fastest way to reach people you know are about to change jobs. If you have a niche, try googling the name of your niche and keywords like "new job" or "job search."
5. Target freelancers & new small business owners
Not everyone who's a part of the Great Resignation quit to go straight to another office job. What about the people who are using work-from-home to go freelance? Or those who are going into business for the first time? They have different financial needs than those depending on a new employer's benefits.
Target Visitors to These Sites Where Freelancers Find Work
Upwork
Freelancer
Toptal
Dice
FlexJobs
Behance
Target Visitors to These Sites Where New Business Owners Get Help
BizFilings
Score.org
Small Business Administration
Legal Zoom
QuickBooks
Better Business Bureau
That's our look at what the Great Resignation means for life insurance sales!
Have you noticed an uptick in clients affected by a job change or job loss? We'd love to hear their story in the comments.
---