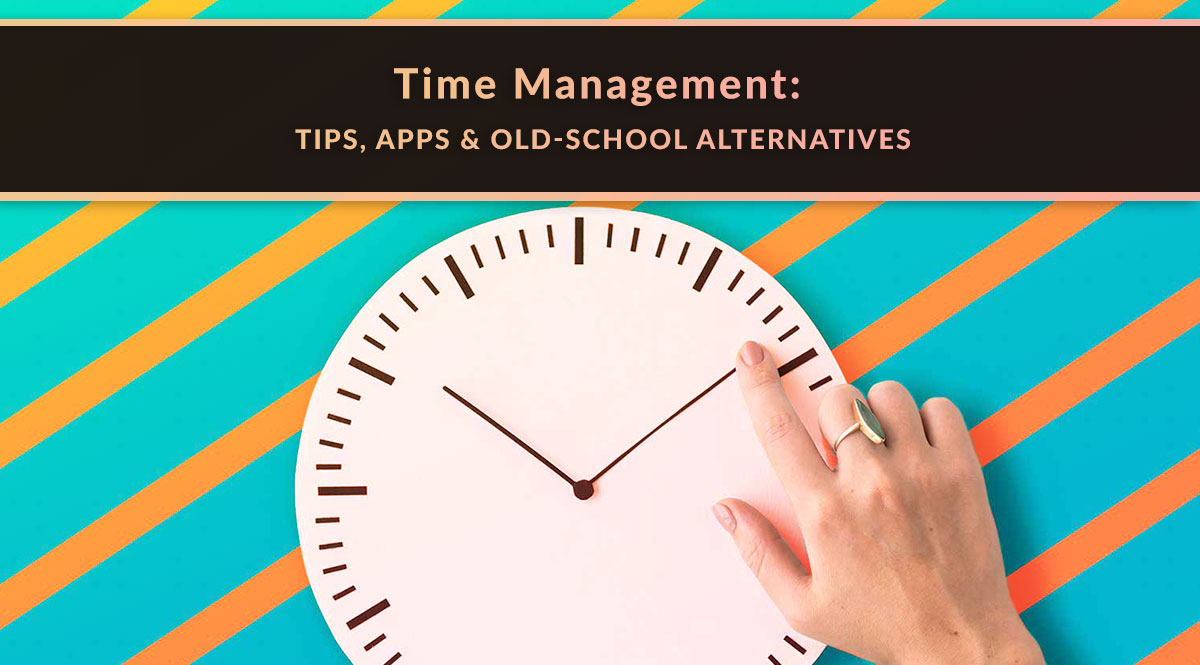 We all wish there were more hours in the day. Here's how to actually find them.
True story: the idea for this post came from one of Joshua Herrington's LinkedIn posts. Joshua is one of our amazing associate brokerage managers. When he posted this round-up of time management strategies from people in our office, it struck a chord – and we wanted to share it with you.
We'll follow it up with a look at some time management sites and programs, broken down by goal – so you don't waste time with systems that aren't a good fit. And we'll also include a good old-fashioned way of doing things, if you're not convinced apps are what you need.
---
No time to read? Watch our video overview:
---
6 Time Management Strategies from Pinney Insurance
1. "Start a 'To Don't' List, as opposed to a new 'To Do' list...basically a list of time-wasters and tasks that aren't productive that you will STOP doing. You know, all the stuff we "waste" time on but doesn't actually benefit us in any way. This could include things like:
- Won't spend more than 20 minutes watching reels
- Won't play video games on my phone"
2. "Set a phone/watch reminder to get up and stretch every thirty minutes."
3. "Set large tasks to your Outlook calendar and use the 15-minute reminders to know when it's time to wrap up and move on. Also, log your activity in a spreadsheet each day. Have a weekly review to find the tasks that need to be outsourced as they are taking up my time."
4. "Listen to Mini Habits and How to Be an Imperfectionist, both by Stephen Guise. Sometimes a little corny, but good info. Available on Audible, pretty useful service in and of itself."
5. "Time management is unplugging for a bit from social media and the phone to re-group. I'm visual and still like a planner - monthly, weekly, and daily. A combo of personal and business is mixed in mine - that way, I can see my whole day. If you have goals as to how many clients you'll see or call, block a few time slots for that."
6. "Each day I come in, I write down the tasks I have to do that day: how many of each type and what date they're from, so that I can focus on the older tasks first and have a visual reference for where I need to be focused instead of mindlessly flitting from one area to another. It only takes me a couple of minutes to update each morning and I can check things off as I go so I also have a visual affirmation and sense of accomplishment!"
---
Time Management Apps & Alternatives
Time management apps can be tricky. The wrong one can suck as many hours out of your week as your worst habit. But if an app clicks with your work style, it can make scheduling and focusing easier through automation. We broke popular apps down into different needs and styles so you don't waste time with an app whose core strength isn't what you want or need. We also included old-school alternatives for each category.
I want to:
Find out where all my time goes
Manage to-do lists and life in general
Time tasks and that's it
---
Goal: I want to find out where all my time goes
In this case, you want a time-tracking app. Use it to track your daily activities for at least 2 weeks. It'll take at least that long to figure out what kinds of habits you already have, what kinds of distractions tend to pop up, and what you need to do to balance them both. Here are four good options, in no particular order.
Option 1: Rize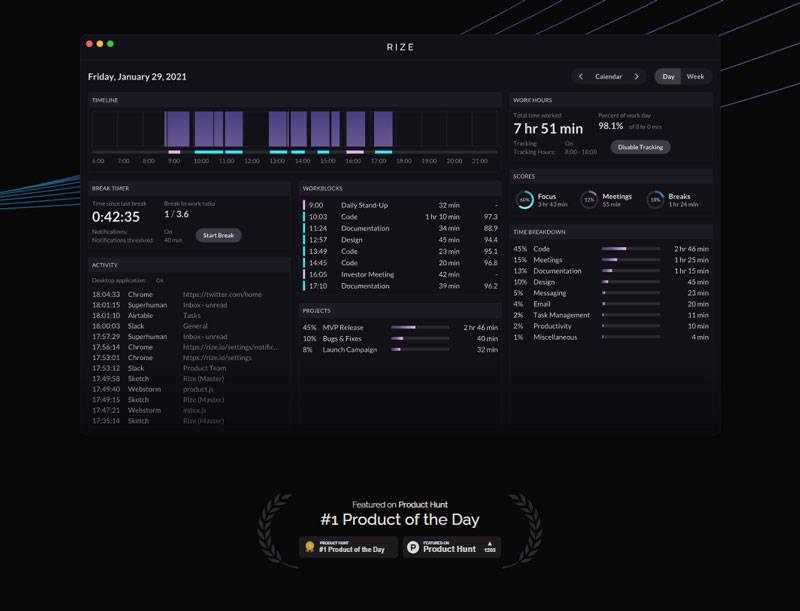 This desktop time-tracking program tracks what you do on your computer and presents you with the data you need to figure out where all your time went. The software can tell you your "top interrupters," how much time you spend focused on particular tasks, and how much time you spend context switching between tasks.
Availability: desktop - Mac & Windows
Cost: Free for daily session timing; $9.99-$14.99/month for all features, including analytics
Check It Out
---
Option 2: MyHours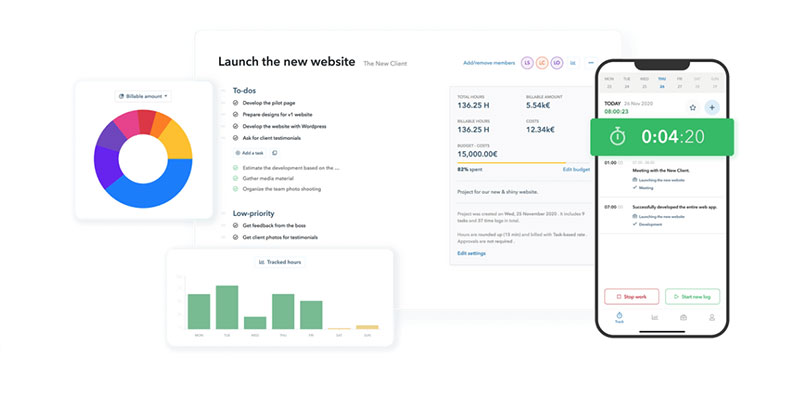 This online program is designed to help you create, manage, and track projects. It has a built-in time tracker as well as the ability to create projects and assign individual tasks to those projects. If you break parts of your business down into "projects," it can help you figure out how much time you're spending on customer service, marketing, client meetings, new business, etc.
Availability: web app – all you need is an internet connection
Cost: $0 for individuals – unlimited projects and time tracking; $6 per team member per month if you want priority support, workflow approval for team members, and invoice generation
Check It Out
---
Option 3: RescueTime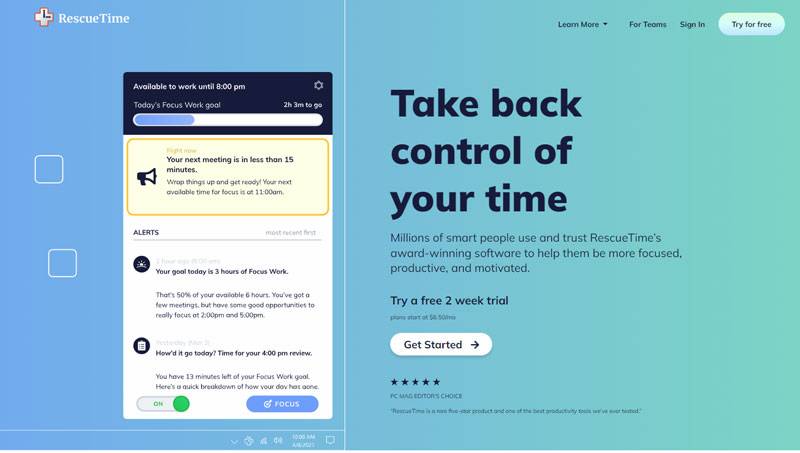 This software is focused on helping you get as much "Focus Time" as possible. It tracks what you do, how much focus time you currently have, and suggests ways to get more by eliminating distractions. The dashboard shows you where your time went on average (focus time, meetings, other), how often you tend to shift your focus, and the average amount of focus time you clocked per day.
Availability: desktop - Mac & Windows
Cost: Plans start at $6.50/month
Check It Out
---
Option 4, the Old-School Alternative: Notepad or Notepad/TextEdit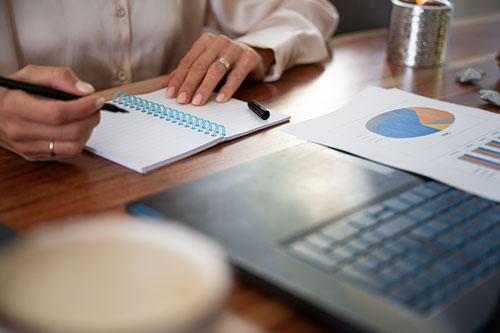 You have two great options here:
Use a notepad to jot down when you start and finish tasks
Use a simple text file saved to your desktop (Notepad in Windows, TextEdit on a Mac)
Keep a running timesheet of what you do when. Using this strategy may also help you batch or group tasks since it's easier to write them down and time them that way. For example, if you usually check email dozens of times a day, try devoting 2-3 sessions per day to checking and responding. This makes it easier to track, and also keeps constant email checking from disturbing you when you're working on other things.
---
Goal: I need something to help manage to-do lists and life in general
In this case, you need something a bit more targeted than a time-tracker. There are apps that can help you take over the world (and run it afterward) or just keep you on task during a single day's activities. Your challenge? Deciding which one will keep you on track and not serve as a further distraction. Here are four good options, in no particular order.
Option 1: Notion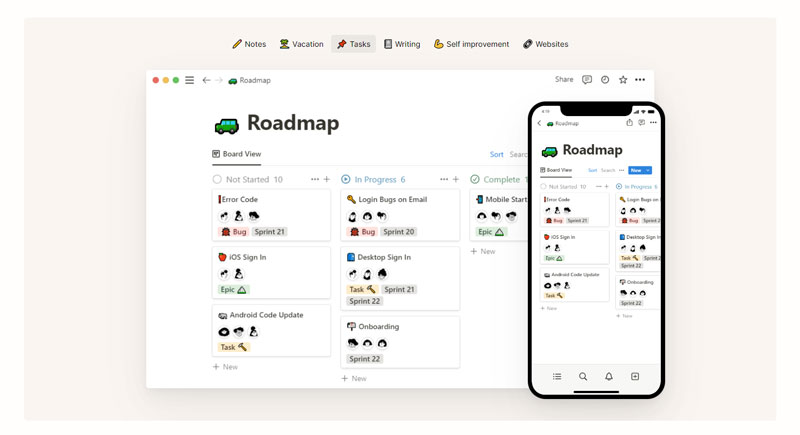 Notion is a robust single platform that combines to-do lists, notes, web clips, files you upload, and workflow guidance. It comes with thousands of templates for common projects (goal tracker, habit tracker, budget manager, PR & media tracking, brand guides, content calendars, and more). You can build out tracking and to-do lists for your work and personal life. You can use it across devices, too, which helps ensure you're not playing catch-up if you work away from your computer. It also integrates with common tools like Slack, Zapier, and more. If you want a be-all end-all solution to managing your life, Notion can probably fit the bill. The downside? If having too many options will keep you from using it or give you analysis paralysis, this might not be your best bet.
Availability: web, mobile, Mac & Windows
Cost: Free for individual, teams start at $8 per user per month
Check It Out
---
Option 2: Todoist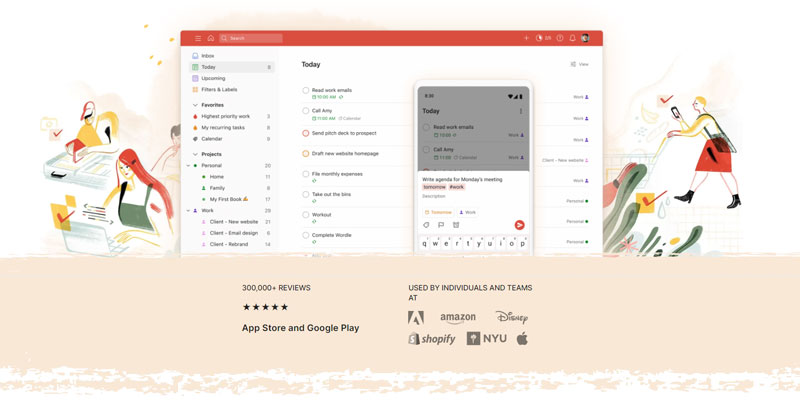 You can make using this app as simple or as complex as you need it to be. At its heart, this is simple to-do list software: add a task and mark it complete when you're done. Easy, right? You can also add due dates and priority levels as well as schedule reminders. To get even more granular, you can divide tasks into projects, share projects, and add comments. You can connect Todoist to your calendar and voice assistant, too. But you don't have to do any of those things if that makes the process too intimidating. It works either way, which is one of the program's selling points.
Availability: web, mobile, Mac & Windows
Cost: Free for 5 active projects; pro accounts start at $4/month
Check It Out
---
Option 3: Trello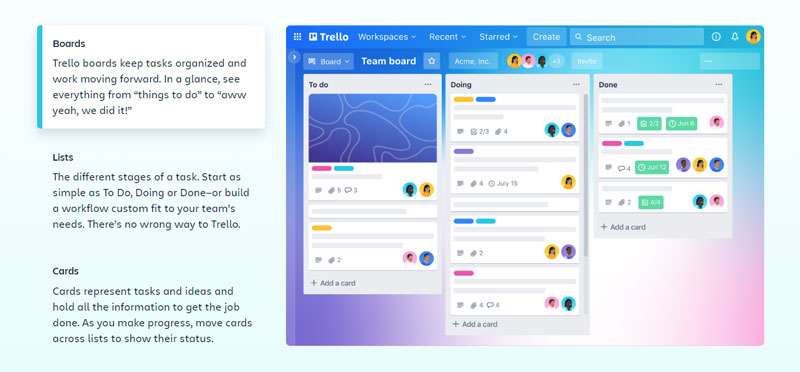 Trello is a visual workspace made up of boards, lists, and cards. You can have a board for work and a board for your personal life, as an example. On the work board, you could have lists that fit your workflow. Trello suggests starting with boards for "To Do," "Doing," and/or "Done." But you could also create boards for "Customer Service," "Marketing," "Admin," "Long-Term Growth," "Partnerships," etc. On each board, you add cards that represent tasks or ideas you need to handle. You can move cards between boards as you get things done. It's simple, visual, and easy to tweak – just drag cards and drop them on the appropriate board.
Availability: web, mobile, Mac & Windows
Cost: Free for individuals (up to 10 boards per workspace), team plans start at $5/month
Check It Out
---
Option 4, Old-School Alternatives: Whiteboard or Notepad/TextEdit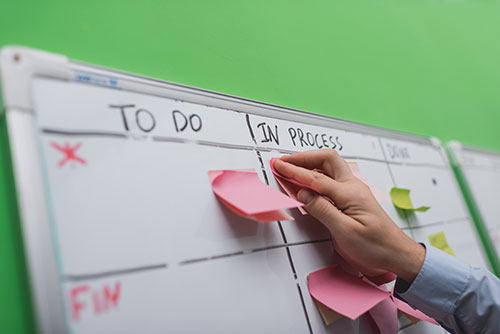 Get a whiteboard (or two). It's easier to add and erase things on a whiteboard than it is on a notepad. If you want to keep a record of what you've already done, you have options. You can snap a pic of your whiteboard at the beginning and end of every day. Or you can use sticky notes instead of actually writing on the whiteboard. Another alternative is a corkboard, pushpins, and index cards. When you complete a task, you can move the note or index card to a file or scan it to keep a digital record.
The downside? You can't take it with you outside your office, so if you want to keep track of ideas on the go, you may need to use voice notes on your phone or keep a small notepad in your car or purse. The upside? You don't need to rely on technology to stay organized.
As with time-tracking, you can also use a simple text file saved to your desktop. Keep weekly and monthly tasks in short lists below your daily tasks; copy, cut, and paste to your heart's content. Your humble blog post writer uses this method: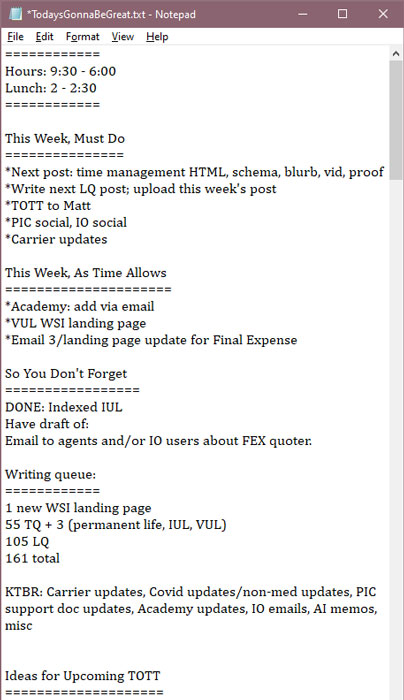 ---
Goal: I want a simple task timer
In this case, simple is good. Don't overcomplicate things with a multi-function app. Just find the solution that works best and stick with it. Here are four easy options, in no particular order.
Option 1: Pomofocus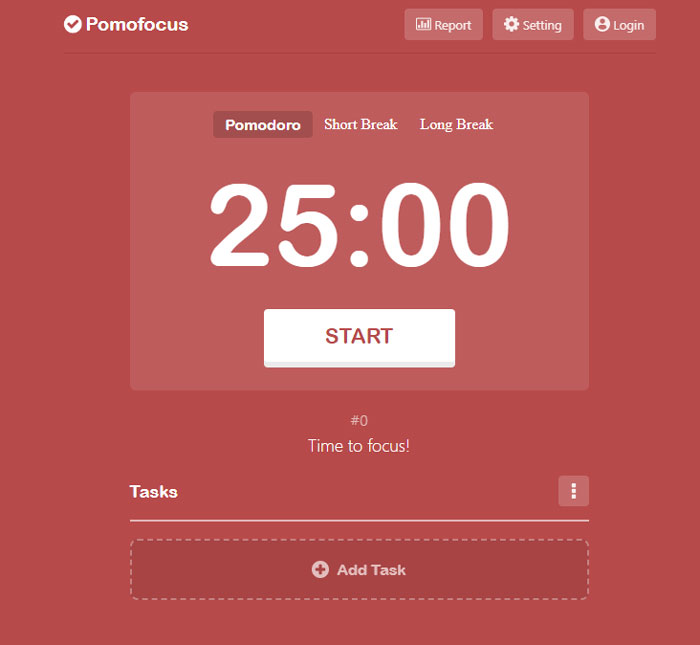 This free timer is as easy as they come – add a task and click the start button to begin a 25:00 timer. You can add tasks if you want, but you don't have to. The Pomodoro method, created by Franceso Cirillo, suggests you break your tasks into intervals: 25 minutes of focused work, followed by a short break. You can customize the length of your breaks, but each focused task interval is 25 minutes. An alarm will ring to let you know the interval is over (so you can minimize the timer window and avoid being distracted by the clock counting down).
Availability: all browsers (web & mobile), Mac & Windows
Cost: Free
Check It Out
---
Option 2: Clockify.me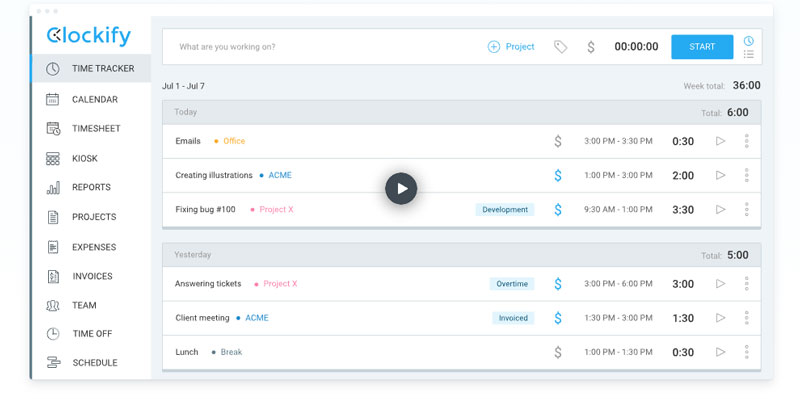 This free time tracker can track a simple task, but it can also do a lot more. It's built to scale for companies that need an employee time clock, so if you have employees or a team, you can use this to track everyone's time per task or project. It also has a calendar feature that connects to Google Calendar or Outlook. It can also connect with Trello, Quickbooks, Asana, and more.
Availability: web, mobile, desktop (Mac, Linux & Windows)
Cost: Free for everyone (individuals and teams)
Check It Out
---
Option 3: Your phone's timer and stopwatch features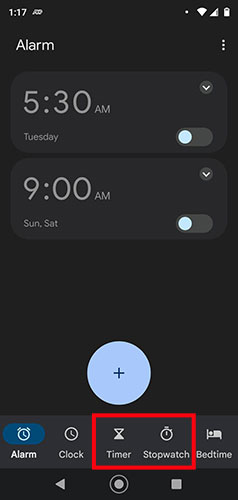 Android & Apple: Open the Clock app. Choose Stopwatch (time a task) or Timer (count down to zero). You can track how much time you're spending on a task with Stopwatch, or give yourself a focused period of time to work on a task with the Timer.
---
Option 4, Old-School Alternative: Kitchen Timer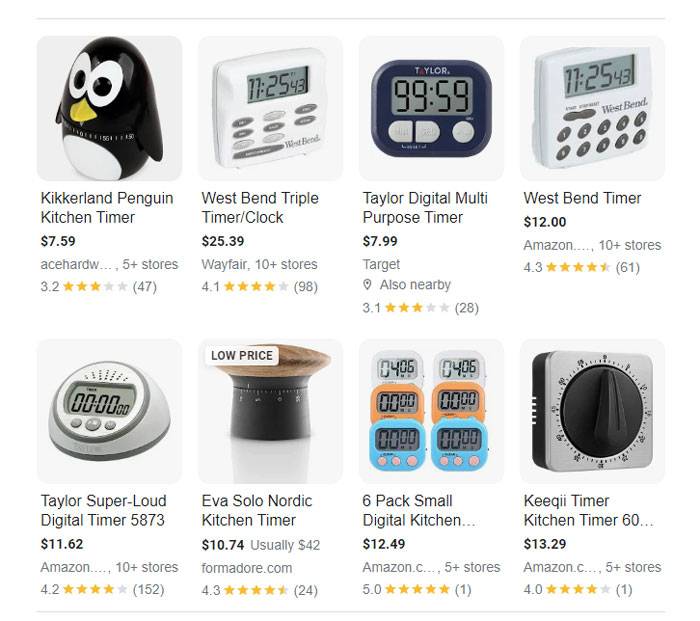 Digital apps and smartphones are all replicating timers you probably already have access to. Your watch may have a stopwatch feature. Your oven and microwave have kitchen timers. You can buy egg timers or small kitchen timers. There are even cute kitchen timers that look like a ladybug, hedgehog, a cat, or a penguin – if you need the cuteness as extra motivation to use them. Long story short, if you don't want to use a digital device, you don't have to.
---
That's our quick look at time management!
What apps or strategies are your favorite? Tell us in the comments!
---