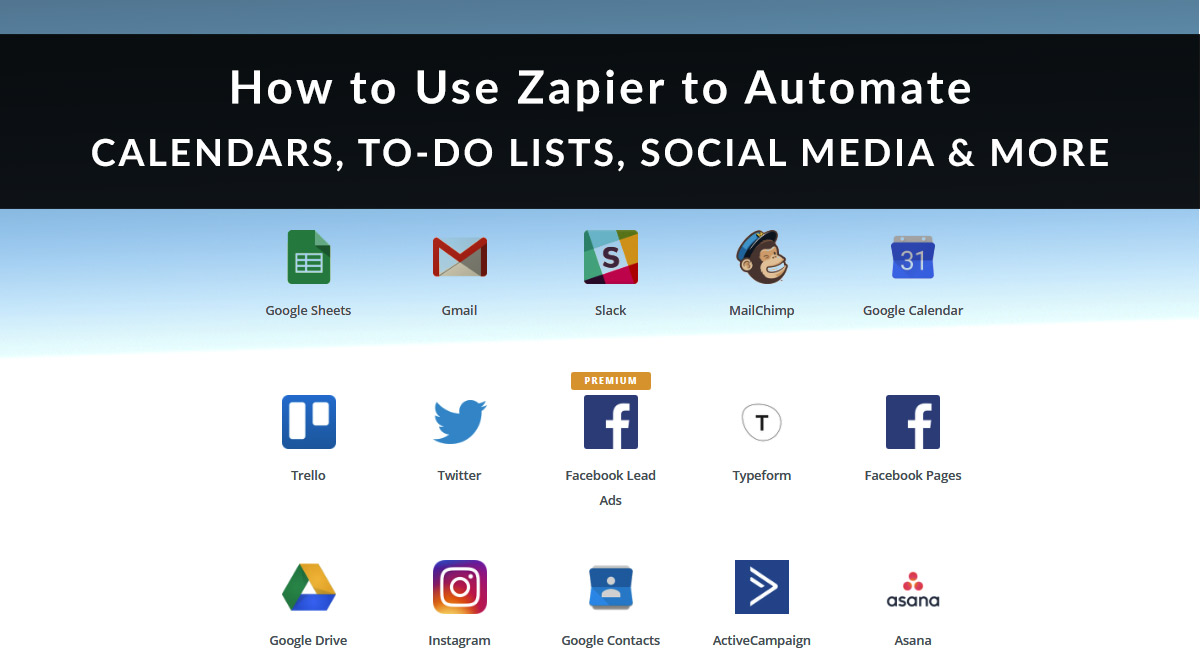 If you don't use Zapier to automate day-to-day tasks, you're probably spending too much time cutting, pasting, copying, sharing, and otherwise wrangling your data.
Zapier is a service that functions like a behind-the-scenes digital assistant. It connects the apps and services you use, moving data from place to place or performing repetitive actions so you don't have to. It can make things like social sharing and data backup effortless. It's easy to explore the kinds of things you can do. Just pick your most-used app and browse their suggestions, which look like this: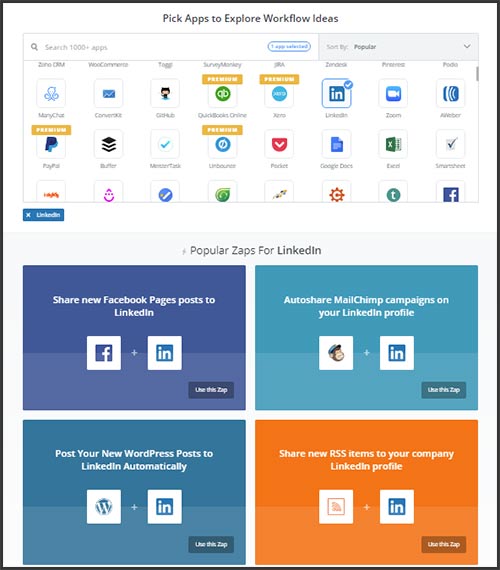 What It Does
To use Zapier, select one or more "zaps" to carry out a particular task. Each zap has a trigger and a corresponding action. When the system detects the trigger, it carries out the appropriate action. Currently, Zapier can connect 1,000+ apps, from Gmail and Facebook to WordPress and QuickBooks Online. Free accounts can use up to 5 zaps.
Here are some sample workflows Zapier can help you automate:
Synchronize events across different calendars or to-do lists
Add your business's Office 365 events to your personal Google Calendar
Create text message alerts for Google Calendar events
Track clients & prospects across apps
Add webinar sign-ups from a website form to GoToWebinar
Add GoToWebinar participants to a spreadsheet or mailing list
Automate social media sharing & blog posting
Post new WordPress posts to Facebook, LinkedIn, Twitter & more
Create new WordPress blog posts from an RSS feed
Log new WordPress posts in a Google Sheet
Save your Twitter mentions to a Google Sheet to reply personally
Automate connections between your email and other apps
Automatically save Gmail attachments to Dropbox
Send Office 365 emails from updated rows in a Google Sheet
Add new Office 365 contacts to a MailChimp list
Automate connections between project management apps
Create a new task in Asana from a new Google Calendar event, Gmail, Typeform entry, Google Sheet row, Google Form response, etc.
Create a new Trello card from a new Typeform entry, Google Calendar event, Google Sheet row, Gmail, Google Form response, Slack message, etc.
If you routinely move data between your email, a calendar system, an email marketing system, spreadsheets, or backup data storage, chances are Zapier can automate that for you. It can also help streamline your marketing and follow-up.
Let's go over a couple use cases below.
Use Case 1: Do More with Contact Forms
Let's say you have a contact form on your website. Prospects can ask you a question, you answer it, and all is right with the world.
But what if you to do more with that prospect? What if you want to schedule a follow-up email or call? Or add them to your mailing list? What if you want to send them a free guide on choosing the right life insurance policy, but you're out of the office and not at your computer?
For this example, let's say we're using Typeform for the contact form on our website. Here's one way to set this up in Zapier:
First: Automatically add new Typeform entries to an Excel spreadsheet.

Then: Add new rows in your Excel spreadsheet to a MailChimp list. You can be really strategic with your forms and the lists they get sent to. For example, maybe you have a form on your quoter page that's connected to a "Hot Prospect" list where they get 3 automated emails within a few days. Or maybe you have a form on your blog that's connected to a "General Interest" list where they get a monthly digest of tips and recent articles you've published.

Finally: Create a calendar item or to-do list item based on new rows in an Excel spreadsheet. When you handle that calendar item or to-do item, pick the best response method, whether it's a call, text, or follow-up email.

Bam! Now every single prospect who reaches out using your contact form is added to your email list and guaranteed a follow-up. Just be sure your website form indicates that you'll be adding them to a mailing list and reminds them they can opt-out at any time.
Use Case 2: Do More with Client Surveys
A client survey is just a different type of form – but imagine what you could do with these responses!
You could send a survey link before an annual review, asking what topics the client wants to discuss. Or send a survey to longtime clients asking for feedback or a testimonial. You could send a survey to everyone who got a quote within the last six months but didn't buy a policy. Ask them if they ever got coverage, and if not, why. You can then ask follow-up questions, keep track of the clients who answered, add them to your contact list, send a thank-you email, or do all of the above.
For this example, let's say we're using a simple Google Form. Now let's see how Zapier can help you do all these things:
First: Automatically add form responses to new rows in a Google Sheet.

Second: Have Gmail send an email to new rows in the Google Sheet. This is your thank-you email; mention that you may have follow-up questions for them.

Third: Add the data for the address you emailed as a contact in Gmail, Outlook, or another CRM.

Fourth: Add a new to-do to your Trello or Asana for each new row in that Google Sheet. This is where you'll read through the client's responses and determine whether you have follow-up questions. If so, manually send the follow-up email.

Finally: Add new rows in the Google Sheet to a MailChimp list. This list could be called Survey Respondents, or My Best Clients – it depends on your survey and who you sent it to. The next time you need to contact everyone who replied to this particular survey, they're already waiting for you in this list!

Use Cases 3 & 4: Automate Your Blog & Social Media
This one has huge potential.
But first, let's start with the obvious disclaimer: anytime you automate social media or website posts, there's the potential for things to go wrong. Maybe the content you want to share has a missing image or broken link. Or maybe there's a tragedy in the news that day and an article gets posted that seems insensitive given current events. These are the risks of automation; decide for yourself if the benefits outweigh them.
Now let's add the less obvious disclaimer: social media was meant to be social. Automation can support your efforts and give you more time to work with clients, but you shouldn't let automation be the only thing your followers see. Keep a healthy mix of automated content and original content, and you'll be good to go.
Automate Social Media
Okay, so you know you're supposed to be posting more often on social, but you're short on time. We get it. Zapier can post content from a variety of sources for you.
Automatically Distribute Your Content
Post your blog posts directly to your social media pages & profiles.
Add your blog posts to a social media scheduler, like Buffer or Meet Edgar.
Automatically share new images from a folder in Dropbox or Google Drive, or new text in a line added to a Google Sheet.
Email your blog posts to contacts via Gmail.
Automatically Share Others' Content
Share tagged articles in Feedly to Facebook or Twitter.
Automatically share new content from a YouTube channel, Instagram account, or RSS feed to Facebook or Twitter.
Automate Your WordPress Blog
You can also automatically publish new WordPress blog posts from sources you define. Think of this as syndication – you didn't create the content, but you can republish it if your audience would be interested in it. Republished content won't help you rank, if you're interested in SEO. But it can help you entertain and inform your audience while they're waiting for another original post. There are 100 different zaps you can use to help automate WordPress.

Here are just a few of the ways you can automatically add content to your blog:
Share new Facebook page posts on your WordPress blog.
Post new Instagram photos to your WordPress blog.
Post MailChimp campaigns to your WordPress blog.
Add new items from your Buffer queue to WordPress a blog posts.
Post YouTube videos matching a search string to your WordPress blog.
Create new blog posts from saved notes in Evernote or OneNote.
That's our look at how to use Zapier to automate repetitive tasks!
This post just scratches the surface of what Zapier can do. If you're tech-savvy, you can also use their web hooks to do just about anything. What can you dream up for Zapier to do?
---