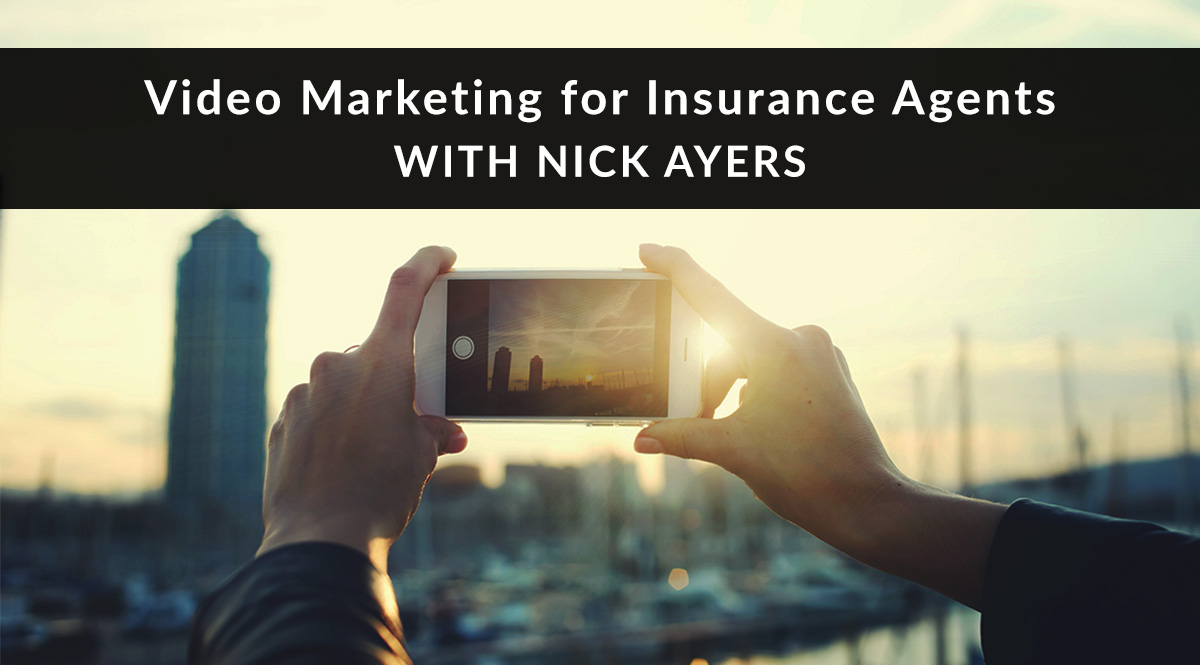 You've heard it before – video marketing is key when it comes to catching a consumer's attention.

Last week, we showed you how Nick Ayers of i80 Insurance uses video in his email autoresponder to engage with clients - click here if you missed it. In this post, we'll take a closer look at how Nick and his agency use video throughout the customer journey. Click or tap any of the video screenshots in this post to watch the real thing. We hope Nick's videos inspire you to create your own!
The 3 Goals of Video Marketing for Insurance Agents
Before you pick up a smartphone and hit record, you want to decide what your goal is for a particular video. Here's how Nick describes the three goals of video marketing for insurance agents.
---
We have 3 goals in video marketing, but don't look to accomplish all three in one video. Your content only has to meet one goal at a time.
Goal 1: Create a video that teaches people something.
As an example, you could answer a question like, "How much is term life insurance?" Or, "Should I get term or permanent life insurance?" Do a video answer that's 30-60 seconds long, maybe longer if it's needed to answer the question. The goal is just to educate your audience, but they're also going to show up and rank in search, which helps with your branding and authority.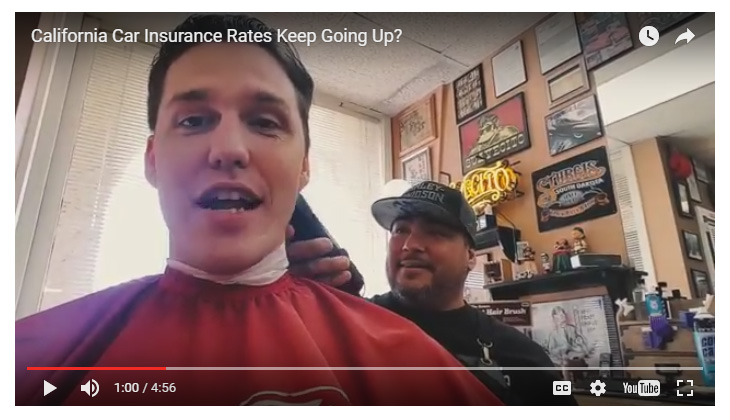 How to measure your success:
It's not always easy to determine the metrics for success for this type of video. But the more you do it, the greater uptick you should see in responses, your online presence, and in your ability to generate future engagement.
Goal 2: Create a video to convert a lead.
A good example of this is a video proposal. We send these out to all clients with every new proposal. The video is an agency-branded proposal I made that explains what that proposal is all about in layman's terms. It's short, and it gives your clients a feel for you as an agent and as a person. Other conversion video examples might use different calls to action – download my eBook, like our page on Facebook, etc.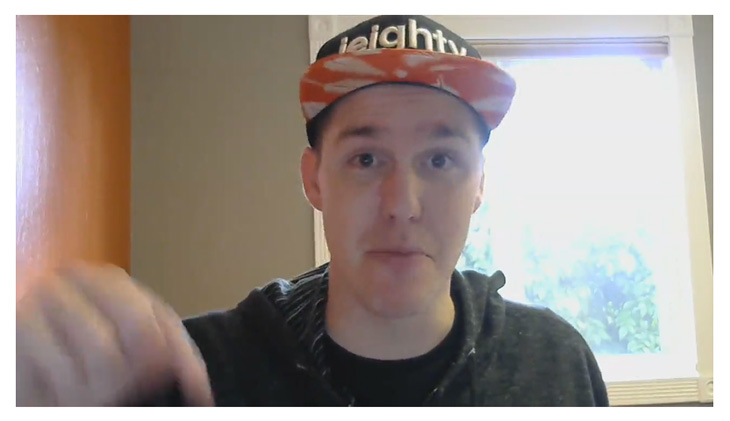 How to measure your success:
These are the videos where you can best track your ROI. When you use videos to try and convert, you'll know how successful you are by your closing ratio.
Goal 3: Create a video that makes people feel something.
My video signature is an example of this. I made it so people can experience a different emotion. It's no secret that the entertainment industry has made its living by making people feel something. The videos we've done that have achieved that (our Christmas video, for example) – these get the most feedback, the biggest response, the most shares, and the most people saying they loved it. Sometimes when I walk around in my town, I'll get someone who says, "I saw you in a video. Aren't you that guy?" They may not be customers, but the reach is out there, all based on trying to make someone feel something.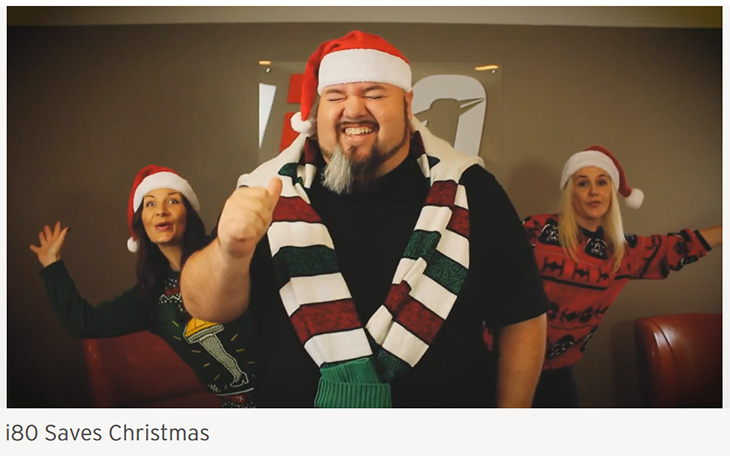 How to measure your success:
This is the hardest type of goal to quantify and put a value on. The response from clients and even non-clients is a good way to judge your video's impact – shares, likes, mentions, conversations. These types of videos have greatly enhanced our brand awareness and how people think about us. That, to me, is most important.
---
How to Use Video at Every Step of the Customer Journey
Wondering how to incorporate video into your agency? You don't need to re-invent the wheel. Take a look at how Nick's agency does it, and see what's feasible for you to replicate. A good rule of thumb? Put yourself in the customer's shoes. When you bought a car or applied for a mortgage, where might a video have helped you through the process? Where could a smiling face have given you encouragement? Part of the reason video works so well is that it puts personality into a dry subject. We're all customers, but sometimes we forget that when it comes to running our agencies.
---
Video isn't just the future – it's right now.
We use video in our onboarding process. New clients all get an email with a video of the person who wrote that policy, telling them how the process works. We send another video at renewal.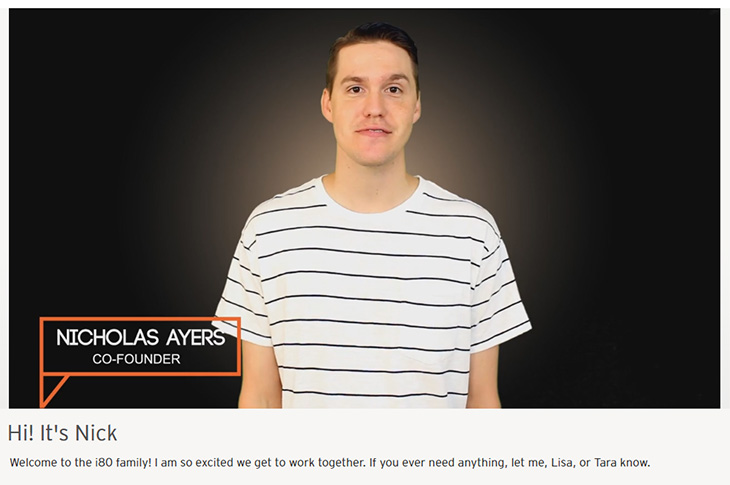 We also do video email newsletters.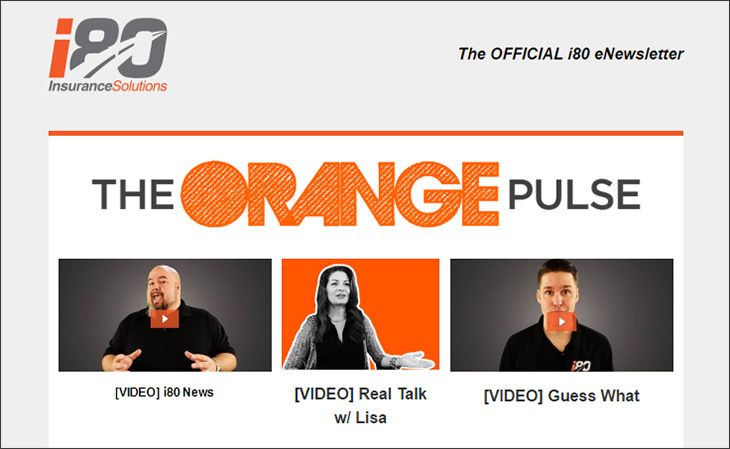 I have a video in my email autoresponder (click here to see it in last week's post). I thought, well, I could do a responder that's just text…or I can do one that has video. Sometimes people are emailing me for the first time, and I want them to see the personality of our agency and who they're dealing with. We're consistently leveraging video in all our marketing.
---
How to Get Started Making Your Own Videos
Want to take a peek inside i80 Insurance's video room? Nick takes you through their whole set-up, which you can replicate for less than $1,000 in a space as small as a closet, if that's all you have. Check it out below.
---
We use video heavily in our agency. The whole upstairs is dedicated to a video studio. We make content and send it out on a weekly basis.
If you're just getting started, use simple techniques. People say to me, "But I don't have fancy equipment or technical aptitude. What should I do?" If you've got an iPhone, you've got enough. If you have an Android Samsung, you have enough.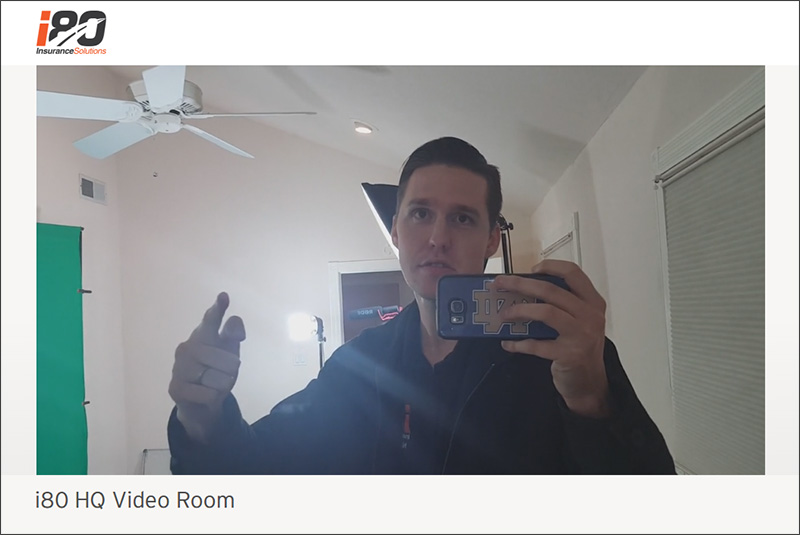 Here's what I'd suggest to get started.
Use your phone to take video that's real and authentic and display it. Invest $20 and get a webcam, then start doing video proposals for your clients. Do a video email signature. Take your phone, say hello for 5 seconds, tell them how to get a hold of you, or maybe introduce somebody on your team with a simple phrase like, "We work together to help you with your insurance."
Use your cell phone to do short video content for your blog. My philosophy is if I can't say it in a couple sentences, I want to use a picture. If I can't say it in a few paragraphs, I want to use a video. People want something real, not something polished. They want to engage with you and your brand in a real way. Don't be afraid to mess up. Be non-scripted. Authenticity will trump polish.
Make some sort of "culture" video of your office or agency. Highlight your team and let viewers make connections with you and your staff.
The only way you can get started is simply to do it. Go out and do it, and don't be afraid to mess up. Make videos, and if you're consistent, you'll get better – and you'll eventually laugh at your first video. Your improvement depends on how consistent you are with things. Get started making social videos. Post 30-60 second clips on Facebook, and encourage people to share them.
---
If you missed last week's post on email management strategies, including how Nick uses video in his email autoresponder, click here to check it out.
Need a little advice on how to do what Nick does with video? You can reach out to him at [email protected] or find him in action on Facebook, Instagram, Snapchat, LinkedIn, or Twitter.
Do you use video in your agency? Are you inspired to start after seeing these examples? Tell us in the comments!
---