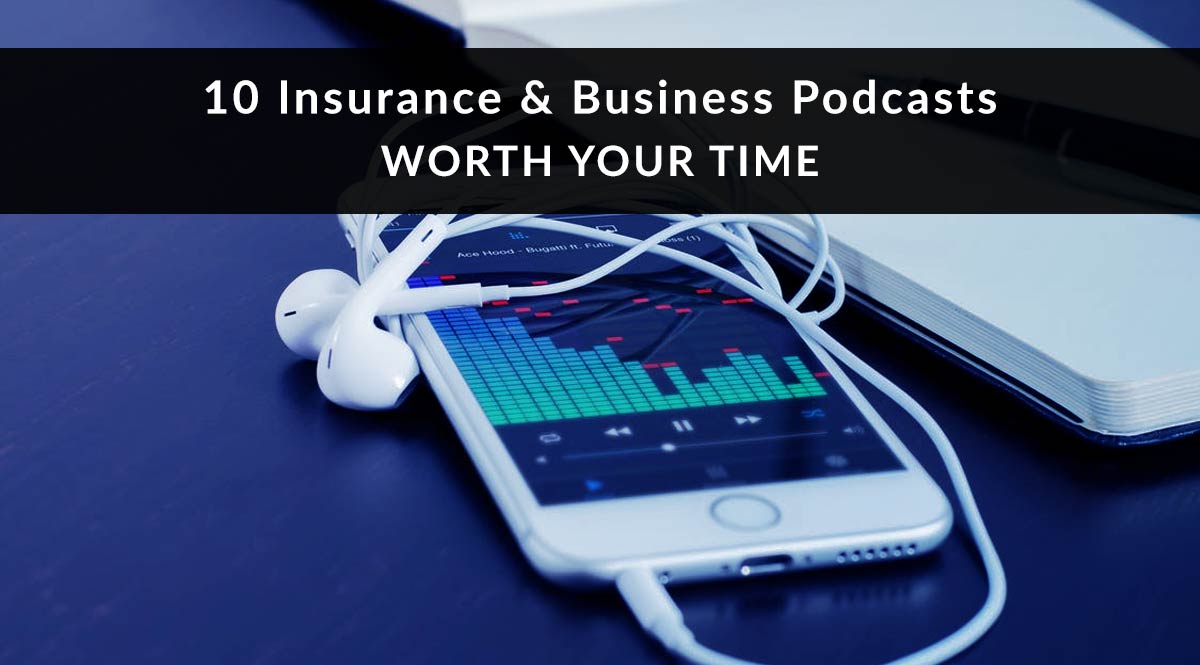 Do you listen to podcasts? If so, we have 10 insurance and business podcasts worth your time. If not, now's a great time to start. Listening to audio is a great way to multi-task. You can learn new sales strategies, catch up on industry news, or just be inspired while working out, commuting, or waiting in line.
More people than ever are listening to podcasts. They're incredibly popular among commuters, and among people who don't have time to read or watch video. Their popularity stems from the fact that you can listen while you're doing other things, as well as from the sense of connection you build with the podcaster. Audio can be an engaging and inspiring medium, as well as an informative one.
If you're new to podcasts, there are three ways to listen:
We've rounded up some of our favorite insurance and business podcasts below – enjoy!
---
Insurance
ShiftShapers
This weekly podcast, hosted by David Saltzman, focuses on insurance industry leaders who are using new ideas, techniques, and practices to innovate and grow their businesses. With 186 episodes as of this writing, there are plenty of backlist shows to dig into. The focus is on the entire industry, so you'll get perspectives on LTC, health insurance, and more, as well as universally applicable topics like lead gen. Before you skip the episodes on employee benefits or health insurance, remember - there are great tips we can glean from the way others are handling marketing, client engagement, and more. The episodes are all about 20 minutes long, perfect for walking the dog, working out, or a short commute. If you scroll through the backlist, you'll find an episode with our own Ryan Pinney as a guest.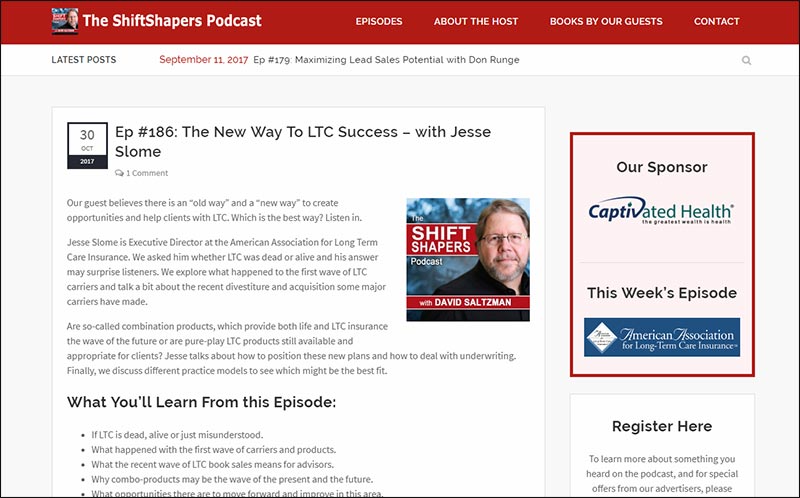 Listen on:
---
Agency Nation Radio
This is an insurance marketing podcast hosted by Ryan Hanley and Marty Agather. Most episodes contain an interview with guests ranging from agency managers to carrier executives. Recent episodes cover insurance innovation, video marketing, and self-discipline. There's a great range of topics, from customer engagement to agency culture. If you're a traditional agent, you might find this show slants toward digital marketing, but there are plenty of episodes that cover universally applicable topics like agency management, self-improvement, and developments in the industry. Episodes range from 30-60 minutes, perfect a commute or a workout.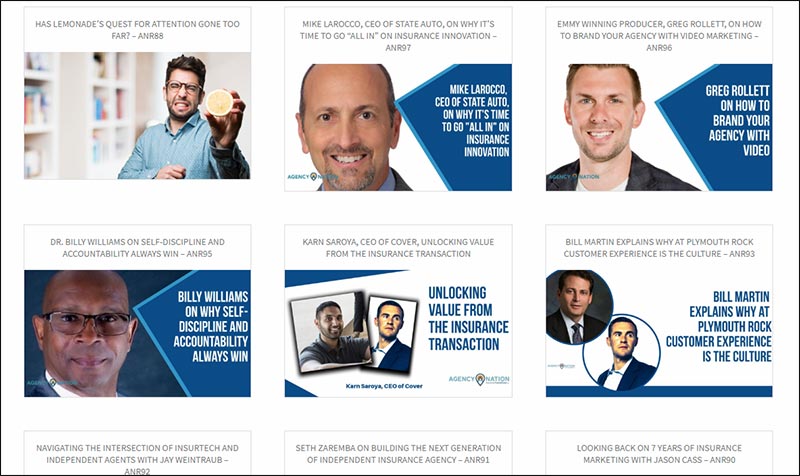 Listen on:
---
Connected Insurance Podcast
This podcast from Agency Revolution is geared toward independent agent-brokers. Like Agency Nation, there's a focus on marketing, whether it's a conversation with the Digital Marketing & Social Media Manager at Travelers Insurance, or lead-gen and LinkedIn expert John Nemo. But there's plenty for those who just want sales tips and agency management advice, too. Hosted by Michael Jans, each weekly episode features a 40-60 minute interview. Recent episodes include conversations with an M&A expert about succession planning and business valuation, and an interview with the founder of InsuranceCommentary.com.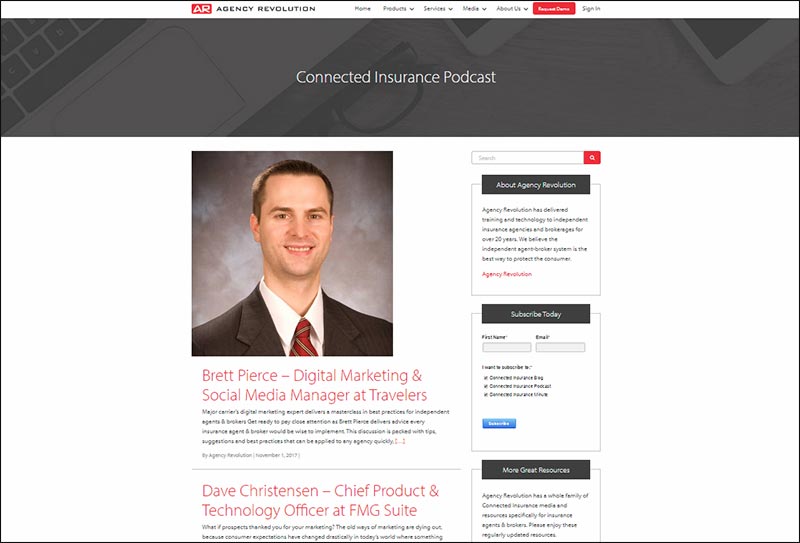 Listen on:
---
GROW Podcast
This podcast from the GROW team, led by Jason Cass, focuses on so many topics that are key for growing an independent agency. Most episodes feature guest interviews, although there are some stand-alone episodes that cover a particular topic or event in depth. Recent episodes cover niche marketing, email intimidation, evolving with your clients, and more. Episodes come out frequently, sometimes multiple times a week. They range from brief (less than 20 minutes) to more in-depth (40+ minutes).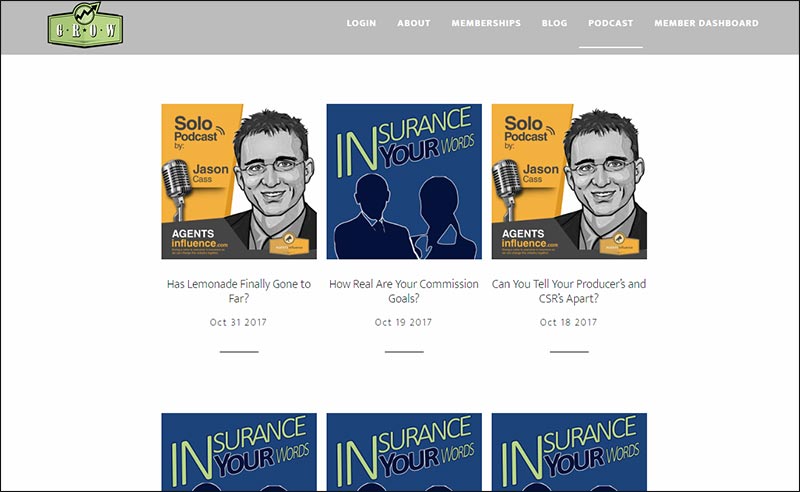 Listen on:
---
We're also keeping an eye on these newer podcasts with fewer than 30 episodes:
Don't forget - MDRT also has a podcast that's chock-full of good information:
---
Sales & Business
Closing Bigger
Social selling is host Shane Gibson's focus in this podcast, but there are plenty of actionable tips whether you're on social media or not. For example, recent episodes covered the right-brained sales revolution, and sales questions that close deals. He doesn't release episodes as frequently or as regularly as the other shows on this list, but when they do drop, they can really liven up your feed. The backlist episodes are still valuable because they talk about strategy and ethics in social selling, which you can apply regardless of platform or year. Instead of an interview format, these episodes are a one-man show, with Gibson's thoughts on selling tips, trends, and tactics.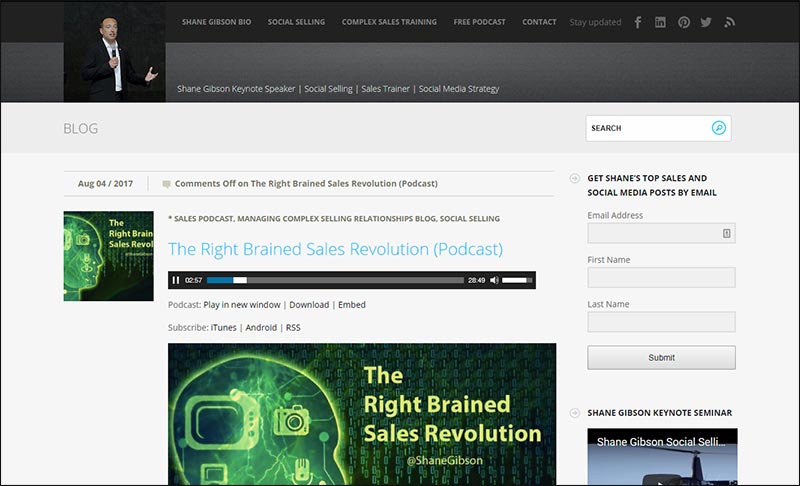 Listen on:
---
In the Arena
This podcast focuses on the way mindset affects your success in sales. The host, Anthony Iannarino, interviews a different guest in each episode. Recent topics include performance rituals, closing tips, leadership, and communication skills (this episode's guest was Alan Alda!). This is a very high production value podcast – he has a custom rock anthem as an opener! Episodes range in length from short (about 20 minutes) to just under an hour. Iannarino introduces every episode by telling you why he chose the guest or subject, then they jump into the actual interview.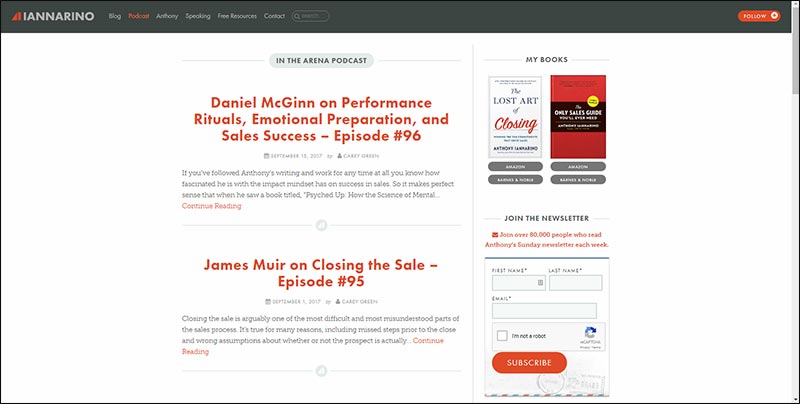 Listen on:
---
Stories from the Sales Floor
This show could also fit in the inspirational category below. It's not so much about nitty-gritty sales tips or step-by-step strategies. Instead, these episodes focus on conversations with successful salespeople about the turning points that catapulted them to success, the moments they remember, and stories about their long and sometimes bumpy road to success. It's a good complement to the podcasts above because it's not going to make you feel overwhelmed with stuff you should be doing but aren't. It's going to make you feel like part of a big sales team, where we're all working and learning and growing together. Hosted by Ben Sardella and Brandon Rutlinger, each episode runs about 20 minutes long. There's a fun, casual, friendly vibe, which is apparent in the show's promise to bring you "crushers of quotas, barons of the bottom line, and revenue-generating royalty."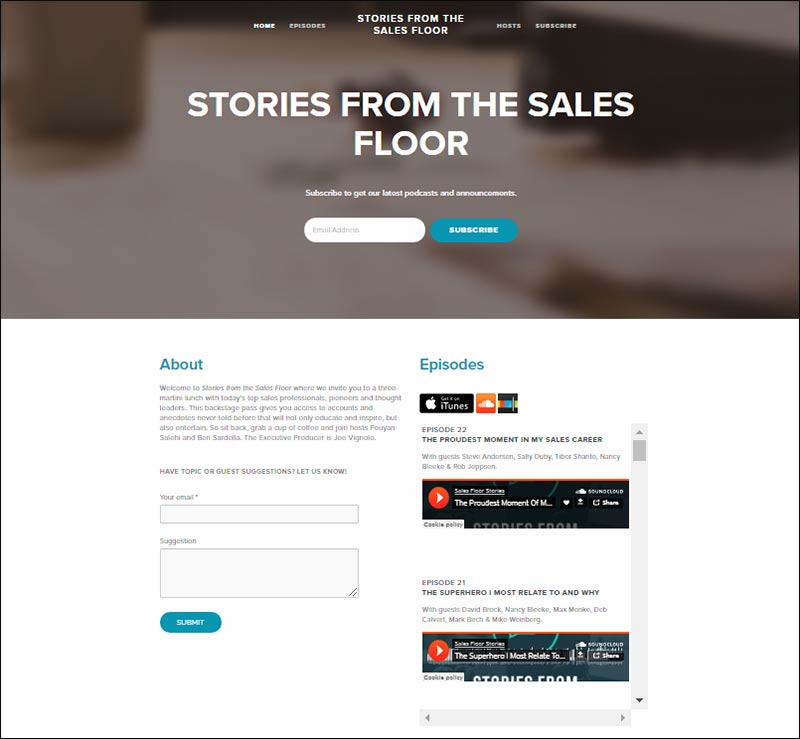 Listen on:
---
Self-Improvement and Inspiration
Harvard Business Review (HBR) IdeaCast
This weekly podcast features interviews with business leaders, entrepreneurs, and thought leaders. The focus is always business-oriented, even if the guest isn't a CEO or entrepreneur. For example, a recent episode featured astronaut Scott Kelly, who gave career advice based on his time in space – how to get along with people you work with, and how to work with people from other cultures. Other recent topics include how to see yourself as a leader, finding your happy place at work, and everyday people who led momentous change. New episodes drop weekly, and they're easy to fit into your schedule – they range from 15-30 minutes.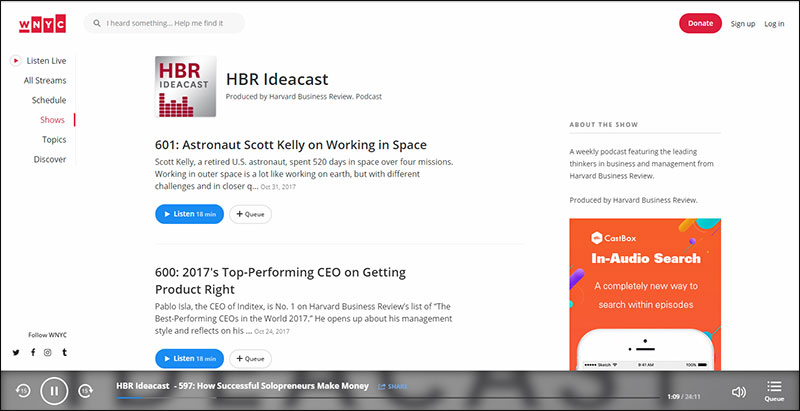 Listen on:
---
The Gary Vee Audio Experience
Gary Vaynerchuk releases new episodes daily, ranging from 5-minute clips to 2-hour long keynote speeches. He isn't for everyone – if you don't like swearing, for example, you might want to skip this podcast. But if you want non-stop inspiration to achieve your goals, this is the podcast for you. Vaynerchuk's emphasis on gratitude, humility, patience, self-awareness, and work ethic – combined with a dose of brutal honesty – are the recipe for success in any business, especially online entrepreneurship (his focus).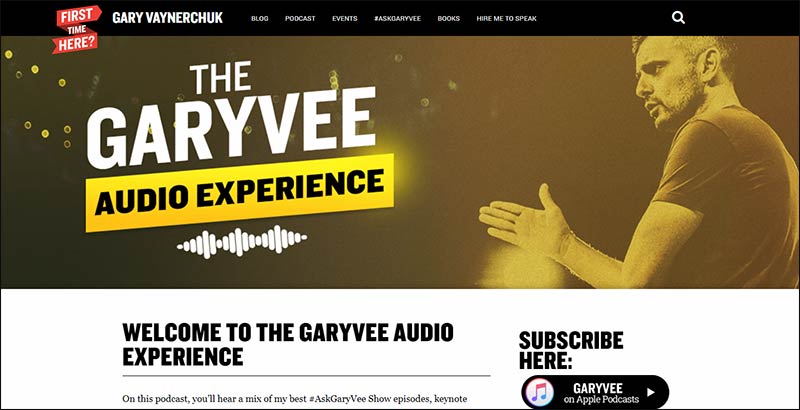 Listen on:
---
The Ziglar Show
You're probably familiar with Zig Ziglar's sayings, even if you don't know it. If you've ever been inspired by sayings like "You don't have to be great to start, but you have to start to be great", that's Ziglar. This show, hosted by Kevin Miller and Tom Ziglar, features interviews and Q&As in episodes that range from 20 minutes to over an hour. Recent episodes include interviews with Don Miller about the role of story in business success, daily habits for success, giving in order to get, and personal health habits. Some episodes do dive into nitty-gritty how-to steps, while others are more philosophical. It's a good mix of content that's going to get you inspired about work, personal growth, relationships, or whatever you're striving for.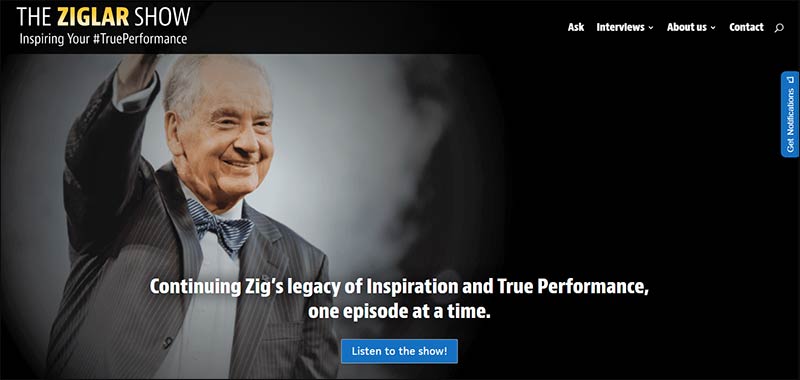 Listen on:
That's our look at 10 insurance and business podcasts worth your time!
Which podcasts get you pumped up? Share your favorites in the comments below!
---