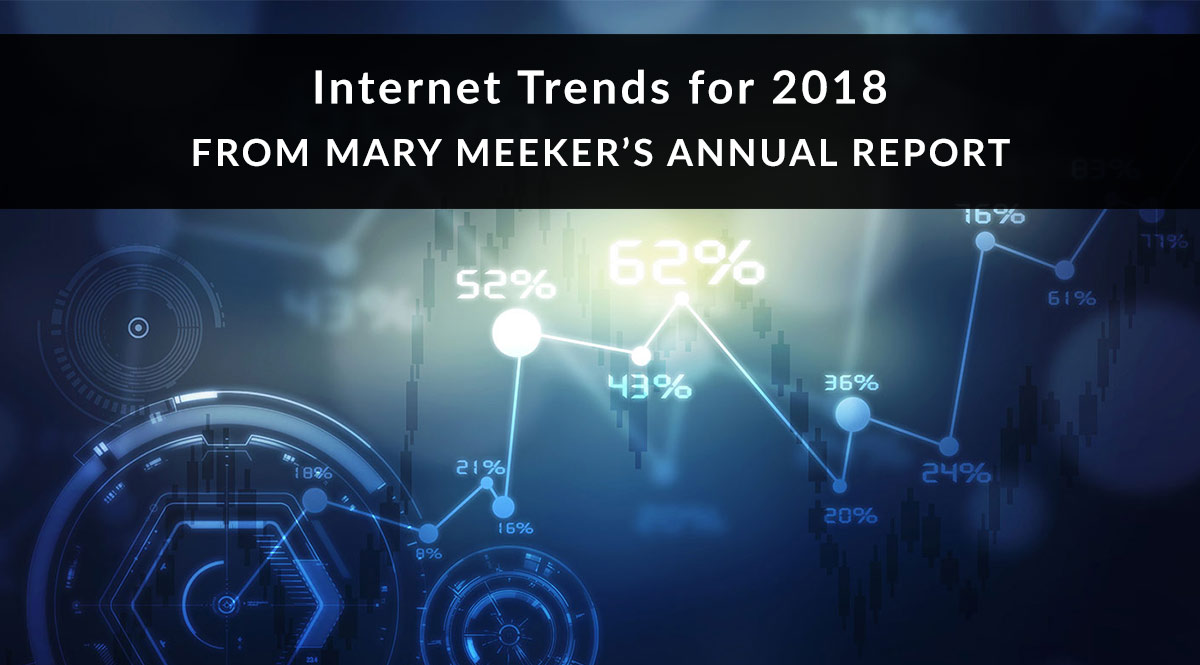 Every year, analyst Mary Meeker presents a detailed report on internet usage, devices, behaviors, and more. Silicon Valley pays attention – and so should we. Here are 10 need-to-know internet trends for 2018.
This year, Meeker's report contained an epic 294 slides. The data is all from 2017, which tells us quite a bit about where consumers are spending time online and how they shop. Check out the full deck here on SlideShare.
#1
US adults spend 5.9 hours a day on digital media – that's 4% more than in 2016. Most of this growth is attributed to mobile devices with bigger screens and faster connections, enabling users to log more time on networks like Twitch watching streaming games like Fortnite.
What this means for us
It's more important than ever to make sure your site works – and looks good – on mobile. The most-used smartphone apps include Gmail, Google Play, Snapchat, Instagram, Google Maps, Pandora, and Facebook Messenger. Are you familiar with them? Do you have a presence? If you advertise online, have you considered these apps as advertising venues?
#2
29% of time is spent on mobile devices, but only 26% of ad spend is devoted to mobile-only ads. That might not sound like a big gap, but in terms of total ad spend, that 3% gap represents $7 billion.
What this means for us
If you use paid advertising, put more emphasis on mobile-only ads. Make sure your ad creative looks good on smaller screens. This doesn't mean downsizing your desktop ads. It may also mean using less text, larger font size, different images, etc.
#3
Americans are watching 1 billion hours of educational videos per day on YouTube. Coursera enrollment grew 30% in 2017. Why the surge in continuing education? Meeker connects this surge to the rise in student loan debt. People need even more education to compete for the high-paying jobs that will help them pay down that debt. Top courses in 2017 included Machine Learning (Stanford), Neural Networks & Deeper Learning (Deeplearning.ai), and English for Career Development (University of Pennsylvania).
What this means for us
Be aware that a lot of your younger prospects have a big financial commitment per month thanks to their student loans. What lower-priced term options can you sell them now? How can you educate them on conversion opportunities they can use later, when their loans are paid off?
#4
The gig economy is growing - a lot. The number of freelancers grew 8.1% since 2014, compared to a total workforce growth of 2.5%.
What this means for us
What solutions can we offer freelancers who are essentially running their own small business? Early in their career, they likely need low-cost coverage. As their portfolios and earnings grow, they may need bigger policies and more robust business planning solutions. Are you prepared to have a conversation about how a freelancer's needs differ from those of an employee?
#5
E-commerce is gaining ground. E-commerce sales in the U.S. reached 13% of all retail sales in 2017. This reflects a steady growth of 16% vs. 14% year-on-year.
What this means for us
Consumers are getting more comfortable making online purchases. Now is a good time to educate consumers on the growing number of non-med policies with instant underwriting. They may not know that buying a term policy could be as easy as ordering from Amazon (well, almost).
#6
Privacy matters to American consumers. Only 25% of Americans would provide personal information in exchange for product benefits like lower cost or personalization, compared to 38% of Chinese citizens.
What this means for us
We're probably still a long way from the majority of consumers agreeing to share their personal information with insurers in exchange for discounts or perks. It's great to have early adopters like John Hancock and their Vitality program – but it remains to be seen how much further programs like this will expand into the market and become the norm.
#7
Voice products are reaching even more consumers. In 2017 alone, Amazon Echo installations went from 10 million to 30 million. That means the next frontier of reaching these consumers is in creating or building Echo "skills." Think of "skills" as apps built to function exclusively within the Echo and Alexa ecosystem.
What this means for us
Do you have a plan for reaching consumers who consume most of their content (and advertising) through audio? If not, it may be time start. Ideas include starting a podcast or hiring a developer to create an Alexa briefing or Echo skill. Click here to read our post about optimizing your website for voice search.
#8
Cryptocurrency is going mainstream. Coinbase users have almost quadrupled from January through November of 2017 alone. In addition, one of the top online courses of 2017 was Bitcoin & Cryptocurrency Technologies (Princeton).
What this means for us
Some prospects may think cryptocurrency is the key to their financial future. They may also hesitate to buy life insurance if they're excited to put as much as possible into cryptocurrency. Be ready with facts on the living benefits and tax advantages of life insurance - benefits that a market collapse can't take away.
#9
More product searches start on Amazon than Google. 49% of all product searches start at Amazon, compared to the 36% that start on a search engine.
What this means for us
How can we capture the attention of shoppers who rarely leave the Amazon ecosystem? It's a challenge we're going to have to solve sooner rather than later. That might mean developing skills and briefings for Amazon's Echo and Alexa devices, or it might mean finding products to sell on Amazon in order to use the platform's advertising features. Self-help financial books or workbooks are probably a good place to start.
#10
Product discovery happens on social media. 78% of survey respondents say they discovered products on Facebook. 59% of respondents say they found products on Instagram and Pinterest. Twitter (34%) and Snap (22%) bring up the rear. A total of 55% of survey respondents said they bought a product online after discovering it on social media.
What this means for us
We need to be where our clients and prospects are. If you don't like the idea of building a following on social media, you can always use paid advertising instead. One takes time, the other takes money – but both can get you in front of clients and prospects.
That's our look at internet trends for 2018!
Do any of these trends surprise you? Scare you? Tell us in the comments!
---