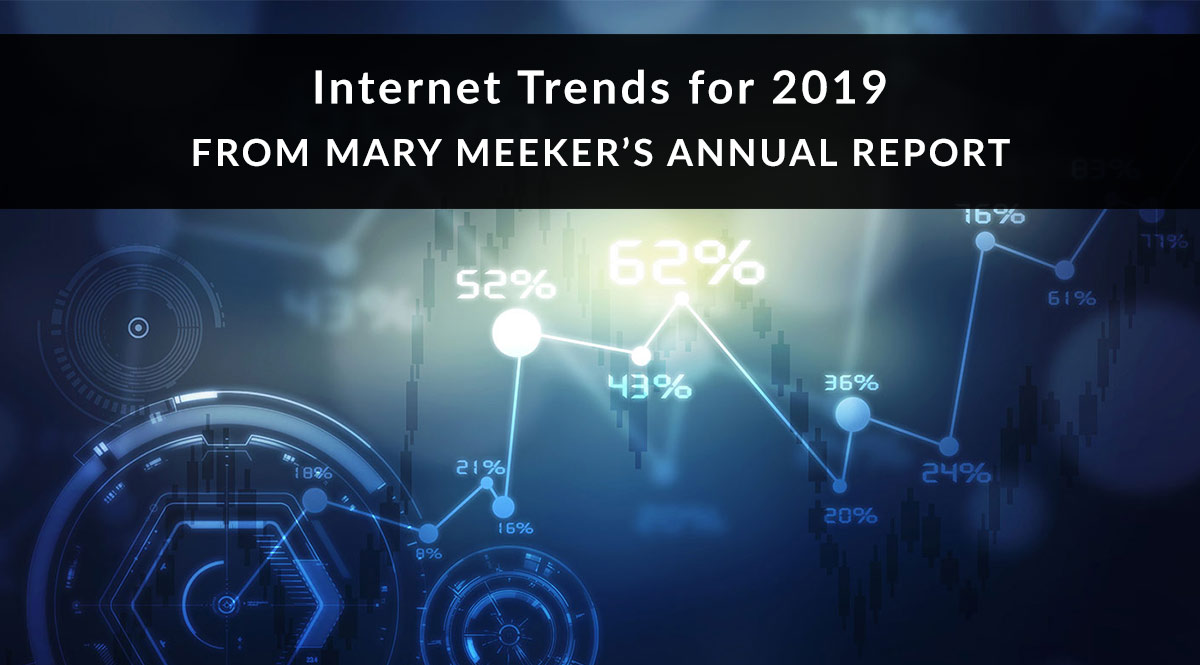 Every year, analyst Mary Meeker presents a detailed report on internet usage, devices, behaviors, and more. Silicon Valley pays attention – and so should we. Here are 10 need-to-know internet trends for 2019.
This year, Meeker's report contained a whopping 333 slides, beating last year's total of 294 slides. The presentation, using data from 2018, tells us quite a bit about how consumers shop, what they want, and where they're spending time online. As a side note, this is the first Internet Trends presentation she's done since leaving Kleiner Perkins to start her own VC fund, Bond. Check out the full presentation deck here.
#1
E-commerce continues to gain ground as a percentage of total retail sales. In 2017, e-commerce sales in the U.S. reached 13% of all retail sales. In 2018, they reached 15%. That growth may not seem like much, but it's 6x faster than brick-and-mortar sales growth, according to Meeker.
What this means for us
Consumers are increasingly comfortable buying products and services online. Your prospects might know they can buy life insurance online, but do they know there are 100% online no-exam options for them? Do they know about instant underwriting approvals that can get them covered in a matter of minutes? If not, now's the time for you to explore these options and make them a part of your offerings. As e-commerce continues to gain market share, consumers will be increasingly comfortable with the idea of completing a transaction online.
#2
Most online advertisers choose Google and Facebook, but the competition's ad revenue is growing at a faster rate - Amazon, Pinterest, Twitter, and Snapchat, to name a few. From Q1 of 2017 to Q1 of 2019 (two years), Google's ad platform revenue has grown 1.4x. Facebook's has grown 1.9x. But the smaller platforms listed above, as a whole, have grown 2.6x. Their share of the market is still small, to be sure, but as advertisers get priced out on Google and Facebook, look for these challengers to continue their growth.
What this means for us
If you pay for digital advertising, you may want to look into these growing platforms to reduce the cost of your ad spend. According to Meeker, the keys to growth are better targeting, new creative, commerce (ability to start or complete a transaction on the platform), and high relevance. This means you're better off creating new ads that specifically relate to a niche or target audience. The more relevant the ad, the higher the likelihood you'll earn a customer. We're not going to be able to capitalize on things like shoppable Instagram ads or Pins - but carriers that offer an end-to-end e-commerce platform for consumers could.
#3
In competitive sectors like finance, customer acquisition costs may soon outpace the lifetime value of a customer. The sector Meeker cited here is mobile finance apps. The average user acquisition cost is rising and may soon be higher than the potential lifetime value of that customer.
What this means for us
True, we're not in the app business - but the overall trend is worth paying attention to as it relates to digital ad spend. It's time to start paying attention to how much you spend on ads, and what your converted leads eventually buy. For example, if you had to spend $2,000 on Google and Facebook ads to get three conversions, all of which add up to $3,000 in premium, is that a worthwhile trade? Is it sustainable? Meeker advises that the best way to grow your business from here on out is to focus on having a quality product and recommendations/reviews from happy clients, both of which will make your marketing more effective.
#4
The average person now spends 6.3 hours a day on the internet. They spend more than half that time (3.6 hours) on mobile devices. In fact, time spent on mobile devices has surpassed the amount of time spent watching TV. Desktop computer use continues to decline.
What this means for us
Mobile first: we've talked about this before (item #9 in this post on SEO tips for life insurance agents), but it's more important than ever. If you're launching or redesigning your website, it has to perform effectively on mobile. If you're creating digital ads, they have to perform well on mobile. Still work on a desktop? Be sure to preview and test your sites and ads on mobile devices before you launch to make sure your text is readable, your graphics pop, and buttons and menus display and function properly.
#5
YouTube and Instagram are gaining daily users. From Q2 of 2017 through Q4 of 2018, the percentage of internet users spending daily time with YouTube rose from 22% to 27%. Instagram's percentage rose from 13% to 19%. Facebook lost a percent, from 31% to 30%, while Twitter gained two percent, from 9% to 11%.
What this means for us
If you're already a fan of those platforms, great! If not, and you're willing to consider using another platform for professional purposes, try YouTube or Instagram. More daily users mean more potential engagement - and, in the short term, potentially lower advertising costs, if you're so inclined.
#6
Video and voice are growing like gangbusters. Meeker and her team compiled studies on consumers' daily viewing habits for TV and digital video. While TV is still watched more frequently, digital video has gone from 4% of total watch time in 2010 to 28% of total daily watch time in 2018. Digital video includes YouTube as well as videos and stories on Instagram and Facebook. As for voice, the number of monthly podcast listeners has about doubled in the past 4 years, to roughly 70 million. About 50 million people have the Amazon Echo, for which the number of available skills has doubled in just one year. Flashing back to last year's stats, we see that in Q1 2017, just 10 million people had an Echo installed.
What this means for us
These aren't trends - they're daily staples of millions of consumers' lives. Do you have a plan for reaching consumers who consume most of their content (and advertising) through audio? If not, it may be time start. Remember, you don't necessarily have to start your own podcast. You can be a guest on other podcasts, or create an audio ad and buy time slots on popular podcasts that talk about personal finance, parenting, and more.
#7
Visuals rule on social media. When Twitter launched in 2009, it was a text-only platform. Ten years later, more than 50% of Twitter impressions come from posts with images or video. Both Instagram and Pinterest have gone from image-sharing sites to sophisticated ad platforms. As a whole, people are increasingly using visuals (often augmented by filters, stickers, etc.) to tell stories.
What this means for us
Connecting with consumers is going to require you to become a visual storyteller. But here's the thing - it doesn't have to be hard. If you have the time and/or money, you can hire a graphic artist/marketer or an intern from a local school. If you're the DIY type, there are plenty of free and freemium sites and apps with templates that make visual communication as easy as drag-and-drop. Canva, Lumen5, Headliner, Adobe Express, and more are all free and help you turn your emails, website content, social media posts, podcasts, presentations, and more into the kind of polished social-ready content that's visually engaging. It's worth taking the time to learn how to use one or more of them.
#8
Consumers want data-based personalized recommendations. A whopping 91% of retail consumers prefer brands that give them personalized recommendations or offers. 83% would share their purchase history if it allowed them to get such personalized recommendations. 74% would provide information on their habits or preferences to get personalized recommendations.
What this means for us
Okay, so it's hard to provide personalized recommendations for life insurance before speaking with a prospect or having them use your quoter, since underwriting and financial circumstances vary widely. However, we can take the core of the idea and apply it to what we do.
For example, if the idea is to make non-generic recommendations based on data, we can do that. In practice, this means segmenting your mailing list so you can send targeted communications. It means paying attention to demographics within your book of business. What trends do you see? Can you make recommendations based on those trends? For example, if you notice an uptick in clients who want to talk about disability insurance when you bring it up, that's a trend - and something you can tell your other clients about. Think of these recommendations as the "customers also bought" suggestions you see below the item you're interested in when you shop on Amazon.
#9
Local business is big business online. In the presentation's only example of trends involving local business, Meeker highlighted Nextdoor's growth. The network has 236,000 active neighborhoods, a number roughly double what it was two years ago. In addition, the network boasts 71% year-on-year growth and more than 29 million local business recommendations.
What this means for us
If you do business in person, you may want to start asking happy clients to recommend you on Nextdoor. You should also create and/or claim your business page on the network. Just claiming your page won't let you see the conversations among users, but you can see and respond to comments and questions that users leave for you. In an increasingly digital world, doing business locally means you need to pay attention to things like Google reviews, Facebook reviews, and Nextdoor recommendations. Feel weird asking for reviews? The easy way around it is to build the ask into your client onboarding kit so it happens automatically. We covered that topic in detail here - see step #9 for reviews.
#10
Consumer confidence is higher than average. According to the Consumer Confidence Index (CCI), the 65-year average score in the U.S. is 88. Right now, we're at 97. If you're curious, the all-time high was 144.7, scored in May of 2000 (at the peak of the first internet boom).
What this means for us
When consumer confidence is high, it's easier to make sales. However, compare this high consumer confidence score with the forecasting in Van Mueller's newsletter. For months, he's been warning us that an economic downturn is coming. In June's newsletter, he name-checked economic experts who believe that crash is coming sooner rather than later - as early as 2020.
The experts don't have a lock on the future, but it's worth taking their predictions into your business plan. If the economy takes a big hit, will you wish you'd done more now, while consumer confidence was still high? Would you have made a bigger marketing push? Reached out to more clients to ask about their plans for the downturn? If so, take action now and avoid the "what ifs" later.
That's our look at internet trends for 2019!
Do any of these trends surprise you? Scare you? Tell us in the comments!
---