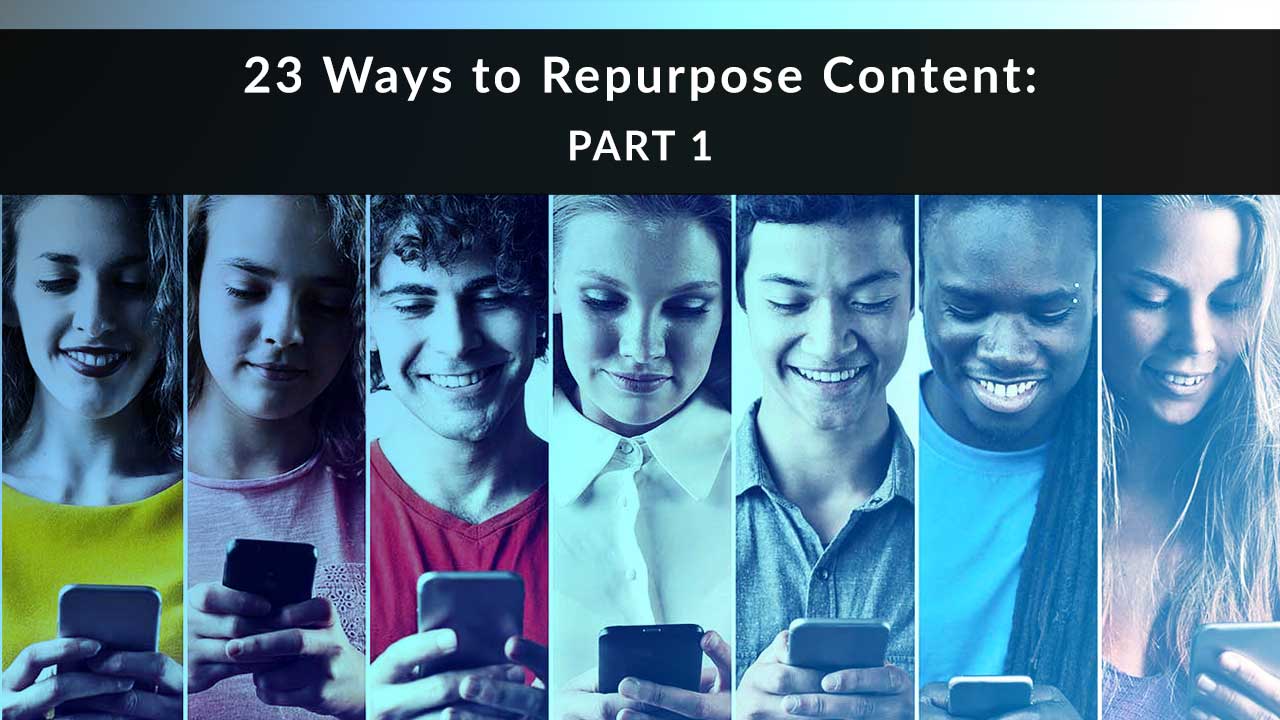 Your clients have different methods of consuming content. Some read blogs, some get their news from social media, some listen to podcasts, and others prefer videos on YouTube. Yes, you could pick one audience and stick with it. Or you could find ways to repurpose content so your hard work helps you reach more prospects.
We're not the only ones talking about this issue. The SEO experts at Moz recently re-released a Whiteboard Friday video dedicated to this topic. Repurposing content to expand your reach is a key component of any digital marketing strategy.
---
No time to read? Watch our video overview:
---
In this post, we'll go over the first half of the ideas on our list. It's focused on written content, like blog posts or your existing web content. The post with the second half of the list will focus on audio and video content you might already have. Then, in a third post, we'll look at brief sample workflows that combine some of the choices below into manageable, logical plans of action.
For now, just sit back and browse. Remember that you do NOT have to do all of these. Your job is to sell, not become a media studio. But keep in mind that selling requires visibility. Incorporating a few of these ideas will help you earn that visibility.
SEO Benefits of Repurposing Content
It's generally agreed that there are SEO benefits to having multiple types of content available on a webpage. Like everything to do with SEO, no one can explain how much benefit you get. But consider this: the point of rich media (audio, video, PDF) is to give your audience different ways to consume your content. By giving them the medium they prefer, they're more likely to stay long enough to consume it. That, in turn, sends a good signal to Google.
Ways to Repurpose Content: Start with the Basics
We're going to start with text, like a blog post or web page content. If you already have audio or video content, you're a few steps ahead. Text and audio are the building blocks for most of the ideas we'll share in this series.
1. Turn your blog post into audio content
Audio content is huge. Edison Research posted 2019 survey results showing that 51% of Americans over age 12 have listened to a podcast, and 22% have listened in the past week. Of course, you can do more with audio than create a podcast, but that's a great place to start. (Repurposing for the win: Edison also embedded a SlideShare with these stats in the blog post announcing the results – that's what we suggest in ideas 4 & 5 below!)
To create audio content, you have two options: record the text yourself or let text-to-speech (TTS) technology to do it for you. It's more personal if you do it yourself, but TTS technology is improving all the time. See what happened when we took TTS for a test-drive.
To record on a budget: Buy a USB microphone and plug it into your computer. Free software like Audacity is all you need to capture that recording.

To record with zero budget: Use your cell phone's voice notes app. Save that recording to the cloud, then grab it from a laptop or desktop for repurposing.
2. Started with audio? Turn that audio file into a blog post
If you started with audio, use a free or inexpensive transcription service to get a clean transcript you can post on a blog or website. Here are a few popular services:
Trint. Pricing for automated transcription starts with pay-as-you go services: $15/hour of uploaded audio. In other words, a 30-minute video will cost you $7.50.

Descript. Pricing for automated transcription starts with pay-as-you-go services: $0.15 per minute of uploaded audio. In other words, a 30-minute video will cost you $4.50. They also have human-powered transcription available for $1.25/minute.
What Else Can You Do with a Blog Post?
3. Turn it into an eBook
If you have a blog post, it can become a downloadable PDF eBook in just a few clicks. Yes, you could do something hard like paste all the text into Microsoft Word, format it, and export it as a PDF. But who has the time? Beacon will do it all for you – for free. According to their site, it takes about 30 seconds to create a new eBook from an existing blog post.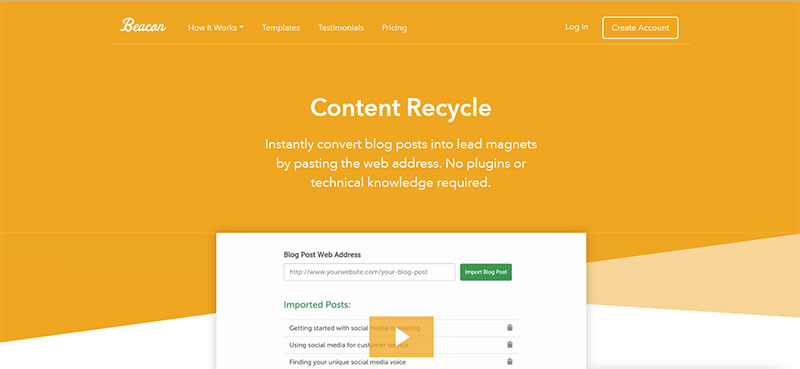 4. Turn it into a slide deck
Take the main ideas from your post and distill them into fewer than 30 slides. This is actually easier than it sounds. For example, your post title is the title slide, and your subheadings are the transition slides. Concerned about your design skills? PowerPoint, Google Slides, and Keynote all have pre-designed slide deck templates you can use. You can also buy killer templates for less than $10 on GraphicRiver or Creative Market. Here's a glance at the free Google Slides templates in the "work" category. Just drop in your text, and you're done.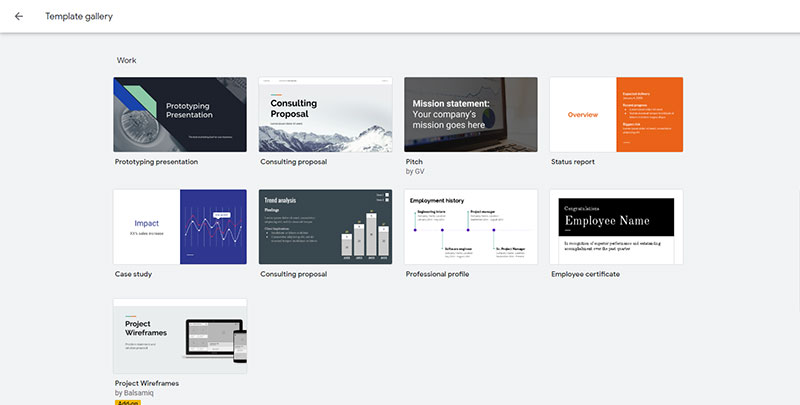 5. Turn your slide deck into a SlideShare
Okay, so your blog post is now a concise, attractive slide deck – but who's going to see it? You need to upload it to SlideShare to get an embeddable, sharable copy. After seeing entrepreneur Michael Hyatt get 70,000+ views with a 9-slide deck, business blogger Eugene Cheng tried a similar approach, and ended up with 2 million+ views and 400 monthly email subscribers. Not bad, right?
Unfortunately, SlideShare has been discovered by spammers, so don't look too closely at the comments. Many look like your average email spam folder. Still, if you link back to your original post in your slide deck, you get the SEO benefit of that link. Make sure you only include links back to your website, email list signup page, and/or social media accounts after slide 3, per SlideShare's rules.
Plus your deck's SlideShare page gets a little SEO juice from all the keywords in the auto-generated transcript. The bummer about that? You can't edit the transcript. If you used cool typography in your deck, the capitalization and letter spacing in your transcript will look funky. But everyone's decks, even LinkedIn CEO Reid Hoffman's, have this flaw, so all we can do is take a deep breath and live with it. :( That's the transcript from his most recent deck below.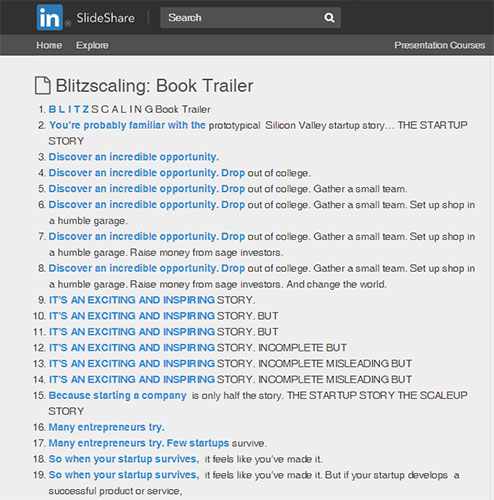 6. Add audio to that slide deck
You have two choices for audio: spoken word, or music. Okay, you have three choices: use both. Consider your prospects, however – if they can hear your voice as they watch the slides, the information is much more likely to stick. Plus, you're building trust as they get to know you through your voice.
If your computer doesn't have a built-in mic, you can buy a good used USB mic for about $50. As we mentioned above, Audacity is the best free audio software out there. PowerPoint, Google Slides, and Keynote make it easy to record each slide's audio individually. There are also workarounds that let you embed a complete audio file – just make sure you recorded it in sync with a live slideshow demo so your timing is right.
Here's how to add audio in the major slide deck programs:
7. Turn that slide deck into a video
If you're not exporting your presentations to video, you're missing out on the benefits of video marketing. If you don't want your so-so slide decks to be publicly visible on YouTube, that's fine. You can still upload them, make them "unlisted," and embed them on a corresponding web page for the SEO benefit. Here's how to export video from the major slide deck programs:
8. Take stats or great lines/quotes and turn them into graphics
Did you cite stats in your post about how people overestimate the cost of life insurance? Turn those stats into eye-catching graphics with free tools like Canva. Share these on social media as teasers for your post.
If you have a series of stats in your post and want to do something more like an infographic, try Venngage. This free tool has infographic templates to get you started – just add your info to create a polished finished product. Want bonus points? Go back and include your new images in your original post to break up the text.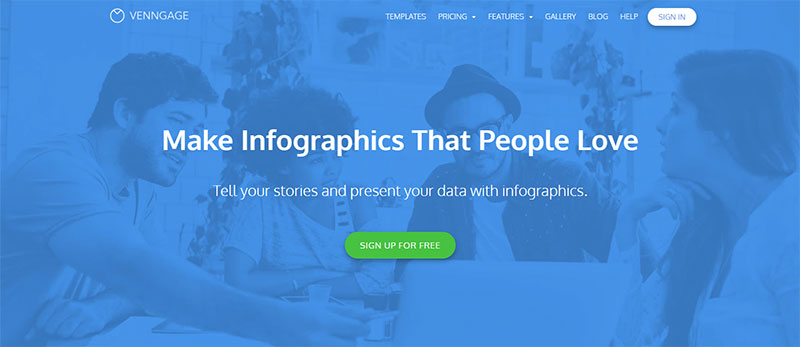 9. Republish your original post on LinkedIn
You can get a lot of traction by tweaking your original post and republishing it on LinkedIn. We're not talking about sharing the post, but publishing your revised version as a LinkedIn original article. The link to write an article appears below the posting prompt. It'll take you to a blog-like interface where you can paste and format your text as you like.

So just how much should you revise your post? Here are our suggestions:
Write a new title
Change up the first paragraph
Create new subheadings
Edit the text to make sure it's relevant for your LinkedIn audience (might not be the same as your blog/website audience)
10. Republish your original post on Medium
If you've never heard of Medium, think of it like a global blog. People write articles and create publications all hosted on the Medium platform. These publications are a goldmine – they've already got readers looking for stories about particular topics.
Find a publication that overlaps with your content's topic, and you could get a big jump in your readership and social visibility. If your story does well, the publication may also email it out to its readers, growing your reach even more. Here's a list of the top 100 publications on Medium. Word to the wise: topics like personal growth, lessons learned, and entrepreneurship are usually big hits.

The ideal content for a Medium publication is original content. Consider applying the tweak-and-publish technique for LinkedIn we discussed above. But you can also simply repost your blog articles to your Medium account without submitting to a publication. Just like on LinkedIn, any users who follow your account will be notified when you publish. The good news about doing it this way? You don't have to change a thing. Wait a week (to be sure Google has indexed your original post), then repost on Medium.
Worried about duplicate content? Don't be. When you use Medium's Import tool or WordPress plugin, your original post is automatically labeled as the "canonical" source. That tells Google which source should get credit in the search results. Medium has more details on this here.
11. Drive traffic to your text content via a paid promotional network
Okay, this isn't strictly repurposing – but it is a way to get fresh eyeballs on your content. If you're willing to put a few dollars behind your best content to get it in front of thousands of eyeballs, companies like Outbrain and Taboola can help. You've probably seen them in action even if you didn't realize it. The next time you're on CNN.com, take a look at the suggested stories below the main story. That's Outbrain at work.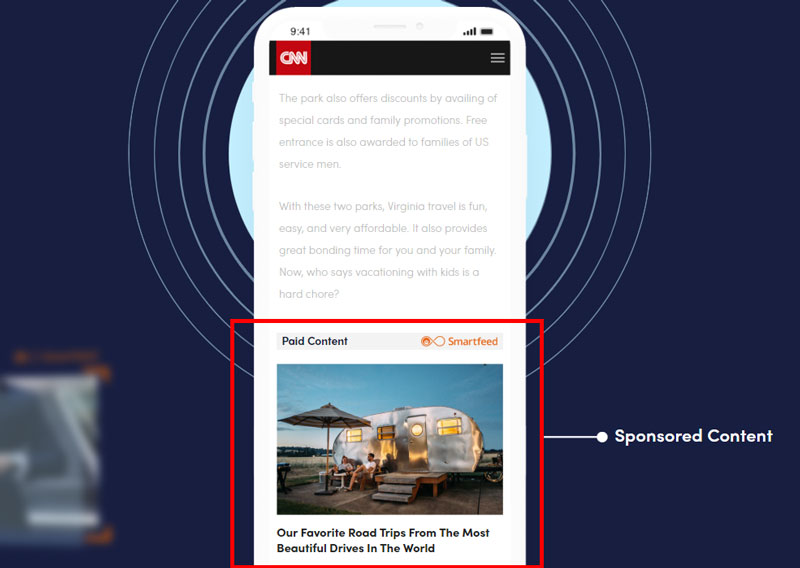 Campaigns run on a cost-per-click (CPC) basis. You pay for the number of clicks you get at the cost you bid, up to the limit of your daily or campaign budget. For example, if you bid on a $0.25 click and set a daily budget of $50, you could get up to 200 clicks per day.
12. Turn content into a drip email course
You probably already have content on your website explaining what life insurance is, why you need it, how to get a quote, and how to decide which policy is right for your family. Right there, you have a multi-lesson drip email course just waiting for new subscribers who need that exact information.
Browse your existing web pages and blog posts and see what fits naturally into a sequence. Then, prune that content down into easily digestible chunks: maybe 250 words at a go. Good email marketing software (MailChimp, AWeber, etc.) will let you string those emails into a sequence to create your course.
PRO TIP: Want a drip email course but don't want to create it? Our marketing software, Insureio, has pre-written drip email campaigns that cover a range of needs and insurance types. It's all done for you - just enroll prospects and let the software do the rest.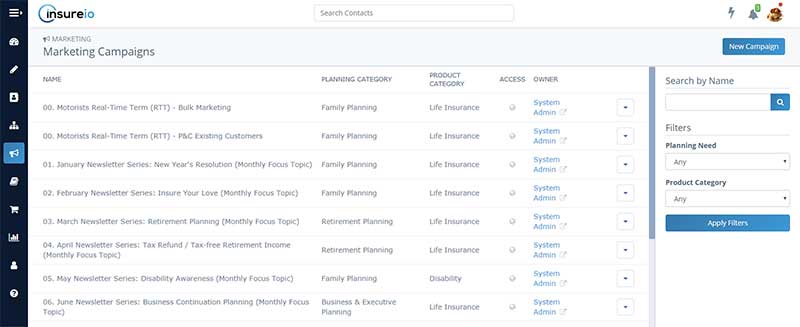 That's part one of our big list of 23 ways to repurpose content!
Phew! We hope you got some good ideas for ways to do more with the content you already have. Remember, you don't have to do all of these…or even most of them. The point is to pick one or two that seem do-able and gradually work on expanding your content's reach.
Next time, we'll focus on audio and video content. There are some really freakin' cool tools out there to help you do so much more with every webinar, podcast, and video Q&A you have.
---